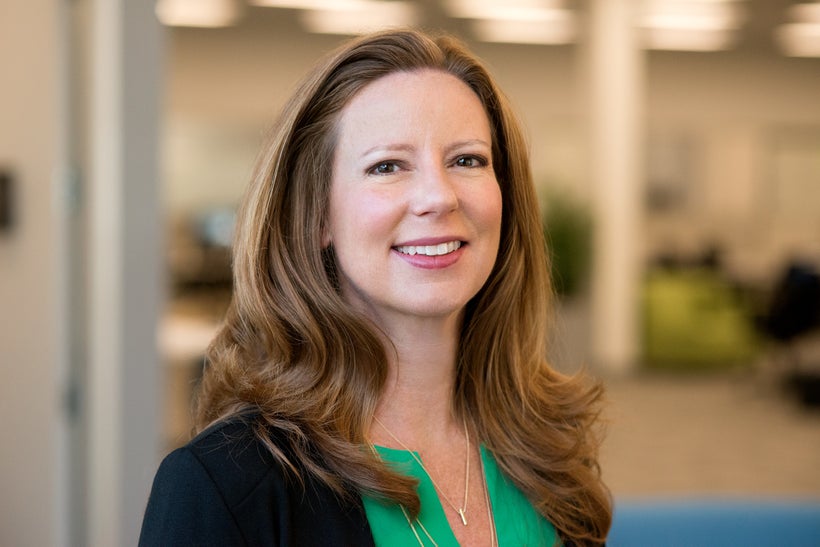 Julie Gerdes is Vice President of Product Management at Quotient Technology and has been instrumental in planning and executing product strategy for the company's consumer, retail and data products, including the popular app and website, Coupons.com. She has played a key role in the development and roll out of Quotient Retailer iQ™, which powers the apps and digital coupon programs for leading retailers across the country.
Prior to joining Quotient, she held several roles involving product strategy and user experience. She's worked for several Silicon Valley startups as well as CoxNet, the division of Atlanta-based Cox Media Group that worked on digital initiatives. She holds a bachelor of business administration from Georgia State University.
How has your life experience made you the leader you are today?
Growing up, I was surrounded by family with strong work ethics. My mom, a single mother, was a dominant force in my life. She had an incredibly strong work ethic that drove her in all her pursuits. She taught me that things aren't handed to you on a silver platter, you have to work hard to earn what you want. I've kept that type of work ethic all my life and I expect the same from my team.
I also have a personal connection to my company, which reminds me why I'm here every day. At Quotient, we create products that millions of people rely on to save money on food and household items. As a kid, I watched family members use coupons to stretch their budgets. It feels good to be a part of something that helps millions of households across the country. We're taking that entire world to digital, making it easier for today's busy families.
How has your previous employment experience aided your tenure at Quotient?
Every job I've had, starting from my first one at 15, involved customer service and interacting with a range of people. After college, I was a customer service representative for an auto insurance company where I answered more than 100 calls a day with people who were upset and angry. It was an emotional experience for many of the callers. I had to learn to react and communicate efficiently and with empathy in order to solve their problems.
Of course, I had no idea at the time, all those hours spent helping customers would prove invaluable today.Learning to establish trust and diffuse emotions in a high-stress environment is so important when leading product development teams.
What have the highlights and challenges been during your tenure at Quotient?
One highlight was leading the team that created Quotient's digital circulars product. We set out to displace and trasnform the printed sale flyers found in grocery stores and sent in the mail each week. We wanted to create a digital version that could be personalized based on a user's shopping habits, matched with coupons for extra savings and, of course, make them mobile friendly. The team worked really hard for several months and we built a great digial circular product that resonates really well with our clients and consumers.
At the same time, it's been a challenge to convince an industry, meaning traditional retailers and consumer packaged goods companies, that it's time to change. The paper circular is still a key marketing vehicle for reatailers. It's inefficient and hasn't changed in decades, but the old guard clings to what they know. It happens in every industry. Not everyone wants to change as fast as you want them to. It's our job to convince them to embrace the benefits we bring by going digital. We know we're headed in the right direction, but it takes time.
What advice can you offer to women who want a career in your industry?
Too many women hurt themselves by not speaking up. I've seen it time and time again -- where the smartest person in the room is a women who holds back -- especially if they are in a male-dominated environment, which is the norm when you're working in tech. Women need to speak up, particurlary when they know they're the experts. Don't be afraid to establish yourself as the expert. Speak with confidence so no one doubts your point of view. But don't fake it. Then act on your words. That's really advice for anyone.
What is the most important lesson you've learned in your career to date?
Build strong relationships with your peers. Throughout my career, I've accomplished the most when there's department leads who are collaborative. Teams are more productive and happy when they see leaders working together to accomplish business objectives. Nothing kills productivity more than conflicts between departments. So, take the time to establish strong partnerships. It's worth the effort.
How do you maintain a work/life balance?
First, I want to call out how frustrating I find this question because women are the only ones who tend to get asked it. It's almost like it's a woman's responsibility to find the balance between the different aspects of her life. In today's society, it's often difficult for both men and women to find the right balance. We are connected to work like never before, making the work, life lines blur. For me, I keep hard and fast rules. There is dedicated time for each part of my life. And when it's family time, I put my phone away.
What do you think is the biggest issue for women in the workplace?
There simply aren't enough women in leadership roles, especially in tech. Young women, early in their careers, need to see more women in leadership positions across industries to emulate and learn from.
Some of the responsibility falls on the more senior women, who shouldn't be afraid to lead. They should have the confidence to take risks. It's also up to companies to change their cultures and support mentorship in the workplace. There have been many headlines swirling around lately about bad behavior in the workplace, I'm hopeful that by shining light on it, companies will be more motivated to emphasize coaching and mentoring more women into leadership roles. My hope is the more attention it gets, the better it will be for future female leaders.
How has mentorship made a difference in your professional and personal life?
It's important to have a mentor you look up to – male or female. One of my colleagues at Quotient has been instrumental in helping me become the leader I am today. He founded Quotient 19 years ago and still leads the company. He's encountered countless distractions and challenges throughout his career. He's provided me insights and perspectives I use everyday. One of the biggest lessons he's taught me is that it's not always easy to make the right decison. I've had to make some tough decisions in my role as a VP that have made me uncomfortable and sometimes sad, but in the end was absolutely the right decision for the company and the team. Having someone coach you through the challenging parts is priceless.
Which other female leaders do you admire and why?
I know she gets mentioned a lot, but I have tremendous respect for Michelle Obama. It's not about politics, but about her authenticity. When she speaks, she is genuine. She is the shining example of how women can gain respect by being true; and you can be strong without being brash.
What do you want Quotient to accomplish in the next year?
The way people shop for groceries is changing, especially as e-commerce delivery and store pick up gains popularity with shoppers. Traditional marketing methods that retailers and CPGs use, such as paper inserts and in-store merchandising no longer work in a digital world. At Quotient, we want to continue to build products that not only provide retailers and CPGs with new tools to reach consumers, we'll also continue to help people save money on their shopping trips in store and online.
REAL LIFE. REAL NEWS. REAL VOICES.
Help us tell more of the stories that matter from voices that too often remain unheard.
This post was published on the now-closed HuffPost Contributor platform. Contributors control their own work and posted freely to our site. If you need to flag this entry as abusive,
send us an email
.