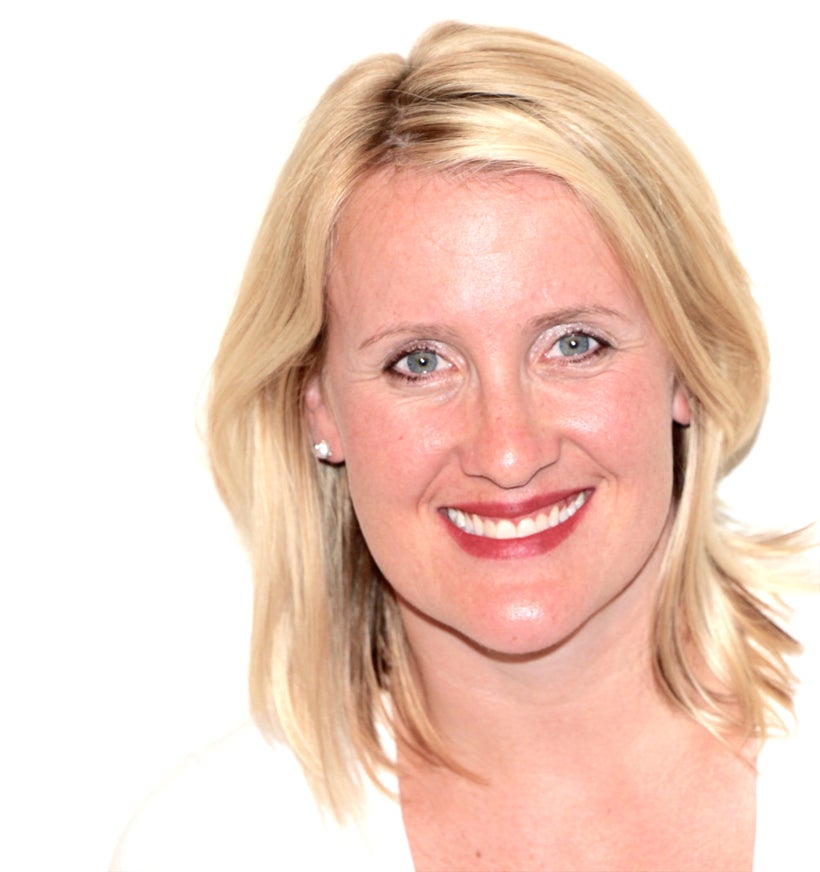 Kate Brodock is Co-Founder and CEO at Women 2.0 a large global brand for women in technology and entrepreneurship. She has been working in the startup space for 15 years, with an on-going focus on women and diversity for as long. When she's not plugging away, she loves to be outside - skiing, hiking, biking, sailing, etc - and helps her husband with their hops facility in Upstate NY, where they live with their two boys.
How has your life experience made you the leader you are today?
Without hashing through details of where they came from, there are a few things that I've either learned or a I developed in myself that go into my leadership style. The first is compassion, it's probably the biggest driver of how I work on teams, how I communicate up and down, and how I run a company. I always try to look at other peoples' perspectives, allow them space to grow, support them when they fail, go to bat for them and understand how and why they function, especially if it's different from myself. I also greatly value honesty and transparency, as well as open communication. I try to be consciously open-minded to differing views, as variety can very often lead to breakthroughs or innovations. It's hard sometimes to be wrong, but it's necessary to get to the best solution, to have good relationships, and to be the best leader you can be. Lastly, a laser focus on what needs to be done to "move the ship forward" is how I generally think about running things. That means team work, strategy, long-term focus, discipline and determination.
How has your previous employment experience aided your new role at Women 2.0?
There are a few ways to tackle this question. In terms of my work with women in tech, I had immediate influence in my first job out of undergrad when I worked for a small tech transfer company in Cambridge called Ignition Ventures. The two founders - Amy Salzhauer and Maureen Stancik Boyce - were both strong, successful women who'd set up a company purposefully as female founders (and have gone on to do the same at Good Growth Capital), and ran it with that in mind. Perhaps without realizing it at the time, this set me up to be very attuned to not only how distinctive this setup was in the tech startup world (this was almost a decade and a half ago now), but also the potential that women had as leaders.  From there, I became involved in a global non-profit for women in technology and entrepreneurship for several years, and was very active in the discussion the space has had. Women 2.0 was a natural fit.  
Secondly, I've always fit best into the tech startup world. I had a few forays into larger companies and organizations, but just kept coming back to startups. Women 2.0 fits that mold as a startup company, and in terms of the audience we serve. I'm literally surrounded by it.
What were the highlights and challenges of some of your recent work and what do you anticipate they'll be at Women 2.0?
I've been lucky in my past positions. I've worked with a great teams,  with solid products that've gotten traction and were ahead of the market, like what untapt is building now. As with all startups, things are run on a cash-cautious system where you don't always have the bandwidth to fulfill everything you needed or wanted. A lot of what that means is that teams have to focus intently and prioritize the heck out of everything. I've been through rounds of fundraising, most recently participating in untapt's successful bridge round. While the stress level is always a bit higher, it also pushed the team to refine and focus even more, get leaner, and make sure we were telling the right story.
One big thing I've always been exposed to is a very direct look at diversity in tech hiring. It's one thing to know the stats, the situation, talk with companies about changing it, talk with women in the field about making it better, offering them resources, etc… but it's really stark when you're literally in the tech hiring space, which is something we're taking head on at Women 2.0.
For Women 2.0, there are too many highlights to start listing! I'm looking forward to taking what Shaherose Charania and her team built over the last decade and growing and expanding it. It's going to be both exciting and challenging to manage that process, and will require a lot of market testing to push new ways of approaching the issue of diversity in tech. I'm also excited to continue to drive the general conversation around women in tech forward in a way that creates action and impact.
What advice can you offer to women who want a career in your industry?
There are a few things I'd say to women who are looking for a career in tech. Firstly, say yes more. Research suggests that, even at the stage when women are browsing job roles, they disqualify themselves from positions because they think the position is too high for them. We can't be doing this to ourselves. Know your skills and be confident in your ability to bring them to a job.
I also think finding a mentor and a sponsor is important (there's an important difference between these two). Both the advisement of a mentor and the support of a sponsor will make a big difference down the road.
A necessary evil is that women should understand what they're up against - microsexism, pay gaps, unfavorable policies, etc - so that they can equip themselves to combat it. I remember early in my career, I went through the classic situation (what I now understand to be classic) of bringing a strategic idea to the table multiple times, only to be summarily ignored and watching as a male colleague brought the same idea to the table a week later and was praised. I couldn't understand what was happening at the time, but had I been aware of this unconscious bias, I may have been able to do something about it.
And of course, most obviously, get in there, get your hands dirty, do the best work you can, and keep making progress. If you find yourself in a situation where that isn't recognized, either make it recognized or consider another setting.
What is the most important lesson you've learned in your career to date?
Ha, probably the most important lesson is to not focus so much on "career"! I'm someone who looks at opportunities and decides whether or not it's a good one for me based on my interest, my ability to do positively impact the opportunity, whether or not my skill sets will advance and whether it can support me (and now, my family). I don't think I've ever thought about a resume. My skills as a marketer, for instance, are not thought of in terms of my lifelong "career" but rather how they can be effectively applied to whatever it is I do, and there are plenty of instances in which marketing hasn't been the focus of my job.
How do you maintain a work/life balance?
I'm not perfect at this yet, but it's something I've worked very hard on in the last few years, especially after starting a family. In my past, you wouldn't have been off-base calling me a workaholic. And I still very much believe that you need to go the extra mile in order to succeed as a leader and in many jobs. So there's still no 40 hour work week on the horizon, and that's ok (and it's how I like it). But I make a very conscious effort to stop work, spend time with my family, go listen to music, take a walk outside. I also am lucky that I'm able to now run a company, Women 2.0, that promotes healthy work/life balance. We all work (very) hard, but everyone is keenly aware of making sure you shut off, recharge. It's how the best work gets done.
My business partner, Elisa, has gotten to taking personal work weeks where she disconnects, schedules no meetings, runs through strategy, her own personal goals and looks at the big picture. From a business standpoint, this is so important. Everyone should find a mechanism for themselves and their team where they can focus on both the business big picture and the personal big picture.
I also try to be forgiving when there isn't always time to stop. Right now, I have an ten month old and an almost-three year old, started another company, and my husband started a hops farm a few years ago…. it's a lot (the end of my summers hardly contain a single deep breath for about a month straight). But you find ways to focus and make sure everything is moving forward, and you manage the ups and downs. And you manage stress.
From my experience, I found that you truly work at your best when you take time for yourself and your personal life. Sometimes it's not a perfect science, and it's very difficult in the startup and tech spaces especially. For several years now, I've told people to not get into the game of competing on hours of work. People who exasperate regularly on how late into the night they worked, or that they haven't had a vacation in a year… I feel there's pressure to say those types of things that shouldn't be there, and I also wonder how they'd function if they stopped. My bet is that they'd function better.
What do you think is the biggest issue for women in the workplace?
There are two things I think are important to pay attention to, because they're two of the hardest things to change: policy and unconscious bias.
From a functional standpoint, policy - corporate, public, governmental - have profound impact on both our work life and our personal life as women. An obvious example is maternity leave. This is an issue that hits right at the core of being a woman and being a career woman specifically and has very long-term effects on the professional lives of women as well as on the company. And guess what, policy is really hard to change, and takes buy-in from the top.
Another issue is unconscious bias in the workplace, or what some people call "microsexisms".  For our purposes, this covers ways in which women are held back unknowingly by individuals. A few researched examples include when men initially reject and idea from a woman and then accept the same idea from a man, when women are labelled as "aggressive" or "emotional" and men are labelled as "driven" or "passionate", or when a resume from a women is rejected and an identical resume from a man is accepted. The reason this is so difficult to change is exactly because these biases aren't known or realized by individuals.
Which other female leaders do you admire and why?
In an incredibly non-political statement, one that pops out to me this particular week (post-election) is Michelle Obama. She is the reflection of confidence, poise, humility, compassion, presence, devotion, articulation and genuineness that's simply a pleasure to watch. Always. She has not faltered from that, and I think it will only propel her moving forward. That is a woman you want to listen to, you want to work for, you want to hang out with and want to watch do incredible things.
What do you want Women 2.0 to accomplish in the next year?
I'd like us to continue and produce valuable content for our community and to allow other organizations with mission overlaps to use our platform to drive their own initiatives. I'm really looking forward to launching our tech talent marketplace, and we're actively speaking with Founding Workplaces now to join us in our launch. I'm also simply looking forward to taking the company into a new phase of growth and see what we can do with the amazing community and media platform that Shaherose and her team built over the last decade.
Calling all HuffPost superfans!
Sign up for membership to become a founding member and help shape HuffPost's next chapter
This post was published on the now-closed HuffPost Contributor platform. Contributors control their own work and posted freely to our site. If you need to flag this entry as abusive,
send us an email
.