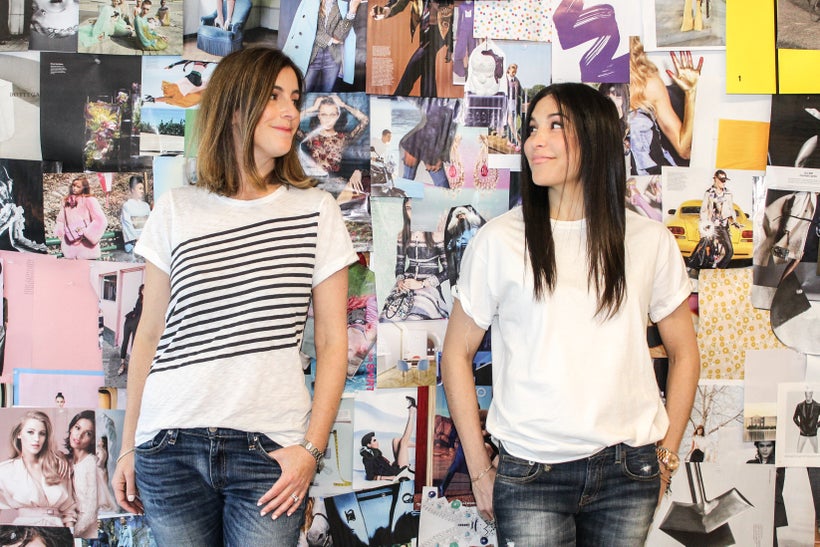 Born and raised in San Francisco, Kate Cutler has always been a huge lover of travel, art, architecture, and sky-high shoes. Kate graduated with top honors from both UCLA and UC Hastings College of the Law — where she met future bkr co-founder Tal Winter and instantly felt a connection. The two become best friends fast.
After law school, Kate spent 12 years working at prestigious firms around the city like Clyde & Co. But while she was highly successful, she felt like her time there had run its course — and that it was time to embrace her creative side.
As the co-founder and Head of Strategy at bkr, Kate uses her sharp legal mind, abiding love of travel, and innate ability to connect with anyone who loves beauty and fashion to lead bkr into the future. Focusing on strategic growth, distribution and international expansion, she ensures that in every market bkr enters, the company remains true to its brand, philosophy and mission.
Born in Beverly Hills and raised just outside of Los Angeles, Tal Winter's interest in doing meaningful work started from a young age. After earning a B.A. from UC Riverside and a J.D. from UC Hastings, Tal spent her early career devoting herself to helping people, working as an advocate for abused children around the Bay Area.
Tal devoted her nights and weekends to creating what would become the first bkr: a perfectly-sized glass bottle with all of the benefits of the plastic ones — a small mouth and an easy twist-off cap — but made, through pure glass and chic silicone sleeves, into a covetable, desirable object that felt more like a cherished accessory.
For Tal, bkr was never about entrepreneurship, but about making a product that improves people's' lives, inspires them to sip water like it's a special treat, and makes the world a little better and a lot more hydrated.
How have your life experiences made you the leaders you are today?
We're both self-made people with very strong work ethics. We've been working since we were teens — as soon as we were able to. When you do everything from scooping ice cream to making beds, schelpping burgers and marrying ketchups (which is the worst), you learn the value of hard work — and also of having a career and a team that you truly love. That appreciation and gratitude informs everything we do. We aim to inspire others to be their very best selves, to feel lucky and to be excited about where they are, every day.
How have your previous work experiences contributed to your time at BKR?
We both spent many years as lawyers and that experience teaches you some very important things: to be prepared and do your research, to pay attention to detail, to negotiate fairly but fiercely, and to not be intimidated by anyone or anything. One of the most important lessons we learned was fearlessness. We jumped head first into a hundred things we knew nothing about when we started bkr. We faced major pushback when we proposed that a clean glass bottle with a small mouth was a far better thing to drink from than unbreakable chemical plastics and smelly, taste-altering metal. We trusted our instincts and haven't wavered since. And, as it turns out, the small mouth and the fact that the bottle is made of glass are two of the things people love most about their bkrs! It's safe to say fear doesn't get in the way of anything we do.
What have the highlights and challenges been at BKR?
Seeing your invention in the hands of everyone from Gisele Bündchen to Natalie Portman and in the pages of every magazine from Vogue to Forbes is all pretty insane. Going from two girls with laptops on a couch to an office full of talented, passionate people a block away from Valentino is pinch-worthy. Signing bottles, taking fan pics and making speaking appearances at launches in London and Stockholm is equally incredible.
But there are challenges every day. For one, building a luxury brand takes time. We've said no far more than we've said yes. And in a bootstrapped company that only ever raised a tiny friends-and-family round of funding, that isn't easy. Building a brand is hard enough, but building a well-loved luxury brand that's disrupting the beauty space with little capital is challenging to say the least. We're very proud of what we've accomplished.
What advice can you offer to women who want a career in your industry?
Our advice is to really love and believe in your idea and be prepared to stand behind it and fight for it no matter what. Put one foot in front of the other every day, and if you find that you don't know what you're doing, well, welcome to the club. If you've resolved to never give up then you can figure it out. You might not sleep for few years, but it will have been worth it.
What is the most important lesson you've learned in your careers to date?
Have a plan, be prepared, and be nice.
How do you both maintain a work/life balance?
It's a work in progress. We both try to be where we are when we're there. If we're home with our kids then we try to be home. And if we're running around NYC doing press and meetings, we try not to think about what we're missing back at home and enjoy where we are.
What do you think is the biggest issue for women in the workplace?
Equality and work-life balance are the biggest issues. But when two women who are moms are the bosses, a culture of empathy and support can be a reality. Every person who works at bkr is highly respected and is allowed to have a personal life. We work hard, but we also take time for the people in our lives who need us. We make sure our team feels comfortable telling us when they need personal time, a vacation or a little bit of help — and we feel lucky to be able to call the shots and give it to them.
How has mentorship made a difference in your professional and personal lives?
You're not born knowing anything. We've had so many people help us along the way and it's been invaluable: after all, you can't avoid learning some things the hard way, but making mistakes and learning from them isn't always the most efficient (or fun). If you ask for help, most people are happy to give it. Now we find ourselves in the position of being able to help new entrepreneurs and we're glad to do it.
Which other female leaders do you admire and why?
Michelle Obama. She's smart, passionate, authentic and inspiring.
What do you want your brand to accomplish in the next year?
We want to take risks, create outside of our comfort zone, not play anything safe, and give our diehard fans reasons to love us even more.
Calling all HuffPost superfans!
Sign up for membership to become a founding member and help shape HuffPost's next chapter
This post was published on the now-closed HuffPost Contributor platform. Contributors control their own work and posted freely to our site. If you need to flag this entry as abusive,
send us an email
.