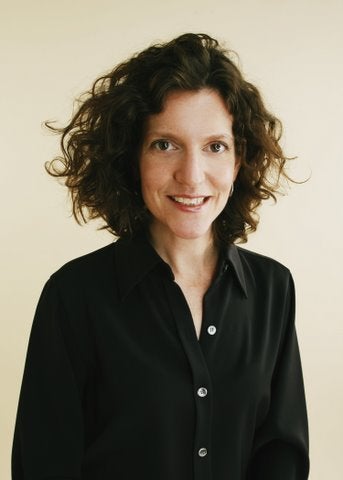 Kathy Larchian is co-founder and partner of Brooklyn-based design and invention firm PENSA, where she leads the business in marketing, operations, growth and managing the creative team in engineering visionary products for clients like Panasonic, PepsiCo, Oxo and GoTenna. Kathy is a rare find, with a business head and true understanding of how to foster and sustain a creative group. She brings over 20 years experience managing top creative firms, large and small, with a BA in Anthropology and Spanish, and an MBA in Management, Organizational Behavior and Entrepreneurship from NYU.
How has your life experience made you the leader you are today?
Growing up, I held a variety of blue-collar and entry-level jobs—shining shoes, cleaning houses, sewing in production lines, working in assembly lines—you name it. The experience not only taught me the meaning and value of real work—and inspired a strong work ethic—but it instilled an immense empathy for the teams I lead today and how to best to treat employees. (I definitely don't believe in ruling from above!). I've always been fascinated by people and how they work together, and love the challenge of building the best team possible to help them succeed.
How has your previous employment experience aided your tenure at Pensa?
I've been managing creative firms for over twenty years, but it was early in my career when I joined a small product design firm and successfully helped grow the business that I realized how much I loved leading creative agencies. I was inspired, and pursued my MBA in Management and Organizational Behavior while still working—and starting a family. The work was intense (to say the least!) but it prepared me for the energy, effort and stamina it takes to run your own firm.
What have the highlights and challenges been during your tenure at Pensa?
I've met and worked with some of the most amazing people during my tenure at Pensa—clients, potential clients, neighbors, employees, and leaders of other great start-ups. For me, the highlights are rooted in those people.
I'm also incredibly proud of everything we've built at Pensa. My husband, Marco Perry, a mechanical engineer and industrial designer, and I started the company in our home. We're now 12 years strong; have a beautiful studio and workshop; and have created some radically visionary innovations like: the first-ever public solar phone chargers that were adopted by NYC parks; the first-ever desktop printer that can bend steel (adopted by MIT, NASA, and the Smithsonian Institute); and the most gorgeous blood glucose monitoring system ever. As for challenges, recruiting is one of the most time consuming and painful processes. It is also the most rewarding. For a small firm like ours, the team is everything. Finding and retaining the right talent that works well together is a perpetual struggle. The other great challenge is keeping our staff busy enough to maintain a good energy level, but not too busy to hurt quality.
What advice can you offer to women who want a career in your industry?
Industrial design is a small and male dominated field. As a woman you must have confidence; a solid understanding of who you are and how you like to work; and the ability to present a clear and logical point of view. Network, meet people and listen to their stories—chances are you will be working with those same folks in the future. Be true to yourself, and ready to work hard.
What is the most important lesson you've learned in your career to date? Don't sign anything you don't agree with.
How do you maintain a work/life balance?
Since my husband Marco and I work together, we have an agreement not to bring work home—and we take it seriously. It certainly helps to look forward to seeing our kids after work, and planning fun weekends and activities together. I also bike or walk to/from work every day; treat myself to yoga each night; have a small garden that I love tending, and a book group that keeps me reading non-business related material.
What do you think is the biggest issue for women in the workplace?
I think that the biggest issue for women in the workplace is overcoming cultural and societal norms. And language plays a key role in influencing and perpetuating those biases and mistreatment (i.e. a woman expresses a strong business opinion and is called "bitchy," but a man does the same and is labeled "assertive"). The terrible irony is that women can inadvertently perpetuate these biases themselves. Open discussion and awareness of these issues is a start.
How has mentorship made a difference in your professional and personal life?
I've had supportive parents, teachers, and former bosses, but honestly never personally had a mentor that helped me along in my career. I had to figure out and learn everything I needed on my own. The business world certainly needs more mentors which is why we recently founded and lead a mentoring meet-up for local entrepreneurs, Pancakes* with Pensa. We structure the meeting so that the group immerses itself in conversation, advising each other on everything from manufacturing and scaling, to user-testing, fundraising and beyond. Through Pancakes* we help entrepreneurs take their new businesses and product ideas to the next level. It's been super successful, having helped over 50 start-ups already.
Which other female leaders do you admire and why?
Dere Newman, President of Mr LongArm, Indra Nooyi, CEO of PepsiCo, Alexandria Sica, Executive Director of the DUMBO BID.
These female leaders are exceptional. Their vision and leadership resonate throughout their organizations—with clarity and understanding. They are positive forces and motivate their teams to get things done. Not only do they maintain a clear view of their own business operations, they also maintain a clear understanding of the complex environments in which their organizations exist. They are smart, reliable, respectful, clear communicators, and successful leaders; I admire them.
What do you want Pensa to accomplish in the next year?
Pensa is in a period of steady growth, which is both exciting and challenging in this uncertain world. In 2018, we'd love to continue partnering with disruptive startups to help take their brilliant ideas off the ground, as well as keep advancing larger brands in their need to respond to rapidly changing industries.
Calling all HuffPost superfans!
Sign up for membership to become a founding member and help shape HuffPost's next chapter
This post was published on the now-closed HuffPost Contributor platform. Contributors control their own work and posted freely to our site. If you need to flag this entry as abusive,
send us an email
.