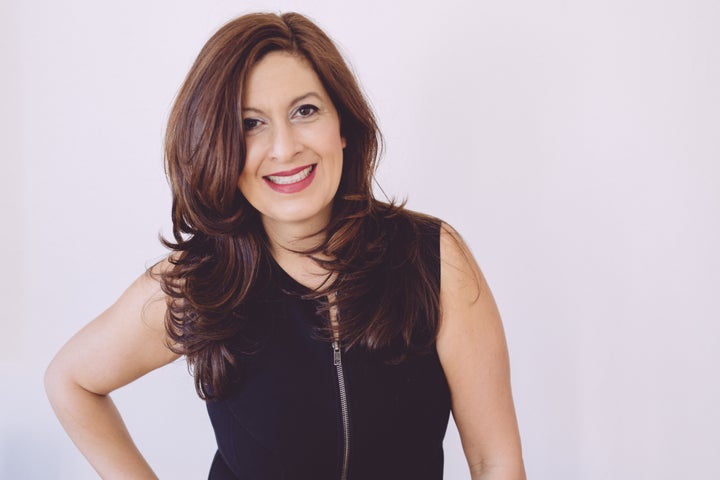 Katie is an accomplished writer, editor, wife, mom, lip gloss enthusiast, Boggle champion and co-founder of FabFitFun.
After graduating from George Washington University, Katie joined the fashion, beauty, and nightlife guide Scheckys.com as their LA Editor. She has written for an unusually eclectic variety of magazines, newspapers and websites including the Los Angeles Times, Art and Living, Women's Life, Dining Out, Pasadena Mag, LA Splash, Spoil Spot, Gimundo, and Venice News. In between articles and blogs, Katie has worked in TV production on several shows including It's Always Sunny in Philadelphia and Jackass.
Currently as the Editor in Chief of FabFitFun, she is testing out protein bars, experimenting with exfoliators, swinging kettle bells, seeking out sex secrets, discovering fashion trends, investigating mood boosters, helping hangovers and much, much more, all in an effort to find everything women need to feel good from the inside out.
Katie founded the FabFitFun online magazine with Co-CEOs and brothers Michael and Daniel Broukhim in 2010. In 2013 the trio launched the FabFitFun box, which brings the FabFitFun experience straight to members' doorsteps. Each season Katie curates an amazing collection of full-size, premium beauty, fashion, fitness, wellness, home and tech goodies.
The FabFitFun box has been an enormous success - starting with 2,000 members in 2013 and ending 2015 with over 100,000 subscribers. FabFitFun has quickly become the #1 multimedia, lifestyle-sampling platform in the U.S.
In addition to her roles in merchandising and editorial, Katie also oversees FabFitFun's advertising and PR departments. The multimedia lifestyle brand features a robust number of opportunities — from digital, to events, to the world's best sampling opportunity.
When Katie is not at FabFitFun, you can find her dancing with her daughters Summer and Sienna, hiking with her dog Rocco, experimenting in the kitchen, breaking in her latest wedge, Zumba-ing, avoiding black liquorice, and destroying her husband at board games.
How has your life experience made you the leader you are today?
Being a mom has changed every part of me. And aside from the residual belly pouch, it has all been for the better. I remember hearing that a recent study revealed moms are the ultimate multi-taskers and I thought, well…duh. Being a mom has made me a better leader and teammate. It has allowed me to multi-task in ways I never dreamed of before babies. Being a mom is all about time management and nobody does it better. Sure, sometimes I am having an early morning conference call while dressing my kids but mismatched socks are in, right? Being a mom has also made me a better team player – nothing gets done without help at home and at work. I've learned to accept help and give it when needed and I think that is crucial to becoming a better leader. It's also given me perspective. There are times when I have been crushed by a deal not going through. Being a mom has taught me that the only way to succeed is to persevere and try again. There's no time to wallow when you have to soothe or feed a crying baby. You just have to try again tomorrow. I work because I love it but also because I want to set a good example for my daughters. I want them to see my passion and I think that my co-workers see that as well.
How has your previous employment experience aided your tenure at FabFitFun?
Before starting FabFitFun I had been a writer and editor in the freelance community for many years. And while I was lucky to write for a variety of great mags and sites, it felt like the majority of the content available was preachy or not relatable. We wanted to do something a little different at FabFitFun. We wanted to create content that was not about being perfect. We focused on simple tips and tricks to get to a better self. In 2013 we decided that we not only wanted to write about beauty, fashion and fitness, but actually put products into peoples' hands. The result is the FabFitFun box which is the focus of the brand today. But it is definitely more than just stuff in a box. I think part of the reason that we have found success is this bridge between content and commerce. Telling a cool story around what goes inside makes the contents so much more interesting. Whether it's a founder story or a sourcing video, or a piece on ingredients, or a beauty tutorial or a DIY on using the product; the story helps complete the experience. And I am glad that all of those writing classes in college were not a complete waste.
What have the highlights and challenges been during your tenure at FabFitFun?
There have been so many highlights and challenges. I love, and may be addicted to, member feedback. When the boxes start hitting doorsteps – I can't help but scroll through and read all of the comments on social media. I love how happy we make people. It gives me the biggest rush. And I am crushed if someone doesn't like something. But we use the feedback across the board to make better and better boxes. Beyond that, I think we have featured some amazing products and exciting brands, created really cool content and supported some pretty inspiring non-profits. All pretty great highlights. But I guess one of the biggest milestones for me was hitting that 100k member mark. I remember planning for our first box. My co-founders set a lofty goal of 2,000 members. I honestly was not sure that we were going to hit it. Getting to that 100k mark was pretty huge. And being able to have grown so much since then – that number seems so small now which is pretty crazy! It continues to get more and more exciting.
What advice can you offer to women who want a career in your industry?
I think when you talk about working in beauty and fashion it sounds super glamorous. And there are parts of it that are really amazing. I get to try tons of fantastic products, travel to interesting cities and work with incredible brands – but it's not all Insta worthy. In fact, most of it is really challenging. It can be long hours, long nights and often long weekends. It's rare that I ever completely disconnect from my job. You have to be ready to put in the long hours and hard work. We work in an industry that changes incredibly fast so you have to stay adaptable and up to date.
What is the most important lesson you've learned in your career to date?
Hire people who are smarter than you. It can be very hard to let go. Especially in the beginning. You feel like you want to do it all but it's pretty impossible. I'm lucky to have two incredibly talented, smart, creative, game-changing co-founders in Michael and Daniel Broukhim who always go above and beyond. But we still needed more than just the 3 of us to grow. I think it was especially hard for us because we are all big time 'doers.' I tend to suffer from a classic case of 'it's easier just to do it myself' and I had to be proven wrong time and time again to really understand the importance of building a great team. In the past few years we have brought on some game-changing talent at FabFitFun. We would not have been able to build the business without innovative thinkers like David Oh our Chief Product Officer and Zeina Charara our SVP of Finance and Operations. And that's only a drop in the bucket of FabFitFun talent. From marketing to finance to product, we have built a team of intelligent, passionate people who simply made FabFitFun what it is today.
How do you maintain a work/life balance?
I don't. I mean not completely. I think that's a fantasy. Most of the time I still feel like I am missing time with my kids or not giving my all to work. But I have to remind myself that's not the reality. I am doing the best I can and I am lucky. Working at FabFitFun allows me a lot of flexibility. While I am not always successful I try and be in the moment whether I am at work or with my family. Mornings, evenings, and weekends are family time. We cook together, read together and have more than the occasional dance party together (my three-old-old has serious moves). I try to leave my phone plugged in somewhere far away from the action. But when I am work, I get it done. Maybe it is out of need, but these days I can pack it in like nobody's business. And while I try to leave by 5pm, that means I'm back on the computer to go through emails at 8pm after the kids go to sleep. And yep, I am often up pretty late but it's what works for us right now.
What do you think is the biggest issue for women in the workplace?
Equal pay. It is a little mind boggling that this is still an issue. Beyond that I think many women have to work on their confidence in the workplace. Men are programmed from an early age to show off their accomplishments. Women, on the other hand, tend to want to wait for someone to recognize their hard work. So many of my female team members feel like they are boasting if they talk about their accomplishments. But you can't always wait for someone else to tell you that you are doing a good job. You have to own it.
How has mentorship made a difference in your professional and personal life?
I think mentorship is incredibly important. My parents have both been incredibly amazing mentors throughout my life. My mom was the true definition of an amazing, successful working mom. She got her PhD while I was in school but still found the time to be a great mom and encourage me every step of the way. I would like to be that kind of role model for my girls. My dad instilled the idea that you have to do something that you love. Money is obviously important but that idea has always stuck with me. When the focus of my role changed at FabFitFun my co-founder suggested that I seek out a mentor. And while I loved the idea of mentorship, finding a mentor in my early thirties sounded weird. I was a grown up. I felt like mentors were for college kids or people just starting out in the workforce – not someone like myself. However, there is always someone to learn from. I have made a real effort to learn from leaders in my industry and it has really helped me grow. I have learned from both their successes and failures. This kind of knowledge is real power.
Which other female leaders do you admire and why?
Wow so many. The big, more obvious names include the Notorious RBG, Michele Obama, Tina Fey, Hillary Clinton, Sheryl Sandberg, Reshma Saujani, Ellen Degeneres, Arianna Huffington and Susan Wojcicki. On a more personal level I am constantly in awe of the amazing female founders we feature in our box. I can't even begin to name all of them but they include Susan Koger of ModCloth, Deborah Lippmann, Trina Turk, Carly Burson of Tribe Alive, Jennifer Yen of Purlisse, Maria Sebregondi of Moleskine, Sarina Godin of butter LONDON, Gorjana Reidel of Gorjana, Maureen Kelly of Tarte, Carmin Black of Half United and Caitlin Crosby of The Giving Keys. And that's just a little piece of the list. These women are changing the game by creating and running some truly fantastic brands. And then last but not least I would say I am always amazed but the uber talented women that make up our team at FabFitFun. From merch to sales to finance to dev – there are some serious powerhouses.
What do you want FabFitFun to accomplish in the next year?
For me, the biggest goal is just making the experience as incredible and interesting as possible- partnering with bigger and better brands, layering on perks in travel and retail, launching our video initiative, diving into more personalisation, expanding the community, building out the team and continuing to grow across the board.
Popular in the Community