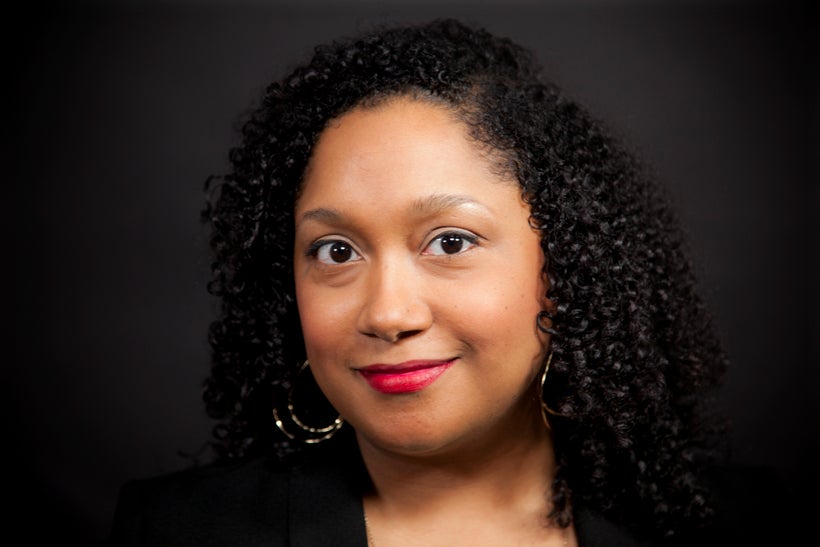 Lauren Williams is the executive editor of Vox.com in Washington, DC. She previously served as managing editor for Vox and before then, story editor for Mother Jones. She was a deputy editor of The Root from December 2011 to June 2013. Prior to that, she was an associate editor for the outlet, beginning in the fall of 2010. 
How has your life experience made you the leader you are today?
I am incredibly fortunate to have grown up with very supportive parents and sisters and to have a husband who I can lean on in times of stress or pain, and who is a true partner in caring for our son. These relationships helped give me the confidence to lead that women — particularly women of color — might not always get from their teachers and professors, or from their bosses when they're first starting out. Additionally, I don't think it can be overstated how much the support from my family leaves me space at work to lead with a clear head and to keep the messiness of life from getting in the way of how I manage my team.
How has your previous employment experience aided your tenure at Vox.com?
I'm lucky to have come of age in journalism at a time of intense change. So the beginning of my career played out in some really diverse ways  — from beat reporting for a small-town newspaper to writing all day in my pajamas for a fledgling blog network to working for a legacy online company as it was trying to find its footing in a new digital landscape. These experiences, plus the skills I developed in my more recent jobs, allow me to approach my work at Vox with a really well-rounded perspective on journalism and the media business.
What have the highlights and challenges been during your tenure at Vox.com?
Here's one that's both a highlight and a challenge: the ever-changing imperatives in digital media. You never get bored or comfortable — there's always a new platform to create for or adapt to, a new storytelling method, and a need to keep up with the different ways our audience consumes our work. The challenge is making sure you and your team continue to embrace these new opportunities and keep up with the constant changes. 
What advice can you offer to women who want a career in your industry?
Confidence and tenacity are required to succeed in this business, and these are two traits that are not necessarily encouraged in girls in the same way they're encouraged in boys. The best advice that I can offer to women is that if you don't think these things come naturally to you and you really want to be a journalist, fake it until they do. Once you land a job, never forget that you belong there just as much as your colleagues do. And if you ever get to a point where you have enough clout to effect change, work to make your workplace inclusive for people with different communication styles and diverse approaches to getting the job done.
What is the most important lesson you've learned in your career to date?
Take the risk. I'm at Vox because I took a risk. I left my very comfortable job, where I was happy and content, for a website that had only existed for 2 months. But I knew, from talking to Vox's founders Ezra Klein, Melissa Bell, and Matt Yglesias, that this was a special place and that I would regret it if I didn't take the chance. Of course, you should always calculate the risk! But don't close yourself off to career-changing opportunities, particularly when you have little to lose and a lot to gain.
How do you maintain a work/life balance?
I'm not sure I always do. At any given time, I feel like one of the elements of the equation is getting neglected. But I try very hard for myself, and for the others in our newsroom, to develop processes that allow people some time away even at times like these when the news is going at such an intense clip.
What do you think is the biggest issue for women in the workplace?
I think the common answer here is probably work-life balance. It's a huge problem for working moms, but I think it's a big problem for working dads too. So to me that's just a problem, not specifically a women's problem. The issue that I keep coming back to more and more is one I mentioned earlier — that so many of the skills required to succeed in the workplace are ones encouraged in boys but not necessarily in girls. And that puts a lot of women at an immediate disadvantage, particularly if their managers don't recognize this as an issue and try to adapt the culture of their workplace to be more inclusive of different work styles.
How has mentorship made a difference in your professional and personal life?
I have never had a formal mentor-mentee relationship, but informally, I have had a number of women managers who have seen something in me that they liked and have helped me tremendously in my career, over and over again. And I try to always remember the help I received as a young journalist and pay it forward whenever I can.
Which other female leaders do you admire and why?
This might seem like a cheap answer, and there are countless women leaders I admire, but I'm going to say my mother. Yes, she was a boss in her career, but that's not really why I admire her as a leader. The way that she raised my sisters and I, respecting our intelligence, agency, and individuality while always being there to coach us through situations that we weren't equipped to handle on our own is a model for any leader in any business, I think.
What do you want Vox.com to accomplish in the next year?
Vox, like every other news outlet, is facing the extreme challenge of covering a new presidential administration that is unlike anything any of us have experienced. As we celebrate Vox's three year anniversary in April, what we hope to accomplish in the next year is to break through the noise and become the top destination for the most clear and honest explanation of what the Trump administration and Congress are doing, and how the decisions they make affect people in real, tangible ways.
REAL LIFE. REAL NEWS. REAL VOICES.
Help us tell more of the stories that matter from voices that too often remain unheard.
This post was published on the now-closed HuffPost Contributor platform. Contributors control their own work and posted freely to our site. If you need to flag this entry as abusive,
send us an email
.