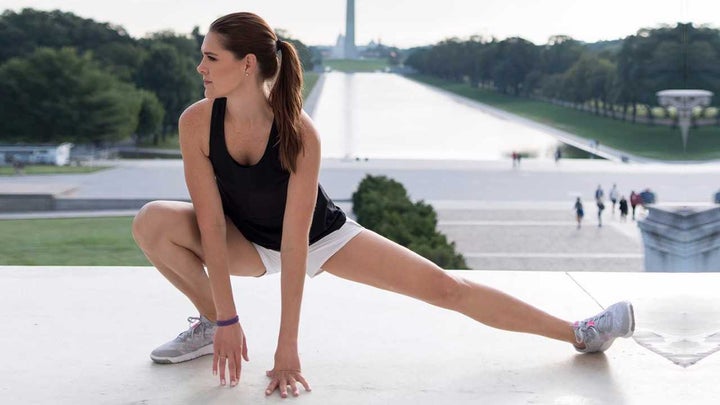 Laurie A. Watkins is a speaker & coach, the author of Go from Stressed to Strong: Health and Fitness Advice from High Achievers, and creator of courses like Command Your Day Now. While working to get President Barack Obama elected in 2008, Laurie came close to burnout. The long hours, lightning-speed pace, and demands of the job as a political director eventually took their toll on her health. At first, she made small changes which brought temporary relief, but the problems only followed her to Washington, DC & into her next job at the Pentagon. Falling into the same unhealthy patterns as she did on the campaign trail & fearing disaster, she made the decision to take drastic control of her life.
In 2010, Laurie joined a gym, changed her diet, eating habits, sleeping habits, and learned how to efficiently manage her time and stress even while working in a high performing job. Then in 2012, Laurie was asked to return to campaign work as President Obama's policy director in Florida. Fearful that all the hard work and progress she made with her health and fitness since the last campaign would be destroyed by the horrendous and unsustainable schedule, she developed her own program. With a mastery in five areas – time management, sleep, food, fitness, and stress management – this program allowed Laurie to align her professional and personal life, and to find her own strength in the face of adversity.
How has your life experience made you the leader you are today?
Economist Robert Reich has called team-building, leadership, and management ability essential qualities for the entrepreneur. I honed in on those skills early on, tracing all the way back to my school days and earliest job opportunities. I now run my own business as a consultant, author, and speaker, on the many aspects of stress, time management, and wellness; which include nutrition and exercise, all based on my book, Go from Stressed to Strong: Health & Fitness Advice from High Achievers. And, while working in political campaigns, public policy, and government, I managed a disparate group of people and interests while working towards common goals of improving our communities and solving societal problems. At the Department of Defense, I helped manage complex projects and installations, including supply chain management and personnel coordination, just as in any other large and complex business. In the private sector, I pursued business development opportunities for my employer, which required initiative, persuasion, and salesmanship; and in academia I was a guest lecturer at the United States Military Academy where I played a small part in educating tomorrow's Army leaders. My education, mentors, and experience helped shape the leader I am today.
How has your previous employment experience aided your current role?
I have worked in a diverse set of high-pressure industries for nearly twenty years, most of them male-dominated. I have had the opportunity to both observe the challenges that other professionals, particularly women, face in such fields, as well as observe the qualities and behaviors that led some of those professionals to great heights of success. It is those success stories that I highlight in my book, and those professionals' needs that I hope to target and address. Because I've been one of them, and continue to be one of them, I believe that gives me more credibility to speak to their experience. Above all, I value respect in the workplace. It is up to all of us working professionals to influence a culture of respect, and civility in the workplace, coming together to achieve a common goal. Because, that's the definition of TEAM.
What have been the highlights and challenges?
Like any entrepreneur, I was frightened to give up a steady paycheck for the uncertainty of self-employment. But larger than the financial uncertainty was the worry about whether my book and my business would truly find an audience, and whether people would really find my words and advice helpful and worth listening to. The highlight has been finding that the answer is yes! It is simultaneously thrilling and humbling to learn when I have made even a tiny difference in someone's life, outlook, and choices. To be able to speak and write to audiences is exciting, and powerful. My greatest hope is that I am actually helping someone unleash their brilliance, taking them from stressed to strong.
What advice can you offer to women who want a career in your industry?
Write, write, write! It is so important to find your voice, and to find your audience. Think about what truly sets you apart, and what makes your voice and your message a little different from what's already out there. And get those words on the page or the screen, and published! It doesn't matter if it's a blog, an email newsletter, or a publishing deal with a major company - you can't help anyone if they can't read your work. All other aspects of the business - the speaking engagements, the consulting, and additional revenue streams - stem from your words, so get those words out there!
What is the most important lesson you've learned in your career to date?
It's important to trust your gut, while also trusting your team. No one does anything alone, particularly starting a new business. It is so crucially important that you and everyone on your team share the same vision and values. Hindsight is 20/20, so it's easy to look back and say, "Oh, I should have listened to that nagging voice in my head at that particular moment," but if you do that too much you'll end up driving yourself crazy. On the other hand, if you don't examine where things went both right and wrong, you'll keep making the same mistakes. Think of it as a balancing act, where you examine the past, but only so far as it helps you to make better decisions in the future. The most important thing to remember is that the stability of your decision will depend on trusting your own instincts, and trusting those people around you who may have more experience in a particular area.
How do you maintain a work/life balance?
Well, that's literally the topic of my book and my consulting business! The most important aspect or step is radical honesty: what do each of our choices really entail? What's the real cost and real reward, long-term? Change has the potential of bringing an unlimited number of positive effects to someone's life. But in order to be ready to make a change, you have to admit there is a problem or that something warrants change. If there are things in your life that no longer make you happy, there is usually a reason. And while this may be tough to hear… often times you are the person behind the reason you are unhappy due to your own choices. Once you identify the cause, only then can you work to correct, eliminate, or change it. It's important that you trust yourself and that you make the right decision. By executing your first "self-nudge", which starts by changing one thing today, you are on the road to making positive, healthier changes to your road map to life. Everything in life is a choice.
What do you think is the biggest issue for women in the workplace?
Obviously, the pay gap is a huge issue, and it's even worse for women of color. But ultimately that's a symptom of a larger issue, which is that women aren't taken as seriously as men in the workplace, partly because we don't take ourselves as seriously. We tend to internalize a lot of the messages that are thrown around about women in the workplace, and that can lead to unnecessary self-doubt and holding ourselves back. Study after study show that, for example, women are measurably more likely to be interrupted at meetings, are less likely to take credit for work done as part of a team, and are more likely to have personal qualities noted over professional ones in evaluations. And this isn't necessarily a man vs. woman thing, because women can be a part of these trends, too. But if we are aware of them, if we keep them in mind, if we refuse to dismiss the nagging voice that says, "This isn't normal; I'm not mad," then we can change it.
How has mentorship made a difference in your professional and personal life?
I wouldn't be anywhere close to where I stand today if it wasn't for the guidance, time, and wisdom given to me by such a brilliant group of women and men that I'm so blessed to have in my inner circle. Having a mentor is wonderful, but it also brings great responsibility on the part of the mentee. And it should! A mentor's role is to quite simply help open doors of opportunity. While you may get lucky and also receive professional and personal enrichment, that's not always the norm. Most of the work comes from you. And if you do get lucky enough to meet the mentor of your dreams, I suggest you hold onto them as tightly as you can. The great ones are like unicorns. You can start by making sure you thank them. I am thoughtful and sincere in my expression of appreciation and I always follow up by sending a hand-written "thank you" note. I always do the research on how heavy the lift, possible outcomes, and the likelihood for success before I even make an ask. Because I never want to leave my mentor feeling as if their gesture was a waste of time. And I always make a point to give more than I receive. We all should. It's a fact that there is more than enough success to be had in the world without wasting time and energy trying to keep someone else from getting it. I make time regularly to help open doors for other colleagues, young women and men, and especially for those finding themselves at a crossroads. Why do I do this? Because I can. I have the network, and I have the resources. Why wouldn't I want to share that with someone if it will contribute to their success?! The answer is easy.
Which other female leaders do you admire and why?
I am inspired by and admire so many strong women in my life that it's hard to list them all appropriately. I am inspired by Malala Yousafzai, and Danielle LaPorte for their truth, self-compassion, and brilliance. I admire Sheryl Sandberg for her strength as a mother, philanthropist, and a highly-public tech executive who chose to use her voice and platform on behalf of women in the workplace, advocating for better equality. I also admire Sara Blakely, fellow Florida State University Alum, and Founder/CEO, Spanx. She had an idea, ignored the nay-sayers, listened to her gut, and found a way to fill a need for women (and now men), becoming the world leader in the shapewear industry. Through achieving success, she created a mechanism and foundation that aligns with her mission to support women, and constantly gives back to those looking for a "leg up".
What do you want Go from Stressed to Strong to accomplish in the next year?
I want to make it onto the bestseller lists, because that would signal to me that a large number of people are finding the book useful and are using it to improve their lives. I want to extend my reach and spread my message, enrolling more people into my consulting programs and mini-courses. And I'd like to make an appearance on a national morning show!