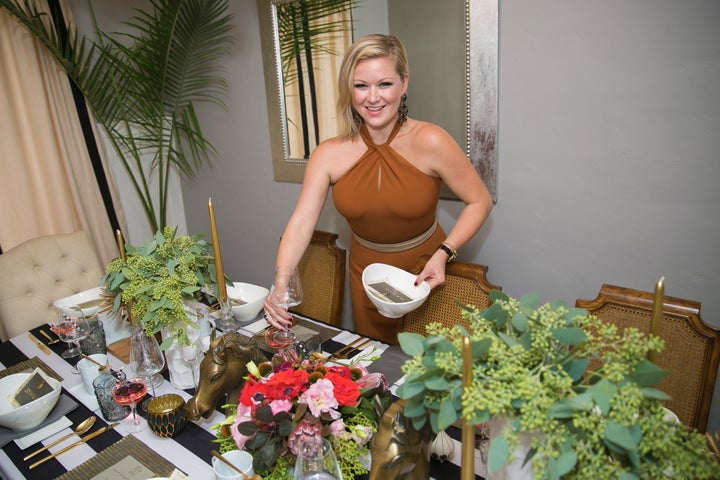 To those who know Liz, Table + Teaspoon is no surprise. Entertaining is in her blood. A native San Franciscan, she's a former successful corporate litigator who left the law to pursue her passion for entertaining and design. She founded Table + Teaspoon in 2009 as a cooking blog dedicated to simplifying recipes so that everyone would feel comfortable cooking. After gaining years of hands-on experience in event décor, interior design and private catering, and dreamingup the newest iteration of the Table + Teaspoon brand, she has reintroduced the brand in the market as the first "rent the table" service. In her spare time, Liz does pro bono legal and mentor work with abused foster youth. In May this year, Liz led an effort that raised $500,000 for SFCASA (San Francisco Court Appointed Special Advocates), the nationwide organization that empowers everyday citizens to advocate for foster children. Liz also serves as Vice President of the ArtPoint Board of Directors for the San Francisco Fine Art Museums, including thede Young Museum and Legion of Honor.
How has your life experience made you the leader you are today?
After working in national politics post-college, I decided that an advanced degree would be useful to me, especially as a woman. Law had the most practical application to many different career options so that's what I went with. I loved law school and my time clerking for a federal judge, but I didn't love being a lawyer. Growing up, I watched my father build satellites for NASA that went to Mars and my mother risk everything to pursue her professional dreams. I craved these qualities in my own life - innovation, passion, and fearlessness. And I knew corporate law couldn't foster these for me.
Then, one night while I was making Mac & Cheese from scratch, I asked a fellow lawyer friend to help by "putting the pasta in" for me. She promptly dumped the macaroni into the small pan of simmering milk (for the cheese sauce) rather than the big pot of boiling water. This was the moment I realized there was a niche for a company that could make the daunting aspects of cooking, entertaining, and decorating more straightforward so that everyone who wants to has the ability to live a more beautiful lifestyle. I knew that I had the drive, leadership, and dedication necessary to make it happen. And as they say, the rest is history.
How has your previous employment experience aided in your success with Table + Teaspoon?
I have zero formal training in anything other than law. Though my experience as a litigator provided valuable insight into corporate structure, avoiding potential product liability, and contract review, little else translates to my new career. If someone who wants to change careers, has the time and resources to go to culinary school, medical school, fashion school, astronaut school – whatever drives you – great. But the truth is, by the time you realize what you actually want to do with your life, it's often too late to subscribe to the traditional method of training in that particular field. This meant that I had to adapt quickly. Beyond reading everything I could get my hands on – books, magazines, Wikipedia – I jumped right in and got my hands dirty.
I spent several years hosting meticulously decorated multiple-course dinner parties for twelve friends every ten days, until I was confident that my skill-set was on a professional level. Lacking that option for interior design and event planning, I offered my services at cost or insanely reduced rates (think $1/hr.) while I was learning the business.
Though I didn't rely solely on trial-and-error, I also leaned on my friends for guidance. You'd be surprised by how many people will feel inspired by your passion and will want to share their knowledge with you. Chef friends, photographer friends, design friends, florist friends, startup friends, and accountant friends were all quick to respond to my 911 texts for help when I found myself lost in a completely new industry. Their tips were invaluable, and I undoubtedly wouldn't be where I am today without their support.
What have the highlights and challenges been with Table + Teaspoon?
Relaunching Table + Teaspoon from a catering, events, and interior design firm to a scalable startup was challenging. I wrote the business model in June of 2015. Designing, sourcing, and manufacturing product happened quickly - we were fully stocked by November. Everything else has been more difficult. Creating an ecommerce site capable of renting; designing a reusable, sanitized box that arrives/returns with everything in one piece; and finding a suitable space for a showroom/office/fulfillment center are all more difficult than you'd imagine. Thankfully, due to this painstaking process, we've encountered minimal glitches on our site and no broken dishes. Watching the impact we've had on people's confidence to entertain via their feedback and Instagram photos of our product in their homes has been the most inspiring and validating part of the experience to date.
What advice can you offer to women who want a career in your industry?
Here's the thing about starting a company: one moment you're successful, confident, and impenetrable – the next you're struggling, confused, and afraid. The biggest challenge is figuring out your passion, because you will always fight for that passion despite the inevitable lows. Read everything you can get your hands on, push yourself hard, rely on friends and family for support, and never stop believing in what other people may view as reckless and impractical. Decide what your passion is worth, write it down and stick it in your wallet. Pull it out when you need a quick reminder. You've got this, trust me!
What is the most important lesson you've learned in your career to date?
The most important lesson I've learned in my career to date is that I simply cannot learn fast enough to scale fast enough. In the early days, I found that the more I could do on my own the better the product would be because that way I held all of the knowledge and nothing could slip through the cracks. As Table + Teaspoon grew over the last six months since launch, I've quickly realized that this motto doesn't ring true for larger companies. I don't have the bandwidth to learn and effectively execute marketing, sales, PR, photography, product design, website and app engineering, regulatory compliance, and myriad other roles necessary to keep my company growing. It's been a difficult pill to swallow, but I've come to terms with the fact that other people are smarter and better at many aspects of my business.
How do you maintain a work/life balance?
The fact that founders often have little time for anything other than their companies is no secret. And as a woman without a husband or children, it's been fairly easy to prioritize work in this way. The goal is to devote as much time possible to set the foundation for Table + Teaspoon's success so that when the time comes to shift my priorities toward family, I will have more flexibility in setting boundaries between work and home life. Check back in a few years to see how this idealism works out for me...
What do you think is the biggest issue for women in the workplace?
The biggest issue facing women is equality. Equal pay, equal opportunity, and most importantly - equal respect. Disparity between the genders in the workplace has become significantly smaller in the last few decades, but our work here is nowhere near complete.
How has mentorship made a difference in your professional and personal life?
When I made the decision to leave the security of my corporate litigation job in 2013, I knew that I wanted to work for an innovative startup but couldn't picture exactly what that looked like. I booked lunches with a handful of mentors, each of which advised that I turn my passion for entertaining into my own startup. Initially, I opposed the idea and interviewed with several emerging companies to do business development. After struggling to find a good fit, I went back to my mentors who suggested just jumping right in and learning everything I could about the cooking and entertaining industry by transforming my blog, Table + Teaspoon, into a catering, events, and interior design firm. The idea was to get my hands dirty, gain credibility in the industry, and then figure out how to scale it into something national with the goal of making entertaining at home accessible for everyone. My mentors were incredibly helpful during this transition. Their own experience within the startup world allowed them see a path for the company that I couldn't at the time.
Which other female leaders do you admire and why?
My female icons are Julia Child, Rosa Parks, and Marie Curie. At first blush, this may seem like an odd grouping, but when you take a step back it becomes apparent that they share a collective fearlessness. Each of these women heroically fought for what they believed in and shook the earth to its core in the process. After working in secret intelligence for the United States during World War II, Julia Child endured years of training under condescending male chefs and rejection by publishers in order to simplify and share French cuisine with the world. In an isolated act on a bus in 1963, Rosa Parks bravely ignited a boycott that ultimately led to the end of racial segregation - something she was too humble to ever take credit for, stating "I would like to be remembered as someone who wanted to be free [...] so other people would also be free." As if Nobel Prizes in physics and chemistry, a professorship at University of Paris, and the scientific discovery of radioactivity weren't enough - Marie Curie was also the first female to do any of these things, all the while facing constant opposition as both a woman and a person of Jewish descent. The fearlessness in each of these female leaders provides an endless source of inspiration in my life.
What do you want Table + Teaspoon to accomplish in the next year?
The on-demand economy is enormous, and growing exponentially everyday. People want to entertain in their homes, but don't know how or don't have the bandwidth to. Hiring an event planner every time you have people over is expensive and time-consuming, as is curating and buying your own dishware. When I created Table + Teaspoon, I knew that this was a space that needed disrupting, what I didn't realize is that I could disrupt two industries at the same time. Table + Teaspoon brings the dishware necessary to complete the on-demand food industry and harnesses the tech innovation the event rentals industry is currently missing. The market was clearly ripe for innovation and no one was doing it.
Our goal is to continue make entertaining accessible for everyone by disrupting even more genres. I'm working on a cookbook, which will bring my cooking blog into print form. I'm hoping the final product will look just as gorgeous on a coffee table as it is useful in the kitchen. The recipes are simplified so that anyone can make them, while still being luxurious and delicious. I'm also at the very initial phases for both a cooking product line, and T&T objet d'art for the dining table and home (think Kelly Wearstler meets Barefoot Contessa). Down the road, I'd love to find a better way to do "Interior Design in a Box" for people who want a gorgeous living space, but don't have time to correspond with designers or select pieces on their own. The future is bright, and I'm very excited.
Support HuffPost
The Stakes Have Never Been Higher
Related
Popular in the Community