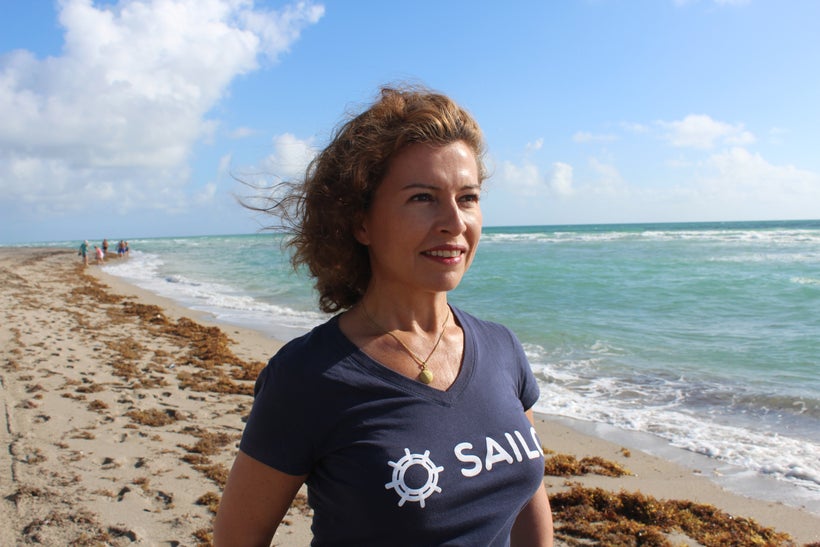 Magda Marcu is co-founder and COO of Sailo, the boat rental marketplace  that makes renting a boat simple by connecting people who want to get on the water with charter companies and private boat owners.
Founded by former entrepreneurs and engineers from Silicon Valley, Sailo creates transformative technology to redefine the boat rental industry as instant and mobile.  Whether you want to add provisioning, share an itinerary, sell berths for a group outing, or plan an event, Sailo's platform provides a seamless interface through which to do so.  They started operations in 2015 in New York and Miami where they have the biggest supply of boats and are now present in 40 countries and 260 cities. Their plan for 2017 is to grow their fleet to 15,000 boats. Sailo was part of the Techstars New York '15 accelerator program.
Originally from Romania, Magda came to the US 20 years ago on a merit scholarship to get her MBA. While her official title at Sailo is that of COO, she leads projects in all departments, including operations, finance, marketing, human resources, accounting, and customer service.
Magda's previous experience spans across start-ups and Fortune 100 companies, such as Lam Research, The Home Depot, Starwood Hotels and Resorts, and Interbrand, where she ran multi-million dollar technology projects and led teams of hundreds of people.
Magda holds a Law Degree from Romania and an MBA from Santa Clara University, California. Her work on Creative Strategies for Global Competitiveness was published in "Advanced Management Journal", which was presented at SAM International Management Conference in Washington DC.
In her limited free time, Magda is an avid translator  of TED Talks - Ideas Worth Spreading. She is also an alumni of and mentor at Techstars.
How has your life experience made you the leader you are today?
As a kid, I grew up in a communist country where the standard of living was atrocious, and human rights violations were normal part of life. After the revolution, my parents started, with enormous sacrifices, the first private restaurant business in the country, almost losing our home in the process. That's how I learned, first hand, about risk taking and courage, which I believe are essential traits of a leader. I left Romania, my friends and family to come to the US for my MBA. To be away from what I knew as my life, having nobody to speak with in my native language, to share my thoughts with or confide in, was harder than I expected.  I completed my MBA at Santa Clara University, California, worked for several years in the Bay area, then in Atlanta, and finally I moved to New York, the city of my dreams, where I live today. It was a journey of ups and downs, which ultimately shaped me as the leader I am today: empowered, decisive,  resilient, passionate. Along the way, I've learned about the importance of empathy, humility, adaptability and open-mindedness. Each person and each experience contributed to my growth into a better leader.
How has your previous employment experience aided your tenure at Sailo?
I have worked in various industries in small and large companies: Lam research, The Home Depot, Starwood Hotels and Resorts, Interbrand  with some amazing and visionary leaders. While I started in change management and corporate re-structuring, my path starting shaping in the operational area. During my first job after graduation I learned about the importance of company culture and what it takes to build a strong organization with dedicated people. Later, I used this knowledge to run complex, cross-functional, large-scale integration and alignment projects in digital asset management, loyalty programs, vendor management, revenue management, and business intelligence. I have led hundreds of people and multi-million dollar projects and during this time I developed expertise in new process implementation, systems integration and operational structure. These skills proved crucial at Sailo as we quickly scaled operations to sustain our growth over the past year. It's fascinating to see how, in a startup, automation and well-defined processes impact growth in almost real-time. We have aggressive goals for this year, and we are in a strong position to accomplish them.
What have the highlights and challenges been during your tenure at Sailo?
An entrepreneur's journey is challenging but thrilling.  Getting immediate validation is addictive and inspiring and it gives you determination to do more and do it faster. One such example is the launch of our iOS app, that turned out to be more successful than we expected - good motivation for us to continue to improve it.
Occasionally there are also less expected and more challenging moments.  One of these happened when I first faced an online credit card fraud attempt. Our systems are robust and secure, so no damage was done, but I am amazed at how much time and effort some people invest into creating sophisticated schemes to deceive others. It's disappointing to see creative minds put in service of destructive endeavors.
What advice can you offer to women who want a career in your industry?
Throughout my career I changed several industries moving from semiconductors, to hospitality, home improvement, to digital marketing, and now to boat rentals. The industry itself is was not the relevant aspect for the progression of my career. My focus was on acquiring knowledge and skills in the operations and creatively applying them in new areas. Having expertise in a particular domain (being that an industry, a product, or a business area), will give you authority, flexibility to be creative, and recognition.
Regarding entrepreneurship, I can say that life in a startup is uniquely rewarding and challenging, at the same time. You need to have commitment, passion and faith to enjoy it. I wake up at 4:30am every day, without an alarm clock, excited to work on new ideas and solve more problems. My advice is: whatever industry you choose, make sure you love what you do and become an expert at it. That will make you inspired, fulfilled, and successful. Make sure you are surrounded by people you can learn from, who support and encourage you. Find a woman mentor who inspires you and learn the ropes from her.
What is the most important lesson you've learned in your career to date?
It may sound obvious, but we always have more things to do in a day than we can possibly do. Learning to prioritize the tasks with the biggest impact was one of the most valuable things I've learned early on. I stay focused on what's important and that enables me to be more productive.
The other important lesson I've learned brings to mind Pascal's quote: "I would have written you a shorter letter, but I didn't have the time". I understood long time ago that it takes time, energy and effort to come up with a simple solution to a complicated problem. We apply this at Sailo every day, for example like in the way we solved the boat renting problem. Renting a boat can be daunting for some people, not only in choosing the right boat but also in having to worry about safety, navigation, provisioning, and other aspects that almost require prior experience.
The solution we built at Sailo was always with this process in mind, on how we need to reinvent the rental experience into one where the platform assumes the complexity of the process and presents a simple interface accessible to both experienced and novice users.
How do you maintain a work/life balance?
The truth is that, at the moment, I am fully focused on growing Sailo.  My personal life takes a toll quite often, but I am fortunate to have very supportive friends and family. They accept the implications of my decision to build a company from the ground up and are always besides me. And for that I am eternally grateful. I do my best to put aside time to relax and unwind with friends and family at least every other week.
What do you think is the biggest issue for women in the workplace?
I have worked all my life in male dominated industries: home improvement, technology, boating and for me this has  never been an issue. However, the ability to communicate effectively as a woman in the workplace and make your ideas heard is paramount. I recommend a book which helped me understand how can women improve the way they communicate in the business world, "Talking from 9 to 5: Women and Men at Work" by Deborah Tannen.
In my opinion the gender inequality problem begins with the educational expectations of each girl early in life. For example there are fewer girls than boys pursuing a higher education in math, tech or engineering and thus fewer women work in these highly paid and creative industries. This is a pity because women have the ability and strength necessary to be just as successful as men in science and technology. As a society we have to do more to encourage women to embrace STEM careers through education and positive role models.
How has mentorship made a difference in your professional and personal life?
Whether I realized it at the time or not, strong leaders I crossed paths with left a lasting mark on my professional life, leadership style and decision making process. The biggest influence was Adrian Gradinaru, Sailo's founder and CEO. We've been long time (17 years) friends and cofounders in a previous startup, and this created a bond of trust that is invaluable and irreplaceable. His balanced leadership style, integrity, unparalleled vision, and inspiring belief in technology and humanity, energize me everyday.
Which other female leaders do you admire and why?
Sophia Amoruso (Nasty Gal) for her vision and drive to create and build a relevant brand; Katia Beauchamp and Hayley Barna (Birchbox) for their business sense and vision; Arianna Huffington for disrupting the media industry, Christiane Amanpour (CNN) for her audacity, exceptional journalistic career and for being a fearless advocate of women's rights.
What do you want Sailo to accomplish in the next year?
I want Sailo to grow into a strong, global brand that makes a difference by bringing happy moments and unforgettable experiences to our customers' lives. From a business perspective, the plan is to expand our international presence and increase our fleet to 15,000 boats. Innovative technology will continue to be our focus and strength.
Some of the new things you'll start seeing on our website are: last minute deals, discounts offered by boat owners, event planner, instant confirmation and a ton of useful information and beautiful photos to help you decide where to take your next vacation on a Sailo boat.
REAL LIFE. REAL NEWS. REAL VOICES.
Help us tell more of the stories that matter from voices that too often remain unheard.
This post was published on the now-closed HuffPost Contributor platform. Contributors control their own work and posted freely to our site. If you need to flag this entry as abusive,
send us an email
.