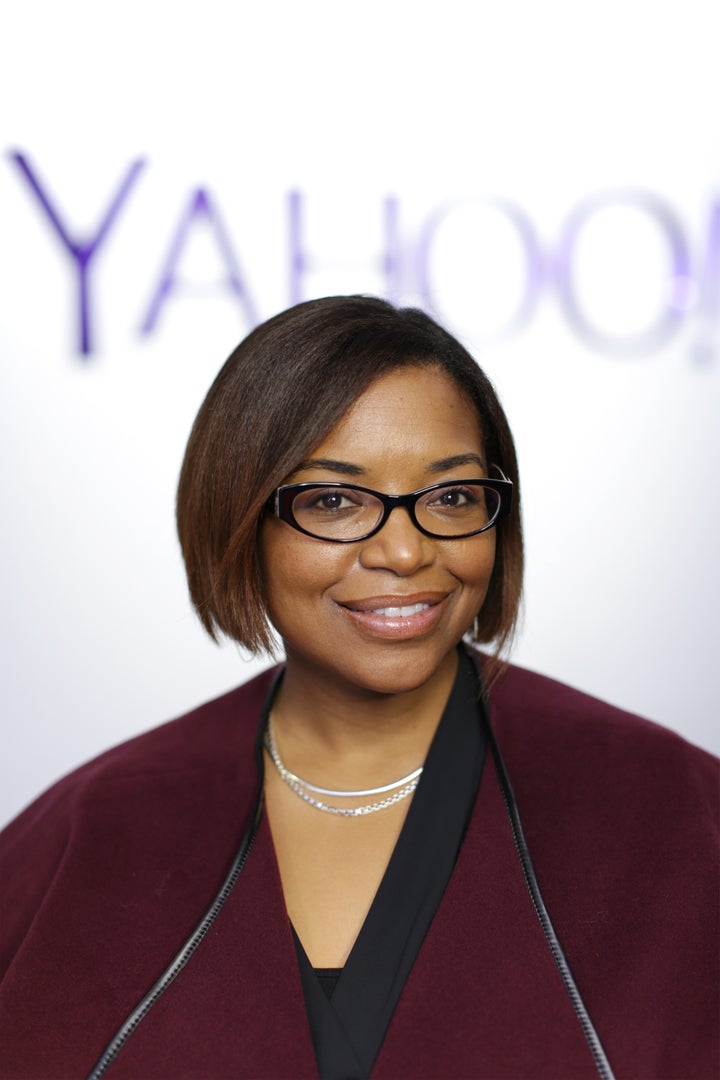 Margenett Moore-Roberts leads Yahoo's Office of Inclusive Diversity, a mission-critical business imperative for Yahoo. Under Margenett's leadership, the Office of Inclusive Diversity partners with executive leadership, and key groups across the company, to leverage the power of inclusion and diversity to activate new markets, unlock innovation and maximize value for Yahoo. The scale and reach of Yahoo's platforms provide an enormous opportunity to influence societal issues that contribute to the advancement of inclusive diversity at Yahoo and across industry.
Margenett started her career in Digital Media in 2001 when she joined Muze, a data licensing and distribution company, to rebuild their Account Management function. In 2007, Margenett joined ScanScout, a video ad network, where she established and grew the Ad Operations, Publisher Services and Account Management functions. After ScanScout, Margenett was hired as the General Manager of Video Monetization for Interclick, a mid-sized advertising network with a specialty in behavioral targeting. Shortly after setting the framework of the video monetization business at interClick, the company was acquired by Yahoo. There, Margenett continued to lead the development of the network video ad business and went on to drive revenue growth from $0 to $50M over 3 years before becoming head of the Office of Inclusive Diversity.
How has your life experience made you the leader you are today?
I grew up in Ohio and moved to New York City a few years after graduating from Otterbein University. I grew up in the "inner-city," but every family around us believed in a strong work ethic, education and pushing our generation of kids to get ahead. My family was not financially well-off, but my parents worked hard and even with four kids we got everything we needed and a lot of what we wanted. I was the first person to finish college in my family and in many ways that felt like the end game -- the path beyond college was not always clear to me. It taught me to stay open to new possibilities. It also created a humility in me that serves me well as a leader because in many ways I am living a dream and often remind myself not to take it for granted. The idea of becoming a business executive in NYC was something I saw on TV and concluded was for other people. Then, in 7th grade, I came to visit NYC on a school trip and saw real people, not TV stars, coming and going -- it was on that trip that NYC became the only place I wanted to be when I grew up. The "how" took a while to figure out, but it was always very clear to me that this is where I wanted to be. I've worked across many industries in various roles. I've been hired, fired, and acquired, and along the way I have been a part of building some amazing businesses. I've worked with exceptional leaders that helped me grow and understand the difference between leading and managing -- and who challenged me to try to stay out of my own way and trust the work to deliver the right outcomes. The advice was great but some lessons come only with experience, reflection and a willingness to take risks and be wrong.
How has your previous employment experience aided your tenure at Yahoo?
My current role as the Global Head of Inclusive Diversity at Yahoo demands that I bring every ounce of business and leadership experience I've acquired to bear each and every day. I've cultivated a career with roles that spanned across a variety of functions, disciplines and industries. I've led teams across operations, sales, account management and human resources, and I've dabbled in product and marketing as a GM at a small company. At Yahoo, part of the challenge is navigating the matrix of functions and expertise. It is extremely helpful to have working knowledge of a broad set of functions -- it really helps accelerate progress that depends on interdependence.
What have the highlights and challenges been at Yahoo?
Highlights have been the culture and opportunities. Yahoo invests a great deal in maintaining a "start-up" culture that allows individuals to explore and develop new business opportunities. The culture lends itself to a strong sense of belonging and ownership. Because the company has so many assets for learning and growth, individuals can recreate themselves professionally and have multiple careers within the company.
Challenges are consistent with other large companies facing an evolving marketplace. Yahoo has enormous assets across a number of platforms and properties. These assets offer tremendous opportunities but also invite intense scrutiny that can lead to distraction. As a leader at the company, I am mindful about keeping my team focused on our immediate objectives and where we can have the most impact.
What advice can you offer women who want a career like in your field?
Stay open. Don't get so focused on a specific outcome or role that you miss other opportunities that present themselves to you. The longer I work in corporate America, the more I recognize that there isn't really an "end game" in terms of roles or companies. It's something that experienced leaders generally realize after getting to what we've built up as an ideal role/position in our minds, only to realize it's not an end point but more of a different beginning. For women who want a role in inclusion and diversity, I'd recommend investing in understanding the ecosystem of the company and how change gets managed and implemented. These roles call on almost every business discipline and you will be more effective if you can navigate business strategy, people analysis, operational and change management frameworks. Spend time developing a deeper understanding of emotional intelligence, much of this work is about helping people overcome emotional blocks in order to embrace the reality of a changing market and workforce demographic. Also, get a great support system from other industry leaders because while the work is rewarding, it can be emotionally charged and you will want a healthy way to process the experience.
What is the most important lesson you've learned in your career to date?
Own your own career path and plan. It's tempting to acquiesce to waiting your turn or following the beaten path, but there are many paths available -- expect to have to create your own path. Own your career, advocate for it, and be open towards new opportunities and new people along the way.
How do you maintain work/life balance?
It took a while, but I've learned to accept and arrange my life around the acceptance that none of us can concurrently give 100% to every part of our lives - massive contradiction. Instead, I mindfully decide where I am going to give my 100% focus (homework, bedtime, individual status meetings, one-on-one meetings with my boss, etc.) and work to keep that commitment to myself. There are certain commitments that I tell different people about to help with accountability - I often tell my daughter (out loud) that she will have my undivided attention for bedtime story. And I do not take my computer to the most important meetings at work to help keep the focus on the topics immediately at hand. Pick and choose when and where you want to be 100% present and stick to it.
What do you think is the biggest issue for women in the workplace?
Generally speaking, women have to deal with both environmental and personal development factors in the workplace. Environmentally, bias and set cultural norms can make the path for women less obvious. Where many male counterparts can have a yellow-brick road paved ahead of them (i.e. lots of support/sponsorship and the presumption of competence on their side), women are not always granted those ideals and end up taking longer to find their path. It can be frustrating. Women of color are presented with these same challenges and can face additional challenges that have to be managed as well. Woman of color often make daily choices about how authentic we can afford to be and still be viewed as a cultural fit - it is classic covering behavior and is quite prevalent in corporate america.
How has mentorship made a difference in your professional and personal life?
Huge difference on a number of levels. Mostly in terms of helping to visualize and demystify leadership. Seeing is believing and visible examples of women who have successfully made the transition into leadership is helpful. Formal mentorship has its advantages, but personally, I've learned a lot from casually observing (good and bad) leaders. There are lessons everywhere.
Which other female leaders do you admire and why?
I also admire Lisa Utzschneider, Yahoo's chief revenue officer. Lisa has fully transformed the way Yahoo's Sales organization is run -- she brought focus, vision and standards to a complex ecosystem, and she gave the team specific purpose. I appreciate that she owns the fact that she has worked hard to achieve her success and owns the fact that she has earned it. From Lisa, I've learned to work hard, stay focused, own my power, and expect the same from the folks who work for you.
And, Val Williams- my executive coach who designed and walks her own path, is another leader I admire. She left a successful career in corporate America to start her own Executive Coaching firm. She's already achieved some success and she continues to reinvent herself and her business. From Val, I've learned to take big risks and make them pay off.
What do you want to accomplish with Yahoo in the next year?
Over the next year, my goal is to solidify Inclusive Diversity as a strategic business initiative for the company, including establishing the associated infrastructure that is necessary to support the initiative. Some focus areas include the creation of a common way to talk about inclusion and diversity, well-articulated business case, education and awareness programs, and integrated performance measurement. We want every organizational leader at Yahoo to develop and drive execution against a fully vetted diversity plan for their group. We believe that if we promote the right behaviors the corresponding results will follow.
Support HuffPost
The Stakes Have Never Been Higher
Related
Popular in the Community