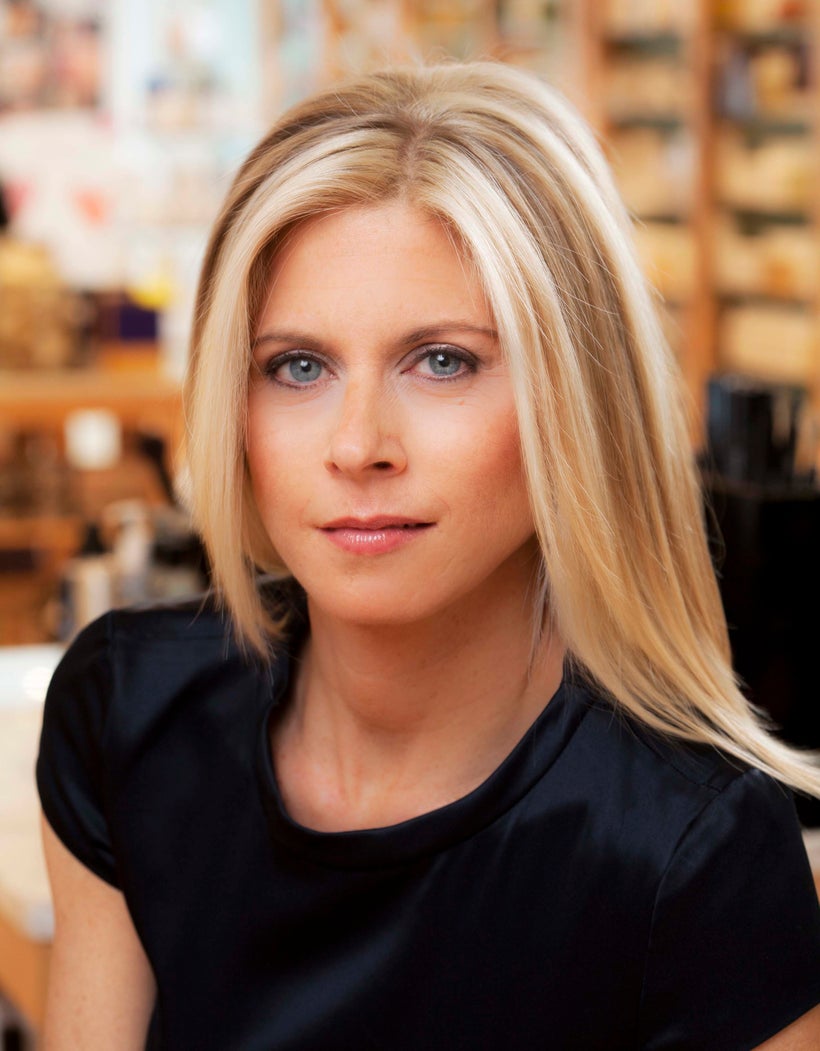 Seventeen years ago in 1999, Marla Beck and her husband, Barry Beck, set out to revolutionize shopping for beauty products with the creation of Bluemercury Inc., a nationwide luxury cosmetics retailer, ecommerce provider, and cosmetics brand developer. Today, Bluemercury is widely recognized as the largest and fastest growing luxury beauty products and retail spa chain in the country, even within a retail economy that sees brick & mortar stores shuttering daily. In February 2015, Macy's acquired Bluemercury; the brand now has 120 U.S. locations with another 40 openings planned for 2017 alone. Ms. Beck also co-founded M-61 Laboratories, makers of M-61 Skincare, the first highly technical, natural cosmeceutical brand and makers of Lune and Aster Cosmetics, a vegan cosmetics line.
Ms. Beck is often invited to share her entrepreneurship, branding, and innovation expertise. Bluemercury's innovative retailing and human resource model has been the topic of numerous books, including Shopping: Why We Love it and How Retailers Can Create the Ultimate Customer Experience and Be Happy at Work: 100 Women Who Love Their Jobs and Why. She has appeared as a guest on CNBC, CNN and Fox Business News and has been a guest speaker for WWD's Beauty Innovation Forum, Harvard University's Luxury Branding Speaker Series and Columbia University's Lang Center for Entrepreneurship's Distinguished Speaker Series. In 2014, Ms. Beck received an appointment by Harvard Business School as an Entrepreneur-in-Residence and was named as one of Goldman Sachs' 100 Most Intriguing Entrepreneurs. Ms. Beck was Ernst and Young's Entrepreneur of the Year in 2005.
Prior to founding Bluemercury, she was a consultant at McKinsey & Company. She holds an M.B.A. from Harvard Business School, an M.P.A. from Harvard University's John F. Kennedy School of Government and a B.A. in Economics from the University of California, Berkeley. She serves on the Advisory Board of Harvard Business School's Rock Center for Entrepreneurship, the Board of Directors of the National Retail Federation, the Board of Trustees at the Sidwell Friends School in Washington D.C., the Board of Council for Public Leadership, Harvard's John F. Kennedy School of Government and is an independent director on the Board of Directors of The Children's Place (NASDAQ:PLCE). She resides in Bethesda, Maryland, with her husband and three children.
How has your life experience made you the leader you are today?
I believe in both evolutionary personal development and revolutionary personal development.  Evolutionary development is made up of all of your experiences and exposures from a young age that help you evolve into leadership.  Revolutionary development are those leapfrog moments where you jump into a new role that is uncomfortable, but puts you on a whole new leadership trajectory.
My early exposure to entrepreneurship and growth really created a fire within me to create something. My father was an entrepreneur who never went to college.  I used to work in his accounting department when I was in high school reconciling his books by hand. This early exposure to the financial guts of how a business runs gave me a passion for business and creating businesses at an early age.  After I graduated from UC Berkeley in 1993, I worked as a consultant at McKinsey and Company.  I was fortunate to have been on many growth projects so I learned how to think creatively and analytically about how you create something when nothing is there.   McKinsey also gave me amazing, what I would call "revolutionary development" opportunity in leadership at a young age.  On one major engagement with an insurance client, the team was composed of veterans from various disciplines, yet nobody wanted to take on the role of team leader. I raised my hand and volunteered and suddenly found myself, at age 23, leading a group whose members were all older and more experienced than me. One partner turned to me and said "you have this gift for leading people." This was a life-changing moment for me.
In 1997, while I was at Harvard Business School, an obscure entrepreneur came and talked to us about the internet and how ecommerce was going to change the world.  I didn't even have an email account then and there was no such thing as google – ecommerce was almost incomprehensible.    This entrepreneur was Jeff Bezos.  He spoke to us in a small room, about 30 people were there, and explained how his 3 year old company, Amazon, was going to revolutionize the purchase of books. I was completely inspired.  This was another evolutionary moment.
These experiences built up to the starting of Bluemercury.  I was in my late twenties and was fearless – I wouldn't take no for an answer and was going to build Bluemercury store by store, customer by customer, lipstick by lipstick, no matter what it took.
I think you have to evolve into your leadership role, but also, when the revolutionary development opportunities come along, you have to seize them!
What have the highlights and challenges been during your tenure at Bluemercury?
The overarching theme of my leadership at Bluemercury has been to inspire people to achieve what they thought they never could.  The first way we impacted this was through Bluemercury's radical human resource model.  Bluemercury's mission has always been to be the best at giving beauty advice.  The key to our success is our people – which is our enduring secret weapon.  We created a human resources model in the cosmetics industry that has given a generation of women a new career path.  When I came into the cosmetics industry in 1999, the majority of employees in the industry were part-timer workers and were only given 15 – 25 hours a week and no work during the low season – January, June, July, and August.  We thought, what would happen if we gave our staff full time work, benefits, and a career path?   Veterans in the cosmetics and retail industry said our idea would never work, but we pursued it anyway.  This human resource model has turned into our secret weapon.  By retaining full-time staff, we also retain their knowledge, customer relationships, loyalty and expertise.  Today, we have staff at Bluemercury that have gone from being sales associates (beauty experts) on our store floor making $16 per hour to being District Managers making six figures.  Most of our staff did not have the opportunity to go to college– but we have taught them how to lead and manage and achieve a level of success that they never imagined they would achieve.   We are a company that is 92% women – how many organizations can say that!
Bluemercury is the story of survival and triumph.  We survived the first dot-com bust, two recessions and have built a sustainable, revolutionary business that has endured from 1999 to present.  We almost ran out of money in the first 6 months of our existence.  NASDAQ crashed and there was no more venture capital for at least a year and a half – not just for us, for anybody.   We had to be scrappy and figure out how to build a real business with revenue and cash flow.  The secret is our resilience and learning in the face of failure.  It is the journey, the hard work, and the failures along the way that have made us successful. 
What advice can you offer to women who want a career in your industry?
I am often approached by undergraduates or MBAs in business school about how to break into the industry.  My first piece of advice would be to "Get in the game."  Take a role, any role, in the industry and start to have impact.   You can start at one of the big companies that have incredible training programs, like Estee Lauder or Loreal.  Or you can go to a younger, more entrepreneurial beauty organization.   Once you are in, you can start learning and figure out how to create real value.  My second piece of advice would be "Be an expert at something."    Try to become amazing at something that no one else is doing.   New media is such an opportunity at many beauty companies.   Can you be the expert at creating engagement through Instagram or Snapchat?  What about analytics?  Can you pull something out of the data that helps an organization invest in a new strategy?  The key is to figure out how to make a difference in whatever organization you are in.   And my favorite piece of advice, "Never miss an opportunity to be fabulous."  Tina Seelig, a professor from Stanford who is an expert on creativity talked about this in her book.  Every day, we are given micro-opportunities.  You need to show up and do great work, even for the most minor events or meetings.  You never know what will come of it!
What is the most important lesson you've learned in your career to date?
Break the rules.  The way to disrupt and be different is to not take existing structures as a given.   When we started Bluemercury, you could only buy cosmetics at department stores or drugstores.  There was no such thing as a freestanding beauty store in the United States.  I was in my twenties and felt like shopping for cosmetics was an awful experience.  You would go to the department store beauty counter where the products were sold brand by brand from behind glass, and the staff were snobby and pushy, checking out your shoes and hand bag before they would decide to help you.  To me, shopping for cosmetics was a problem that needed a solution.  I thought, why can't you create free standing beauty stores where the staff are trained in all brands, are friendly, and genuinely want to help you find the right, personalized solution.  We set up meetings with the brands that were only distributed at department stores.  Some said they weren't interested.  But many took a chance on our new idea.   It's hard to create something from scratch, as Peter Thiel talks about in his book, Zero to One.   But when you do, the impact is exciting and unbelievable!
Keep looking for White Space and Growth.  You cannot rest on your laurels. The pace of business and competition is faster than it's ever been. You need to continually seek out and create new revenue and value streams by listening, watching and observing your customers. This is why we started creating our own brands.  Five years ago, the Bluemercury customer kept coming in and saying, I love natural products, but I don't like their efficacy. Other customers were coming in saying I love the dermatologist brands, but they are full of chemicals I don't want in my products. So, in 2011, we created M-61, a vegan, paraben free cosmeceutical brand.  In 2015, we launched Lune and Aster, a vegan makeup line for the girl on the go. We are laser focused in observing and listening to our customers' needs. To build an enduring, scalable company, you must keep finding growth and look for the next white space.  This is why we have been growing at double digits every year since our founding in 1999.
How do you maintain a work/life balance?
I don't sleep.  Just kidding!  I have an extremely clear sense of priorities and an ability to say no to things if they don't fall within my priorities.  My key priorities are family and work.   At work, at any given time, I have a list of 3 things that I am working on that add real value for our customers, team members and shareholders.  At home, I also have a clear sense of priorities.  I have 3 kids age 13, 11, and 10.  I do not go out when I am home in Washington DC on week nights since I travel so much for work.  I believe our choices become our actions, our actions become our habits and our habits become our character. Every day I do a mental check in.  Did I work on the right things?  How are each of my kids really doing?  Did I connect with my husband?  How you spend your time says everything about what's important to you.
What do you think is the biggest issue for women in the workplace? 
We need more women in leadership roles.  And we need more female and male leaders alike, to help lift women into these leadership roles.  The numbers do not tell a good story.  Only 3% of venture capital goes to companies with female leaders.  Only 16% of angel capital goes to companies with female leaders.  Of the top 100 companies funded by venture capital last year in the Silicon Valley, only 4 had female leaders.  5% of companies in the Fortune 500 have female CEOs.   Only 21% of the board seats of Fortune 500 firms are occupied by women.  25% of the Russell 3000 companies do not have a single female board member.  I have tremendous respect for Ron O'Hanley, the CEO of State Street who is starting to exert pressure on companies to add more women to their boards.    With both female and male champions, women will start to  occupy more leadership positions. 
How has mentorship made a difference in your professional and personal life?
I believe in the championship model, instead of the mentoring model.  A mentor gives you advice.  A champion helps put you in new roles that are life-changing.  I have had amazing champions throughout my career.  Dick Darman and Ed Mathias of the Carlyle Group invested angel capital in Bluemercury when it was just an idea.  The team at the Invus Group supported us in creating M61 Laboratories.   My husband is my everlasting champion.  He is always pushing me to go outside of my comfort zone.  It is really when you have that uncomfortable feeling of taking on a completely new challenge that you are learning and growing.  A champion participates in your revolutionary development.   
Which other female leaders do you admire and why?  
I admire female leaders that are the first at what they do – the path is so difficult.   I have tremendous admiration for every single female entrepreneur.  Starting something out of nothing is an incredible act.   Someone sent me this book – You Only Have to Be Right Once.  It is about the rise of the latest crop of tech entrepreneurs - young, bold, whiz kids who are creating some of the hottest companies changing the face of the world.   Elon Musk of Tesla, Kevin Systrom of Instagram, and Brian Chesky of Airbnb.  After I read the book, I went back through the table of contents and realized out of the 16 entrepreneurs profiled, only one was a woman, Adi Tatarko, of Houzz.  During my last 17 years in the cosmetics business, I have had the lucky opportunity to work with some of the greatest female entrepreneurs of all time.  We need to celebrate female entrepreneurship and talk about it, nonstop.  I admire Sarah Blakely, Tory Burch, Estee Lauder, Bobbi Brown, Trish McEvoy, Laura Mercier, Michelle Phan, Alexandra Wilkes Wilson, Jamie Lynn Kerna,  Jessica Assaf, Sarah Happ, Indie Lee, Sylvie Chantecaille, Emily Weiss, Brit Morin, Jessica Herrin, Jennifer Hyman and Jennifer Fleiss, Hailey Barna, Anu Duggal, Aileen Lee...    I could list hundreds of female entrepreneurs that I respect and admire.   I admire all women who start something new. 
What do you want Bluemercury to accomplish in the next year? 
We will continue to work on our mission to be the best at giving beauty advice, expanding our reach and impact in the beauty industry.    We love "breaking the rules" and trying new things. 
How do you and Barry work together as a team, both at home and in the office?
We started our company 17 years ago together and have worked together ever since.  We built the company from the ground up together.   The reason this works is because of the yin-and-yang relationship between Barry and I.  I'm the ideas person, the "dream teller," as Barry says, and he's the executer.  We work on different things during the day.  But we tie it all together at night over a walk.   Every night, winter or summer, we walk 4 miles together. We have walked and walked since we met. I think at one point we calculated that we have walked the equivalent of halfway around the globe together.  Our walks give us time to debrief and connect and dream together.
Calling all HuffPost superfans!
Sign up for membership to become a founding member and help shape HuffPost's next chapter
This post was published on the now-closed HuffPost Contributor platform. Contributors control their own work and posted freely to our site. If you need to flag this entry as abusive,
send us an email
.