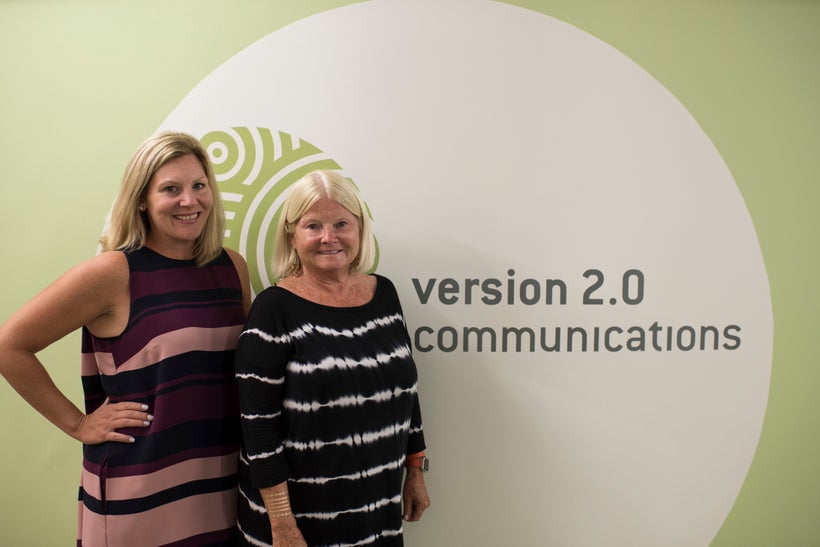 A seasoned professional in public relations and journalism, Maura successfully founded and grew one of the premier brands in strategic technology communications in the United States, FitzGerald Communications, which she sold to Omnicom Corp. in 2002. A serial entrepreneur, Maura was not content to sit back when she witnessed a market opportunity evolving. With new technology innovations flooding the market as a result of Web 2.0, green and alternative technologies and market evolution in the enterprise software and mobile computing arenas, Maura was poised to blend her unique communications strategy and business management to address the sophisticated communications challenges of these emerging companies. Together with Jean Serra, she launched Version 2.0 Communications in late 2006.
Jean has 20 years of experience providing strategic communications counsel to nonprofits, universities, consulting and professional services organizations, as well as technology companies in a wide-range of industries. During her career, she has helped establish brand awareness, mindshare and thought leadership for emerging technology companies, consultancies and global brands. Jean brings clients an unmatched depth of industry expertise in the enterprise, consumer and professional services sectors earned when she held senior account management positions at FitzGerald, Fleishman-Hillard and Red Whistle Communications (a Weber Shandwick company).
How has your life experience made you the leader you are today?
FitzGerald: Earlier in my career I was a journalist, and I learned how important it is to hear what people are really saying. Being able to read between the lines and understand someone else's perspective is critical to building an effective corporate culture where people feel valued and see opportunity for themselves.
Serra: My life experiences continue to shape the leader I am today as I learn daily from my colleagues, clients and peers. I strive to incorporate great techniques and ideas into the way that I motivate teams, react to new opportunities and challenges and push myself to reach outside of my own comfort zone.
How has your previous employment experience aided your tenure at Version 2.0 Communications?
FitzGerald: During the 90s, I built and eventually sold my first agency. That experience has been invaluable in three ways. First, I learned how to navigate the ups and downs of managing a service business. You can't always avoid a crisis, but the real test is how you handle it and help your people through it. Second, if you want to be a big company, you have to behave like one, even when you're small. It's never too soon to start building a strong culture around a big vision and implementing the processes and procedures that will help sustain high growth. Third, listen to your clients and innovate to give them what they want. We work with disruptive organizations that want to change their markets and do it quickly. We work with them to set objectives for all our campaigns, measure everything we do and optimize activities so we are always moving the needle.
Serra: I've had the privilege of working for and with incredibly smart, driven and successful women (and men) both as peers in agency environments and as clients. I've used as many experiences and interactions as possible to learn from all of these professionals: how to lead and inspire teams, manage challenging situations and truly listen to what others are saying so that I can provide the best guidance and counsel possible.
What have the highlights and challenges been during your tenure at Version 2.0 Communications?
FitzGerald: The highlights are definitely focused on people: the smart, committed people we have been able to attract and keep at Version 2.0 and the clients who have been partners in the true sense of the word make leading Version 2.0 a very gratifying experience. Most clients come to us through referrals, and more than 90 percent of them are repeat customers. That tells me that our creativity and hard work are appreciated and I value that loyalty in a very competitive marketplace.
The biggest challenge is finding great people to work at Version 2.0. We have a strong culture and fit is key. Our professional standards are high and I've always believed that the best agency is the one with the best people. Finding them and keeping them professionally challenged, motivated and happy is the most important thing we do.
Serra: I'd have to agree that the people and culture at Version 2.0 continues to be a highlight. We have a cohesive team that is driven to deliver great results and create disruptive communications campaigns that help our clients achieve their business goals. We attract and retain great people and are growing our own alumni network of former clients and colleagues who remain passionate about our brand.
As Maura mentioned, our challenge is to maintain this esprit de corps as we scale the business and grow. It's important that we are finding the right folks to join our team and ensuring that the culture and collaboration translates across offices.
What advice can you offer women who want a career in your industry?
FitzGerald: Don't be afraid to voice your ideas and work harder than anyone else.
Serra: I always advise college students to start their careers in an agency. It is a great training ground and exposes you to different industries, communications challenges and influencers to engage. I also tell women not to get overwhelmed or discouraged in the first few months. There is a lot to learn when you launch your career, and it takes six months or more to develop the time management skills needed to get your sea legs.
What is the most important lesson you've learned in your career to date?
FitzGerald: Listen to your gut. Trust that inner voice and follow your instincts. I've found that your inner voice gets louder, the more you listen. When I haven't followed my instinct, I have always regretted it.
Serra: I've learned so many lessons and they've all been instrumental in shaping my professional life. A few that guide me include:
1) Being mindful of the indirect cues that point to underlying issues, challenges or factors that are informing behavior. At the end of the day, this business is about interpersonal skills and being able to read subtle cues that help you navigate situations is critical.
2) Avoiding knee-jerk or emotional reactions to situations. I do believe in acting swiftly, but it is important to process and synthesize information before making decisions.
How do you maintain a work/life balance?
FitzGerald: Maintaining a work/life balance is not something I focus on and I never have. My philosophy is that if I'm enjoying my work, I'll be a happier person and that if I'm happy in my personal life, it will reflect positively on my work and my relationships with professional colleagues.
Serra: Two small children have helped force a work/life balance. I try to think about it in broad brush strokes. Sometimes work is exceptionally busy and that means longer hours in the office and time online at home. And, sometimes home life is more chaotic – like back to school time or the end of the school year. If over the course of weeks or months (versus daily) I can see that I was focused where I was needed most, that's a win.
What do you think is the biggest issue for women in the workplace?
FitzGerald: There are so many issues for women in the workplace that it's hard to pinpoint one. It's an unfortunate given today that there isn't enough overall opportunity for smart, talented women in business. In order for that to change, though, women need to start being heard in the workplace. Women have great ideas and unique perspectives that are too often ignored in traditional environments that are dominated by white men.
Serra: Balancing all of the visible and "hidden" tasks we have at home with what we need to (and want to) accomplish in our careers. This is by far the biggest discussion I have with friends and peers.
How has mentorship made a difference in your personal and professional life?
FitzGerald: It's clear that mentoring and networking are critical to professional success. I started my first company because a client was so confident that I'd be successful he gave me six months' worth of billings so I could build my staff. Today, Version 2.0 is a women-led, and primarily staffed, company with a formal mentoring program. Everyone participates. It's very popular with staff and an excellent recruiting and retention tool.
Serra: Mentorship has been incredibly important to inspire and motivate me. I look to my mentors and work hard to emulate their phenomenal strengths, challenging myself and pushing my limits. They've also helped me navigate major turning points in my career and personal life: when I was considering starting my own business, when I started my family and, now as the agency grows, how to manage its direction and growth.
Which other female leaders do you admire and why?
FitzGerald: I admire all those women who came before me and kicked down doors and walls so the rest of us could follow them through. They are pioneers and trailblazers in the true sense. Jill Abramson (first female executive editor of the New York Times), Mary Barra (first female CEO of a major global auto maker) and all other women "firsts."
Serra: I most admire the women I work with every day, clients and colleagues who I learn from and who help shape how I continue to evolve as a leader and professional.
What do you want Version 2.0 Communications to accomplish in the next year?
FitzGerald: I know Jean would agree that we'd like Version 2.0 to be the partner of choice for disruptive companies and be the workplace sought out by smart, talented, aggressive professionals looking for a place to grow.
Serra: In order to be that go-to partner, we'll continue to define and differentiate our brand value and amplify awareness to attract global disruptors and innovators to our client roster. We'll also grow our own disruptive service offerings, bringing our content marketing and digital capabilities to client communications programs.
REAL LIFE. REAL NEWS. REAL VOICES.
Help us tell more of the stories that matter from voices that too often remain unheard.
This post was published on the now-closed HuffPost Contributor platform. Contributors control their own work and posted freely to our site. If you need to flag this entry as abusive,
send us an email
.