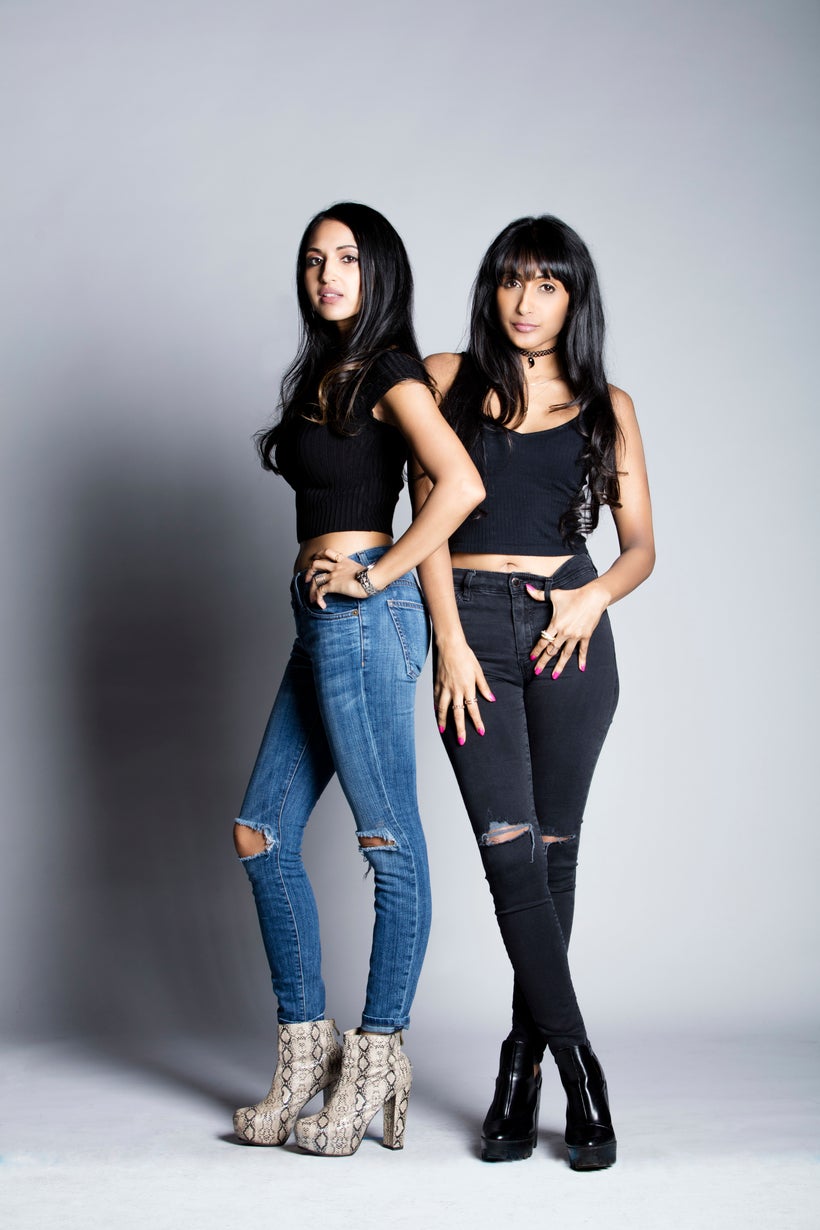 Meg and Komie Vora are sisters and co-founders behind Los Angeles based fashion label Delikate Rayne which launched in December 2013. Delikate Rayne is a 100% cruelty-free, eco lux womens contemporary line. 
With no formal fashion industry experience, but armed with a keen sense of aesthetics and both possessing college degrees in Business, Communications and Marketing their journey into fashion was not a conventional one. They used their upbringing-born and raised vegetarian, love for animals and coupled with their unwillingness to conform to their traditional cultural and gender expectations, as a catalyst to create a line with a purpose. 
How has your life experience made you the leader you are today?
MV: I am still definitely learning the ropes but I think being 1st generation born in the US played a part- it had me embracing my differences right out the gate. Being a minority and a female on top of that in a predominately all white school, you stick out like a sore thumb. That didn't deter me though. Being the odd man out forces you to come up with creative solutions so you can "fit" in and this is something that aligns perfectly with some of our daily obstacles. Knowing what it feels like to be an outsider looking in, I aim to please from within. I am always going to go the extra mile naturally because that is what always kept me invited back. Going above and beyond have become second nature. The cultural differences I experienced have also aided me in realizing the multiple perspectives others we work with can have and being able to listen with an open mind. When you have experienced firsthand you are able to understand it in a way that is not possible for others who have not. Customers, vendors, employees alike are in much more positive form with this unspoken bond in place which makes for a better work environment and better business all around. Early on, I also cultivated and maintained a deep rooted commitment to learning and the ability to figure out situations quickly that I was not used to. Primarily because growing up English was not the first language spoken in our home. It taught me to be quick on my feet, observe, ask questions and not to be embarrassed if I did not understand something or need help. Also, witnessing firsthand the relentless efforts and hard work of our parents to come to this country for a better future for themselves but especially for my sister and I. The opportunities we have been given as a result of the fruits of their labor is not only positive motivating force within our lives but a constant reminder to go after what it truly is that you care about and want.
KV: I was raised vegetarian and my upbringing played a huge role into why I'm so compassionate towards people and animals. I was fortunate to witness how hard work can be incredibly rewarding from my parents. They came here with nothing and had to build a home for themselves in a country they were unfamiliar with. That really opened up my eyes to seeing how much you can accomplish something or you can obtain whatever it is you want if you give it your all. Fortunately, I've also always been a good listener, eager to continually learn more and take constructive criticism. I think it's important to look back from your past experiences in order to grow. You see the world and yourself differently after you've gone through certain incidents. Who you are, what you're capable of doing, and your purpose in the world will all shift. I truly believe that every single thing that has ever happened in your life is preparing you for the moment that is to come. 
How has your previous employment experience aided your tenure at Delikate Rayne?
MV: My previous employment experience aided more on the business side of things: providing a service vs providing a product, dealing with clients and learning the proper way to navigate and handle different types of clients. Realizing the ins and outs of customer service and how integral that portion of the business is. By also not coming from a previous fashion employment I think my naiveness helped to ask the right questions and see things from a different perspective. When you are coming into something with a fresh set of eyes to take on, do something that is not really being done it can be scary. It's because there is no one to actually compare it to so how do you know if you are doing the right thing? A burning desire to answer that question served as my leap of faith which is something you can't get working somewhere. My upbringing played and still does play a huge role in Delikate Rayne today. Had not it not been for the way my sister and I were raised we would not be Delikate Rayne. Our parents played a large part in educating us about embracing a life of non-violence- not harming any living being through consumption whether it be not eating them or wearing them growing up early on. Plus our father was raised Jain – a lifestyle that is fully encompassing of no harm towards any living being- be it creature, person, plant, animal etc. Growing up our mom was extra conscious of instilling "healthy" habits into us, we were definitely a no soda house! All of this combined with living in OC/LA where there are definitely a lot more people who are aware and more conscious about living green has played a role. Adapting a vegan lifestyle, being more ethical in what they choose to buy and how to live is something I think people are automatically a bit more tuned into doing here (in LA) because there is a greater awareness which in turns make it much more "normal". Being around this type of thinking all day long keeps our juices flowing.
KV: I use to work for an online indie designer so I saw how the advantage of the internet can work for your business. Things are more advanced now, but I knew it was a strong platform. I understood the influence and asset of reaching and targeting your demographic on an international level, the quality of good customer service, the mishaps of shipping and dealing with fraudulent orders. Those elements are resourceful, but are just a few key ingredients to running a successful business. Delikate Rayne has and still is a huge learning curve for us. Honestly, we had to teach ourselves an abundance amount of elements within this particular industry. You don't realize how much is involved until you put yourself out there. We were determined though so we took sewing and Photoshop classes in between learning web coding to online marketing to designing and hunting for patternmakers and a factory. Getting familiar with the terminology was key as well. However, because we took the time to learn all that, it has made a huge difference now in terms of time, communication, and not missing opportunities.
What have the highlights and challenges been during your tenure at Delikate Rayne?
MV: There still continues to be a large disconnect between so called "animal friendly" fashion and the fashion industry as a whole. Trying to shed light on that is one challenge we just can't seem to get away from. When you have a label with a purpose it isn't just about sales anymore, you have so much more to prove and deal with and we are constantly being tested on that.The concept of "vegan" or "cruelty-free fashion still conjures up many shades of gray for the average consumer, it's pretty much the new kid on the block these days. Which creates a never-ending challenge for us-to clearly identify for consumers the same connection they attribute to harming an animal and consuming it for food and show how it relates to fashion as well. Many find it to be a struggle to walk that fine line between fashion and compassion. In addition, the idea of cruelty-free dressing and what that means in relation to their wardrobe is still a pretty foreign concept to many. We are using Delikate Rayne as a platform to change the current stereotypes- the way cruelty-free fashion is received and perceived. Consumers today are becoming much more curious and concerned with where their purchases come from. We are a happy we are a positive part of that conversation, we hope to continue with that momentum and start a chain reaction.. 
Anytime we have made a difference for someone no matter how big or small. When we receive any type of positive feedback from consumers its a highlight. When random people write us emails with kind words telling us how much they love what we are doing. To our own friends excitedly calling us up to tell us they bought a sustainable or cruelty-free item for their home or wardrobe because what we are doing is rubbing off on them. To the people who will reach out to us on social media and tell us how they decided to give up meat or dairy because of the content we post. It is amazing to receive this type of feedback and a lot of times its these particular shining moments that reignite the fire in us to continue the good fight we have chosen to battle for.
KV: Connecting with other like-minded people from across the globe that are fighting for the same thing as we are is one of the best things about what we do. Growing up I didn't know that many vegetarians or people that viewed things the way I do. Vegetarianism and veganism wasn't as widely accepted or familiar as much as it has become now. Being able to identify and relate to others from all around the world is such an incredible feeling. We are oceans apart, may speak a different dialect, but we are speaking the same universal language in regards to our aligned beliefs and what message we are trying to spread and cultivate in the world.
The biggest challenge has been trying to change the way the fashion industry has been operating for years and changing the way people perceive "luxury" and "cruelty-free" clothing to be. It's been a battle to get some of the prominent fashion media publications to listen to what we have to say. There is so much politics, but it's definitely been a battle worth fighting for.
What advice can you offer to women who want a career in your industry?
MV: Always expect the unexpected. Nobody knows all the rules, not now, not ever. The fashion industry is constantly evolving and when your dealing with a specialized type of niche as well, the best thing you can do going into this is realize your experience will teach you more than what you think you know now. I did not come from a formal fashion background or have any contacts in the industry going in. I majored in business and communications so I was extremely green on the design aspect of things. Which is where I started my research to help me not only understand how to create product but not be lost when it was time to manufacture. We enrolled in sewing classes and would spend hours researching garment construction, textiles, finishing techniques, stitches etc. Even though I became so much more well versed in it from when I started, it still wasn't the same as going into the factory, sitting with the sample maker and having our vision come to life. My new found knowledge helped to get our vision off the ground but the actual process of creating it is where I learned the most. It is a lot of trial and error. It's like what my parent's always used to say, "you can't learn to ride a bicycle reading a book!" You also have to remember, you are helping to create a movement, something that is going to contribute to radical change down the road. This reformation can and will continue to exist because your work is providing fuel for the metamorphosis of changing an industry that has operated in the same way for decades. Never lose sight of that, it's the only thing that will keep you going at times. Any time you are attempting something out of the norm it's going to be that much harder in every way, you are going to self-doubt more times than you can count and you have to be okay with that.
KV: You have to be prepared to work really hard and ready to wear many hats. You are no longer just responsible for one job you are going to be hired to do all jobs in every department until you find someone who can perform that task better than you can. Having a business with a purpose is a whole different ball game. Make sure you are extremely passionate about what you are doing. Truth is, it's going to be ridiculously challenging, and if you don't have the ultimate burning desire to do what you are doing you will eventually give up. This industry is so cut throat, but remind yourself what your ultimate goals and purpose for doing this is to refuel you. Most importantly, never get too comfortable. You have to be willing to continuously keep educating yourself and be flexible. It's a fast paced industry so be able to adjust for change at any given time. You'll often feel like you aren't ready or it's not the right time. You need to start making every moment the right moment. 
What is the most important lesson you've learned in your career to date?
MV: To continue to soak up knowledge because it is the one thing that no one can ever take away from you plus educating yourself even when you think you have nothing left to learn is imperative for growth. There is something to be learned from every chance and occurrence no matter how big or small. Must always keep in the back of your mind it's your passion for what you do or are creating that will serve as your sole driving force for when the going gets tough and it truly will be the only thing that saves you when it all seems impossible. Plus at times opportunity is often disguised, it wears many masks so you must stay alert and that can only happen if you continue to move forward. Plus you aren't going to know everything and that's alright, there's a reason why the most successful companies, leaders, innovators etc. have a team of people on board. But also if someone shows you who they are believe them, this is especially crucial when dealing with inconsistent employees, vendors or manufacturers. You are only as strong as your team. You much rather have the unknown yet reliable diamond in the rough than the diva superstar who makes their own rules. Last but not least, never realize your own success, as that will help you to continue to grow and propel forward. Don't ever get too comfortable.
KV: There are a number of lessons I have learned along the way, but to start off I don't believe in the word NO anymore, or rather my definition of the word differs from the traditional explanation found in the dictionary. You shouldn't take the word NO personally or be discouraged by it. NO to me stands for Not Over. In other words, it may be "no" right now but the opportunity is not over. Secondly, value time. Whether it's a business, friendship, or a romantic relationship whatever it is just respect and appreciate it. That is the best thing someone can give you. Lastly, in order to grow you have to step outside of your comfort zone and eliminate any self-doubt. Go to that event to network even if you don't want to go, and don't be afraid to reach out to people and create opportunities. You can't expect things to happen for you if you're not willing to go get them for yourself.
How do you maintain a work/life balance?
MV: This is something I continue to struggle with. I don't have the most ideal balance currently. It's been go, go, go from day one which pretty much put any personal life that I might have had on the back burner. I knew what I was getting into though when we started Delikate Rayne and that life sacrifice was something I was alright with making at the time. My drive for wanting this to happen so badly is what kept me charged and had me hitting the pavement at full speed. In fashion especially, once you finish one thing there are a hundred more things that are waiting in the queue because of the long lead times not to mention all the other multiple facets of the company that need to be attended to so there is always something to be done. I am so much more cognizant of the fact now that it was impossible to plan things with me as I was literally on call to myself 24/7. Social events and activities were one big blur between being fun or work related networking. I couldn't tell the difference and sometimes I still can't. Now that we have had a couple of years under our belt and we have found somewhat of a groove I have realized that continuing at this pace isn't ideal long term. So I am learning to categorize and prioritize better so time is used more wisely. I am proactively seeking what actually feels like a break to me and how long I can put up with that. Since we are still fairly new as a company, I just feel there is so much to do and if I am not doing something that is going to benefit our company then I am equally wasting time. Walking the fine line between two has been an interesting ordeal and now I have found myself just going back to basics. With the constant over saturation and information overload I like unwinding with the simple things you know...I'm extremely fond of going to the library. As I'm obsessed with reading and always have a nice pile of Bloomberg Businessweeks to tend to, going to museums & shows, taking photos, writing, thrift store hunting, really long drives listening to all my fav songs with no particular destination in mind, exploring abandoned towns, buildings and rooftops, just traveling in general. There is something so therapeutic about leaving your surroundings and forging into the potential unknown. I pretty much just engage in something completely not related to fashion. You just need to decompress and get away from everything so it can all make sense again. 
KV: It's quite challenging to maintain a balance when there are a number of things you want to accomplish. Not to mention, a vast amount of our social outings overlap with work so it all becomes a blur at times. I have so many goals and expectations for myself that often I need to remind myself to just slow down and not always be on speed GO. It's essential to make sure you give yourself time to be alone and reflect and just do something that you love doing to avoid feeling so overwhelmed. Reading, talking and spending time with friends and family, trips to the beach, exploring somewhere new, exercising, cooking, concerts are just some of the things I truly enjoy. I'm currently reading  "The Power of Now" by Eckhart Tolle. This book has been really moving so far and makes you view life in an entirely diverse mindset. Moreover, I'm a big fan of TED Talks such as Mel Robbins. TED has some remarkable speeches on self empowerment and strong mental well being. Additionally, witnessing someones growth is a big thing for me so I enjoy watching the progression of self made entrepreneurs or celebrities. Sometimes we get so caught up with someones current success that we often forget that they started from somewhere too, so seeing stuff like that can be really motivating for me and help balance things out.
What do you think is the biggest issue for women in the workplace?
MV: Even though it is getting better, there still seems to be a very active feel of gender superiority that takes place. I think a lot of people believe gender equality discrimination are thing of a yesteryear, yet they are still very real. The mindset for some has not evolved past women should be at home taking care of children not working professionally. This is something that hit home with us- coming from a culture that tends to favor and praise male dominance in the workplace and prefers women to become housewives once they have married didn't sit too well with us. I think it is this type of unspoken attitude that plays a direct role to how competent women think they are at their job while serving as a direct link to how they perform in the workplace. If they are questioning if they should really even be there, that is a huge disservice for everyone. Everybody needs to be praised equally for their achievements, all this boys only club stuff should remain in the past. If a women feels like no matter what she does or doesn't do is going to give her the same results, why even try? It's a total confidence eliminator which in turn makes you question your choices which causes anxiety and creates even more self doubt. It turns into a dark place, an ugly downward spiral that is truly disheartening. That is not the attitude you want your employers or employees harboring. Fear and doubt will eat away at a person until they have nothing left to give. If a women believes that she isn't as valuable as her male counterparts her skills won't be utilized in the best way either. That is a lose, lose for everyone.
KV: I think mastering the whole work-life balance especially if you are a mother. Recently, a few friends of mine have entered the world of motherhood. From hearing all their stories about their day with their newborn and then what their demands are from work is rigorous. I have a friend of mine that has to do feedings in between her lunch break, come home feed again and stay up all night until the baby is asleep and then be back to work at 8am and do it all over again. It's truly exhausting because you are working two full time jobs.
How has mentorship made a difference in your professional and personal life?
MV: I don't have an exact individual I can pinpoint as a mentor. But I have so many people that I have learned from and continue to gain wisdom from in all areas of my life. From older cousins to friends to peers, it all depends what I am looking for. If it is business or financial advice I go to my dad. He is literally a human calculator and very well versed in money management,and planning. If it's related to how to exist in a more peaceful, serene way and how to add more balance to my life it's my mom. She has a special calming effect on people and is really in tune with her intuition and spirituality which does wonders for your well being. I have also had wonderful teachers over the years and professors who helped boost my self esteem and confidence which is crucial to living life sanely. With their constant encouragement and praise for my strengths while doing their best to help me overcome my weaknesses they showed me it was OK to be me and be proud of who I am and will be. I am not the most disciplined person in a traditional sense when it comes to certain things. This has landed me in hot water more than a few times and it made me feel really in adequate. I remember this one teacher who dealt with me in a completely different way when it all hit the fan again and I was on my last leg. She taught me that I can find ways to make your weakness work for me in a positive way and whatever potential downfalls they may impose I can work around them. Little things like that, make the biggest differences. Also being a "foreigner" growing up I was teased and made fun of a lot, which caused an unbelievable amount of insecurity. When you feel insecure, you act insecure and you will attract what you are. Two people I met years ago taught me so much about self love and independence and those lessons continue to serve me to this day. They are constant reminders of when you feel better, you do better- its all connected.
KV:  I have a set of virtual and real life mentors combined. They give me plenitude of confidence, encouragement, and vision to work that much harder or make my dreams seem that much more attainable. They instill hope within me and bring out the best version of myself even when I'm feeling defeated. I think it's imperative to have someone to look up to or speak to for guidance and insight in times when things are really stressful.
Which other female leaders do you admire and why?
MV: There are so many I women I am look up to, admire and am constantly blown away by. Most of them are the women who are around me or I have met sometime along my journey in life- friends, family members, my peers, some of the ladies I don't know on a super personal level but know well enough that a piece of them has touched me and of course the strangers you read about or encounter through one of life's blessings. All of these women share one particular trait- they are totally, fully encompassing of the word fearless and embody it to the nth degree. Some are still here and some may have come and gone but the common denominator is they inspired me in a way that I didn't think was possible. The motivation I feel or the impression they leave on me with their stories of trials and triumph is something I still pull from everyday. The funny thing is I don't think any of these women realize how much of a leader they genuinely are for those who are lucky enough to be blessed by their presence. It's that unassuming manner that makes them even more so..."The greatest leader is not necessarily the one who does the greatest things. He is the one that gets the people to do the greatest things." 
KV: There are a number of women I admire who have made an empire for themselves. I'm fascinated by strong, fearless women who are go getters and have created their own lane while always staying true to who they are. For example, Lady Muriel Dowding, was a remarkable woman who held many important positions in the animal welfare world in the 1950s. It's incredible what she was able to do especially during that era. She used her prominent social position to bring light to the issues of animal cruelty in both the fashion and cosmetic worlds. Her ongoing involvement, commitment, dedication and passion is unbelievably inspiring.
What do you want Delikate Rayne to accomplish in the next year?
MV: I would like Delikate Rayne to keep on pushing the boundaries of cruelty-free fashion while educating consumers on how to make better purchasing decisions on a greater scale. We need to continue to create awareness so more than just the average vegan consumer can be on board. I would love for a few key collaborations to take place that can spread the message to other markets which is vital to the industry as a whole's advancement.
KV: Performing our best in all upcoming projects, Releasing our outer wear collection, and continuing to grow and expanding in other international markets. As always, continuing to be the voice for the voiceless.
Calling all HuffPost superfans!
Sign up for membership to become a founding member and help shape HuffPost's next chapter
This post was published on the now-closed HuffPost Contributor platform. Contributors control their own work and posted freely to our site. If you need to flag this entry as abusive,
send us an email
.