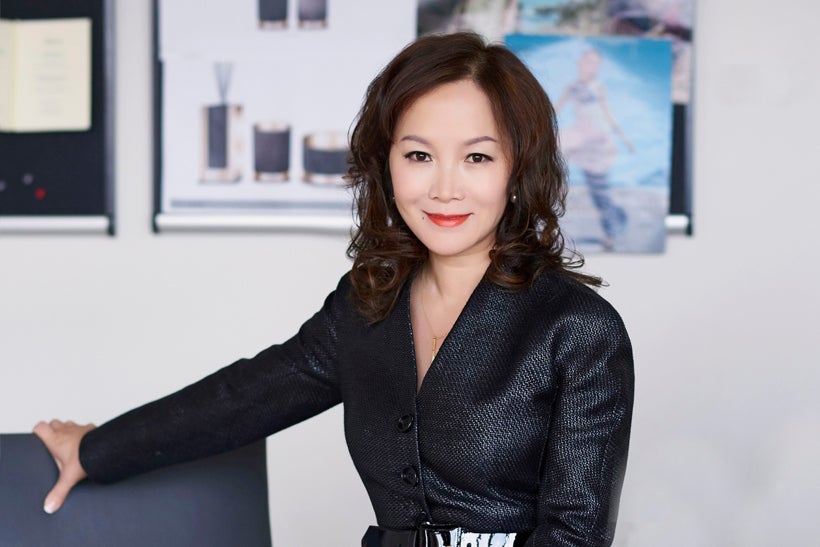 Mei Xu is the Co-Founder and CEO of Chesapeake Bay Candle, a wellness-driven, vertically integrated multi-million dollar home fragrance brand available through an online boutique store as well as America's most renowned retailers.
Mei's success is not limited by the measure of impressive growth and expansion of Chesapeake Bay Candle. As an active member of her community, Mei serves on the boards of many organizations and is a contributing affiliate of the Committee of 200, World Affairs Council, Aspen Institute, US China Business Council, Fortune's Most Powerful Women Summit, and the Global Women's Mentoring Partnership. She is also one of the Founding International Ambassador of WEConnect International, a global network that connects women owned businesses to qualified buyers.
Mei's achievements have been recognized through various channels and prominent organizations. Honored by the World Trade Institute with the Maryland International Business Leadership Award, the Asian American Chamber of Commerce with the Business Leader of the Year Award, the Asian Women in Business Organization with the Entrepreneurial Leadership Award, the Washington Business Journal with the Women Who Mean Business Award, and the University of Maryland with the Phillip Merrill College of Journalism Distinguished Alumnus Award.
How has your life experience made you the leader you are today?
I grew up during the 1970s in China when the country was just starting to open up. At age 12 I was selected to attend one of the first foreign language immersion schools, located in my hometown of Hangzhou. These foreign language immersion schools were set up by the Chinese government to train a new generation of diplomats that would have the language skills and cultural knowledge to build relationships with Western countries such as the United States. During my time at this school I had to grow up fast! I thrived in this environment. I became the class president. I helped teachers to organize events and performances. And I formed a lot of amazing friendships – many of them lasting until today. I loved studying languages and learning about different cultures. Learning a foreign language means gaining a completely new perspective of the world. My education gave me a deep appreciation for world cultures. When I started Chesapeake Bay Candle, I built a diverse, global team from the start. Our multi-cultural workforce has played a key role in our company's success.
How has your previous employment experience aided your tenure at Chesapeake Bay Candle?
After graduating from the Hangzhou Foreign Language School, I moved to Beijing. To continue my preparation for my future career as a diplomat, I decided to pursue a degree in American Studies at the Beijing Foreign Language University. During this time, a professor of mine connected me to the World Bank. At first I was working as a translator. After a while I became a part time project officer. In this role I travelled to countries like Bangladesh, Sweden, and Britain. I continued to hone my English language skills, which would play a big role in my future entrepreneurial success in America. The relationship with the World Bank also led me to the Washington D.C. area many years later.
At the Beijing Foreign Language University, I was part of the class of 1989 – the year of the Tiananmen Square uprising. The government determined that all students of that class should go through a "re-education program" regardless of whether they were involved in the uprising or not. I was assigned a job in a mineral mill in Northern China. My responsibility was to maintain a report of incoming and outgoing trucks. As you may imagine I was quite bored during this time. And I was afraid I would lose my English language skills. Eventually I decided to quit. Which meant I was giving up every chance I ever had of ever working in the Chinese diplomatic services. So I started exploring the idea of relocating to the U.S. for my graduate education. Given the right location of the school, I thought I could perhaps continue working for the World Bank. And that is how I decided to enroll at the University of Maryland. I opted for a Masters of Arts in Journalism. When I graduated in 1993, the country was just recovering from a recession. The World Bank was still under a hiring freeze. I accepted a job in NYC with a company that was exporting medical equipment to China. I didn't stay long, but I learnt a lot about import and export. And it is was in NYC where I had a big a-ha moment that was key for the future success of Chesapeake Bay Candle. While shopping at Bloomingdale's, which was not far from my apartment, I noticed a gap between the styles of the goods in the apparel department and the home department. The fashion trend of the mid 1990s was modern and chic. Think Calvin Klein and Donna Karen. But the designs in the home department were quite traditional and not very exciting. That's what sparked the idea to start a company that would offer products for the home that would be contemporary in style. By 1994 my then-husband David and I were ready to embark on our entrepreneurial adventure. We started our own company, which became a multi-million dollar success in just a couple of years.
What have the highlights and challenges been during your tenure at Chesapeake Bay Candle?
Creating a brand that people want and like from nothing is an amazing experience! Over the years, I have been honored to work with many of America's most renowned retailers – including Target, Bed Bath & Beyond, Kohl's, TJ Maxx.
In order to achieve our growth, we had to build a great team of talented people, in our headquarters and our factories, both here in the U.S. and overseas. Creating this global team has been one of the biggest joys of my life.
Without a doubt, one of the most meaningful highlights in the history of our company is the opening of our first domestic factory in Glen Burnie, Maryland – near the Chesapeake Bay and close to our roots. Today we employ nearly 100 people at this factory, and we currently plan to add more capacity and more people to get operationally ready to accommodate the projected growth over the coming years. It means a lot to be able to create jobs and to give back to the country that has afforded me so many opportunities.
In 2015 we created a wellness lifestyle brand under the Chesapeake Bay Candle umbrella. The Chesapeake Bay Mind & Body collection was designed to help people achieve a more balanced lifestyle with home fragrances enhanced with all essential oils. The products are made from premium ingredients to complement your healthy living practices. Chesapeake Bay Mind & Body became an overnight success that only continues to grow.
On the flip side, being an entrepreneur can be a lonely journey. Sometimes it is hard to delegate. There comes a point when you realize that you need to find new ways to grow the business. This year I realized it was time to let go. And just a few weeks ago, David and I sold Chesapeake Bay Candle to Newell Brands, a leading global consumer goods company with a strong portfolio of well-known brands and a sharp focus on home fragrance.
What advice can you offer to women who want a career in your industry?
Do your research before you jump in! The home product market is not an easy industry. The field is quite crowded. You won't succeed if you are another "me-too". Find a niche and understand how you can be incremental to the market. To succeed in home lifestyle, you should come up with something new and innovative that has potential to scale.
What is the most important lesson you've learned in your career to date? It is important to build a brand, and building a brand requires a lot of discipline. A brand requires nourishment. You will need to focus and sacrifice. You won't be able to pursue every opportunity if the opportunity is not right for your brand. Building a brand also requires internal alignment. And it requires building the right relationships not just with the obvious players. At Chesapeake Bay Candle, I feel we should have diversified our distribution into the online channel earlier. We didn't pursue the ecommerce earlier on because we thought the channels we knew best were best suited for the home fragrance category. But to succeed in today's retail landscape you have to take an omni channel approach. It is important to focus your team both on the most immediate opportunities, the low hanging fruit, as well as emerging consumer trends.
How do you maintain a work/life balance?
This is a great question. The Chesapeake Bay Mind & Body brand, which we launched in 2015, speaks to the importance of a balanced lifestyle. This line was inspired by my personal desire to be a better wife to my husband and a better mother to my children. I believe you have to be happy and healthy to be the best version of yourself for your family. And to be happy and healthy, you need to live a balanced life. Our lives have become so busy with the rise of all of the new technologies. You have to learn to pause, to treat yourself to a moment of stillness to recharge and reenergize. You have to learn to let go. It's ok if you cannot be present for every event in your children's lives and for every meeting in your company. Focus on the quality of the time you spend with your family and at the office.
What do you think is the biggest issue for women in the workplace?
Women still struggle to find mentors. It is important to maintain relationships with people who can help you grow and who can provide support when you need it. Men tend to find it easier to build and maintain these types of relationships. They go golfing with business partners or colleagues. Personally, I prefer to connect with women business leaders rather than with men. I am a member of two prominent women's organizations, The Committee of 200 and Fortune's Most Powerful Women. In both groups I have made excellent connections. I have found new mentors who have been beyond generous in sharing their advice with me whenever I need it.
How has mentorship made a difference in your professional and personal life?
I have been fortunate to have had great mentors throughout my life. When I was a student at the Beijing Foreign Studies University, it was a mentor who introduced me to the World Bank. When I started Chesapeake Bay Candle, it was a mentor who taught me how to make candles. I had other mentors who helped me learn the retail business. Having a number of good mentors is like having a personal board of directors. I can call on different people for different questions, like growing the business, financial questions or even challenges with a team member. It means a lot when somebody is willing to share their knowledge and give you time out of their business schedule. Today, I am trying to pay it forward in the relationships with my own mentees.
Which other female leaders do you admire and why? There are many amazing female leaders in business, politics, and the arts who have helped advance the role of women in the world. As a woman entrepreneur with a background in fragrance, I really admire Estee Lauder. I think she is amazing. She started building her business at a time when many women were not even in the work force. She was driven, followed her passion, and is a true inspiration to women around the world.
What do you want Chesapeake Bay Candle to accomplish in the next year?
With the sale of our company this September, we are starting a new chapter in the history of Chesapeake Bay Candle. I still have big dreams. I want us to grow in meaningful, sustainable ways. I specifically want to focus on our wellness brand, Chesapeake Bay Mind & Body.
I want our wellness fragrances to reach more consumers here in the United States and globally so we can make a difference in their lives by helping them enhance their wellbeing and to achieve peace and harmony inside.
Calling all HuffPost superfans!
Sign up for membership to become a founding member and help shape HuffPost's next chapter
This post was published on the now-closed HuffPost Contributor platform. Contributors control their own work and posted freely to our site. If you need to flag this entry as abusive,
send us an email
.