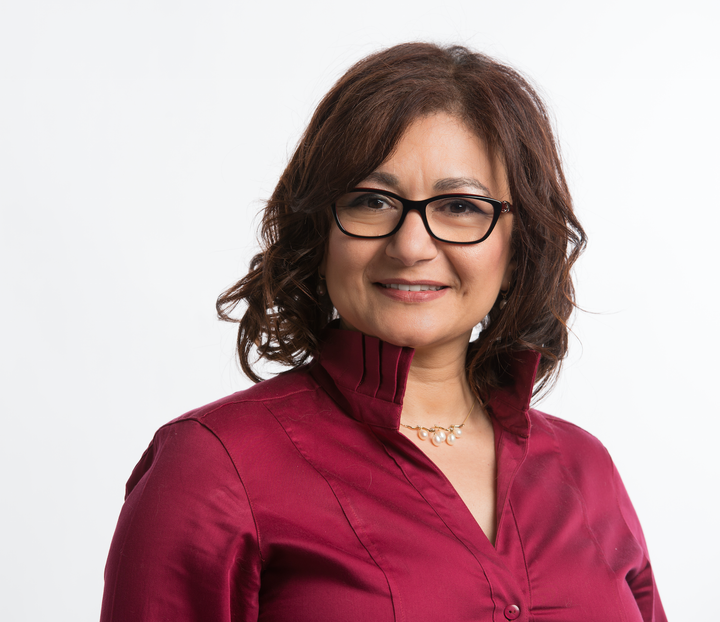 Nancy Zayed, is founder and Chief Technology Officer of MagicCube, a digital commerce security start-up located in Silicon Valley. Prior to her current role, Nancy was the Head of Engineering and Operations at innoPath, a founding member of OMA, where she led the global engineering development and service teams responsible for shipping Android, Rex, iOS, Windows Mobile and Symbian products. Within this role she was also accountable for the P&L of OEM & OTA technology client engineering, operations, OEM adoption, and carrier management.
Nancy is an advocate of the social and economic empowerment of women in STEM careers. She has been an example in this area by taking on numerous leadership roles, including Head of Platform Development at Cisco Systems, where she was in charge of the company's telepresence product and its secure endpoints for the consumer market. She also headed the CDMA (Code Division Multiple Access) mobile technology at Palm, where she spearheaded the move to air-interface agnostic technologies and IP Multimedia Subsystems integration.
Nancy also spent more than ten years at Apple, holding several technical leadership roles within the organization's traditional and new operating systems, and video engineering areas. During her time at Apple, she helped secure the company's second Emmy presented by the Academy of Television Arts and Sciences on the Primetime Engineering Award category for the company's efforts and impact on the television industry.
Nancy holds a Master's of Science Degree in Software Management from Carnegie Mellon University.
How has your life experience made you the leader that you are today?
I'm in a continuous process of analyzing and applying my life experience. I am always learning, but at the heart is what my parents emphasized: Education, education, education! They instilled in me, my sister and my brother that ambition should not be bound or defined by gender.
As we grew up, they taught us that gender equality does not mean preferential treatment, but rather equal opportunity. They also instilled in us the celebration of ambition.
Flash forward to college, there was one class that made a significant difference to me - a philosophy class called "Inductive Inference". That class reconciled science with the typical defiance and rebellion any young person goes through, showing that evidence and data-based logical thinking and processing will transform that rebellion into innovative and effective non‑conformance.
How has your previous employment experience aided your tenure at MagicCube?
I was lucky enough to see good examples of leaders. I was also lucky to see and experience bad examples of leaders at every level of the org chart. People who don't deal with bad leaders miss a lot, believe it or not. You learn not only from your own mistakes, but also from the mistakes of others.
When I was at Apple, Steve Jobs made a huge positive impact.
I also saw the destructive impact of a bad leader. A bad leader can cause a company to nosedive. You learn from both and you see the impact from both.
Bringing my experience to MagicCube, we are adamant that we bring on positive and encouraging sources of energy.
Seeing the good and the bad helps us build the right culture at MagicCube – a positive one.
What have the highlights and challenges been during your tenure at MagicCube?
For any startup, the challenges typically outnumber the highlights by a lot. That's exactly why each highlight, when it happens, is many orders of magnitude more powerful and more effective.
And when you get a highlight, it makes all those challenges and the effort worth it. Our main challenge here at MagicCube is that our cutting-edge approach to security and our technology are, in a big way, non‑conformist.
We opted to challenge the status quo and the accepted norms, not just for the sake of breaking things down and saying, "Oh, we are so disruptive." No. "The point is: what exists now isn't cutting it. It needs to be revised continuously and carefully to properly secure the mobile and IoT world."
The other challenge is the one typical of any startup: which is playing or facing big name companies. It is hard. We're not too worried about that but we're not, of course, taking it lightly, either. That's a challenge, or a couple of challenges.
One of our main highlights has been the ability to get that technology-that non‑conformant technology-validated by third party security labs.
The other one is winning the attention and the support of innovative executives within industry giants. When you catch the attention of an executive known for her or his innovation, that's something to be proud of.
What advice can you offer to women who want a career in your industry?
What I would tell women in the software industry, security, and the mobile security industry (and STEM generally) is the following: "You have to remember that life comes in chapters. It is never too late. It is a lie that you can either be a mom or a STEM professional. It's just not true."
I would also say, "You must update your technology stack continuously. On your own, if you must. If your current work does not give you the opportunity, create it for yourself, even on your own time. You have to be up to date and you have to explore what you've always been interested in if you cannot make the business case that it should be part of the job."
I would like to tell women in the software industry, generally, that nobody will give you anything if you don't ask and even fight for it. You have to be vocal. You've got to show your ambition. The only intimidation you must conquer is the one that we impose on ourselves.
It's also important to acknowledge and recognize the many facets of your true nature. For example, you might identify as a nurturing person, but you can still be the STEM professional in your place of employment. Get involved in your community to satisfy the nurturer in you.
What's the most important lesson you've learned in your career to date?
First off, anyone who denies that there is some form of gender discrimination or bias, especially in technology, in the workplace is either over‑sheltered or hasn't been around the block long enough. It's exponentially more difficult being a female leader in this field – there is more backlash from many of our male counter-parts and subordinates, and we are vastly outnumbered. For example, I recently participated in a conference for CTO(s) in San Francisco. I was amazed to find no other female CTOs these. This should not be the case. We need to recognize that biases and intimidation do exist. It's the only way to move forward and fix these issues.
Secondly, being aware of your professional surroundings is extremely important. It's your own responsibility. Here is the most important lesson: never be afraid of failing, ever. The bright side of failure is that it has made me better at what I do. It's how I learn.
I also learned not to focus on the failure, but to focus on how to never repeat it.
Finally, here is a lesson I learned or a fun-fact for women to be aware of: Men are not enemies. I discovered that quality men in the workplace believe in empowering women.
How do you maintain a work/life balance?
I have no idea! For me, to maintain that or, at least, to reach a semblance of a work/life balance my priorities as a working woman or a working mom are in constant flux. I recognize that.
All throughout my career, starting a family, and all that I maintained, quite literally, only two priorities have been at the very top. There is the well‑being of my family and the health of my marriage.
When those two were solid, anything else is not even a hurdle. I will jump over almost anything after that. I kept those priorities at the top because those are the ones that stabilize me.
They could be different for other women, but understand what the topmost priorities are, and keep them stable. I will say, in all honesty, my husband, Sam has been my rock all throughout. No one can have the work/life balance without a rock-solid support system.
There are times when my career came first and we collaborate over that and times when his career came first. I think it's how it should be.
To get or to attain a work/life balance I learned early on that I have to become a master juggler. In doing that, I learned to accept that sometimes I will drop some of the juggled responsibilities. That's OK. I pick them up and continue. I think that helped me to have a form of work/life balance.
What do you think is the biggest issue for women in the workplace?
On a smaller scale, I've found that a big issue is when women don't know how to be empowered, so they end up all over the map. There are not many, but they do exist.
On the other hand, I see women who plan their careers to fit into molds that were originally created for men. They bend backwards to get accepted. I see both in the workplace. This arises because of seemingly small things: even the verbiage in job descriptions, like "ninja" or "rock star", that are popularly thought of as male.
How has mentorship made a difference in your professional and personal life?
I can't say that I have a formal mentor or mentee relationship with any man or woman. That said, I compensated for that by picking a few people that helped me professionally and personally as role models.
Again, my mom and my dad, my school principal who was constant from kindergarten through high school. Those were my role models in hard work, whether for the family or the career, and for commanding peer respect through the trust and the integrity of how I carried myself.
When it came to developing vision and the ambition, and the leadership, and all that, like the rest of the industry I think Steve Jobs was the ultimate role model.
Which other female leaders do you admire and why?
I think highly of Angela Merkel, the German chancellor and actually, also a quantum chemist. She is inspiring. She is tough as nails, passionate of vision, and a leader. The view that she has about enforcing and respecting the law but still preaching tolerance and standing tough against all that - I really admire her as a female leader.
Of course, former First Lady Michelle Obama, a graduate of Harvard Law. I consider her to be the icon of the educated, gracious, intelligent woman who keeps her family centered and anchored in its values, regardless of the fame and the power. This is extremely hard.
I would say these two women are amazing female leaders.
What do you want MagicCube to accomplish in the next year?
Here at MagicCube we don't believe in selling technology through fearmongering. We think that people and businesses bloom when they feel secure.
We believe in building trust through making the security of the end user as the single commitment we have. Next year, MagicCube will be the key to securing and building trust in mobile health, mobile payments, and smart IoT.
Support HuffPost
The Stakes Have Never Been Higher
Related
Popular in the Community