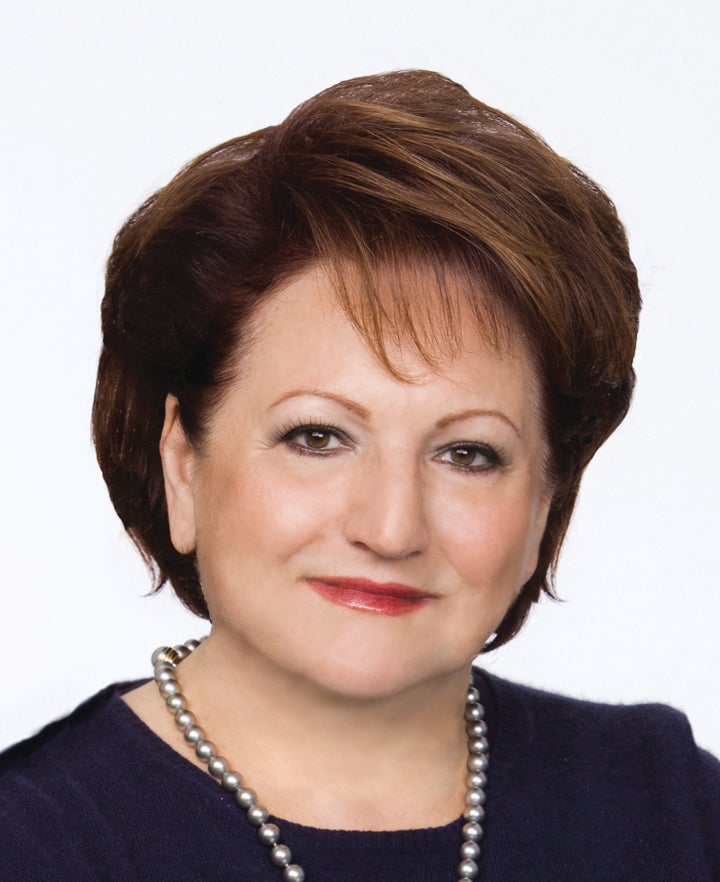 Probiotic pioneer, Natasha Trenev, has significantly contributed to the evolution of the probiotics industry. Prior to her work in the field, consumers had very limited knowledge of the supplement and it's many benefits. Natasha's extensive experience and knowledge of the industry began with her family's 750-year history producing the most beneficial yogurt prized by the royal family of Yugoslavia.
After graduating from UCLA in 1970, a decade of research led to Natasha's development of the first revolutionary method of producing an effective and scientifically validated single strain probiotic bacteria product. Her efforts helped to establish the entire probiotics category in North America, Australia, England, the Netherlands, and Belgium.
Natasha founded Natren in 1982 with her husband and since then has been dedicated to providing consumers worldwide with premium probiotics that promote the overall health and wellness of the body. The company manufactures probiotics for men, women, children, and pets, and offers both dairy and vegan options.
As a developmental scientist, Natasha has spent years studying the effects of beneficial bacteria and has written several books on the subject. Today, her reference library is the world's largest private repository on probiotics, referenced and recommended by prominent research scientists and medical schools.
How have your personal life experiences impacted you towards becoming the businesswoman and leader you are today?
As a young woman of immigrant parents, I was asked to help the family in its business and personal affairs often and regularly. I came to the states in December of 1955 when I had just turned eight. English was my third language. My original language was Serbo-Croatian, my second language was German which I learned while I was enrolled in the first grade in Vienna, Austria and finally my third language was English which I started to learn as a child when I was placed in the second grade with all English-speaking American children. These early formative years were important in shaping me as a person who strove to overcome obstacles and prevail.
My father started a natural yogurt business in the mid-1960s while I was still in junior high school. I had to learn words in English that I was not familiar with in order to assist my father to explain our Continental Royal yogurt that was only available in glass jars and a plain flavor. He also introduced the first liquid L. acidophilus product to the U.S. health food industry. We had some professional help but I was the main person acting as his translator. While helping my father in our family business, I started to learn about the many beneficial properties of natural Bulgarian style yogurt and liquid acidophilus. By the time I had entered UCLA in 1966, I established communications with a professor at the Academy of Science in Leningrad (now St. Petersburg). I received some of the very first scientific articles on the important health benefits of probiotic yogurt bacteria, probiotic kefir bacteria and L. acidophilus, the first probiotic bacteria that was not available in natural yogurt in any fashion. I also had access to some Bulgarian language books that spelled out the health benefits of yogurt-based beneficial bacteria. This early introduction to the miraculous health benefits of these selected friendly bacteria developed in me a personal passion for learning more about how we could transform people's health by the regular use of these incredible, beneficial bacteria. My initial introduction wet my appetite to learn more about the science and become active in seeking scientists, professionals, business people and health enthusiasts who could help me get this information out to the public. I was hooked on this wonderful, humanitarian approach to producing products that can help everyone gain and keep their health. It became a passion and a lifelong ambition to make the best probiotic products that could deliver results each and every time a person consumed them.
My quest led me to other researchers in the field of probiotics. I might add that there was no such term as probiotic bacteria or probiotics in general until I introduced the term to the world in 1982. Before my introduction of the word probiotics, people would talk about friendly flora or friendly bacteria.
I was introduced to professor Khem Shahani at the University of Nebraska and Professor Marvin Speck at the University of North Carolina, truly some of the first American scientists who focused their studies on introducing L. acidophilus products to the US public. Dr. Speck was responsible for the introduction of Sweet Acidophilus Milk in the late 1970s through Knudsen Dairy and Dr. Shahani filed a patent for the production of acidophilin from a special strain of L. acidophilus, DDS-1. My association with Dr. Shahani led to an exclusive contract with the University of Nebraska to represent their patented production of acidophlin to eligible business entities. This professional and scientific association inspired me to produce my first product called Superdophilus that we sold to health professionals across the US and the UK. No other health food or dietary supplement company was interested in selling an acidophilus product because their understanding was that acidophilus products were an afterthought or adjunct to the dietary supplement line and really could not sell for the amount I was proposing nor could it establish itself as a category in the health food industry. Each rebuff made me more determined to go forward and establish a new category of dietary supplements that we call probiotics today.
These early formative years created a passion in my life to be an educator, producer, and supplier of probiotic products that adhered to a strict production and labeling standard. I am a self-taught microbiologist and I have earned recognition globally for my pioneering efforts, dedication, and personal sacrifice.
My drive to achieve perfection made me the businessperson I am today, one that will not compromise the quality of the probiotic products we produce because I know people's health depends on my ethics.
What inspired you to become a scientist and what made you decide to start Natren?
I was inspired to become a scientist because the field of probiotics required scientific knowledge to achieve the required skill set to produce the best products and to be able to educate other professionals including doctors to understand the benefits probiotic bacteria could provide to everyone. I decided to start Natren with my husband's help and support to provide the best probiotic products available anywhere. I knew no one else was willing to take a huge risk, time and expense to make probiotic products and sell them to an uneducated public. Properly and ethically produced probiotic products are the future for humanity's ability to eradicate disease and improve health.
What are some of the highlights and challenges you've experienced as the founder and owner of Natren?
My greatest challenge has been to have the industry enforce the probiotic labeling standard I wrote in 1989, which was voted on and accepted as a standard by the entire US health food industry in July of that same year. The probiotic labeling standard was read into the congressional record in 1995 as an industry effort to convince Congress we could self-regulate. Unfortunately, we made that promise to convince Congress to pass the DSHEA amendment (to allow structure-function claims for dietary supplements). Once the amendment was passed the health food Industry did not want to maintain the 'TruLabel' program that was approved by the National Nutritional Foods Association (NNFA) membership. In fact, when the NNFA insisted that members adhere to a 'TruLabel' program, health food and dietary supplement companies started leaving the organization in droves until it bankrupted.
I continued talking about the probiotic labeling standard on television, radio, in print and internet interviews. I feel I cannot leave the business until the consumer understands the importance of a probiotic labeling standard.
What advice can you offer to women who want a career in the science or probiotics industry?
Do not get stuck in listening to contract manufactures who will give you selected information on how to formulate and create products. Make certain your knowledge has depth and unique understanding if you want to sell a superior product. Look to sell excellence and authenticity. People will not care if you are a woman in business if they can make money selling your products. I hope that all the women in business set the bar for true authenticity and transparency in products they produce and sell.
What is the most important lesson you've learned as a female scientist and business owner to date?
Staying the course is not easy but is the only way you want to do business. I have been fortunate in that no one has questioned my products or my achievements because I am a woman in business. Business opportunities have gravitated to my company and me because we have always stood for unparalleled excellence in everything we produce. Perhaps as women in business we can bring true transparency in our business practices and show the way to others.
How do you maintain a work/life balance? I have always had domestic help otherwise I would not be able to do all the things I have done. As an immigrant child, I know the meaning of domestic work and how much effort it requires. As a result, I always made certain I found the money to pay people a fair wage to assist me. I have never opted to get prepared foods or use inferior quality foods. Organizing your home life and business life leads to better eating habits, family stability and sanity. I know it is not easy, but finding help is a top priority for me. I have been blessed to have many wonderful women provide domestic help and I have always treated them fairly and considered them a member of our family. Our family could sit down to a fresh and home cooked meal everyday over a dinner table where we could discuss the events of the day. Creating a warm and stable life leads to more productivity and less stress. What do you feel is the biggest issue women face in a science-related work environment? The biggest issue facing any woman is establishing credibility and believability. Once you establish that and you know your business – and as long as you are reliable, honest, engaging, thoughtful and someone who can enhance the bottom line honestly – others will not question your scientific knowledge or act in a patronizing matter. How has mentorship made a difference in your professional and personal life? I believe mentorship has been the single most important value in my ascendance to the top of my field. I have always sought the advice of scientists or individuals that are the best in their field. I learn more efficiently by interfacing with brilliant people and drilling down to all the points of interest in each field until I master all the pertinent information. Which other female leaders do you admire and why? The one woman in our industry I truly admired is Sandy Gooch. Sandy Gooch started Mrs. Gooch's Markets almost 40 years ago. The original 9 stores were bought by Whole Foods about 20 years ago. They modified some of her strict rules regarding the products that would be sold.
Sandy stood for health food principles in the face of great opposition when she started her markets. She had strict rules concerning the products that would be allowed to be sold in her markets. All the important people in the health food industry, at that time, tried to change Sandy's mind about her strict rules regarding the products she would allow to be sold in her markets. They all predicted the first market would fail because it was in a middle-income community and higher prices would kill the business. In fact, many people pleaded with her to back off in order to save her life's savings that she invested in the first market. Sandy stood firm. She would not compromise her values and she proved everyone wrong. Mrs. Gooch's Centinella store in West Los Angeles was a major hit from the day that it opened. The rest is history.
I was also told that introducing freeze-dried friendly bacteria products at a high price was sheer lunacy. Probiotics as a name or category did not exist and people did not know what I was talking about. The only thing, that a smaller number of health food customers knew, was that acidophilus was good for you and it was available in a cheap liquid. The liquid form was not that viable and my new revolutionary L. acidophilus products had a high potency of a single strain L. acidophilus that was guaranteed through a printed expiry date. This was new information in the scientific community and I was the first one to introduce a product concurrent with the new science.
In fact, a colleague who was an executive with a large dietary supplement company actually gave me a name of a psychologist I should visit at UCLA to get some mental clarity. He thought I was delusional and that I too would lose everything I had. My product ideas were unknown, not understood and the customers could not be engaged enough to buy the new products. It is not easy being a leader in a new field.
What are your plans for Natren in the next year? My plan for Natren in the next year is to finish our new state of the art pharmaceutical manufacturing facility for the production of our unique and powerful probiotic products. We will be the global leader in researching, formulating, producing and selling our probiotic products. My five-year plan is to teach individuals how to use probiotic supplementation strategically along with diet and exercise to transform and maintain their health. I have my wonderful husband to thank for the incredible job he has done with building and expanding our production plant; it will be one of the best in the world. Our mutual plan is to leave a legacy that will benefit mankind. We hope that our journey of 35 years will lead to better health for everyone and that our life endeavor will have a lasting effect.
Popular in the Community