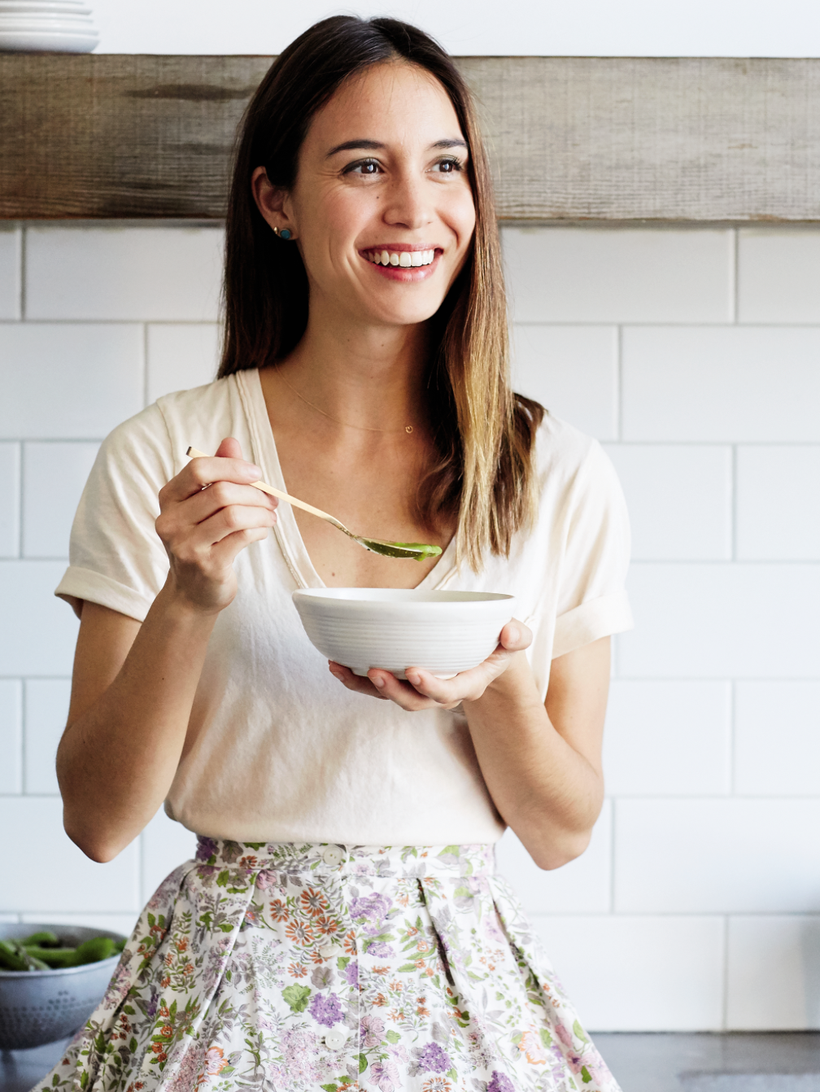 Nicole Centeno is a French Culinary Institute–trained chef and the founder and CEO of Splendid Spoon. Splendid Spoon delivers ready-to-eat plant-based meals along with mindfulness tips and support to form lifelong healthy habits. She is the author of SOUP CLEANSE COOKBOOK and speaks nationally about the transformative nature of food and mealtime rituals. Nicole lives in Brooklyn, NY, with her two sons, Grover and Caleb.
How has your life experience made you the leader you are today?
Being a mom has had the greatest impact on my leadership abilities. Kids demand your presence from a physical and emotional standpoint - I didn't realize just how much I was juggling (mentally and physically) until I had my two boys. They have forced me to prioritize and simplify and it has had a tremendous effect on how I lead. They have showed me it's a beautiful thing to be present, and I end up accomplishing so much more as a result.
How has your previous work experience contributed to your time at Splendid Spoon?
I was a media strategist at Conde Nast for several years. Working at a large corporation that valued brand identity has been super helpful for me as I continue to build Splendid Spoon. I saw that projects that allowed team members to voice themselves thrived, and I saw the deep value of storytelling. I incorporate both of these things into my everyday work at Splendid Spoon.
What have the highlights and challenges been since you launched Splendid Spoon?
The life of a bootstrapped entrepreneur is not for the faint of heart. My greatest pride is in my ability to get up every time I'm knocked down, and building a team with the same grit and determination. I have never been one to follow a blueprint, and so the course of my business has been odd to many investors. Raising money has always been my greatest challenge, and yet that challenge has also been the greatest gift to me because we are unspoiled. We have build a truly sustainable, thriving business while being undercapitalized. In a sector that is notorious for burning cash.
What advice can you offer to women who want a career in food/health/wellness?
Get in there! There has never been a better time to connect to people who want to improve themselves through food, and the direct to consumer space is only going to grow as consumer confidence in delivered experiences increases. Come up with an idea that you love, find a friend to help you, try it on the market, fail, tweak your idea, try again. If you keep going, you'll get there.
What is the most important lesson you've learned in your career to date?
Willpower is real. I don't have a business background, but I have deep conviction in my beliefs, and I am not afraid to fail because there's always some rebirth. Willpower is the fuel for this existence.
How do you maintain a work/life balance?
Being present is mandatory for me to maintain balance. I do not multitask. When I'm with my kids, I'm with my kids and enjoying it! When I'm at work, I am focused on my tasks, and that's it. This present-minded existence allows me to be more efficient with my work and let go and relish my time with my kids.
What do you think is the biggest issue for women in the workplace?
There are just fewer of us. So, finding mentors, or relating to women in senior positions (especially in tech and finance) is challenging. When I had my second child and then went through a divorce, all while managing Splendid Spoon through a big growth phase, I wished I had another female CEO to call. I did not, but I think this is changing.
How has mentorship made a difference in your professional and personal life?
As a somewhat rebellious personality, I have always pushed hard against people in positions of authority. When I encounter someone in my professional or personal life who pushes right back with smart questions, I know I have found a valuable teacher. A mentor is someone who respects that rebellious spirit, but knows how to bring out my humility as well. All of my professional mentors do this and it helps me be a better person, a smarter and more compassionate leader.
Which other female leaders do you admire and why?
Emily Warren Roebling. She basically took over the building of the Brooklyn Bridge and saw it to completion after her husband Washington Roebling became bed-ridden with illness. And new-school: Madame Gandhi who has an infectious personality and inspires women to really think about their role in society and how to subvert the patriarchy. I met her on a boat. She's very cool.
What do you want Splendid Spoon to accomplish in the next year?
We expect to continue 20%+ month over month growth and to experience great success as we launch another meal category.
Calling all HuffPost superfans!
Sign up for membership to become a founding member and help shape HuffPost's next chapter
This post was published on the now-closed HuffPost Contributor platform. Contributors control their own work and posted freely to our site. If you need to flag this entry as abusive,
send us an email
.