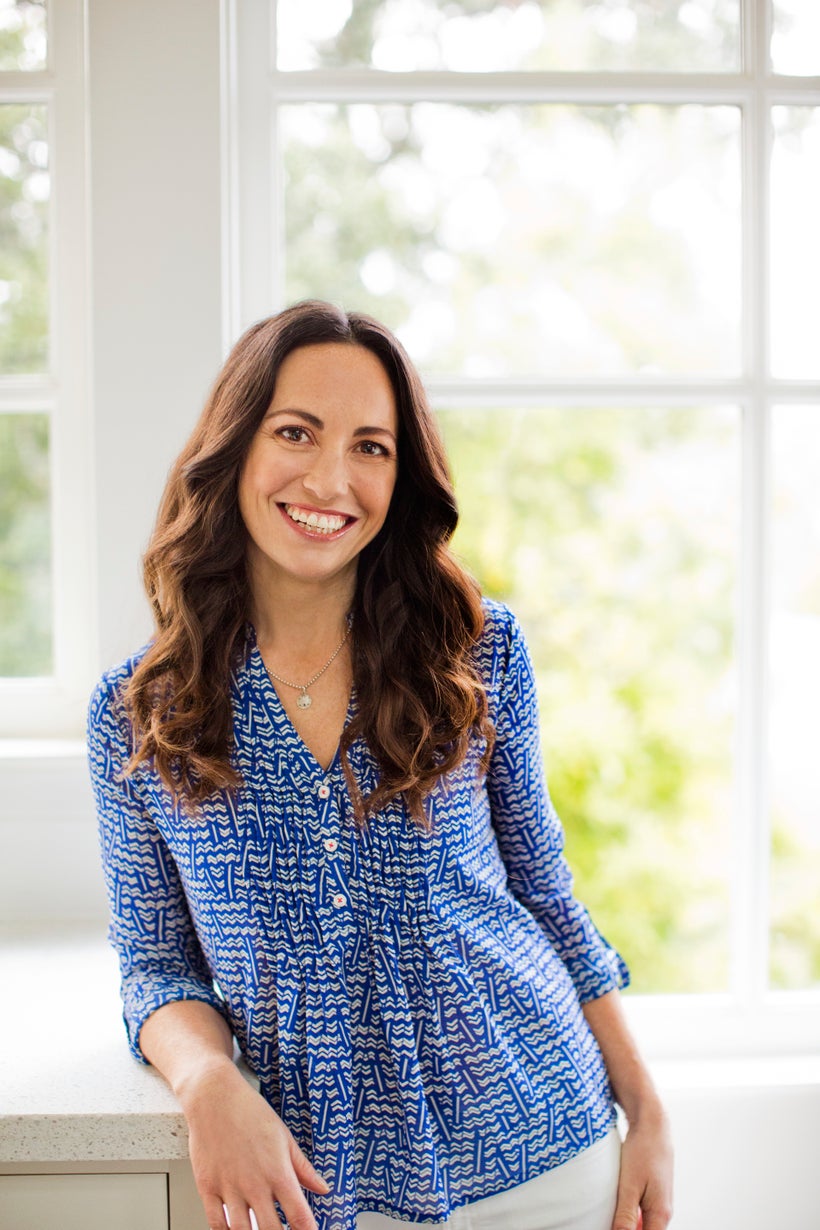 Nicole Bernard Dawes is a pioneering business owner, food advocate and mother whose lifelong passion for transforming the food system has resulted in one of the country's most successful organic snack brands. Nicole's first exposure to the organic movement came at an early age—in the 1970s, as a child sitting on the counter of her mother's natural food store, she dreamed of creating healthier products that were still delicious. Nicole's passion intensified while working with her late father on two successful natural product companies, Cape Cod Potato Chips & Chatham Village Foods.
In 2003, Nicole fulfilled her childhood dream by launching Late July Organic Snacks. This lifelong commitment to organic and non-GMO is based on the belief that toxic, persistent pesticides, genetic engineering, antibiotics, artificial ingredients and preservatives should not be in our food supply. As a result, all Late July products have always been are made with organic and non-GMO ingredients. Today, product offerings include Original Classic Crackers, Multigrain Tortilla Chips, Restaurant Style Tortilla Chips, Clásico Tortilla Chips, and the newest addition to the lineup, Late July's Cantina Dippers.
Today, Late July is proud to be an independently run and family-operated company that has found success without sacrificing its commitment to social or environmental change. Nicole's dedication to bringing health and transparency to the snack food aisle and our country's food policies overall is reflected throughout the decisions made at Late July and in her industry involvement. She previously served as a board member of the Organic Trade Association and has been asked to testify before Congress about the economic impact of organic agriculture in today's society.
Nicole has also won numerous industry awards for her innovation and the quality of her company's products. Former awards include SHAPE Magazine's Snack Awards, Taste for Life's Packaged Snack Product, Clean Eating's Clean Choice Award, and Prevention's Cleanest Packaged Food Awards. Under Nicole's leadership, Late July is committed to giving back and supports causes such as Edible Schoolyard, Just Label It, Only Organic, and the Greater Boston Food Bank. All initiatives aim to promote healthy children and a healthy planet. Nicole and her family split their time between the San Francisco Bay Area and Cape Cod. Her husband Peter serves as President for Late July and her two sons are proud to be Nicole's most valued taste-testers. Nicole holds a BA in Economics from Tulane University.
How has your life experience made you the leader you are today?
I quite literally grew up in the natural food industry – both on the counter in my mother's health food store during the 70s and on the production floor of my father's potato chip company, Cape Cod Potato Chips. As an only child, my parents didn't exclude me from much, so I watched first hand how their leadership styles impacted their teams. I saw that my father's hands-on style was highly motivating and I noticed that my mother always took time to get to know her employees and what mattered to them. It struck me how loyal people were to both my parents. What I realized over time was that most of their superstars seemed to have one thing in common, a positive attitude mixed with a little optimism. My father valued attitude over almost all other attributes when adding to his team. He always told me, "I hire the player, not the position." It's a lot easier to lead a group of intelligent, positive, self-starters who love what they do! I've worked really hard over the past 13 years to build that kind of team and have found that with the right attitude they are capable of amazing things!
How has your previous employment experience aided your tenure at Late July?
I was very lucky to have been trusted with big opportunities and leadership roles by my father at his two companies starting when I was still in high school. I launched new products, ran a department and managed people much older than myself. On the flip side, I also spent time working in the factory and on the road in sales. I realized very quickly that these roles in the factory and in entry-level field sales have as much, if not more impact on overall company success. Success flows upstream as much as it flows down.
What have the highlights and challenges been during your tenure at Late July?
One of my early highlights was the time I was asked to testify before Congress at a historic hearing on organic agriculture. I invited my father to come with me to Washington DC and for the day we were able to step out of early start up chaos and enjoy some time together. The memory of this day became even more special after my father passed away a few years later.
Our biggest challenge was the unexpected death of my father who was also my business partner in 2009. It was a devastating loss for my family, and for the company – we were in the height of the recession, and our bank used the "death of a member" clause in our loan agreement to put us in default. It was an especially brutal year, but we were determined to keep the business alive, and came out stronger than ever. 2010 began the next phase for Late July and allowed me to call us the overnight success 7 years in the making!
On a day-to-day basis, sourcing our organic and non-GMO ingredients continues to be one of our biggest challenges. The organic jalapeños we use in our Mild Green Mojo and Red Hot Mojo Multigrain Tortilla Chips come from a family farm in California – it's the best source, but also the only source. And, in 2014, there was a massive lime panic because of the scarcity of organic limes. Relying on these specific, and limited, ingredients keeps me up at night. Over the past year, we had supply issues with over half of our ingredients.
Finally, over the past 13 years I've been able to watch so many of my team members grow from recent college grads into company leaders. It's enormously gratifying to watch everyone share my pride in what we've accomplished with little resources and against huge odds.
What advice can you offer to women who want a career in your industry?
I would recommend trying to get an internship or any role at a small to midsize company you admire. At the same time, reach out via LinkedIn or networking events to other women leaders in the industry. I get approached all the time, by women starting out in my industry and I love to listen to their challenges and share my stories. I would add that when reaching out for advice, try to be as specific as possible. I'm much more likely to have the time to answer if the question isn't open ended.
What is the most important lesson you've learned in your career to date?
When you start to become successful, don't get caught up in the hype. You may be doing well, but that does not mean you can't achieve more or be better. In fact, a company is most vulnerable when it is succeeding. The more comfortable you become, the more you may let things slide. I go to work every day and act as though my company is still just getting off the ground.
How do you maintain a work/life balance?
When you're an entrepreneur you never stop working, so for me work-life balance is less about compartmentalizing and all about periodically checking in with myself to ask, "Am I feeling balanced? Happy?" Then taking a hard look at my answer. Two things I make sure to do every day – no matter what is going on in the office – is family dinner and exercise. The family dinner grounds us all and keeps our family connected even during the busiest of times. Daily exercise keeps me feeling healthy which is essential to keeping everything in motion. My Peloton bike is a great no-excuses way to ensure I get exercise even on days when the weather is awful or I'm tied up all day with meetings. The final thing that really helps is building in the ability to work from home when necessary.
7. What do you think is the biggest issue for women in the workplace?
The snack business is still a very male dominated industry, but it's changing rapidly. It can feel strange being the only (or one of the only) woman in a large room full of people, but I've tried really hard not to let it change who I am or how I act. I have learned over the years to let my results speak for me. I brought my kids to the office until they started school and have always included them in my work-life, but this isn't available to most women in the workplace.
How has mentorship made a difference in your professional and personal life?
Steve Bernard was my mentor, my hero, and my father. When my father started Cape Cod Potato Chips, his approach was to create natural snacks that tasted better than those on the shelf of my mother's natural store. From an early age, he told me I was capable of anything and taught me never to quit on an idea or myself. I don't think he every really thought that "because I was a girl" I should/shouldn't do something. This was especially true when he brought me to regular little league tryouts at 6 years old where I was the only girl and about half the size of the boys there! Full transparency, baseball wasn't really my sport, but the experience left a lasting impression. I didn't realize until I was much older that not all girls were raised to believe in themselves that way. He taught me to love math, always ask for the sale and not to be afraid to get my hands dirty.
Which other female leaders do you admire and why?
There are so many amazing women leaders out there, but here's a few I really admire: Julie Smolyansky, CEO Lifeway Foods, Jessica Rolph and Shazi Visram Founders of Happy Baby, and Jessica Alba, Founder of The Honest Company. All of these women had a vision and believed in their dream against the odds while raising beautiful children! A non-food female leader I admire is Tina Fey for many of the same reasons!
What do you want Late July to accomplish in the next year?
I would love to see Late July be the No. 1 tortilla chip in America, but that's going to take a little longer than one year! Being number one would be the pinnacle of the sustainable food movement. When an organic, non-GMO chip can have that kind of presence in the snack aisle, it really says something about the future.
Calling all HuffPost superfans!
Sign up for membership to become a founding member and help shape HuffPost's next chapter
This post was published on the now-closed HuffPost Contributor platform. Contributors control their own work and posted freely to our site. If you need to flag this entry as abusive,
send us an email
.