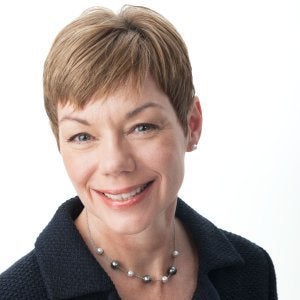 Paula Downey is president and chief executive officer of CSAA Insurance Group, a AAA Insurer. She joined CSAA Insurance Group and its AAA club affiliate, AAA Northern California, Nevada & Utah, as the chief financial officer in 2000. Ms. Downey was promoted to chief operations officer in 2003, president in 2005 and president and CEO in 2010. Previously, Ms. Downey had a career with the Auto Club Group in Dearborn, Michigan.
Ms. Downey serves on the boards of CSAA Insurance Group, AAA Club Partners, the Bay Area Council, the Insurance Information Institute and the Property Casualty Insurers Association of America (PCI). She is also a Governance Fellow of the National Association of Corporate Directors. She previously was a board member for BRE Properties, Inc., the Golden Gate National Parks Conservancy and Leadership California, as well as the Detroit Urban League, Michigan Metro Girl Scout Council, and Michigan Economic and Environmental Roundtable.
The American Red Cross Bay Area Chapter named Ms. Downey the 2014 Humanitarian CEO of the Year in honor of her significant contributions to the Bay Area community. She has also been repeatedly recognized as one of the Bay Area's Most Influential Women in Business by the San Francisco Business Times. In 2013, the publication named her one of the region's 'Most Admired CEOs', specifically recognizing her for outstanding corporate citizenship. In May 2010, Ms. Downey accepted the Corporate Leader Award for the AAA club from Leadership California.
Ms. Downey earned her bachelor's degree in accounting from the University of Michigan, Dearborn, and her MBA from the University of Michigan, Ann Arbor.
How has your life experience made you the leader you are today?
Growing up in Michigan, I have what some may refer to as traditional Midwest values. I have a strong work ethic, determination and integrity. As one of eight children in my family, I learned very early in life to negotiate and be persistent. This experience prepared me well for life and leadership where you make decisions, manage challenges and interact with a variety of people. Further, I believe that it's vitally important to continue to learn, grow and challenge yourself so you can best serve your team, company and community. That's true regardless of where you are in your career.
How has your previous employment experience aided your tenure at CSAA Insurance Group?
In high school, I began working at AAA as a claims intern. That foundational experience of working in a customer-facing role was invaluable and continues to serve as a constant reminder that AAA member customers are – and must be – at the center of everything we do. It was also a great opportunity to learn a very important part of the insurance industry that served me well throughout my career.
What have the highlights and challenges been during your tenure at CSAA Insurance Group?
I am proud of the work we've done over the past three years to transform our company. We've deployed leading-edge technology and capabilities, launched new products for AAA members, and built a deeper and diverse talent base. We are improving the customer experience and creating long-term value for AAA members and the AAA clubs we serve.
While we have made progress in adapting to an evolving marketplace, our biggest challenge is to continue to innovate to meet changing customer expectations and needs. Autonomous vehicles and the sharing economy will dramatically transform automotive businesses over the next decade. Creating a strong culture of curiosity and data-driven insights will lead to innovative products, service and business models to better serve our customers.
What advice can you offer to women who want a career in your industry?
Insurance is a rewarding career because we have a higher purpose. We help rebuild lives following loss and allow people and businesses to continue to function and thrive. For me, the insurance industry has been exciting, challenging and rewarding, and why I've spent my career in this business. If you are interested in making a meaningful difference, insurance is a great career.
Now is the time to consider a career in our industry. Many insurance professionals are approaching retirement age and that opens opportunities at all levels in the industry. The array of specialties is huge: underwriters, actuaries, claims adjusters, agents and brokers, service representatives, risk managers, loss control specialists, and that's not counting all of the business support required, like marketing, finance, communications, operations, and IT.
What is the most important lesson you've learned in your career to date?
Having diverse perspectives at the table results in fresh ideas, better decision-making, and more creative approaches to solving problems. Surrounding yourself with people who are exactly like you is very limiting. It is critical to welcome different perspectives and backgrounds, and that helps us better serve our customers.
How do you maintain work-life balance?
Maintaining work-life balance helps me be a better and more productive person at home and work so I make it a priority. I enjoy participating in the company's on-site fitness classes, including yoga. I also try to take power walks during the day when I can. As a company, we encourage wellness and work-life balance. We also provide all employees with 24 hours of company paid time off to volunteer in the community. This has a positive impact on well-being as well as to support teamwork, customer service and business goals.
What do you think is the biggest issue for women in the workplace?
While we have made significant progress, there's still much more work to do and one of the biggest obstacles is people who don't value diversity – despite numerous studies showing direct business benefits. At CSAA Insurance Group, diversity and inclusion is a core value that we embed in how we work, and we are strongly committed and invested in our diversity efforts. While we always hire the best candidate, we seek out diverse candidate slates for openings which helps us find some fantastic talent that we might not have found through normal recruiting channels. We know that diversity drives engagement, innovation and profitability, and we continually measure our success and evolve our programs to address opportunities. As a leader, I'm committed to building a diverse and inclusive workforce, not only because it makes us a stronger company, but because I firmly believe that is critical to maintaining a competitive advantage in today's marketplace.
How has mentorship made a difference in your professional and personal life?
While I didn't have mentors in the way we seek and value that role today, I was fortunate to have great role models. One role model is my father, who had a strong work ethic and worked long hours to support a large family. He also taught me that doing the right thing for society, including human rights and caring for our environment, is also the right thing for business. The lasting difference for me is the importance of working for an organization where the core values are closely aligned with your values. When that happens, as it has for me at CSAA Insurance Group, you can make the world a better place.
Which other female leaders do you admire and why?
I greatly admire the determination and courage of trailblazing women. They inspire me to continue to pave a path for women through my leadership and a commitment to diversity and inclusion. Women are significantly underrepresented in executive ranks, on boards and in top governmental roles. I am inspired by the women of the Supreme Court (three and counting), our first female presidential candidate, and the women leading Fortune 500 companies (only 23 or 4.6 percent of companies).
What do you want CSAA Insurance Group to accomplish in the next year?
Our focus continues to be on providing the best products and service to AAA members who trust us with their insurance needs. We are about to finish major, multi-year investments in technology and other capabilities that are transforming the way we do business and supporting sustainable long-term growth. While some of the hardest work is behind us, we now need to fully leverage these investments to support innovation. Building a culture of insight and innovation will provide us with the agility and ability to adapt to and drive change within both our company and the industry.
Related
Popular in the Community