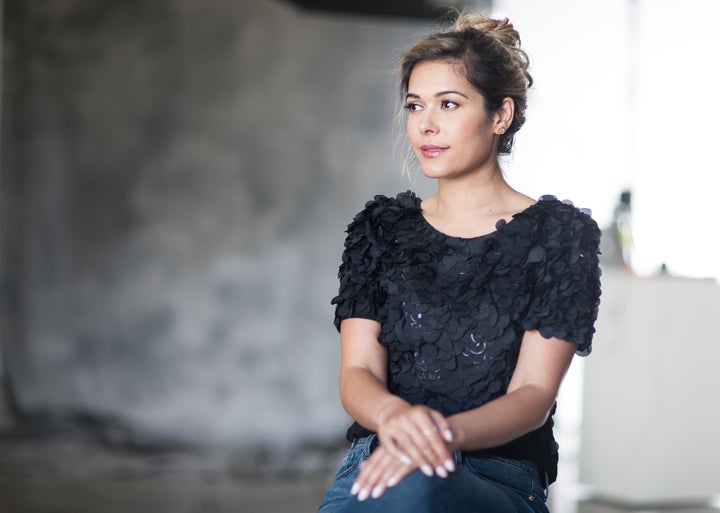 Preeya Malik is an entrepreneur, U.S. licensed attorney, immigration rights advocate and Co-Founder of investment immigration firm STEP America. At STEP America, she helped expand the firm's reach to Dubai, Qatar, Mumbai, New Delhi, and Singapore, as well as securing the building and development of several Hilton and Marriott Hotel properties across the U.S., a number of private charter schools, and cutting-edge government infrastructure and technology projects. As a businesswoman who built a successful company from the ground up, Preeya is an expert on navigating the entrepreneurial landscape in the UAE and the Middle East. She also the 2016 Silver winner of two Stevie Awards categories: Female Entrepreneur of the Year in Consumer Services and Female Entrepreneur of the Year in Europe, the Middle East & Africa.
How has your life experience made you the leader you are today?
I believe that becoming a good leader means taking into account all of the experiences you have accumulated through life, whether negative or positive, learning from those, and applying them going forward. I can't say my life experiences have been as vast as many or even extraordinarily unique but they are all a part of what has brought me to this place I am in today -- living in Dubai as the co-founder of Step America.
I was born in Canada as a first generation immigrant from India. My parents took a huge risk by moving to a country where they had no family and far away from everything they knew to provide a better life for myself and my brother. Their story and their determination has been a guide in everything. Their strength and "no fear" attitude they instilled in me gave me the courage to leave everything I knew and moving to Dubai with no certainty as to what the future would hold.
While Canada is known as a country that opens its door to immigrants, that movement was still fairly new throughout the 70s and 80s. Today immigrants are the majority, but when I was grouping up, we were still a minority. I wasn't immune to the ignorant behavior that immigrants face. But those experiences shaped my views on immigration, something that guides me in my work every day. It also shaped me into someone who is patient, tough and determined -- all qualities of a good leader!
How has your previous employment experience aided your tenure at STEP America?
Immigration has always been an area of interest in my career. Through working with an immigration firm in Toronto and providing pro-bono legal services to immigrants, I have learned a lot about immigrants and what their needs.
I also gained great exposure to Real Estate, both from my Masters degree specializing in Real Estate Development Law at the University of Miami, the various in-house legal internships with some of the largest developers in Miami as well as running my own law practice after law school where we provided both real estate and immigration services. Starting my STEP America with a friend from law school, gave me the business practice I need to effectively act as Managing Director at Step America, while my practical employment experience gave me the skills I needed to create a successful investment firm specializing in investment immigration.
What have the highlights and challenges been during your tenure at STEP America?
The highlights during my tenure at Step America have absolutely been (1) watching my business grow into one of the most well known immigrant investment firms in the UAE and (2) helping families pave a path to the U.S. as permanent residents. We've been able to achieve both of these goals in such a short period of time, but it didn't come without its fair share of challenges. Moving to Dubai and starting a business was extremely different, as the entire process and business culture is so different from the U.S. and what we were familiar with. Having to figure out licensing, business transactions, rules and regulations, and business process without anyone to guide us took time and a lot of mistakes along the way! For example, business transactions in the Middle East aren't necessarily based on credentials, but more on relationships and trust. People will only do business with you if they trust you. Building trust is difficult in a market where you are unknown. Financially there were challenges as well. In the UAE it is customary to pay annual fees and annual rents upfront, which means a sufficient amount of capital is required for investment into your new venture.
What advice can you offer to women who want a career in your industry?
Be strong and learn to not take things personally. When you are dealing with investments and large sums of money, people will have their preferences. Many times you may run into people who would prefer to work with a male rather than a female in what is still a male dominated industry. This has nothing to do with your skills and experience, but rather a bias in the industry. It is important not to let things like this intimidate or discourage you. Keep going, remain vigilant and continue to perfect your practice.
What is the most important lesson you've learned in your career to date?
There are two very important lessons I have learned in business thus far. The first and most important: treat everyone with respect. Regardless of how an individual treats you, or how important you perceive that person to be in your professional or personal life. It's not always easy. There have been times when a male client has spoken to me disrespectfully because I am female or a colleague hasn't been fair in their business practices, and it's all the more important in these circumstances to take the high road and treat people with kindness.
The second lesson is to never lose your drive regardless of your level of success. Success is a direct result of how much work you put into something and success is also highly subjective. Many times, we taste what is perceived to be a high level of success and as entrepreneurs feel that we can sit back for a minute and relax or "take a break." I've learned that you have to keep going in order to continue being successful and in order to continue moving forward. As a business owner, you are the heart of your business and when the heart stops beating you are risking the whole company falling to pieces.
How do you maintain a work/life balance?
Maintaining work/life balance is difficult but not impossible. I learned in law school that the people who took one night a week to just let loose and put away their books are the ones that excelled, and the students who felt guilty about taking even one night off got burnt out.
I think the main goal is to make time for the things that are important to you and to your health. For me, working out in the evenings is exhausting, however, maintaining my health is important for me so I make sure to get it out of the way in the morning. There are many times when I choose to schedule meetings at certain times, just to ensure I can keep up with a reasonable and healthy routine. Maintaining my relationship with family and friends is very important to me, especially because I am miles and time zones away from home. There are certain times of the day or week I set aside to speak with my family and spend time with the people I care about. It eliminates the guilt of letting your work life take over but still allows you to accomplish everything. Finally, I believe sometimes you just have to know your limits and know that it is okay to say no.
What do you think is the biggest issue for women in the workplace?
One of the biggest issues for women still is work-life balance combined with children and career. Although these issues are often addressed separately, I believe they are highly correlated. It has already been proven through various studies that it continues to be more difficult for women to move ahead in the workplace in terms of promotions and equal pay. Although women now comprise half of the educated workforce, many still have to sacrifice caring for their children in order to earn a living or give up senior positions to care for their children.
In western or European nations, where perhaps families aren't readily available to care for children, women must depend on nannies, nurseries, or daycare that is an added expense. I wouldn't be honest if I didn't say that this has also crossed my mind, and planning for a family while balancing my career is always in the forefront. As an entrepreneur, I don't necessarily have maternity leave. My income and success is based directly on my work and so planning is important. Whereas, for some of my male counterparts I don't think it is as much of a fear or concern.
How has mentorship made a difference in your professional and personal life?
Mentorship has been incredibly important in bringing me where I am in my professional and personal life. I feel blessed to have had the opportunity to learn from a host of experienced and successful individuals who also genuinely cared about my success. The thing is, we all live and learn. In my professional life, to have people who can guide you in the right direction, answer questions, relieve doubts, and teach you from their own experience is invaluable. In my personal life, it has also been invaluable to have people to look up to and people who can understand your position. I truly believe mentorship in young people builds the confidence required to succeed.
Which other female leaders do you admire and why?
There are so many amazing women who have the opportunity to lead these days so this is a tough question to answer. I think one woman who wasn't really on my radar to be honest, but who has garnered my respect tenfold over the past eight years has been Michelle Obama. Her initiatives for a healthier America, combating childhood obesity, and putting these programs into place have been inspiring. I have to respect women who are in a position of power, but who use that power for the greater good and I believe that is exactly what Michelle Obama has been up to during her tenure as First Lady.
Another notable woman is Reshma Saujani a former Deputy Public Advocate of New York City who started up Girls Who Code, a not for profit which aims to empower and encourage girls in pursuing the computer science skills necessary to pursue 21st century tech opportunities in male dominated industries.
What do you want STEP America to accomplish in the next year?
This year we have big goals set for STEP America. We have the goals we usually set which is to gain more investors than before, however, we also would like to expand into other developing markets. Being some of the first to enter the Middle East market as a company headquartered in Dubai specifically for U.S. Investment immigration proved to be a good move. We would love to expand into new territories like India and Africa! It's important that we continue to build our brand and make a name for STEP America as the leading investment immigration firm in emerging markets.
Related
Popular in the Community