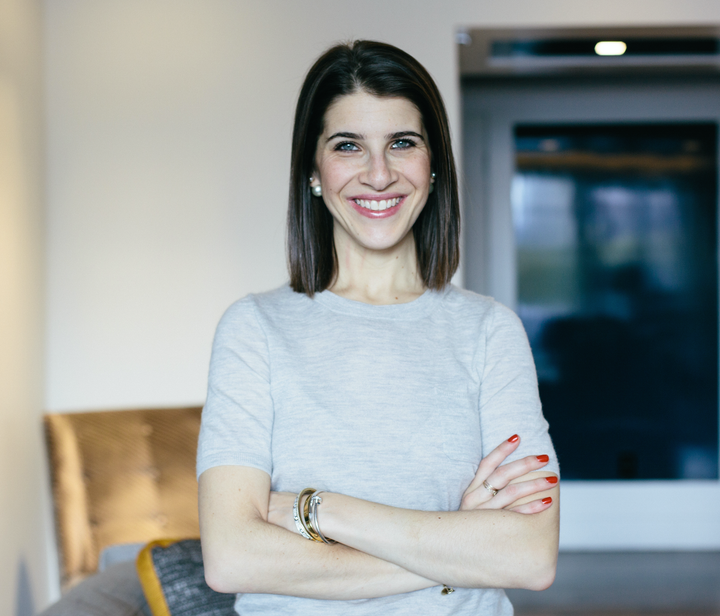 New York-based entrepreneur and mom Rachel Blumenthal created Rockets of Awesome, which launched in July, to offer parents a simpler and smarter way to shop for high-quality kids clothing. She began her career at Yves Saint Laurent, before launching her first entrepreneurial venture as designer and founder of the fashion jewelry brand Rachel Leigh. The brand was licensed to GlamHouse in 2011. Rachel then lent her hand to Warby Parker, which was cofounded by her husband Neil, before founding and acting as CEO of Cricket's Circle, the trusted resource and editorial destination for everything baby and toddler. It was the insights and learnings from the Cricket's Circle community, in addition to her own experience as a mother that inspired the idea for Rockets of Awesome.
How has your life experience made you the leader you are today?
I'm the type of person that wants to understand every step of the process and how everything works so that I'm better informed to drive strategy and decisions. Because of that I'd describe myself as a collaborative leader – I love to brainstorm with my team and problem solve.
How has your previous employment experience aided your tenure at Rockets of Awesome?
I've only had one "real job" and that was when I was 22 (I worked at Yves Saint Laurent in PR and celebrity styling). I fell into my first business when I was 24 and have been building brands ever since. Each business I've built has driven my development in various ways. While I have expertise in a handful of areas, it's probably my skills as a leader that I'm most passionate about developing.
What have the highlights and challenges been during your tenure at Rockets of Awesome?
I'm most proud of our team and the team's accomplishments. Our business is incredibly complicated (vertical supply chain, technology, data science, reverse logistics, the list goes on) so there are challenges every day but it's the wins (big and small) that continue to motivate the team. Some of the highlights - launch day (we celebrated with astronaut ice cream and pop tart breakfast followed by hand delivering our awesome blue boxes with enormous silver mylar balloons to VIPs), nailing our first collection with all new vendors, surpassing our first month's KPIs in 3 days, and raising our Series A.
What advice can you offer to women who want a career in your industry?
My advice to women who want a career in any industry is to be deeply passionate about the role you want, prove you're indispensable and always be proactive.
What is the most important lesson you've learned in your career to date?
Always ask questions, be curious, don't take no for an answer. It's ok to be opinionated, have a point of view and listen.
How do you maintain a work/life balance?
As a founder, it's really a work/life immersion – and you never feel like you're doing either really well. The only way it works for me is to have a very structured schedule – it's 100% work during the day at the office and once I get home it's 100% about my kids until they go to sleep (then it's back to work again). On the weekends I avoid scheduling anything because my week is so over scheduled.
What do you think is the biggest issue for women in the workplace?
Unfortunately there's most definitely a bias against pregnant women and moms. As a mom and a manager of many moms, moms can be the most productive and efficient team members. Given all of the demands in our lives, we are required to be experts at prioritizing and multitasking.
How has mentorship made a difference in your professional and personal life?
Mentorship presents itself in so many ways. I go through phases looking to leaders that I can learn from and then as my challenges evolve, it can sometimes mean those relationships evolve – the same goes for anyone I have supported in their development.
Which other female leaders do you admire and why?
Awesome mom entrepreneurs doing awesome things: Rebecca Minkoff, Ariane Goldman, Zanna Rassi, Gregg Renfrew, Cassandra Grey, Rachelle Hruska MacPherson, Meredith Melling, Valerie Boster Macaulay, Casey Fremont, Lauren Bush Lauren, Jessica Alba, Gwyneth Paltrow, Zara Tisch, Jill Kargman, Christy Turlington, Veronica Beard(x2), Stacey Bendet Eisner, Melissa Kushner, Tali Magal, Nell Diamond, Alexa von Tobel, Katia Beauchamp, Nadine Abramcyk, Brit Morin, Daphne Oz.
What do you want Rockets of Awesome to accomplish in the next year?
At Rockets of Awesome we exist to simplify the lives of parents. The greatest accomplishment this year would be to serve as many customers we can to further our mission. We're also on track to grow the business by over 10x.
Popular in the Community