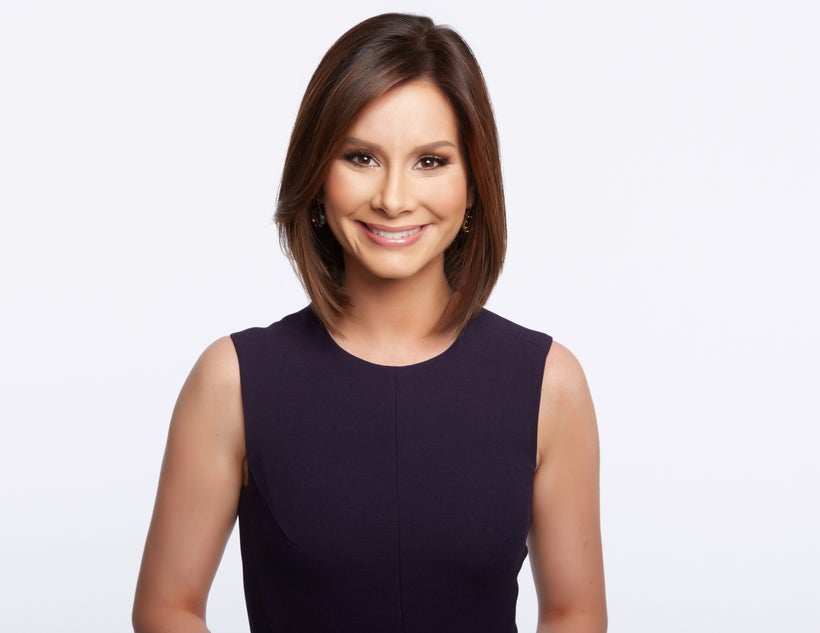 Rebecca Jarvis is the ABC News chief Business, Technology & Economics correspondent; the host and managing editor of the podcast "No Limits with Rebecca Jarvis"; and the host and managing editor of "Real Biz with Rebecca Jarvis." Jarvis reports for all ABC News programs and platforms, including "Good Morning America," "World News Tonight with David Muir," "Nightline," "20/20," and "This Week with George Stephanopoulos."
Jarvis has conducted news-making interviews with the biggest names in business and technology, including Warren Buffett, Richard Branson, Sheryl Sandberg, Diane von Furstenberg, Jack Dorsey, and the first female CEO to run a car company, GM's Mary Barra. She has covered multiple presidential elections, the Madoff scandal, housing bubble, Great Recession, financial crisis and the fall of Bear Stearns and Lehman Brothers. The Alliance for Women in Media named Jarvis one of the top business journalists in the country with its Women in Numbers Award. Jarvis is also the recipient of a duPont Award for her work covering the Newtown tragedy.
Before joining ABC News Jarvis was co-host of "CBS This Morning: Saturday" and Business and Economics correspondent for CBS News. Prior to CBS News Jarvis spent three years at CNBC reporting on market news from the New York Stock Exchange, NASDAQ and the New York Mercantile Exchange. She contributed regularly to NBC News including the "Today Show" and "Nightly News."
Jarvis began her journalism career writing for Crain's Chicago Business and Business 2.0. She has also worked in investment banking and foreign currency trading.
A graduate of the University of Chicago, Jarvis holds a degree in Economics and Constitutional Law. A recipient of the University of Chicago Dean's Grant, she studied European banking and financial markets and the formation of the European Union at the Université Sciences Po in Paris, France.
Jarvis received national recognition for her work with Colin Powell to empower children and improve communities and was named a "National Point of Light," receiving accolades from Presidents Bill Clinton and George H.W. Bush.
How has your life experience made you the leader you are today?
I grew up in a family of journalists. My mom Gail MarksJarvis is a columnist at Reuters and my grandfather was a journalist.
As a kid, I would watch my mom work and I was fascinated by the fact that she could literally ask anyone, any question.
"Are you allowed to ask that?" I'd ask her.
"It's my job to ask that." She'd tell me.
That pursuit of the truth is originally what attracted me to journalism. It also influences how I behave as a leader. I am always questioning: myself, conventional wisdom, group think, trying to elevate everything I do and everything my team does.
I also really credit my dad with the leader I am today. He taught me to believe in myself, to know my value, to stand-up for the underdog and to give humanity the benefit of the doubt. All lessons that make me who I am, as well as the leader I am.
How has your previous employment experience aided your tenure at ABC News?
Starting out in finance – while sometimes painful (think: 100+ hour workweeks, missing out on friends and family, very little sleep) – was one of the best things I could've done for my journalism career.
Experiencing the inner-workings of investment banking, getting comfortable with the numbers and pulling back the curtain early-on armed me with an appreciation that made me far more confident when I'd interview a CEO, investigate a company or explain a selloff in stocks.
Ultimately, when I left finance and started at CNBC, I still had a lot to learn about broadcast journalism, but I strongly believe that the foundation in finance made me much more comfortable as a reporter.
It also helped me pay off my student loans – the value of that financial freedom cannot be understated.
What have the highlights and challenges been during your tenure at ABC News?
Highlights: Launching my No Limits podcast is definitely a top highlight, particularly because we've built it from the ground-up, with an awesome team of extraordinary women including my producer Taylor Dunn, our editor Michelle Boncardo and my research assistant Anie Osakwe.
The conversations each week with women like Issa Rae, Barbara Corcoran, Randi Zuckerberg, Bozoma Saint John, Jessica Alba and Ursula Burns, the first African American woman to run a Fortune 500 company, have genuinely been some of the most eye-opening, nourishing and fulfilling interviews of my career. I love asking every woman about the Worst Advice she's ever received (my favorite question I ask in every interview). I am also so excited about the community we are building – incredible women from all over the world are sharing their stories with me as they build their own empires and we're able to feature them every episode in our No Limits Entrepreneur of the Week.
Some additional highlights: Being a part of ABC News' Election Night 2016 coverage. 16 years before I was watching ABC from my dorm in Chicago on Election Night 2000 – thinking, "I want to be there." It was a pinch me moment.
Taking viewers inside game changing technologies from companies like Apple, Amazon and Facebook.
Talking to Warren Buffett about his legacy and his outlook on the economy.
Traveling deep into the jungle of Ecuador with Channing Tatum, dancing with the locals by the fire
Challenges: There's never enough time to do it all!
What advice can you offer to women who want a career in your industry?
You don't have to study journalism to become a journalist.
I'm a huge advocate for finding a side-door; studying something that interests you, becoming an expert in it. Why should someone hire you? Specifically because you've got that unique expertise. Once you make it into that first job, throw you hand up and offer to help in any way possible, especially when the topic you know better than anyone else in the newsroom becomes headline news.
Another thing to keep in mind, you don't have to be in a newsroom to make a reel. I often encourage students to start practicing their storytelling in college (or even earlier). If it's broadcast journalism you're after, try shooting and editing video on your phone. Experiment and share your creation on social media. Don't worry if your first few videos aren't perfect. And focus less on perfection and more on finding your voice and creativity.
What is the most important lesson you've learned in your career to date?
From my parents: Integrity is everything. Never sacrifice your values for short-term gain.
How do you maintain a work/life balance?
Still looking! Maybe that's why I ask every woman on No Limits this very question!
Up until the last few years, I put work ahead of everything else. I'd skip sleeping, socializing, holidays with the family, birthdays and vacations. Granted, to even be in a position to make that choice is a luxury. For many, working around the clock isn't a choice, it's a necessity. But in making that choice, in dogged pursuit of my goals, I was frequently exhausted and left wondering: Is this worth it? Am I making a huge mistake?
I don't regret what I did. I honestly don't think I'd be covering business, technology and the economy for ABC News, or have my own podcast, if I hadn't made those tradeoffs. I would also have been crushed if my partner and now husband hadn't supported me through those decisions. He always did and still does, and it really does make a world of difference.
Over time I've also learned to carve out what's important in addition to work.
I'm not a rigid person and have always been flexible with my time, which makes me susceptible to saying "yes" when my answer should absolutely be "no."
While I'll always be a work in progress, I've found two things that are useful in making this happen. First, thinking through what's truly important to me. It sounds simple, but it really does help define the "yeses" and the "nos".
Second, in addition to all the have-tos and the necessities, I block everything extracurricular on my calendar – exercising, reading, watching Netflix. Again, this feels a little weird since I'm not that rigid, but I find that setting time aside for things is one way to make sure they actually happen and I am still open to anything that comes along. I might drop everything to do it.
What do you think is the biggest issue for women in the workplace?
Office politics, terrible bosses, bad leadership, completely inefficient systems that make no sense and positions without real room for growth – many of the worst problems with the workplace can hold anyone back, female or male.
But based on the research women, far more than men, face an additional set of challenges – sexual harassment, access to opportunity, bias, gender stereotypes, sexism.
Many times, these are cultural issues.
Not only are they problematic in-and-of themselves. Not only do they hold women back from getting ahead. They are also taking up precious time and energy. They are distractions.
Imagine how much more productive you might be if you never had to strategize, consider, question or confront any of these issues at work?
I recently had a conversation with Rent the Runway co-founder and CEO Jenn Hyman on an episode of No Limits. She's built a game changing company. And we were discussing one of her early experiences with an investor who was sending her lewd text messages. When she chose to ignore the texts, he turned around and told her other investors she was an unresponsive CEO! Luckily for Jenn, the problem ended there. It didn't derail her success. But in our conversation, Jenn touched on something interesting.
"Let's say you were here interviewing a male founder," she said. 
"We'd never have this conversation," I immediately chimed in.
"We would never have this conversation, and they might use the 30 minutes of the podcast to talk about their business and how great it was and how you should give it a try. Whereas in every single interview I do for any publication about 50 percent of the content is related to being a woman in business and that just takes up word count."
I'm not advocating for shutting down these conversations (neither was Jenn).
But I do think beyond the immediate impact, the brain space, time and energy these issues take-up – is a serious issue for women at work.
How has mentorship made a difference in your professional and personal life?
The whole idea of mentorship can be really confusing.
Is there some fairy godmother out there looking out for me and making sure I get promotions?
Early in my career I mistakenly thought that finding a mentor was about convincing someone I was good enough to pay attention to. I would spend so much energy trying to make that person believe I was worthy of their time (and often feared I wasn't).
Not only was this a mistake because it didn't really help me find any mentors, it was also a missed opportunity. Instead of having interesting conversations, I was busy performing. I wasn't learning.
Now, I think of my mentors as guides, people I trust and respect. These are real relationships, developed over time. Many from fields outside of journalism. And it's a two way street. We bounce ideas off of each other and share advice.
I also think it's important to remember the power we all have to mentor, to be the type of person we were looking for; to answer the questions we wished someone would've done for us. I try hard to be this person, too.
Which other female leaders do you admire and why?
There are far too many to name! So I'll stick to one - my mom, Gail MarksJarvis.
Words don't do justice to how much I admire this woman and appreciate everything she's done for me and my family.
When she was studying journalism in the 60s, a college professor told her she should give up on her dream of becoming a reporter; that no self-respecting newspaper would ever hire a women as a journalist.
A few decades later, she is a nationally recognized, award winning financial columnist, author, TV commentator and an advocate for helping people become smarter about their money and savings.
She taught me from the time I was a little kid, to go for it, to be fearless, and to be nicer to my little sister.
What do you want ABC News to accomplish in the next year?
Top of my list is expanding and growing the No Limits podcast and community. I love the conversations we're having. I love the stories listeners are sharing with us for the No Limits Entrepreneur of the Week, and I'm excited to expand our "Ask RJ" segment where listeners call in with career questions.
I am also in the middle of a big investigative project that I'm really excited about.
REAL LIFE. REAL NEWS. REAL VOICES.
Help us tell more of the stories that matter from voices that too often remain unheard.
This post was published on the now-closed HuffPost Contributor platform. Contributors control their own work and posted freely to our site. If you need to flag this entry as abusive,
send us an email
.