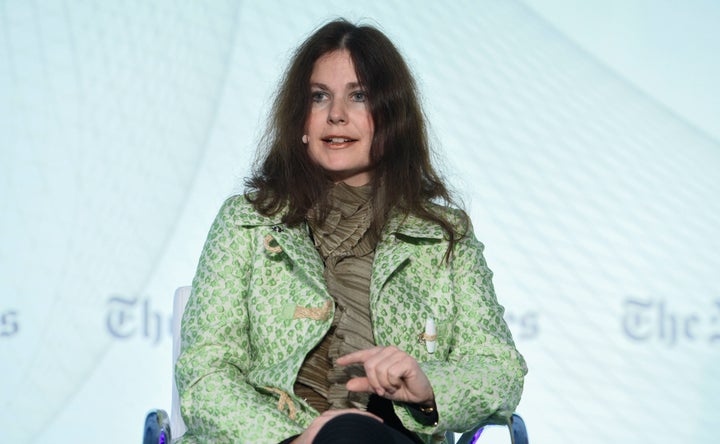 Rebecca Robins is Global Director for Interbrand, based in London. She heads up theGlobal Luxury Practice, global business intelligence and the Interbrand Academy. Having worked in New York and across Europe, she has extensive experience in branding, with a diverse range of clients across a number of industries. A keen writer, Rebecca has written for The Guardian, Harper's Bazaar, La Tribune and writes the LuxuryWatch blog. Her commentary and debate on brands features in The Business of Fashion, The Economist, The FT, GQ, Il Sole 24 Ore, Luxury Society, Monocle, The New York Times, The Times, The Telegraph, WWD,Wired and WOBI. Rebecca is a regular conference speaker, guest lecturer, member of awards juries and was named in the global Luxury Women to Watch. She is a Companion of the Chartered Management Institute and serves on a number of Omnicom committees. Rebecca's research interests are in the relationship between brands and culture, and she is co-author of the book Meta-luxury: Brands and the Culture of Excellence. Rebecca is a graduate and postgraduate of Cambridge University.
How has your life experience made you the leader you are today?
Brands are intrinsically related to culture. I had an early interest in language and languages and went on to work across a number of countries, which gave me an invaluable insight into and understanding of, other cultures. And that's the real gift, beyond the languages themselves, as we operate across a global network of offices, are part of the Omnicom Group, and work with teams and clients across a number of markets.
What have the highlights and challenges been during your tenure at Interbrand?
The highlights have always been, and continue to be, great people and great work. And what I have found truly inspiring is that the real change-makers often combine the most far-reaching, luminous vision with an inherent humility. Whether it's LEGO or LVMH, British Airways or Burberry, charities and non-profits, we are surrounded by brands every day. And they are living testament of a markthat you have made on the world.
Working with some of the world's legacy brands is an honour in itself – to be part of a journey that began generations ago, and to play a part in carrying forward that legacy for new generations. Equally, we are living through one of the most exciting times of change. We are in a new Renaissance, with new businesses and technology that are redefining how we experience and engage with the world. As these businesses are blurring and disrupting 'sectors' and creating new 'categories', I believe that the role and responsibility of brands is unprecedented.
Highlights are often the most intangible, whether it's collaborating with colleagues and clients on ambitions for their brands, where the energy is almost electric; those moments where you think, together, we made a step towards history in the making; or a conversation you had with an individual that made a positive impact on their day, their week, orjourney.
At the heart of great brands are great stories. The world has come to recognise great design, but we often neglect the power of words to engage, to enchant and to transform behaviour. As a writer, I have always challenged and championed the language that brands use and the difference that it can make in how we experience and engage with a brand. The books that I have written are one of my enduring highlights. They are valued in respect of what you write, your point of view and in creating something that endures. They are treasured in the value of the journey itself. Collaborating is one of the most inspiring ways to write a book, most recently with the writing of Meta-luxury: Brands and the Culture of Excellence. They are words that live beyond the pages, in the community of people that they create, in the inspiration and provocation of continued debate and exchange. Ultimately the true value of a book is in the reader, so here's to the readers…!
What is the most important lesson you've learned in your career to date?
The wife of the great, late poet and polymath Seamus Heaney was once quoted in an interview with the beautifullysimple and poignant tribute to what inspired him: 'Because words matter to him'. What's important is what matters to you and why it matters. Be yourself. Be true to what matters. Find ways to give back in ways that matter to you and to a cause. And find time. Find time to inspire, and to be inspired. Above all, find time to listen…
As you ask about what I have learned, my belief in learning is something that I have come to have an even deeper commitment to in leading the Interbrand Academy. Great brands begin from within, with people and we commit to that through connecting content to culture, from live-streaming around our global network, to programmes dedicated to rising talent and leadership. And we're investing in learning as part of a wider ecosystem, doing some really exciting work in collaboration with people who are changing the world, from accelerators to Universities.
How has mentorship made a difference in your professional and personal life?
The words 'lifelong learning' have taken on a wider resonance as businesses are realising the imperative of investing more effectively in their people, in sustaining a culture of learning, and the reality is that we never stop learning. Mentorship can be about making a difference in the most surprising of ways. Some of the most inspiring and humbling experiences have been the moments when someone thanks you for being a mentor, not having realised that you had even been acting as one.
The words 'thank you' cannot be said enough, so I would like to dedicate this to every individual who has inspired me, who has challenged me to see something in a new way, who has given a gift of knowledge and experience. One of the most defining ads by Apple was "Here's to the crazy ones." It's worth listening to again just with the sound, as the words are so poignant and powerful. So, and in tribute to those inimitable words, thank you…to my "misfits", to my "rebels", to my "round pegs in the square holes". Thank you to "the ones who see things differently." Brands have the power to change the world, and when we shift the needle from what we do as individuals, to what we can do as collectives, that's when we can really start to change the game – for collective good.
Related
Popular in the Community