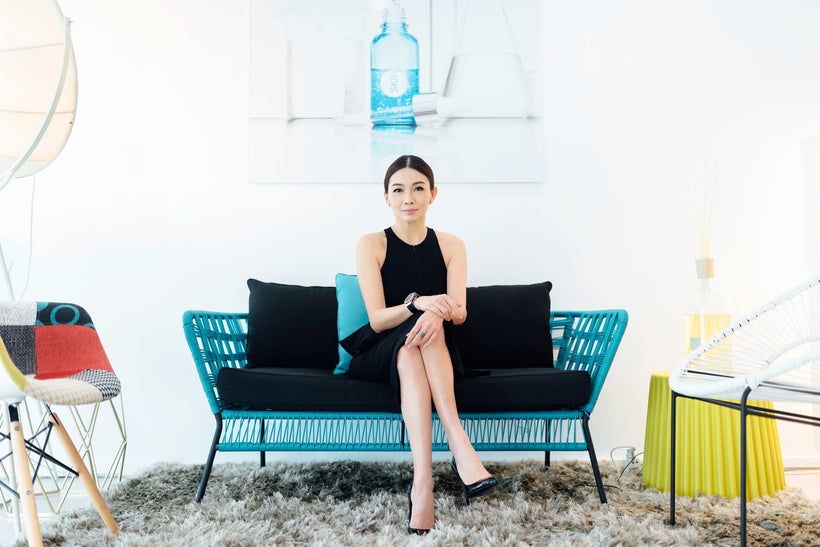 Sabrina Tan is an IT-expert-turned-skincare-guru who launched innovative global skincare brand Skin Inc in 2007. She is the founder and chief executive of the Singapore-based company that sells customized skin-care products. Sabrina's ultimate goal is to empower women all over the world to understand their skin identity and take control of their own skin. 
How has your life experience made you the leader you are today?
From a very early age, I saw my mother nurturing her family (we're 4 siblings!) and growing her business to be meaningful. She ran a chain of three beauty salons and was a strong independent woman, ahead of her times in my opinion. Unknowingly, she was the biggest influence in my life and influenced my leadership style with her determined yet compassionate approach that often required a multitude of skills to succeed. I learnt to believe in myself & my vision even under the most challenging situations and this has been key as I have taken on the task of building a global skin care business challenging many of the norms in the industry with Skin Inc – leading the way towards a "one size fits one" or customized approach in a sea of sameness.
I think of my style as ambidextrous leadership – the ability to alternate between different behaviours be it between strategic direction or creative aspiration or even between a business focus or a people focus as the situation may demand.
How has your previous employment experience aided your tenure at Skin Inc?
In technology industry, you need to be quite a futuristic person- you look beyond today in view of consumer and technology. I believe this was the most important thing that was injected in me.
Without my technology experience, I might never have envisioned Skin Inc. Skin Inc truly brings technology to beauty, be it in product design e.g. data encryption inspired me to look for a way to "encapsulate" or protect sensitive ingredients in skincare; in diagnosis so you can be your own skin chemist 24/7 anywhere without owning a lab; or even in connecting with skin fanatics through social media and online websites like yourselves.
I learned to push boundaries from my years in technology, I don't accept things as they are but rather strive to make them as they should be – client centric, customized and answering a need that maybe unarticulated but would make your life better in a meaningful way.
What have the highlights and challenges been during your tenure at Skin Inc?
Resilience is the other capability I think you need to succeed in beauty. It's a competitive, challenging industry so be ready to face many and still keep going. Skin Inc is born digital, community driven.
I am proud to disrupt the beauty scene with the true and the right concept of skin care. Up to 80% of skin condition is affected by lifestyle and environmental factors and our digital tool "Skin Identity Check" enables everyone to decode their unique skin identities and take control of their skincare regimen. That is a new way where you can create your own serum without owning a lab- like Uber of sharing economy!
We were able to predict the future and merged beauty with technology which enabled us to be ahead of the curve in terms of big data. Up until now, more than one million skin identity checks are completed which provides us with valuable data in serving our customers with advanced products and enhanced services.
There have been many challenges and constraints I've faced along the way, many of which would sound familiar to an entrepreneur. However I honestly look at these not as bumps in the road but as an opportunity to think differently. By nature, I am solution driven and not problem focused. So when I come up to a challenge, I try and look it at from a different angle & see if taking a lateral thinking approach will enable me to find a solution I hadn't thought if before. Solving a problem with constraints forces you to be more creative and some of my best ideas and business breakthroughs have come in such situations be it finding the right talent which is probably my number 1 challenge, being able to say no to an investor who may not be the right strategic fit or even prioritizing the long term growth of the company over a short term gain.
What advice can you offer to women who want a career in your industry?
Take risks and chase your dreams!
One thing that I think is absolutely critical is being in touch and being up to date on whats new and trending. Being digitally & socially savvy can make it easy for you to stay in touch with what's new and happening in beauty, amongst bloggers or Youtubers anywhere in the world.
Resilience is the other capability I think you need to succeed in beauty. It's a competitive, challenging industry so be ready to face many and still keep going.
What is the most important lesson you've learned in your career to date?
You are your own biggest enemy! You could be both the source of power house or a block to advancement. Never be content with what you have achieved, look for opportunities to grow it further. Today Skin Inc is the leader of customized skincare; however we are more restless than ever. Being the leader gives you more responsibility to be more innovative and I honour this responsibility with relentless hard work.
How do you maintain a work/life balance?
I am a mother of two and passionate about my children. Although I have a hectic schedule, I do not compromise when it comes to special time spent with my children. Family always comes first! One of my strategies is to involve the children in my work or even trips if appropriate. I use Instagram stories and snapchat for not only my business but mainly for my daughter- in this way I can share my daily life with her even if I am not with her.
I believe in "multiplying" time and not multi-tasking. So I look for ways that we can spend time as a family but yet allow me to achieve another goal e.g. I combine work and personal trips so we can holiday together for a few days and then I can stay on for a few days to work.
What do you think is the biggest issue for women in the workplace?
Ability to dream can take you over the rainbow! In fact there are many opportunities for the ones who are able to see them.
I suggest women be aware of their own potential and not underestimate their capabilities. Own your life: take charge of your career, have a plan, spread the word about what you want and work hard for it!
As a woman leader, I focus on coaching my own team and customize my leadership style to the talent to reveal their own strengths that they even not aware of and realise their potential! I am also the co-founder for Galboss Asia Symposium that aims to enable, empower and elevate women to take risks and chaise their dreams.
How has mentorship made a difference in your professional and personal life?
I do not have any role models or mentors per se, rather I pick the best traits of different people in life.
I believe in the power of advisory. Skin Inc is backed up and supported by an impressive board of advisors, each advisor being thought leader in their respective areas. Our board of advisors has strong background in areas of innovation, technology and brand strategy and are from established multinational FMCG, Technology and Luxury companies.
Dr Shekhar Mitra, the Board Advisor of Product Innovation, is an esteemed global innovation expert with over 50 patents under his belt. Some of his breakthrough innovations were Olay Regenerist Skincare, Hugo Boss, Crest Whitestrips, Crest ProHealth, Aleve analgesic, Prilosec and Gucci Fragrances. Francois Arpels, who has recently joined in our Advisory Board is the Board Advisor of Brand and Strategy. Started his career 25 years ago as a shareholder of Van Cleef & Arpels and Advisor to owners and the executive management of businesses, family offices and institutional investors, Mr Arpels has solid experience in brand positioning, go to market strategies, product portfolio, customer experience, communication, retail marketing, digital strategy and international roll out.
Which other female leaders do you admire and why?
Michelle Obama. She is a strong women who has a successful track record, a great mother and wife and yet has a sense of social responsibility and causes that she's not afraid to give her voice to.
What do you want Skin Inc to accomplish in the next year?
I want to be the Apple of skincare industry continuing the disrupt the beauty scene!
Calling all HuffPost superfans!
Sign up for membership to become a founding member and help shape HuffPost's next chapter
This post was published on the now-closed HuffPost Contributor platform. Contributors control their own work and posted freely to our site. If you need to flag this entry as abusive,
send us an email
.