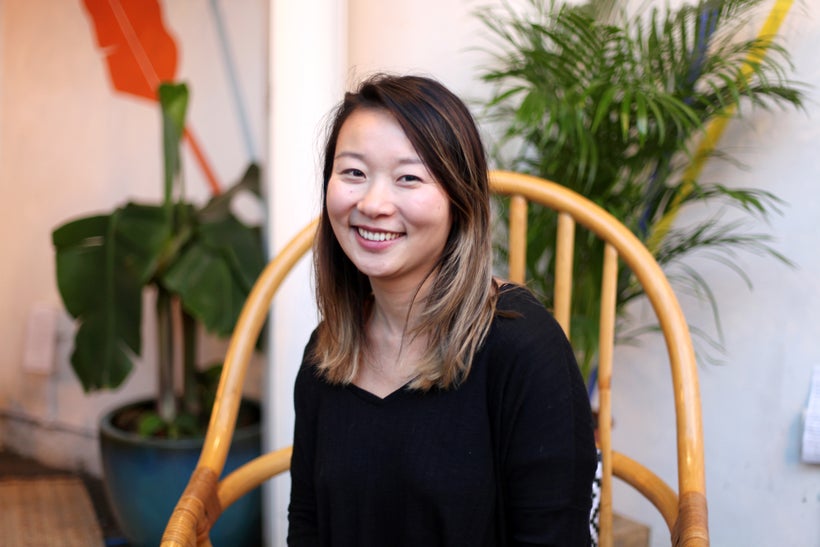 Sandrine​ ​Zhang​ ​Ferron​ ​is​ ​the​ ​co-founder​ ​and​ ​CEO​ ​of​ ​Vinterior.​ ​Sandrine​ ​left​ ​investment​ ​banking​ ​to​ ​start Vinterior​ ​in​ ​2015​ ​after​ ​struggling​ ​to​ ​find​ ​affordable​ ​design​ ​furniture​ ​to​ ​style​ ​her​ ​new​ ​home.​ ​She​ ​wanted​ ​to​ ​move away​ ​from​ ​mass-produced​ ​flat​ ​packs​ ​and​ ​didn't​ ​trust​ ​sellers​ ​on​ ​generalist​ ​marketplaces​ ​which​ ​are​ ​flooded​ ​with poor​ ​quality​ ​fakes.​ ​Endless​ ​trips​ ​to​ ​independent​ ​sellers​ ​across​ ​London​ ​was​ ​inspiring​ ​but​ ​too​ ​time-consuming. So,​ ​the​ ​idea​ ​of​ ​​Vinterior​​ ​was​ ​born​ ​-​ ​an​ ​online​ ​marketplace​ ​that​ ​would​ ​make​ ​it​ ​easier​ ​for​ ​people​ ​like​ ​her​ ​(and​ ​not only​ ​interior​ ​designers​ ​or​ ​antique​ ​experts)​ ​to​ ​find​ ​beautiful​ ​vintage​ ​furniture​ ​all​ ​in​ ​one​ ​place.
From​ ​a​ ​financial​ ​engineering​ ​and​ ​sales​ ​background,​ ​Sandrine​ ​learned​ ​how​ ​to​ ​code​ ​at​ ​Makers​ ​Academy​ ​to​ ​build the​ ​Vinterior​ ​platform​ ​and​ ​understand​ ​more​ ​about​ ​the​ ​technologies​ ​that​ ​would​ ​offer​ ​shoppers​ ​the​ ​best experience​ ​when​ ​buying​ ​and​ ​selling​ ​furniture​ ​online.
Born​ ​in​ ​China​ ​and​ ​raised​ ​in​ ​France,​ ​Sandrine​ ​has​ ​been​ ​a​ ​Londoner​ ​for​ ​more​ ​than​ ​10​ ​years.​ ​She​ ​loves Scandinavian​ ​design,​ ​hiking​ ​and​ ​trying​ ​new​ ​food.
How​ ​has​ ​your​ ​life​ ​experience​ ​made​ ​you​ ​the​ ​leader​ ​you​ ​are​ ​today? Growing​ ​up​ ​in​ ​the​ ​Chinese​ ​Cultural​ ​Revolution,​ ​my​ ​parents​ ​learned​ ​through​ ​hardship​ ​what​ ​it​ ​takes​ ​to​ ​succeed. When​ ​they​ ​arrived​ ​in​ ​France​ ​as​ ​first-generation​ ​immigrants​ ​in​ ​the​ ​90s,​ ​they​ ​had​ ​to​ ​work​ ​multiple​ ​jobs​ ​to​ ​make​ ​a living​ ​despite​ ​my​ ​father​ ​having​ ​a​ ​PhD​ ​in​ ​engineering.​ ​As​ ​a​ ​consequence,​ ​they​ ​invested​ ​heavily​ ​in​ ​my​ ​education and​ ​set​ ​high​ ​expectations​ ​for​ ​me,​ ​constantly​ ​encouraging​ ​me​ ​to​ ​strive​ ​for​ ​excellence.
Although​ ​I​ ​found​ ​it​ ​intense​ ​at​ ​the​ ​time,​ ​I​ ​am​ ​now​ ​grateful​ ​to​ ​my​ ​parents​ ​for​ ​bringing​ ​me​ ​up​ ​the​ ​way​ ​they​ ​did​ ​as​ ​it taught​ ​me​ ​that​ ​hard​ ​work​ ​pays​ ​off.​ ​I​ ​strongly​ ​believe​ ​that​ ​with​ ​effort,​ ​persistence,​ ​and​ ​curiosity​ ​for​ ​learning, anything​ ​is​ ​possible.​ ​Because​ ​of​ ​that​ ​conviction,​ ​it​ ​was​ ​an​ ​easy​ ​decision​ ​for​ ​me​ ​to​ ​quit​ ​my​ ​job​ ​in​ ​finance​ ​and undertake​ ​a​ ​three​ ​month​ ​coding​ ​bootcamp​ ​in​ ​order​ ​to​ ​pursue​ ​my​ ​vision​ ​for​ ​Vinterior.​ ​Although​ ​I​ ​didn't​ ​know anything​ ​about​ ​tech​ ​or​ ​the​ ​furniture​ ​industry,​ ​I​ ​knew​ ​that​ ​I​ ​would​ ​learn​ ​on​ ​the​ ​job​ ​and​ ​figure​ ​it​ ​out.
How​ ​has​ ​your​ ​previous​ ​experience​ ​aided​ ​your​ ​tenure​ ​at​ ​Vinterior? As​ ​a​ ​sales​ ​at​ ​a​ ​brokerage​ ​firm,​ ​I​ ​developed​ ​a​ ​thick​ ​skin​ ​cold-calling​ ​hundreds​ ​of​ ​assets​ ​managers​ ​and​ ​private bankers.​ ​Thanks​ ​to​ ​this​ ​experience,​ ​I​ ​was​ ​not​ ​apprehensive​ ​outreaching​ ​to​ ​furniture​ ​dealers​ ​and​ ​interior designers​ ​to​ ​discuss​ ​Vinterior​ ​before​ ​the​ ​site​ ​was​ ​even​ ​launched.
My​ ​sales​ ​experience​ ​also​ ​taught​ ​me​ ​that​ ​a​ ​sales​ ​pitch​ ​should​ ​not​ ​be​ ​about​ ​telling​ ​a​ ​customer​ ​how​ ​good​ ​YOUR product/company/solution​ ​is.​ ​Instead,​ ​a​ ​more​ ​beneficial​ ​approach​ ​is​ ​to​ ​1)​ ​listen​ ​to​ ​the​ ​customer​ ​and​ ​understand their​ ​pain​ ​points,​ ​2)​ ​then​ ​propose​ ​a​ ​solution​ ​tailored​ ​to​ ​their​ ​needs.​ ​We​ ​try​ ​to​ ​take​ ​this​ ​customer-centric approach​ ​for​ ​every​ ​business​ ​and​ ​product​ ​development​ ​decision​ ​we​ ​take​ ​at​ ​Vinterior.
As​ ​a​ ​financial​ ​engineer,​ ​I​ ​had​ ​to​ ​go​ ​through​ ​a​ ​lot​ ​of​ ​data​ ​and​ ​build​ ​excel​ ​models​ ​to​ ​support​ ​investment recommendations.​ ​At​ ​a​ ​fast-growing,​ ​early​ ​stage​ ​startup,​ ​being​ ​able​ ​to​ ​process​ ​and​ ​analyse​ ​large​ ​sets​ ​of​ ​data in​ ​order​ ​to​ ​take​ ​informed,​ ​data-driven​ ​decisions​ ​is​ ​key,​ ​and​ ​expected​ ​from​ ​investors.​ ​From​ ​my​ ​financial​ ​and analytical​ ​training,​ ​not​ ​only​ ​am​ ​I​ ​comfortable​ ​building​ ​a​ ​financial​ ​plan,​ ​reports​ ​and​ ​dashboards,​ ​I​ ​actually​ ​love diving​ ​into​ ​data​ ​and​ ​navigating​ ​between​ ​endless​ ​spreadsheets!
What​ ​have​ ​been​ ​the​ ​highlights​ ​and​ ​challenges​ ​during​ ​time​ ​at​ ​Vinterior? A​ ​big​ ​challenge​ ​for​ ​me​ ​was​ ​starting​ ​Vinterior​ ​as​ ​a​ ​solo​ ​founder.​ ​It​ ​was​ ​difficult​ ​managing​ ​everything​ ​on​ ​my​ ​own (tech,​ ​marketing,​ ​sales,​ ​accounting,​ ​legal),​ ​especially​ ​when​ ​sales​ ​started​ ​coming​ ​in.​ ​To​ ​hire,​ ​I​ ​needed​ ​money, and​ ​it's​ ​well​ ​documented​ ​that​ ​investors​ ​are​ ​usually​ ​reluctant​ ​to​ ​fund​ ​solo​ ​founders.​ ​When​ ​my​ ​friend​ ​Leslie​ ​quit her​ ​job​ ​as​ ​a​ ​management​ ​consultant​ ​and​ ​decided​ ​to​ ​join​ ​Vinterior​ ​full-time​ ​as​ ​co-founder​ ​and​ ​COO,​ ​I​ ​couldn't be​ ​more​ ​pleased.​ ​With​ ​Leslie,​ ​I​ ​found​ ​a​ ​co-founder​ ​whom​ ​I​ ​trust​ ​100%,​ ​that​ ​I​ ​respect​ ​intellectually​ ​and personally​ ​and​ ​who​ ​possess​ ​experiences​ ​and​ ​skills​ ​that​ ​are​ ​complementary​ ​to​ ​mine.​ ​Most​ ​importantly,​ ​we​ ​know each​ ​other​ ​very​ ​well​ ​and​ ​are​ ​not​ ​afraid​ ​to​ ​tell​ ​each​ ​other​ ​the​ ​hard​ ​truth,​ ​which​ ​means​ ​that​ ​we​ ​are​ ​able​ ​to resolve​ ​our​ ​disagreements​ ​without​ ​drama.
A​ ​highlight​ ​was​ ​our​ ​recent​ ​all-hands​ ​off-site​ ​in​ ​Mallorca,​ ​during​ ​which​ ​we​ ​had​ ​intense​ ​debates​ ​about​ ​our​ ​culture and​ ​mission.​ ​It​ ​was​ ​great​ ​to​ ​realise​ ​that​ ​despite​ ​our​ ​diverse​ ​backgrounds​ ​and​ ​roles,​ ​the​ ​whole​ ​team​ ​is​ ​very much​ ​aligned​ ​in​ ​terms​ ​of​ ​values​ ​and​ ​goals.​ ​Working​ ​alongside​ ​people​ ​who​ ​share​ ​the​ ​same​ ​values​ ​makes working​ ​long​ ​hours​ ​and​ ​dealing​ ​with​ ​stressful​ ​situation​ ​more​ ​enjoyable,​ ​because​ ​everyone​ ​in​ ​the​ ​team​ ​is​ ​doing their​ ​best​ ​to​ ​contribute​ ​to​ ​the​ ​company's​ ​mission.
Every​ ​time​ ​a​ ​seller​ ​or​ ​a​ ​customer​ ​shares​ ​a​ ​good​ ​feedback​ ​is​ ​a​ ​highlight​ ​for​ ​the​ ​team.​ ​By​ ​telling​ ​us​ ​that​ ​they value​ ​our​ ​service,​ ​our​ ​customers​ ​remind​ ​us​ ​that​ ​we​ ​are​ ​building​ ​something​ ​useful​ ​and​ ​making​ ​an​ ​impact​ ​on​ ​the furniture​ ​industry​ ​and​ ​people's​ ​lives.
What​ ​advice​ ​can​ ​you​ ​offer​ ​to​ ​women​ ​who​ ​want​ ​a​ ​career​ ​in​ ​your​ ​industry? Believe​ ​in​ ​yourself​ ​and​ ​be​ ​ambitious!​ ​From​ ​personal​ ​experience,​ ​I​ ​know​ ​that​ ​female​ ​entrepreneurs​ ​sometimes take​ ​a​ ​more​ ​conservative​ ​approach​ ​when​ ​setting​ ​objectives​ ​and​ ​fundraising​ ​as​ ​we​ ​want​ ​to​ ​deliver​ ​on​ ​our promises.
Last​ ​year,​ ​I​ ​had​ ​an​ ​interesting​ ​conversation​ ​with​ ​a​ ​female​ ​VC​ ​who​ ​told​ ​me​ ​that​ ​while​ ​male​ ​founders​ ​are​ ​the most​ ​bullish​ ​and​ ​can​ ​confidently​ ​sell​ ​the​ ​unicorn​ ​dream​ ​to​ ​investors,​ ​female​ ​founders​ ​are​ ​often​ ​the​ ​ones​ ​who actually​ ​reach​ ​their​ ​targets​ ​and​ ​outperform​ ​in​ ​their​ ​portfolio.​ ​After​ ​our​ ​discussion,​ ​I​ ​reviewed​ ​my​ ​financial​ ​plan with​ ​a​ ​more​ ​bullish​ ​view​ ​and​ ​ended​ ​up​ ​multiplying​ ​our​ ​12-month​ ​sales​ ​target​ ​by​ ​3.​ ​We​ ​eventually​ ​reached​ ​the target​ ​we​ ​had​ ​initially​ ​set​ ​after​ ​only​ ​3​ ​months;​ ​it​ ​was​ ​clearly​ ​not​ ​ambitious​ ​enough!
What​ ​is​ ​the​ ​most​ ​important​ ​lesson​ ​you've​ ​learned​ ​in​ ​your​ ​career​ ​to​ ​date? People​ ​make​ ​or​ ​break​ ​a​ ​business.​ ​While​ ​it's​ ​important​ ​to​ ​attract​ ​the​ ​right​ ​talent,​ ​it's​ ​equally​ ​important​ ​to​ ​have​ ​a growth​ ​mindset​ ​and​ ​continuously​ ​develop​ ​this​ ​talent​ ​during​ ​their​ ​time​ ​at​ ​the​ ​company.
How​ ​do​ ​you​ ​maintain​ ​a​ ​work/life​ ​balance? My​ ​husband​ ​and​ ​I​ ​have​ ​both​ ​demanding​ ​jobs​ ​but​ ​we​ ​try​ ​to​ ​find​ ​time​ ​to​ ​cook​ ​and​ ​have​ ​dinner​ ​at​ ​home​ ​together at​ ​least​ ​twice​ ​a​ ​week.​ ​We​ ​also​ ​like​ ​to​ ​go​ ​hiking​ ​on​ ​the​ ​weekend​ ​to​ ​get​ ​some​ ​fresh​ ​air.​ ​Also,​ ​a​ ​regular​ ​yoga practice​ ​helps​ ​me​ ​unwind​ ​and​ ​recharge.
What​ ​do​ ​you​ ​think​ ​is​ ​the​ ​biggest​ ​issue​ ​for​ ​women​ ​in​ ​the​ ​workplace? There​ ​are​ ​not​ ​enough​ ​women​ ​in​ ​leadership​ ​roles,​ ​which​ ​is​ ​especially​ ​accentuated​ ​in​ ​tech​ ​and​ ​finance.​ ​The limited​ ​number​ ​of​ ​female​ ​role​ ​models​ ​might​ ​restrict​ ​young​ ​girls​ ​and​ ​women's​ ​ambition​ ​and​ ​the​ ​belief​ ​that​ ​they can​ ​be​ ​successful​ ​in​ ​any​ ​sector,​ ​regardless​ ​of​ ​their​ ​gender.
How​ ​has​ ​mentorship​ ​made​ ​a​ ​difference​ ​in​ ​your​ ​professional​ ​and​ ​personal​ ​life? As​ ​a​ ​first-time​ ​founder,​ ​talking​ ​to​ ​seasoned​ ​entrepreneurs​ ​and​ ​investors​ ​helped​ ​me​ ​a​ ​lot.​ ​Being​ ​a​ ​Seedcamp company​ ​that​ ​also​ ​went​ ​through​ ​the​ ​Google​ ​Campus​ ​Residency​ ​program,​ ​we​ ​have​ ​access​ ​to​ ​an​ ​incredible network​ ​of​ ​operators​ ​and​ ​investors​ ​who​ ​are​ ​always​ ​willing​ ​to​ ​help​ ​and​ ​share​ ​their​ ​experience​ ​with​ ​us.
Catching​ ​up​ ​with​ ​other​ ​founders​ ​on​ ​a​ ​regular​ ​basis​ ​is​ ​always​ ​a​ ​good​ ​reminder​ ​that​ ​all​ ​startups​ ​go​ ​through​ ​ups and​ ​downs​ ​and​ ​that​ ​whatever​ ​issues​ ​we​ ​may​ ​be​ ​facing​ ​at​ ​a​ ​time​ ​are​ ​not​ ​unique​ ​to​ ​us​ ​and​ ​can​ ​resolved.
Which​ ​other​ ​female​ ​leaders​ ​do​ ​you​ ​admire​ ​and​ ​why? Michelle​ ​Obama​ ​is​ ​an​ ​inspiring​ ​leader​ ​I​ ​admire.​ ​She's​ ​strong,​ ​smart​ ​and​ ​cool​ ​at​ ​the​ ​same​ ​time.​ ​She's passionate​ ​about​ ​helping​ ​young​ ​girls​ ​access​ ​education​ ​and​ ​employment​ ​and​ ​is​ ​a​ ​great​ ​speaker.​ ​And​ ​with​ ​that Carpool​ ​Karaoke,​ ​she's​ ​definitely​ ​the​ ​most​ ​badass​ ​First​ ​Lady​ ​of​ ​the​ ​US​ ​ever!
What​ ​do​ ​you​ ​want​ ​Vinterior​ ​to​ ​accomplish​ ​in​ ​the​ ​next​ ​year? We've​ ​grown​ ​very​ ​fast​ ​over​ ​the​ ​past​ ​12​ ​months​ ​and​ ​I​ ​am​ ​looking​ ​forward​ ​to​ ​continuing​ ​to​ ​expand​ ​our​ ​product range​ ​and​ ​access​ ​new​ ​markets​ ​in​ ​the​ ​next​ ​year.
As​ ​we​ ​add​ ​new​ ​talent​ ​to​ ​the​ ​team,​ ​I​ ​want​ ​us​ ​to​ ​maintain​ ​a​ ​strong​ ​company​ ​culture.​ ​Many​ ​of​ ​our​ ​sellers​ ​and customers​ ​tell​ ​us​ ​that​ ​dealing​ ​with​ ​a​ ​friendly​ ​and​ ​approachable​ ​team​ ​is​ ​a​ ​highlight​ ​of​ ​their​ ​experience​ ​with Vinterior.​ ​Our​ ​goal​ ​is​ ​to​ ​maintain​ ​this​ ​approachability​ ​and​ ​commitment​ ​to​ ​deliver​ ​excellent​ ​service​ ​as​ ​we​ ​scale up.
REAL LIFE. REAL NEWS. REAL VOICES.
Help us tell more of the stories that matter from voices that too often remain unheard.
This post was published on the now-closed HuffPost Contributor platform. Contributors control their own work and posted freely to our site. If you need to flag this entry as abusive,
send us an email
.