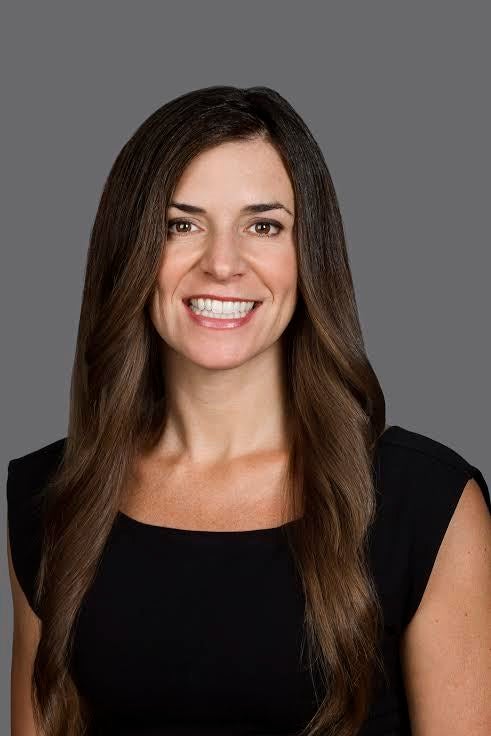 Sarah is the brains behind Trailhead, the company's free, online learning environment that teaches anyone, anywhere, the skills they need to become a master at Salesforce.
Sarah is an innovative marketer and product owner with a tenured career spanning large enterprises to scrappy startups. She specializes in bringing emerging technologies and trends to market and has a unique blend of technical expertise and business acumen. Sarah is passionate about democratizing technology and making learning accessible, empowering everyone to pursue successful careers in technology. She strives to make a difference, to learn something new every day and is proud to work with a team of the best and the brightest.
How has your life experience made you the leader you are today?
I grew up in Virginia and was raised by my mother whom is a now retired teacher of 30+ years. My upbringing was humble, yet happy, and my mother was positive in the face of any challenge. She taught kids almost everything ranging from remedial mathematics to gifted programs. I watched her influence hundreds of students over the years. She's that teacher that people come to visit 20 years later to tell her thank you for her impact on their lives. My mother showed me that one person can make a change in this world if they have courage, conviction and a positive attitude. These are lessons that have shaped who I am as a leader today. My job is to help my team learn and encourage them to be best that they can be. And by leading by example, and genuinely helping others learn the skills they need to follow their dreams, I've seen amazing things happen. Not only do people and teams succeed, but my teams have a sense of family that is very unique and special.
How has your previous employment experience aided your tenure at Salesforce?
I started my career at Lockheed Martin as a chemical engineer working in a wafer fab doing chemical mechanical planarization (CMP) on radiation hardened chips. My career meandered from being an engineer to a developer to a technical marketer to a product owner and GM. Along the journey, I worked at companies large and small, established and just beginning, and I was often one of the only women on my team. I saw the incredible inequality of women in STEM careers first hand. Salesforce has given me an opportunity to achieve an incredible mission of championing equality and democratizing education for everyone to learn in demand technical skills. I am lucky that Salesforce shares in this passion with me and I am more passionate than ever about setting an example for other women to pursue careers in technology and to help them achieve their goals.
What have the highlights and challenges been during your tenure at Salesforce?
A big highlight of my career at Salesforce was to help spark the Trailblazer movement by launching Trailhead, Salesforce's gamified online learning platform that furthers the cause of #Equality4All. Trailblazers are innovators, pioneers, and movers and shakers that have used Salesforce technology to advance their careers. I have seen people go from hair dressers, salsa dance instructors and lawyers to successful technologists and executives. And what's more impactful is that we are changing the face of the industry. No matter someone's race, gender, age, academic background, socioeconomic situation, sexual orientation, physical capability, we have given people a pathway into successful technology careers with Trailhead and Salesforce. As a mother of two daughters, I would love to see them enter the future workforce where they get equal pay and equal opportunity. And while this is a challenge, it's one that I'm proud to say that we have accepted and are working towards.
What advice can you offer to women who want a career in your industry?
I have three pieces of advice that I consistently give women pursuing careers in tech. First, careers start by knowing what you want to do. I meet with women and I ask them "what do you want to be doing in 3-5 years?" and often the answer is "I don't know." Just as a waiter at a restaurant wouldn't know what to serve you if you ordered "I don't know" from the menu, a career can't be built without goals and a plan. So if you don't know what you want to do, then try things, talk to people, do research, volunteer, take classes, whatever you need to do until you have a goal and then make a plan.
The second piece of advice is to think big! Don't limit your goal setting and plans by the present. Keep an open mind to think of big, bold possibilities. They may not happen overnight, but with intention and focus, anything is possible. Unfortunately though, when people start to think big and bold, three nasty thoughts come into mind - fear, uncertainty and doubt.
So, the third piece of advice is to not be overcome by FUD. Women especially seem to be trained by society to be fearful of the unknown, uncertain of their abilities and doubtful of the support structures in place for them. While I won't pretend the workforce is yet a place of equal pay and opportunity, we can only change the landscape by looking fear in the eye and saying "I will not be ruled by you."
What is the most important lesson you've learned in your career to date?
The most important lesson I have learned in my career is to never stop learning. No matter if you are just starting in your career or at the pinnacle of it, there is constantly more to learn. At Salesforce, I have seen the power that a culture of learning can bring to an organization and to its employees. It facilitates engaged employees who see the ability to move horizontally and vertically in their careers, ultimately helping their organizations more successful. Being a forever learner empowers you to grow in your career and as a person.
How do you maintain a work/life balance?
I have heard many other women leaders using the term "work/life integration" instead of balance. This is a very powerful concept because my reality is that I am a working mom of two daughters and my schedule doesn't permit me to have a regular 9-5. So for me, it's all about rigorous prioritization, planning and communication. I wake up early to exercise while my children are still sleeping. I work in the early AM before the kids wake up and in the late PM once they have gone to bed. When they wake up before school and when they come home after school, I devote my time to being present with them. I live by my Google Calendar and set clear expectations with family and friends for when I'm available and when I'm not.
What do you think is the biggest issue for women in the workplace?
The biggest issue I see in the workplace is systemic unconscious bias and the disproportionate amount of men in positions of power. Quite simply, women are at a disadvantage. And for this reason, I think bold measures in education, accountability and acceleration plans are required.
How has mentorship made a difference in your professional and personal life?
I've been fortunate to have some highly impactful mentors in my life. Mentors come in all shapes and sizes and from many places. The role of a mentor is not just to teach you, but also to challenge you, to support you, to laugh with you, to partner with you. I have learned immense lessons from my mentors and also found myself taking steps out of my comfort zone thanks to their support. I find risk taking easier as I also know my mentors will be there in success and failure.
Which other female leaders do you admire and why?
At Salesforce, I'm lucky to have women leaders that have had the courage to stand up for women and equality such as Amy Weaver, Cindy Robbins and Leyla Seka. I also greatly admire women leaders who were ahead of their time and stood up for women's rights, like Virginia Woolf. One of my favorite quotes of her's is, "I will go on adventuring, changing, opening my mind and my eyes, refusing to be stamped and stereotyped." I admire the courage it took for her to write as she did, and I am appreciative of the influence she had on society.
What do you want Salesforce to accomplish in the next year?
I love to think boldly and dream big! Today, people are going to college and finding themselves exiting with nothing more than a diploma and debt. Over the past 20 years, the cost of education has risen 200%. In contrast, the cost of cell phone service has actually decreased over the same time period. To design for proliferation, you need to make things affordable and accessible. I want to see a world where an education is as accessible as a cell phone. In this next year, I want to make significant strides towards democratizing education for business and technology skills that lead to great jobs in the industry. Through Trailhead, we want to skill up one million people from all walks of life and teach them how to be Salesforce Admins, Developers, Marketers, Sales Reps, Service Agents. These are some of the top jobs in the industry and great companies around the world are hiring for these skills. My dreams are to reinvent learning for the enterprise, bridge the ever growing skills gap in technology, find alternative solutions to the systemic problems we face in education.  
REAL LIFE. REAL NEWS. REAL VOICES.
Help us tell more of the stories that matter from voices that too often remain unheard.
This post was published on the now-closed HuffPost Contributor platform. Contributors control their own work and posted freely to our site. If you need to flag this entry as abusive,
send us an email
.