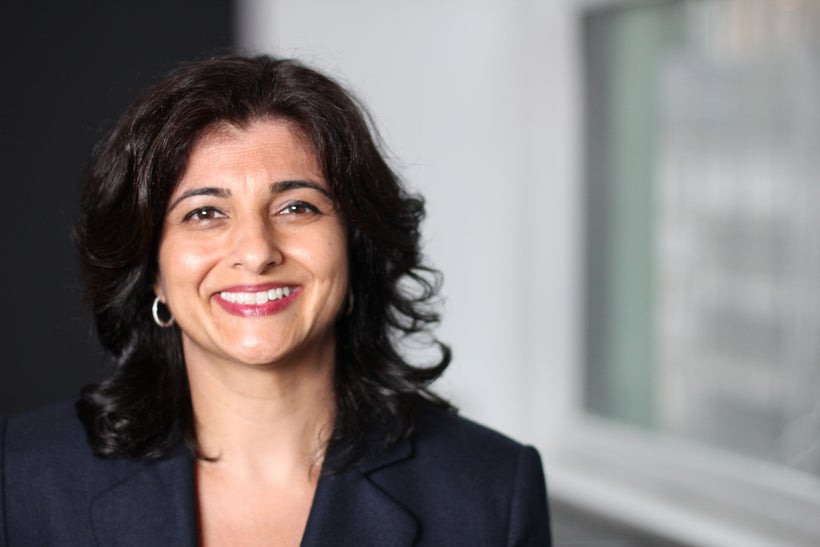 Seema R. Hingorani is the founder and Chair of Girls Who Invest, a nonprofit dedicated to increasing the number of women in portfolio management and executive leadership in the asset management industry.
How has your life experience made you the leader you are today?
I am the daughter of Indian immigrants and my parents and older siblings have been incredible models for me of what it means to work hard, serve others and make a positive impact on the world.
My parents arrived in the US over 50 years ago at a time when not many people knew much about India or our culture. It was not easy growing up in Connecticut and being constantly reminded that I was different, but my parents taught me and my siblings to embrace who we were and share and teach people about our culture rather than hide from it and just try to fit in.
It's hard not to be inspired by my family every day. My mom and dad were both successful entrepreneurs in this country. My mom, now retired, built a residential real estate brokerage firm and her primary customers were other immigrants who were turned away from certain neighborhoods in Connecticut because of the way they looked or where they came from (an experience that happened to my own parents when they moved from New York to Connecticut). My dad started his own civil engineering design firm several years after he first arrived in the US as a graduate student and after his work as one of the designers on the Verrazano Bridge. At the same time, my dad also served as a City Councilman in our hometown of Norwalk, Connecticut just because he wanted to give back to the country that gave him so much. My brother is one of the nation's leading pancreatic cancer scientists and he won't sleep until he finds the cure since that is what took my dad's life 17 years ago and my sister is a highly regarded pediatric nephrologist.
How has your previous employment experience aided your tenure at Girls Who Invest?
I founded Girls Who Invest in April 2015 because during my time as Chief Investment Officer of the NYC Retirement Systems' $160 billion portfolio I was shocked to see so few women on the investment teams of fund managers all over the world. I knew that there were few women, particularly women of color, in public equities and hedge funds from my own experience as an investment analyst and portfolio manager at large mutual fund companies and hedge fund firms, but I didn't realize how small the numbers were across all asset classes especially in private equity, real estate and fixed income. I wanted to take action to increase the pipeline of women in portfolio management in the asset management industry and so I encouraged leaders in our business and those in academics to partner with me in order to achieve this goal. There has been tremendous support behind GWI that has propelled us to this point and what that tells me is: now is the time for this idea.
What have the highlights and challenges been during your tenure at Girls Who Invest?
Since founding GWI, the highlight has definitely been meeting and working with the incredible people in the asset management industry that are dedicated to increasing the number of women on the front lines of investing. I am fortunate to have an amazing GWI team, especially CEO Kathleen Dunlap, without whom we could not have made such a meaningful impact as an organization in such a short amount of time. And of course I can't say enough about our inaugural cohort of 30 young college women who have made us so proud with their work this summer in the classroom and thereafter during their paid internships at leading asset management firms around the world.
Building anything from scratch comes with many challenges. This is my first experience starting a nonprofit, and I was committed to creating a groundbreaking program that would provide college students with education in the classroom followed by on-the-job training. Several asset management firms were initially hesitant to accept our interns. But the reviews from both our Scholars and the firms are in: our program was a great success. Our partners are already signing up again for next summer.
What advice can you offer to women who want a career in your industry?
I would encourage them to follow their heart and gut, be smart and thoughtful and intellectually honest, do their homework, be kind, focus on building relationships and friendships and not networking, be persistent and never give up on trying to make a difference. This advice might seem generic and basic but our business is not complicated. So much of it is about having conviction based on good research and judgment and building relationships with people that will help one grow as an investor and person.
What is the most important lesson you've learned in your career to date?
I think I've become a better leader and person today because I've learned how to listen better. Listen better to my colleagues, my teams and to my clients. My first inclination can sometimes be to analyze a situation quickly myself and then take action in order to perform for my clients given the tremendous responsibility and sense of urgency that comes with managing other people's money. However, I've seen how much more we can accomplish and how much better our results can be when I take that extra time to listen and learn from the people with whom I work.
How do you maintain a work/life balance?
Some of the best advice about this came earlier in my career from a friend who said to me: "stay interesting." Balance for me means continuing to do the things outside of work that make me a happier and healthier person and so I put a priority on this. I actually block out parts of my calendar each week for activities that matter to me. I enjoy exercising regularly, going to the theater or concerts, eating out with friends, downtime to read a good book, spending time with my mom who still lives in Norwalk or catching up on the phone with my brother, sister, brother-in-law and nephews who all live in Seattle.
What do you think is the biggest issue for women in the workplace?
I think it's the freedom to be just that: a woman in the workplace. So many of the constructs that exist within business environments in the US are still designed around men being in managerial roles or positions of power and influence. I think we as a society need to make some important changes in order to capture fully the talent and contributions of the other half of the population. Some of this could be achieved with workplace policies such as paid family leave and maternity and paternity leave but some of it is also related to gender stereotypes and bias that requires open dialogue between men and women.
I remain confident that my goal with GWI to have 30% of the world's investable capital managed by women by the year 2030 is achievable. I already see leaders in our industry taking action to increase gender diversity on investment teams. Investing is hard and managers know that diverse perspectives yield better risk-adjusted returns.
How has mentorship made a difference in your professional and personal life?
I believe there is an important difference between a mentor and a sponsor. Both are valuable, but in my view a sponsor is more so. A mentor is someone to whom you can go for advice from time to time but a sponsor is someone who helps accelerate your career, backs you up when you need it and helps open up new opportunities for you for growth and advancement. I would tell women that when they find a sponsor, don't let them go. My career sponsors have become dear friends and I am very grateful for that.
Which other female leaders do you admire and why?
I first met Meg Whitman when she was CEO of eBay. She has been really good at recruiting exceptional talent for her teams and then letting them execute. She leads without ego and with little fanfare and delivers on performance. She also believes in public service and has focused on doing her part to make our country a better place.
Hillary Clinton is a leader I admire for her lifelong commitment "to do as much good, for as many people, for as long as you can." In particular, her actions to empower women and girls around the world have been extraordinary. She has shown great grace under pressure and intense public scrutiny and never gives up trying to make a positive impact on people's lives. Her resilience is inspiring.
What do you want Girls Who Invest to accomplish in the next year?
I want our organization to serve at least twice as many young college women as we did this year and expand the career opportunities within the asset management business for our existing cohort of 30 women. I'm excited about continuing to grow our GWI team and we are starting to plan for a pilot high school program that will involve establishing investment clubs across the country.
In addition to these specific goals, I'd like us to continue to engage a broader group of asset management firms and other significant industry participants and also those in the public sector with whom we could partner in order to achieve our 30 by 30 vision. 
This post was published on the now-closed HuffPost Contributor platform. Contributors control their own work and posted freely to our site. If you need to flag this entry as abusive,
send us an email
.