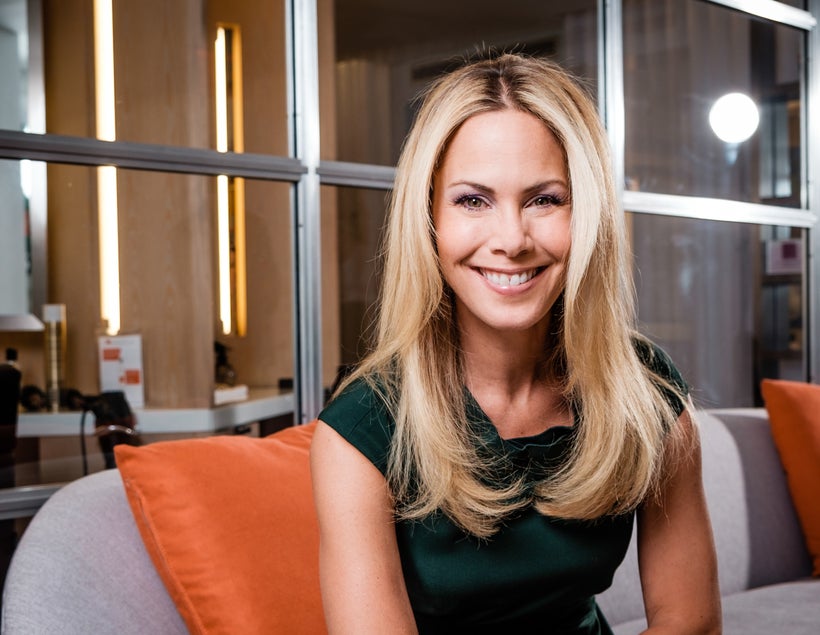 Suelyn Farel is the CEO and Co-Founder of the Julien Farel Group, a New York City based beauty and wellness company, delivering products and services that are as luxurious as they are transformative.
Prior to meeting Julien, Suelyn was founder, CEO and Creative Director of B Squared Design & Printing in New York as well as a founding member of Soho House New York. B Squared offered design and printing services to numerous Fortune 500 clients. It was her second company, having founded Work Hard Play Hard Inc., a marketing and brand development company, in 1998.
Shortly after her marriage to Julien, Suelyn sold her company and entered the beauty industry by spearheading product development for Julien Farel Anti-Aging Haircare in 2007. The skincare technology-inspired haircare line was launched in 2011 and quickly expanded globally into United Kingdom, France, Italy, Germany, Canada and Australia. As brand founder and CEO, Suelyn is the on-air talent for QVC US, The Shopping Channel Canada and TVSN Australia. In 2016 and 2017, Julien Farel Haircare's hero product, Restore, won the QVC Italy Customer Beauty Award.
While launching this global haircare brand, Suelyn also conceived and developed the anti- aging spa concept for the brand flagship, Julien Farel Restore Salon & Spa. Loews Hotels now distributes Julien Farel Haircare products and blow dryers at hotel locations nationwide.
Suelyn has been featured in the Wall Street Journal, Women's Wear Daily, The New York Times, and Huffington Post. She graduated from Boston University in three years with a BS in Marketing & Finance. Suelyn resides with her husband and two girls, ages nine and eleven, in New York City and East Hampton.
How has your life experience made you the leader you are today? 
I've had a competitive spirit since I was young, rooted in sports, and also was a natural leader from the time I was very young. Also, having a work ethic that came from watching my Grandparents work tirelessly as entrepreneurs.
How has your previous employment experience aided your tenure with the company?
Having launched a marketing startup in my 20s, being a CEO so young taught me many facets of running an operation—from marketing & brand development to finance, client service, HR and managing a day-to-day  business. 
What have the highlights and challenges been during your tenure at the company?
Highlights have been opening our Restpre Salon & Spa, a 10,000 square foot operation at Loews Regency Hotel on Park Avenue in New York City in 2014 and launching our haircare products on QVC U.S. in January 2017.
What advice can you offer to women who want a career in your industry?
Determine what area of beauty is the most fascinating to you, and start as an intern and be willing to do anything and everything. Pay attention, listen, study and learn all that you can. Find a female boss you respect and admire, and ask to be included on as many meetings as possible. Experience as many things as you can in your job!
What is the most important lesson you've learned in your career to date?
Nothing replaces hard work.
How do you maintain a work/life balance?
I don't! It's not possible. When my work life is firing on all cylinders, my family or personal time is always affected, and vice versa. I don't believe I can be super-successful and have an ongoing  work/life balance. But I'll always strive to squeeze in an extra weekly workout or date night with my husband. 
What do you think is the biggest issue for women in the workplace?
Lack of confidence. It's critical to believe in yourself and never take "no" for an answer. Stick to your values, and always use your intuition. It's probably right. I find too many women second-guess their decisions or are slow to make them.
How has mentorship made a difference in your professional and personal life?
When I was younger, I had two business coaches over a period of about 7 years. It was extremely helpful to have someone to bounce development ideas and work challenges off of. Today, I have multiple women in the beauty industry I consider friends, and we support and help each other. There's an innate trust that we will protect each other, and provide one another honest advice.
Which other female leaders do you admire and why?
Anyone visibly having a relentless commitment to their work and a passion for it.
What do you want the company to accomplish in the next year?
I would like Julien Farel to have a strong foothold as a leading haircare brand on QVC U.S. We were just nominated for two beauty awards after only eight months, which is so exciting! But I look forward for us to become an important part of QVC for years to come.
REAL LIFE. REAL NEWS. REAL VOICES.
Help us tell more of the stories that matter from voices that too often remain unheard.
This post was published on the now-closed HuffPost Contributor platform. Contributors control their own work and posted freely to our site. If you need to flag this entry as abusive,
send us an email
.