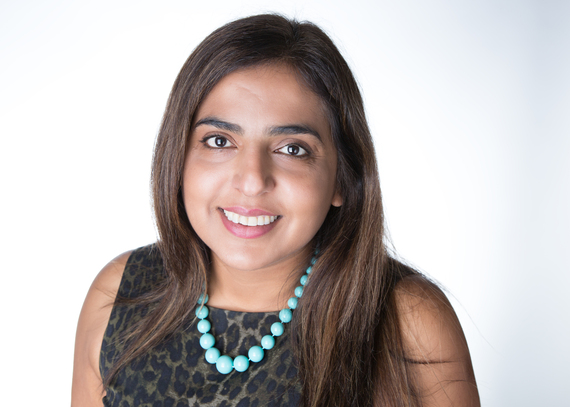 Vanita is the Vice President of strategy and product marketing at ThreatMetrix, the Digital identity Company. In this role, Vanita leads the strategic vision and go-to-market for ThreatMetrix products and solutions. With extensive experience in strategy, innovation, product management and analytics within the payment industry, Vanita previously led merchant development and global go-to-market for Visa's digital products. Prior to Visa, Vanita held a range of diverse positions at some of the world's leading financial institutions including Capital One, Standard Chartered Bank and ABN AMRO Bank.
How has your life experience made you the leader you are today?
I had an interesting childhood. It involved my family moving every few years and living in really remote locations where the newspapers came two days later, to some of the most crowded cities in the world. This taught me to be comfortable with change and to be able to work with multicultural teams and be open to diverse and novel ways of thinking.
As one of three girls, my parents raised me to believe that I could do anything I wanted. That shook off any inhibitions about what I could achieve. My supportive husband has shown me time and again that perseverance can help one achieve anything if you set your mind to it. As a student athlete, I learned that the hunger to win is ok as long as you are willing to work at it and be humble in victory and graceful in loss.
A big aspect of leading a global team is to create an environment where diverse perspective is encouraged and where success is celebrated and setbacks provide a time for folks to come together and regroup. People are the biggest asset we have and we need to constantly invest in understanding everyone's perspective.
How has your previous employment experience aided your tenure at ThreatMetrix?
I have had the chance to work with some of the world's best companies, learning not only from the task at hand but also from the people I interacted with. I was one of the first women in the nascent credit card space in India. That experience gave me the confidence that I could do anything my male colleagues could. My first gig in the U.S. was a teaching assistant position at my grad school. I think interacting with students from all over the world made me appreciate diversity like never before and taught me that everyone learns their own way and at their own pace. This has been a great lesson for me as I have managed resources.

I have been lucky in the diversity of experience I have had; from being on a super analytical team working on crafting and delivering financial products to main street, part of the core team forging the next generation of digital payment products and then leading global commercialization for the same products to analyzing innovative players to identify disruptors and potential partners. Each of these experiences have developed me as a professional, given me the opportunity to learn from some of the brightest in the industry and built my confidence to wear multiple hats - something that is a key ingredient to be successful at a fast growing company like ThreatMetrix.
What have the highlights and challenges been during your tenure at ThreatMetrix?
What we do at ThreatMetrix is complex and our product is one of the most sophisticated in the industry. I have to constantly be on my toes to make sure I am keeping pace with my brilliant colleagues and doing justice to the product and technology in crafting our positioning, messaging and go-to-market strategy. The past two years have been filled with the biggest personal and professional growth for me. One major highlight is that with each new product we build or solution we deploy, we are making a huge difference in our customer's' business and people's lives. Fraud and identity theft is not a victimless crime and being a part of the team that stops the 'bad guys' is inspirational.
What advice can you offer to women who want a career in your industry?
Some of the smartest people I interact with at ThreatMetrix and our customers are women who have had successful careers in tech and security. As technology transforms more and more aspects of our life, the opportunities in this space will continue to grow and will serve as great career tracks for future leaders.
Tech in general and security in particular is complex and fast evolving. A career in this industry will provide lifelong excitement and learning. To succeed, being confident and professional is critical in all aspects of one's career. I believe we need to be comfortable with being ourselves whether we are making a point, asking questions or disagreeing - albeit with respect. We are at an important point in history where our actions as women are not only going to have an impact on our career but that of others who will follow in our footsteps.
What is the most important lesson you've learned in your career to date?
The most important lesson is learning that self-confidence is really significant. With that comes the ability to challenge, question and persevere. I realized that I couldn't expect others to have faith in my abilities unless I believed in myself first.
How do you maintain a work/life balance?
I often joke that when you enjoy your work it becomes life and I think there is some truth to that when it comes to me. Both my husband and I have very busy professional lives. He is focused on his startup Sumbon.com and I am part of a high impact group within ThreatMetrix. While I am not sure we maintain a work life balance in a traditional sense, we both make sure we carve out time for our 7 year old and are there for friends and family when they need us. The key for me is to make every second count.
I am lucky to be a part of a work culture that empowers everyone to make their own schedule that suits their family and business priorities. Leading a global team provides me the flexibility to give dedicated time to my 7 year old and log back on in the evening.
What do you think is the biggest issue for women in the workplace?
The biggest issue is overcoming the stereotypes for how one needs to behave, deal with disagreement or maintain work life balance. These often put unrealistic pressures on women to look a certain way, be the super mom and be the cheery voice of comfort and agreement in a tense meeting.
I often sense hesitation when women try to make their point in meetings. This often manifests in them prefacing their thought with a self-deprecating qualifier or being very tentative in their recommendations, which can undermine their brilliance. However, being grateful and empathetic or having a great sense of humor doesn't mean that we have to appear less confident or assertive. I think the key, as a woman leader, is to remember that what we do is going to influence others in the workplace, whether it be other women realizing that they can be assertive about their beliefs or men seeing another data point of a female colleague 'leaning-in'.
How has mentorship made a difference in your professional and personal life?
I grew up in some of the most remote parts of India and from sitting on the floor in a bamboo hut or an abandoned train platform that I called school to working with some of the brightest minds from across the world in the greatest country in the world. I can attribute each stepping stone in my career to mentors who challenged me, inspired me and guided me - many of them women leaders.
I am lucky in the level of support I have received from my mentors who have wanted me to be successful. Having someone to reach out to, share the latest problem and get their perspective is huge. These mentors have also taught me about paying it forward by guiding others through their personal and professional journey.
Which other female leaders do you admire and why?
I have always admired Chanda Kocher who has been instrumental in shaping the retail banking industry for India. As a newbie to the fraud and security space, I have been inspired by Avivah Litan who has not only forged an amazing career in this space but is arguably one of the best known thought leaders in the male-dominated security industry. On a personal note, Jennifer Schultz who showed me what a female leader should look like and my good friend Stevie Case, for showing me how to dispel self-limiting belief and persevere no matter what the situation.
What do you want ThreatMetrix to accomplish in the next year?
We are at an inflection point in our journey. We have a great product, amazing employees and an enviable customer base. As the 3rd industrial revolution evolves, technology will transform more and more aspects of our daily lives. This will lead to innovations, disruptions and evolutions of companies in areas where ThreatMetrix is uniquely positioned to help organizations deliver on their digital transformation. I am excited about the next year as we onboard some of the world's most valuable businesses as customers, deliver new technologies and solutions and make tangible differences to our customers' bottom-line, all while protecting the digital identities of consumers as they make purchases, access their bank account or stream their favorite shows.
Popular in the Community