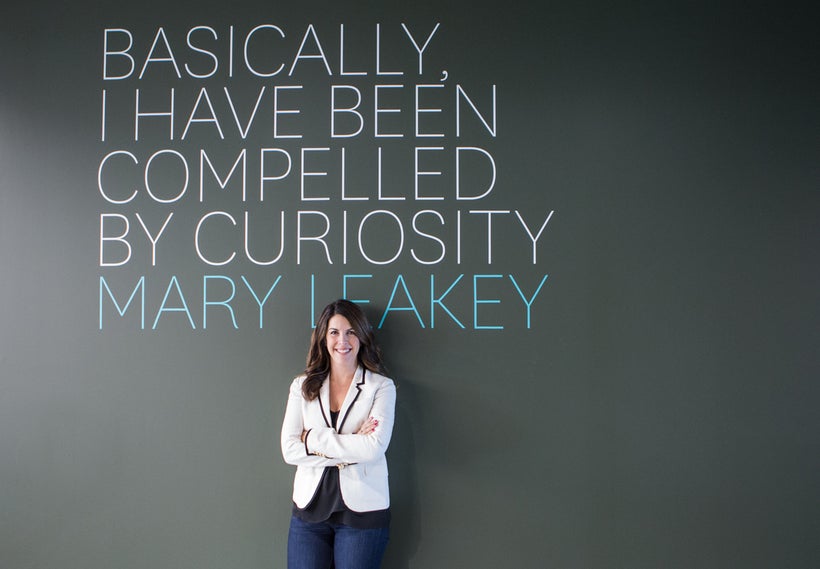 Becky joined SurveyMonkey in September 2011 and drives its candidate and employee experience. Previously, she spent over 11 years at Yahoo! in various HR leadership roles. In her last role at Yahoo!, she was HR Partner for the Advertising Product Group and Search & Marketplaces organizations. Additionally, she served as HR Partner to the CMO and Sales/Marketing Organizations, spent 4 years on Mergers & Acquisitions, and held multiple roles in talent acquisition. Before Yahoo!, Becky was at Nordstrom for eight years in sales, Customer Service, and HR roles. Becky received a BA in Public Administration from San Diego State University and an MBA from San Francisco State University.
How has your life experience made you the leader you are today?
I'm an introverted self-starter: I've always been very curious, liked to learn and had an ambitious desire to do something meaningful for my life's work. I also like to teach and mentor people. Our leadership training here is based on TMBC, according to which I'm a combination of a pioneer and a teacher. That means I like to be ahead of the pack, do things differently, but at the same time give other people an opportunity to jump into new roles acting as a coach for them. That's how I've evolved as a leader—leadership to me is about curiosity, being bold, taking risks and assuming responsibilities that help you and your team grow.
The first defining moment for me was at Yahoo! when I was asked to be an HR lead for Mergers & Acquisitions. I had absolutely no experience or peers to get advice from. So, I just attached myself to the hip of legal and business development teams and tried to learn everything I could about M&A as quickly as possible. That role required me to step up and embrace leadership like I'd never done before. I was working together with VPs of different HR structures to integrate companies of various sizes, and was a primary HR lead in the companies we were acquiring. The next defining moment was when I took on the role of leading Human Resources at SurveyMonkey—initially I didn't know if I could do it, but Dave Goldberg, our CEO at the time, really believed in me.
How has your previous employment experience aided your tenure at SurveyMonkey?
My time at Yahoo! was one of the best career experiences I could have asked for. While working for one company, I had the benefit and opportunity of trying various roles which prepared me for my current role at SurveyMonkey and running all of the sub-functions of HR. During my previous work experience I had access to brilliant leaders and mentors who I continue to emulate today. I've learned to be really thoughtful about the employee experience that we'd want to create at SurveyMonkey and assemble a strong team that is empowered to affect that.
What have the highlights and challenges been during your tenure at SurveyMonkey?
It's been the best and the worst of times here. The biggest highlight is joining an amazing team of people and continuing to work with them, using a product that I love and that really has influenced the way I work. For an HR professional, it's important to be able to communicate with the people that matter most, and do it regularly. I want to stay in touch with our employees, hear their voices and base decisions on insights and feedback we get from them. Without exaggeration, using our own products daily has fundamentally changed the way I operate as an HR person and connect to the employee community. With that experience, myself and my team have been working very closely with our Product & Engineering team to create SurveyMonkey Engage—our new product for understanding and improving employee engagement. We've been involved from its inception, helping to develop the methodology and playing the role of a customer and potential buyer. This work was driven by our aspiration for the type of product that we'd want to build for our own use, and we had the canvas to create something unique and special, thinking about the overall employee experience.
The biggest challenge continues to be scaling and growing a team. We have six offices around the world that are growing quickly, and we are focused on building a team that's curious, diverse, and aligned on our mission, strategy and core values.
A very difficult experience to manage through was losing our CEO. Not many people have gone through this and can help you. You have to rely on colleagues and your own instincts to do your best in managing the situation for the company as it gets back on its feet. I'm really proud of the team's resilience, and the work we did reassembling the management team and getting our momentum back.  Our launch this summer, building SurveyMonkey of the future is a great proofpoint.
What advice can you offer to women who want a career in your industry?
HR is the best career in the world. At least I think so. If you love business and you are passionate about creating great experiences for people, then it's a very fulfilling role. My advice is to develop great business acumen, and care about the business as much as you care about your own function. It's also important to be curious and learn about a lot of different functions in HR: recruiting, HR technologies, HR business partner. Most importantly, you need to be customer-focused—talk to people and listen to your customers. My customers just happen to be candidates and our employees.
What is the most important lesson you've learned in your career to date?
To be willing to take a risk! Some of the best career experiences resulted from someone saying to me, "You should think about trying this!" I'd then make an attempt to talk them out of it, argue that I don't have all the experience. But then I'll end up taking the risk and believing in myself. While it's important that at times others believed in me more than I did myself, it's also important to be ready to take risks—that is when you have the most exponential growth. Coming to SurveyMonkey is a great example: I didn't have experience running the entire HR function and working in a fast growing start up, but Dave refused to take "no" for an answer. He knew my appreciation for the business and ability to work collaboratively was all I needed.
How do you maintain a work/life balance?
I'm not a huge fan of the word balance which implies that a beautiful, neat balance exists. What I believe is that my family and work are two important priorities. Together with the leadership team here at SurveyMonkey we try to create an environment where employees can focus on each of these priorities when they need that most. When I'm called to duty as a Mom then I can prioritize that, but when we have big things going on at work then I can shift my focus to work. We've been introducing new (and industry-leading) employee policies in the last few years, including unlimited Personal Time Off, 16 weeks of paid parental leave for both mothers and fathers, "Take 4" with four consecutive weeks to recharge after four years at SurveyMonkey, extended bereavement leave and more. These policies will help employees focus on family when it's a priority. Reprioritization can be messy based on what's going on in your life, but learning to ask for and accept help from people around me has also been very helpful for me when priorities keep shifting.
What do you think is the biggest issue for women in the workplace?
Building a career and a family at the same time. The pursuit of both definitely remains a challenge. We want women to have a meaningful career and have a reasonable period of time off when they have new members join their family, when they need to prioritize health. They need to have time to focus on themselves and feel supported in this prioritization exercise. That's why we relentlessly make sure that "Prioritize Health" is not just a company value on paper, but everyone here really lives by it.
How has mentorship made a difference in your professional and personal life?
I've always had great mentors and think they've been tremendously important for my growth. Just like our CEO Zander Lurie says, it's important to assemble your personal Board of Directors and have a group of people that you can rely on for counsel and mentorship. People who keep you accountable and help you work through challenges. In practice, it's something I've been applying for a very long time. I had Dave Goldberg on my board. Now Zander, our CFO Tim Maly, a former boss of mine from Yahoo! David Windley, Christine Robinson who's now at Pandora, my parents, sisters, and colleagues.
Which other female leaders do you admire and why?
Of course, Sheryl Sandberg—not only for the success that she's had in her career, but also for her commitment in pushing the industry forward and addressing some really hard issues. By creating Lean In and setting a great example with parental leave and bereavement leave policies, she's helping the rest of us to really position the argument why these changes are important for companies to consider. I also appreciate the invaluable role she plays on the SurveyMonkey board.
What do you want SurveyMonkey to accomplish in the next year?
I want us to be champions of curiosity in business and own our new "Power the Curious" mission. The idea of being curious needs to infiltrate companies everywhere as a way to push the boundaries of creativity, innovation and inclusion. I also want HR to be a more curious function, and our new SurveyMonkey Engage product is a great solution to enable curious HR professionals like me to gather actionable insights and create great employee experiences at the same time.
I want us to continue to be thought leaders in categories like benefits and Diversity & Inclusion. We've taken important steps this year with our first D&I report and creating an Inclusion & Belonging survey in partnership with Stanford researchers that we've now launched internally. We'll make our survey is available as a benchmark-able template, so all companies can measure this crucial component of organizational well-being. This is important for us as a company, and it's equally important for us to pay it forward.
REAL LIFE. REAL NEWS. REAL VOICES.
Help us tell more of the stories that matter from voices that too often remain unheard.
This post was published on the now-closed HuffPost Contributor platform. Contributors control their own work and posted freely to our site. If you need to flag this entry as abusive,
send us an email
.