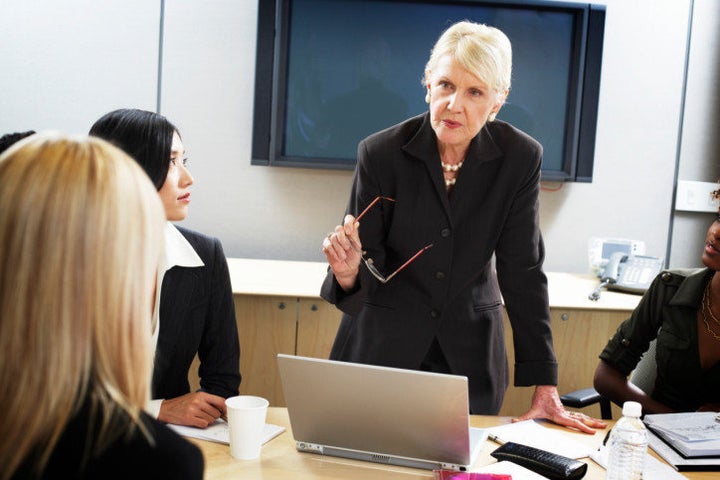 It's a sunny but chilly morning as I head down Beverly Boulevard in Los Angeles, my newly acquired iPhone Verizon phone on my lap as I talk business over speaker phone with a friend and fellow female founder. Like a lot of today's new modern women entrepreneurs and executives I've met and know, we're talking about partnering on some ancillary business to both of our startups. With so many of us bringing different skills, experience and companies to the table, it's a great way to close on business and make our companies money.
The city is busy as I make my way to the office. I'm wearing a long, black maxi skirt, black tank top, velour hooded jacket and Prada flip flops -- yes, to work. One of the best benefits of being an entrepreneur? You can wear whatever you want.
As one male investor had put it over e-mail recently, the way to look as if you can handle a million dollar check from an investor is to "be yourself, however that might look. For better or worse, we all live in a Mark Zuckerberg world now."
It's among the many little perks that more and more women (and men!) find as they take the jump and launch their own businesses -- either to replace former careers or to supplement current income. Entrepreneurship is not easy and can be far more taxing than employment, but the benefits it can have are enormous: greater control of your destiny, time and experience. In a world where the pink slip looms over virtually everybody's head, many are flocking to launching their own companies. After all, if work and life are hard no matter what work and life you have, so you might as well be the one calling the shots.
What's great is that taking that giant step can happen at any time, any age and by any gender. There are no limits to what you can do when you alone are the boss. It doesn't just apply to entrepreneurship, but every area of life.
We live in a world that puts an emphasis on being young, in part due to the fact that the youngest consumers are typically the easiest to motivate to spend money and buy. But that doesn't mean that life and opportunity stop once you've past the younger years. The founder of the McDonald's fast food chain was 52 years old when he launched the company. Arianna Huffington was 54 when she started the very site this blog sits on, which she's recently sold to AOL.
In fact, many studies have shown that older entrepreneurs have more successful outcomes than younger ones.
It's something that came to mind as I watch my mom, who is in her 60s, continue to go after what she wants in life. Today, it's to become more fit. Not long ago, she ran for office -- and won -- in her town. Life is full of opportunity, every day and at every age. There is absolutely no reason why you can't go after what you want -- regardless of what age you are. It's incredibly inspiring.
Just the same, a big life can be had even by the very young. I'm not just talking about 20-something "wunderkinds." An informal study of New Power Girls readers showed that the majority started businesses at a very young age -- many of us at 10 and 11 (including myself). Everybody can benefit from going after their life's dreams and ambitions, no matter what age they are. In fact, I believe the babysitting and other "mini-empires" I built as a child, teenager and later young adult were the very reason I do what I do and have the life I have now.
It doesn't just stop at age. Going after what you want knows no gender, race, religion, origin or background. It's just plain old ambition, and lots of it.
It's a conversation I had with one of the most inspiring women founders I know, Jessica Mah, who had elbowed her way into the Silicon Valley and internet business while still in high school. Not only had Jessica completed the feat at a young age, but in an industry (high tech) that doesn't see a lot of women. I'm not talking about the internet business, or even technology -- both of those industries have a ton of women -- but in coding and development, where very few women are found.
"I think having more women in tech just makes business more exciting!" Mah shared over e-mail, as we talked shop. Now the founder of InDinero, a financial solution for small businesses, she's one of three female team members. Like many of the women founders I know, not one has ever thought twice or worried about being a woman in a male-dominated field. They just went after what they want.
No matter who you are, what your age is, what you want to do or whatever you've got going on, life's yours for the taking every day. Power Girls, take the jump!