There's just one problem. Not all of the images that websites claimed to be Hogan were actually of her.
On Thursday, August 11th, Jordan Michael Zuniga debuted his latest works, "Women In Cages," an exhibition on display until September 10th at Cafeina in Miami's Wynwood Art's district. 80 percent of the proceeds will be donated to PETA (People for the Ethical Treatment of Animals), although the animal rights organization is not directly affiliated with the event.
The mix-up occurred when sites got a hold of some of the event images. A number of websites, including The Sun, ran the story leading with a photo that is, in actuality, of TV host and fashion designer Pachi Lake. However, there is a real shot of Brooke Hogan (the one which Hulk Hogan, her father, is pictured covering up).
*You can scroll down to see the photos for yourself (WARNING: THE IMAGES IN THE SLIDESHOW CONTAIN EXPLICIT CONTENT AND MAY NOT BE DEEMED SUITABLE FOR ALL AUDIENCES)*
Brooke Hogan has been a longtime supporter of PETA, as have many of the other women.
The idea for the shoot was the result of Zuniga brainstorming non-profits with his publicist, Brian Long. Long had done previous work with PETA and Pamela Anderson, who has also been an outspoken PETA supporter.
PETA has taken on many causes recently -- the organization's undercover video of dogs and cats being tortured resulted in felony charges for lab workers. According to the Associated Press, the video "shows workers throwing a cat, pulling a dog's teeth with inadequate pain medication and trying to pull a cat's claws off by jerking it from a wire cage."
Astrophysicist Dr. Neil deGrasse Tyson participated in one of PETA's newest campaigns, saying, "Maybe humans aren't as good as we should be in our capacity to empathize with the … feelings and thoughts of others -- be they humans or other animals on Earth."
Zuniga wrote to The Huffington Post, "I have always respected what PETA has done with their imagery and I wanted to do something that I hadn't seen before but put "my" spin/style on it." According to him, the shoot became largely improvised after a sudden idea changed his plans, and he grabbed the cage at the last minute from his own house.
While many viewers may feel that Hogan stole the show, some of the other subjects in the shoot stood out for Zuniga, most notably drag queen Elaine Lancaster. "I will say that shooting Elaine Lancaster was VERY interesting," Zuniga said. "It is not every day that I shoot a naked drag queen in a dog crate. Elaine had so much personality and was such a professional."
Lancaster was apparently shy about the shoot, and didn't find out that it required full nudity until the day of the shoot. "I was certain Jordan would photoshop the hair off my tummy, but he didn't and I was mad at first, but the more I looked at it and thought about the image I came to realize how much more provocative the picture was," Lancaster wrote to The Huffington Post.
She was not always an animal rights activist. Lancaster says she used to think that fur was glamorous, until one evening when PETA's Dan Mathews sent her a video. "I could not even finish watching it because the inhumanity of how the fur was ripped from the animals' bodies made me sick ... Needless to say, I no longer want to wear fur, they look better on their original owners."
The showing of the "Cages" photos, which coincided with Hulk Hogan's birthday, gave Zuniga a chance to meet one of his idols. "Since I was a kid, my brother and I looked up to Hulk and to be able to present him a birthday cake (with Brooke) from Stella's Sweet Shoppe with one of my images printed on it ... it was absolutely surreal; Surreal and very cool."
The cake and Cafeina food were both vegan for the night.
Hulk Hogan has faced some criticism following his daughter's shoot, but he has largely ignored it. According to the Daily Mail Brooke has been outspoken in shaking off outlandish allegations about her and her father.
Zuniga continues, "He was such a nice guy, even though he played around and put a choke hold on me for shooting Brooke nude, I think he did see the beauty in the image and respects her for making a stand for something she really cares about, that being animal rights."
View the photos and captions from the "Women In Cages" exhibit, courtesy of Jordan Zuniga (Red 1 Studios) and Brian S. Long: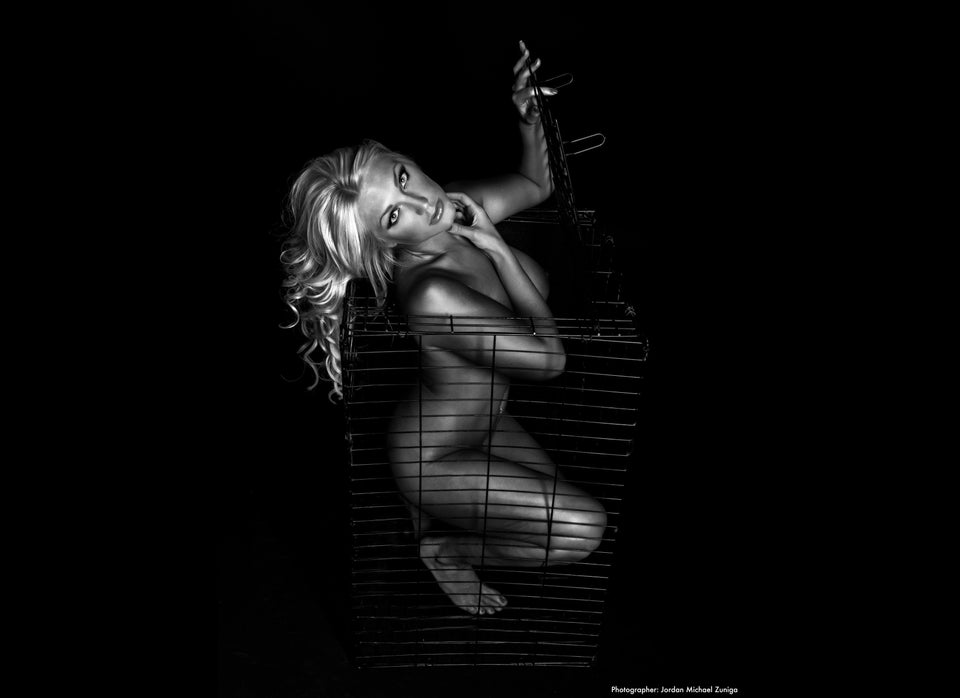 Women In Cages Exhibit
Popular in the Community