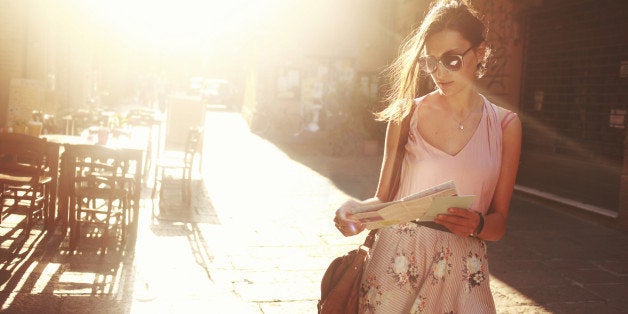 The following is an excerpt from Women in Clothes, a collection of essays, illustrations and interviews centering on style and its deeper meanings. The below essay is by author Emily Gould, and details a major purchaseshe made with her first tax refund:
In the early spring of 2004, I was twenty-two and had just received my first tax refund. I didn't have any money, but I was close to money all the time. At the slick corporate publishing offices on the Upper West Side where I worked, the profit-and-loss statements were for hundreds of thousands of dollars, which it was my job to calculate, and I fetched coffee for established authors and agents—daily interactions that reassured me that my modest circumstances were only temporary. The hazy future would deliver me a big payday, so there was no need to save. I spent every penny I earned, which was easy to do: rent took most of it, food pretty much covered the rest.
When I unexpectedly got a check in the mail from the federal government for $342, I went out to buy a large, rectangular, pale pink Marc by Marc Jacobs handbag.
Why a purse? Why pale pink? Why Marc by Marc Jacobs? In 2004, Marc anything was the ultimate status symbol for a specific kind of New York City woman, the kind I aspired to be: someone with natural charisma, a cool job, effortless and understated sexiness, and plenty of cash. These garments seemed to represent a reaction against the blingy, logo-obsessed late ninties–early aughts. They were a credible imitation of clothes you'd find in a thrift store, but perfected and updated with better quality and cooler details: cashmere instead of polyester, and clever prints that invited a second glance or started a conversation ("Are those foxes?").
By the time I received the check I had been lusting after those clothes for years. I felt a purse that I would carry every day would cast the glamour of Marc over my entire existence and transform my thrifted clothes into their classier renditions.
So I dressed in what I considered a subtle-yet-glamorous outfit, something the kind of person who frequented West Village designer boutiques would wear for a day of casual shopping: slouchy flat black boots, tight black jeans (then fashionably low-waisted), vintage black velvet blazer over a shrunken black perfectly worn-out and semitransparent T-shirt.
No one greeted me when I walked in the door of Marc Jacobs. I tried to make subtle, casual, "I'm not a shoplifter" eye contact with the pretty, dark-haired salesgirl, who was wearing an outfit like mine except with a halo around it, that intangible aura of expensiveness that designer clothes have. She didn't smile back.
"Let me know if I can help you find anything," she said without a question mark.
She closely monitored me as I picked up purses and modeled them one by one in the mirror.
I did my best to ignore her as I faux-casually compared price tags. The larger, heavier bags that I really wanted were $500 or $700, but after only a few minutes in the store that was starting to seem normal. The pink purse had soft leather and pretty clasp details, an inner pocket for my wallet and phone, and two outer pockets that could hold the many lip balm–type products I was equipped with at all times. I chose it quickly. I carried it to the register and paid with cash. I did not at that innocent time possess a credit card.
The purse made its debut at work the next day. As the editor in chief's assistant, I had a cubicle just outside his office. Everyone waiting to see him had to linger in my cube region, chatting with me. The women -- all the important editors were women -- treated me with a mix of admiration and exasperation. The most glamorous, P., was the first to notice my purse -- casually hanging from a handle on the file cabinet behind me.
"Oh my god. Is that Marc by Marc Jacobs?"
"It is. I bought it with my tax refund."
She looked at me with a mixture of condescension and compassion. "Wow. Well, you're lucky. I wish I could go out and buy myself a Marc Jacobs purse."
I felt genuinely confused. "What's stopping you?"
She sighed. "When you're married, when you have a child, you'll understand."
I'm still not married and I do not have children, but I do understand. I had spied on every document that crossed my boss's desk, so I knew her approximate salary -- it was a number that seemed enormous to me then, and still seems healthy now, except I know people with that salary who struggle to pay their mortgage in studio apartments in this beautiful, appalling city. Back then I had felt betrayed by P. If she couldn't buy a Marc by Marc Jacobs purse, what was I working toward? She owed it to me, to all us assistants, to give us something to aspire to. She owed it to us to dress for the job and the life we wanted.
Six years later -- not half as secure, materially or otherwise, as my twenty-two- year-old self assumed I'd be -- I set out a bunch of my belongings on my friend's Fort Greene stoop, including the once pink purse. Despite repeated professional cleanings, the color hadn't held up to the heavy wear I inflict on all my possessions. Also, pale pink is an impractical color for something you're going to set down on the grimy subway floor. The purse had lost its rectangular shape and sat slumped in a leathery pile. I sold it for $10 and, along with some other things, netted $40 that day -- cash I needed and felt lucky to have.
Copyright line for the text: Reprinted from WOMEN IN CLOTHES by Sheila Heti, Heidi Julavits and Leanne Shapton with permission of Blue Rider Press, a division of Penguin Random House. Copyright © 2014 by Sheila Heti, Heidi Julavits and Leanne Shapton

REAL LIFE. REAL NEWS. REAL VOICES.
Help us tell more of the stories that matter from voices that too often remain unheard.
BEFORE YOU GO
PHOTO GALLERY
30 Books To Read Before You're 30