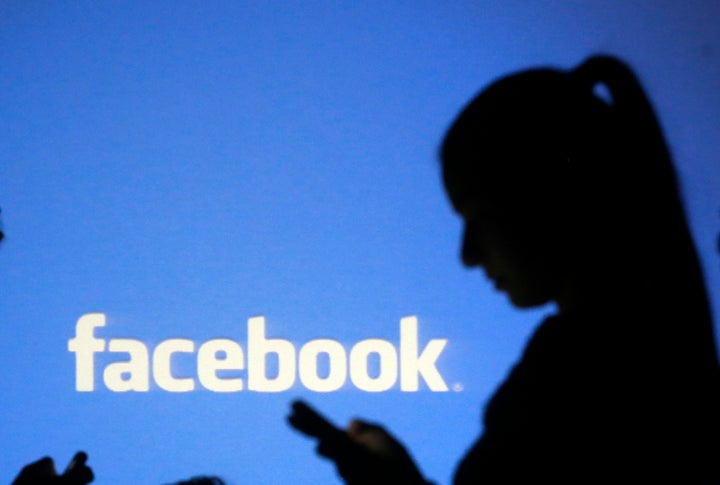 Every woman working in comedy knows about them. They're usually hidden from public view, but have hundreds of members. They're most common in Los Angeles and New York, and sometimes are split between improv, stand up and sketch performers. And inside, the discussion can range from job postings and asking for advice about boyfriends, to outing men accused of sexually assaulting multiple women.
In the past few years, private Facebook groups for female comedians have sprouted up throughout the country, though typically focused in major cities with active comedy scenes. The groups, sometimes completely secret and unsearchable unless you're invited in, often started as a refuge for women working the male-dominated comedy business.
"Female comics need an outlet to deal with things," said Kelly Anneken, a comedian based in San Francisco, who's an active member of a group called Mermaid Pants. "The secret groups are how we've chosen to deal with it because there's no HR department in comedy."
These groups largely go unnoticed by the broader public and rarely become the topic of conversation in the comedy community until something happens ― like earlier this month when a member of one group shared a message that comic Aaron Glaser of committing sexual assault. The word spread quickly outside of the group that Glaser was banned from the Upright Citizens Brigade theaters over complaints from women, though he denied the allegations.
After the claims came out against Glaser, The Huffington Post spoke with nearly three dozen women working in comedy. Many shared a similar sense of an uphill climb simply to exist in the comedy community as a woman. Every industry has problems with sexism and harassment, they said, but comedy is a tough business where everyone's working off their personal reputation as a freelancer to find a gig in the next alcohol-serving establishment.
"The secret groups are how we've chosen to deal with it because there's no HR department in comedy."
But no women have their own late night talk shows, and in 2015's season of "The Half Hour," Comedy Central booked just three women compared to 11 men, and that was the highest ratio yet of women in five seasons of the stand-up special series.
"There's progress, but it's not the systemic change," said Anneken, who was the former head of programming for Pandora comedy. "It feels like a Band-aid at this point."
Aside from the fact that most comics booked at venues are men, several female comics said it's far from unusual for a guy with clout in the local comedy scene to offer them "really nice spots" in lieu of "favors."
"There's always going to be bad apples in any profession or scene," said Dean Masello, a comic based in New York, "but how many women I've heard who've been approached after the show or guys come to them during the show, or been implicitly offered stage time for sexual favors ... I'm surprised how much misogyny is in the stand-up world in this day and age."
Masello is a former lawyer from Ohio who spent several years representing victims of domestic violence. He's witnessed some of the harassment his female colleagues endure at shows, only to have them turn around and tell him, "This is nothing, this is average." Given that, Masello said, it makes sense that women would want to arrange private Facebook groups or all-female lineups for comedy shows.
Yet there are men who consistently push back against those.
"When we started the group, some guys were taken aback ― they figured we're talking about them all day," explained Katie Compa, who co-moderated a private Facebook group, NYC Lady Comics, along with Selena Coppock. "That's only occasionally true."
Another common complaint from female comics is that male comics hit on them and then proceed to gaslight them about it. For example, in May, screenshots were posted online showing comedian Mike Faverman lashing out at a woman who gently declined his invitation to dinner, with him saying, "I know you're not out of my league in the least, please stop acting as if I wouldn't have a chance," and advising her to not be "an angry c**t." In other words, Faverman said he had just been joking and the woman was crazy for thinking he had actually been hitting on her.
Faverman apologized after screenshots of his offensive messages circulated online, but days later went back to suggesting on Twitter that women sometimes deserved the harassment they received.
HuffPost obtained additional screenshots of offensive messages Faverman sent to women, including him telling a woman there's no way a man would date her unless she provided oral sex to him regularly, asking a woman when he could pick her up from the pound, and saying a woman was exposing her body because no one cares about what she has to say, then asking her to get coffee.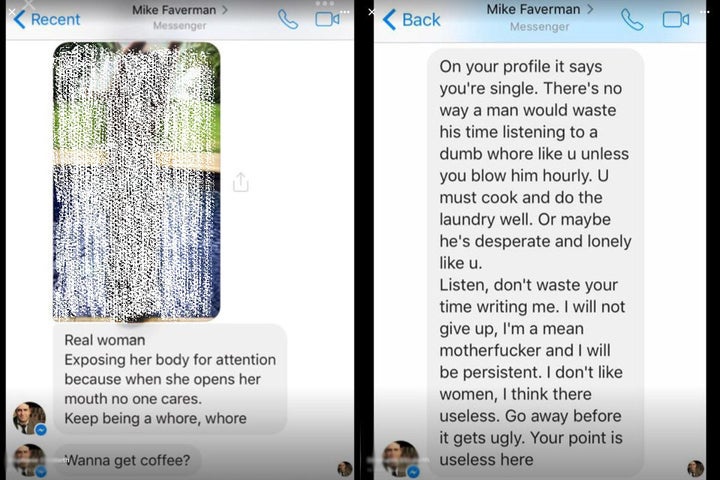 Several women characterized this attitude from male comedians as, "I want to have sex with you, unless you don't want to, in which case I'm joking."
"I think there's a list in every women-only group of creepy guys to avoid," Compa said.
Compa's group for women in New York City started as an outgrowth of occasional get-togethers for female comics. But when they witnessed male comics express sexist comments on Facebook, the private group for women became solace. For example, Compa remembers when UCB started hosting an open mic just for women, called "Open Michelle," some guys in the comedy scene voiced complaints like, "That's not the real world," or "Performing at an open mic that's all women is not going to make you a better comic."
When a lineup is made entirely of women, "it becomes a thing," said Claire Armstrong, who books comedy shows. "If it's all men on the bill, it's just a comedy show. If it's a lineup with all women on it, people start calling it a women's show."
"I think there's a list in every women-only group of creepy guys to avoid.""
Kim Dinaro runs a regular all-women show in Brooklyn called Left Breast Comedy Hour. She's heard a few men complain about how feminist the show is, like one who insisted "if he went up there and talked about how women were awful, it wouldn't be tolerated." It's an argument akin to saying "all lives matter," Dinaro said; it's not helpful. What was helpful for Dinaro, she said, was a private group like NYC Lady Comics, where she could ask for advice on how to deal with that criticism and "navigate this difficult world of being the minority in comedy."
These groups helped start to turn the tide in the past few years, Compa argued, because more women's stories can be heard and validated. They became digital "safe spaces" for women in the industry to talk through how to deal with personal issues like assault or harassment, as well as ask basic questions like whether it's worth joining the Screen Actors Guild.
Yet nothing online is truly private. The same weekend the allegations against Glaser surfaced on Facebook, NYC Lady Comics shut down after someone shared a screenshot of comments made within the forum, seemingly in real time, with a comedian who has a large following online. It wasn't the first time someone leaked screenshots in the five years that group was active, so the administrators decided to close it down entirely.
However, even if one group shuts down, Anneken insists that these private forums aren't going away entirely.
"They exist because women can't depend on male allies to back them up," Anneken said. "The reason there are leaks are so that women can curry favor with men who essentially don't want these groups to exist. If men in the comedy community and the world at large aren't willing to engage and hold each other accountable, we have no choice than to create and maintain these underground systems to keep ourselves safe."
Tyler Kingkade is a national reporter who covers sexual violence. You can reach him at tyler.kingkade@huffingtonpost.com, or find him on Twitter: @tylerkingkade.
Related Coverage:
Popular in the Community