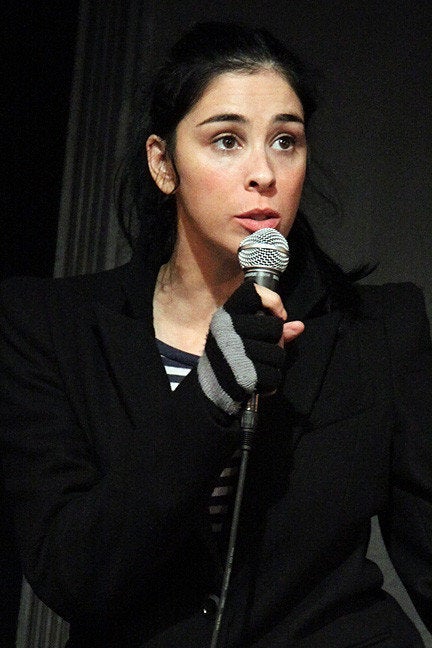 The opening night of the fourth Annual Women in Comedy Festival, saw three shows scattered across Cambridge begin simultaneously at 8 p.m. I squeezed my way into a sold out performance on the smallest of the night's stages, The Studio Theater at ImprovBoston.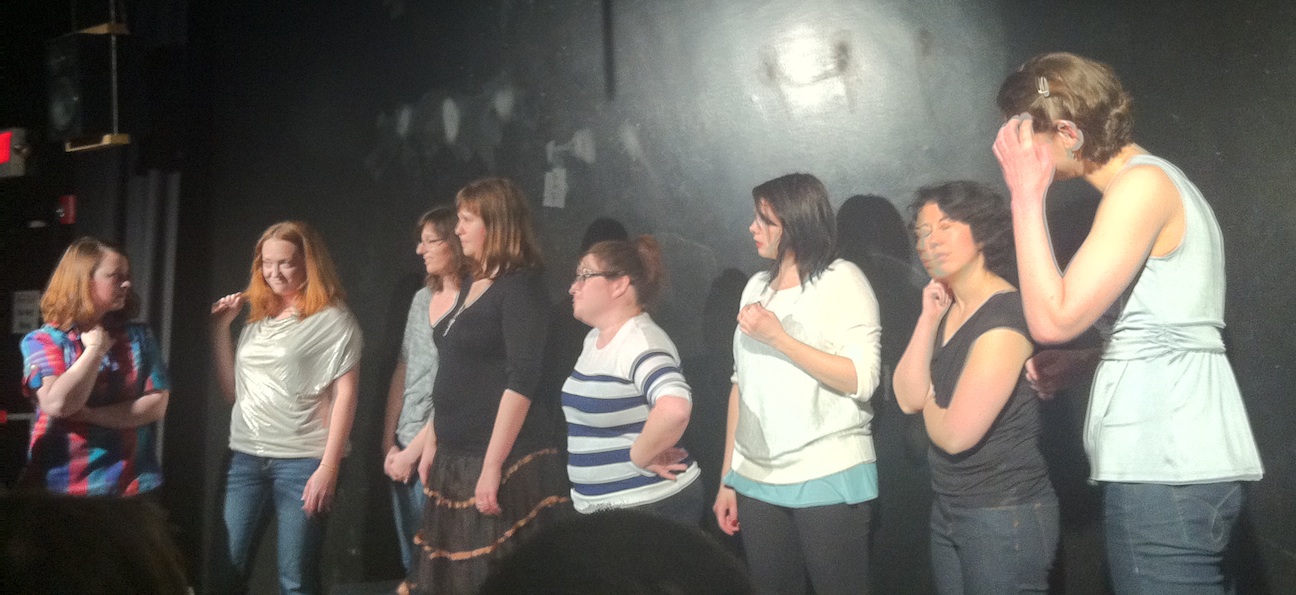 Eight of the nine members of Bearcats: Erin Petti, Christine Cuddy, Lori Strauss, Hannah Foell, Shannon Connolly, Jackie Arko, Maile Shoul and Sasha Goldberg. Missing: Rachel Klein.
"Bearcats, The Dowry and Harry Roasts America, Hosted by Raj Sivaraman" promised a bit of improv, a bit of sketch comedy, a bit of stand up and a satirical news show, which sounded to me like the perfect way to ease in to a five-day festival. The room is a very close space, and they've added a black box in the corner to serve as the performers' "wing" since I was there last, which makes it seem even smaller. Couple that with the tech requirements -- a professional camera set-up in the back and two techs/producers sitting at the board -- and fitting 35 audience members and four acts into the room seemed like a stretch, but it worked.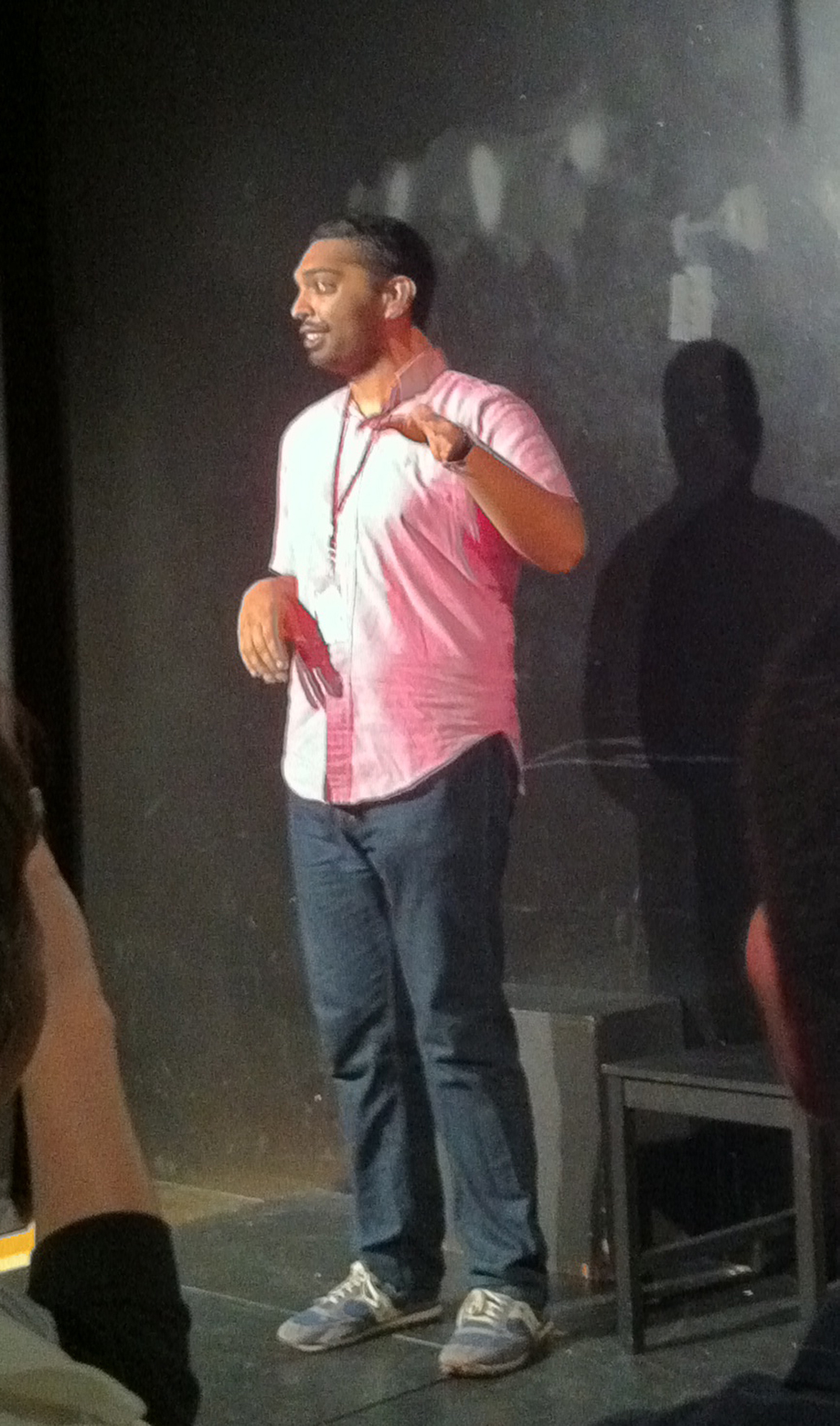 Raj Sivaraman hosts the opening night show of the Women in Comedy Festival in The Studio Theater at ImprovBoston.

Raj Sivaraman handled the hosting duties and opened the show as close to its start time as I've seen a comedy show go on. I haven't seen Raj since we were in a sketch group together years ago, and I've never seen his stand-up act, so I was looking forward to this. He opened with the perfunctory reference to a man being onstage and hosting a show the first night of a women's comedy festival and sold the idea that they were throwing him a bone by being just awkward enough for it to work. He then went into some of his act, which is a combination of smart musings about his daily life and even smarter scientific dissections of popular fast food items. Sivaraman is a scientist by trade, so I trust his read on the Taco Bell website's FAQs completely. His set was quick and punchy and, like his patter between acts, kept the show's momentum going well.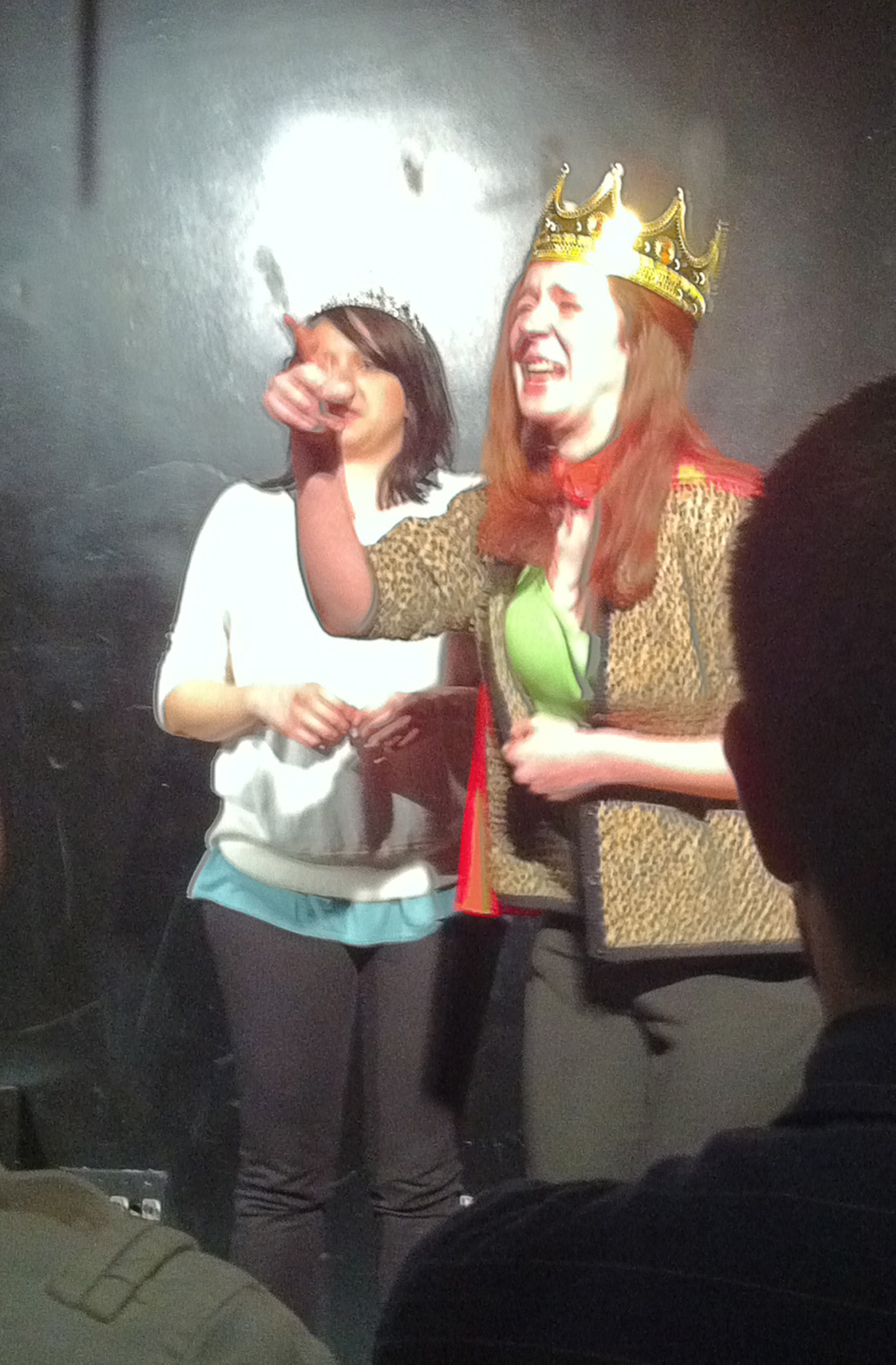 The Dowry's Laura Clark and Jackie Arko share something disgusting with the audience.
The Dowry took the stage next with selections from the sketch show they've been performing on Fridays for a two-month run that began March 2, "500 Days 'Til Summer." The group has been one of the more cohesive sketch troupes in the area for the past few years, and their writing has always been very strong. They know each other's styles and play well together. I assumed their show would include references to The Hunger Games and it was a given that I wouldn't understand most of those. I didn't expect them to come out for their first sketch dressed as a turtle and a ninja turtle. Why going back to the '80s and '90s makes pop cultural references more accessible than current ones is something I'm not sure I'm ready to delve into, but the entire audience got it immediately. One of the brilliant things about The Dowry is that their references -- and yes, they did cover Hunger Games -- involve more than standard one-note pandering to a franchise-obsessed audience. I haven't read or seen any of the Twilight books or seen any of the movies, but they compared the two big franchises in such a way that it was funny without knowing the source material. What The Dowry excels at is poking fun at the popular intake of pop culture. This is much harder to do than it sounds, and they do it well.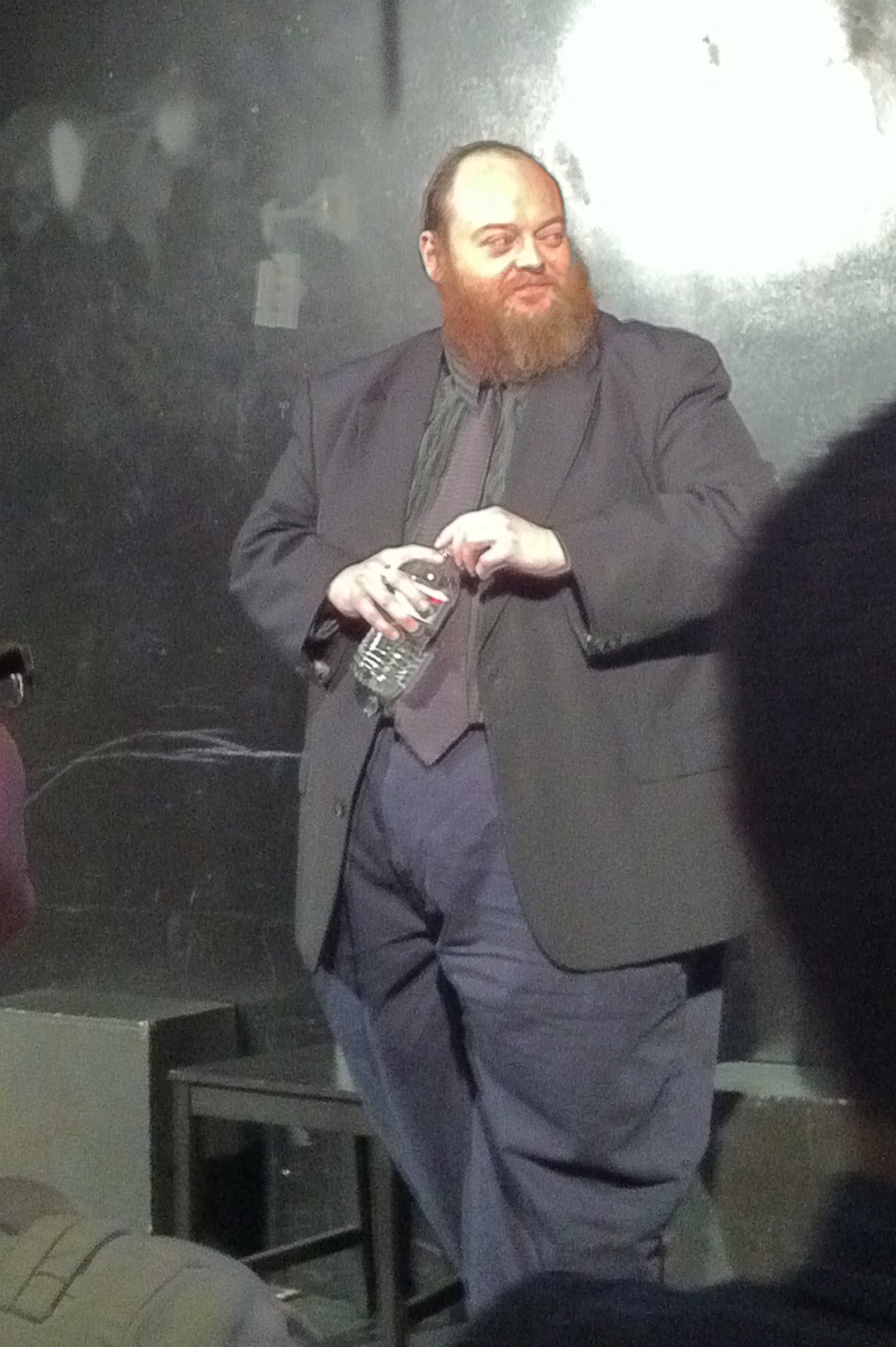 Harry Gordon hosts his roast of the news and current events, and helpfully introduces the topic of his beard so the audience doesn't have to wonder.
Following the sketch portion of the evening was "Harry Roasts America: Am I Right, Ladies?" edition. The show is both performed live and broadcast later on local access TV. Host Harry Gordon and producer Ryan Douglass were part of Ian Brownell and JR Strauss's sadly defunct Boston News Net, and Harry Roasts is comedy in the same high-gloss vein with slickly professional production values. That said, I'll probably never know if the technical difficulties at the top of the set were scripted or not, and I'm okay with that kind of ignorance.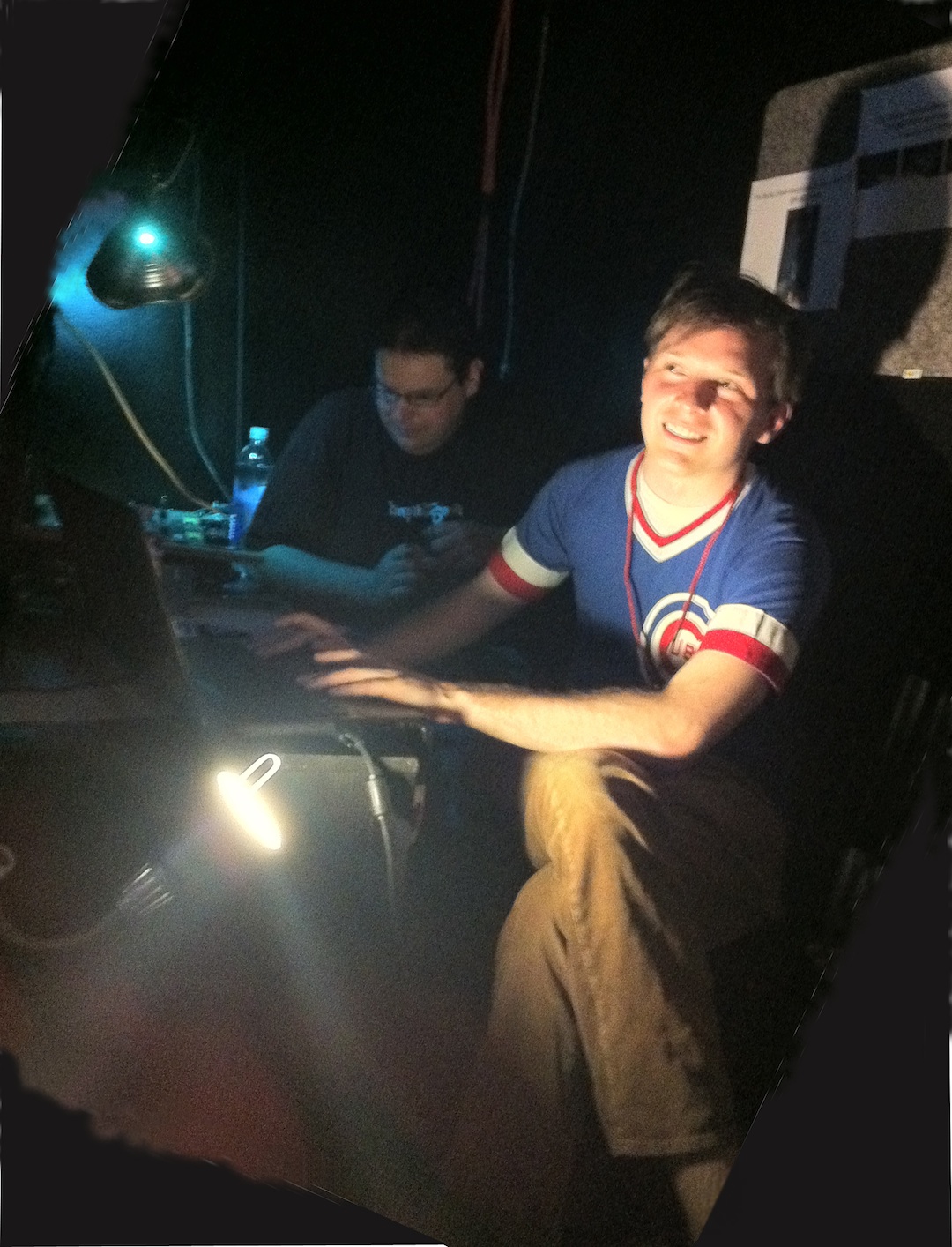 Harry Roasts America producer Ryan Douglass performs from the tech board in the theater's corner.
Harry Gordon has a masterful stage presence. The thing about Harry Gordon is that he never looks like he should be as confident onstage as he is. He is a constant surprise and delight to watch. Ryan Douglass plays well as his comedic foil who beyond performing the "loveable screw up" character also gets the chance to turn the screws. On top of that, there's the very smart skewering of the news of the day. There is an entire generation out there that considers The Daily Show and The Colbert Report to be legitimate news sources. This is the local news source that should be added to their DVRs.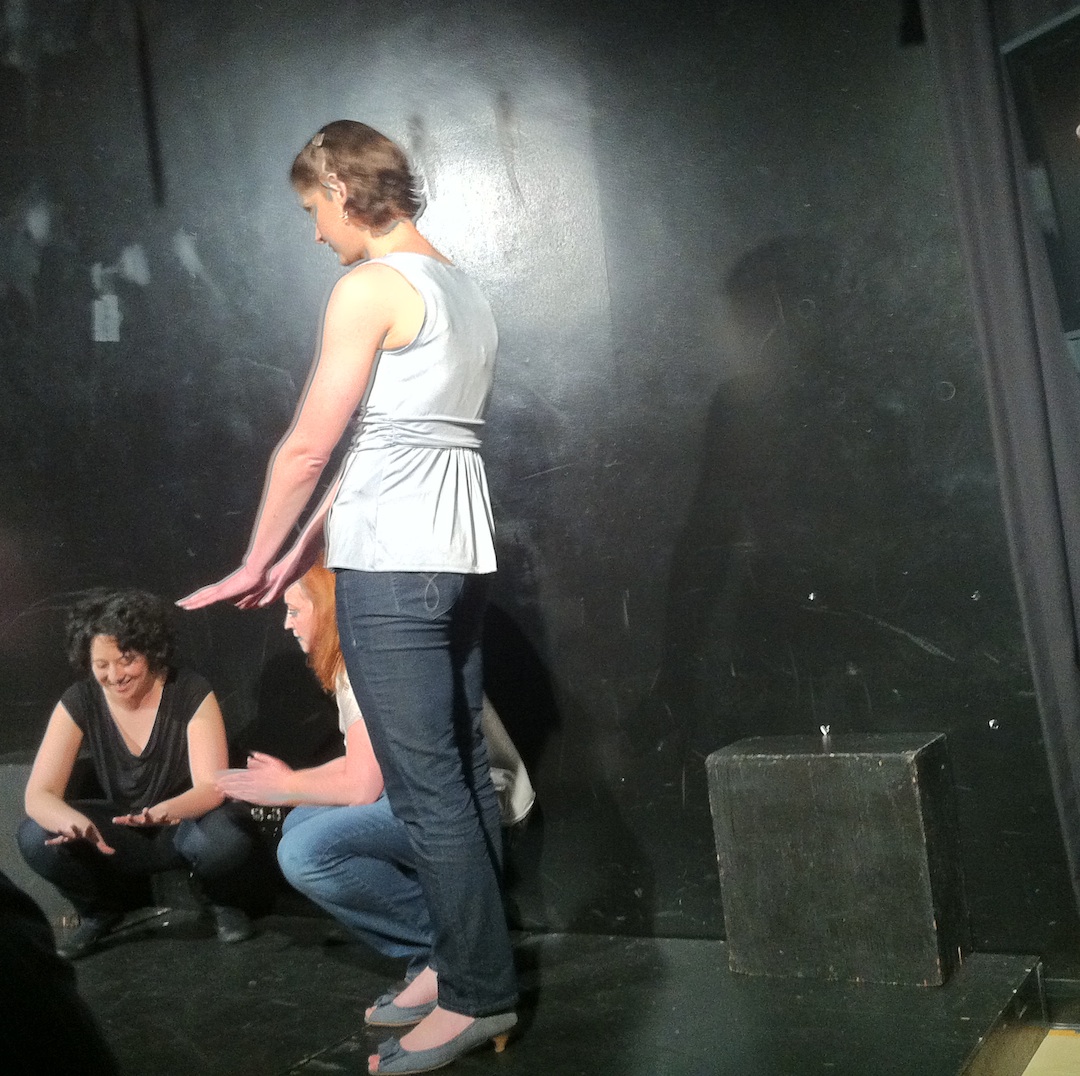 Bearcats' Maile Shoul, Christine Cuddy and Sasha Goldberg performing a Harold.
Closing out the night was the all-female improve troupe Bearcats, made up of nine outstanding members from all of ImprovBoston's improve troupes. As host Sivaraman put it, they're like Heart. The group performs multiple styles of improve, and tonight it was the Harold. Harolds run the risk of being too long if not done well. Bearcats seemed very comfortable playing with each other, and the payoff was an engaging, witty show with some well-timed call backs. It's not always easy to get a sketch or stand-up audience to pay attention for an entire Harold, and Bearcats is to be applauded for taking their audience along with them in their fun.
The four acts of the night fit well together in a space that at first threatened to be suffocating. Judging by the audience reaction, at the end of night one the Women in Comedy Festival was off to a raucously good start.
Liz McKeon is the Chief Editor for the Women in Comedy Festival.
Calling all HuffPost superfans!
Sign up for membership to become a founding member and help shape HuffPost's next chapter