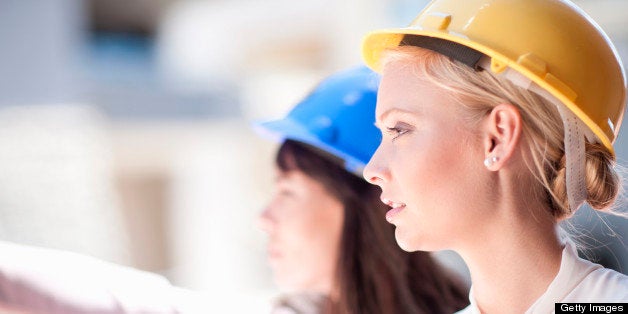 Hard Hats. Strong Women. Building the Future.
Follow our blog to hear the stories of women working in construction in New York City as we ask 20 questions to women working in construction.

Mary Eiben, Journeyman/Wirewoman, IBEW Local 3 Electrician
What is your trade?
Electrician
What was your first job in your trade?
I worked as an apprentice for Forest Electric in midtown Manhattan. I slung BX while we roughed out the floors.
What is your current job?
I am a Journeyman/Wirewoman building out street-level storefronts in a Manhattan high rise. We are also relocating the building manager's office to the basement.
What job do you want in the future?
I just want to be a working electrician for the rest of my life.
Are you in a union? What is the best part of being in a union?
I am in IBEW Local Union #3. The best part of being in my union is I make exactly as much as the men in my trade. Local 3 also has a strong women's group -- I need my sistas!
Why did you choose this trade? What led you to this trade? When did you realize you wanted to work in this trade?
I worked in an office for 15 years and really needed a much more physical job. I was aiming for being a train conductor when I found a flier for NEW. I went through the training at age 48. My brother Kurt is a carpenter and he suggested I avoid THAT trade (due to my age) and become an electrician.
Is there someone in particular in your life that led you to this career?
When my father died and I lost my office job three months later, I decided I was never sitting in a chair for a living again. Working with my brother Kurt to renovate the family home made me very happy! So I began to believe I could do this kind of work because of him.
Who inspires you?
There are so many sisters in Local 3 who have been working in the trades for 20+ years, and each one is more supportive than the next. They paved the path I am walking on and I thank them every day.
What has been the most surprising part of being a woman working in a nontraditional career?
How accepted I am by my co-workers. Many people outside my trade might be surprised but my brothers and a lot of men in the other trades seem to groove on working with a woman. There's still a lot of prejudice, but there's a lot of support too.
What is your favorite part of your career?
I get a charge out of walking along a NYC street with a 12-foot ladder or a bundle of 10-foot pipe on my shoulder and my hardhat on, showing everybody that women do this work, too.
What is your most memorable moment working in your trade?
Maybe it was that time I was trapped in an interstitial space on Top of The Rock during a thunder storm. Maybe it was working on that scaffolding, pulling the wires to control the alamac that would take us up the outside of the building to the 42nd floor to work every day. Maybe it was waiting on the platform outside the 42nd floor (or the roof!) for a ride to street level to unload a truck. Maybe it was working downtown after Superstorm Sandy to put the Verizon Building back on line. I can't choose!
What is the best company you have worked for?
I don't actually work for a company, I work for the union. We have a lot of fine contractors hiring out of our hall. I am proud to be part of such a professional group of folks.
What is your favorite project you have worked on?
I would have to say it was that alamac job at 1166 6th Avenue. There's nothing like the view of Manhattan from 42 stories up on the outside of a building.
What is the biggest challenge of being a woman working in your trade?
When I struggle even a tiny bit, male partners want to take the tools out of my hands and do the work for me. I have to be allowed to struggle and figure out how a person my size can do the job.
What is the biggest change you have seen in the field since you started?
I didn't start all that long ago, but I think I see more women in all the trades.
What is your favorite tool?
I can't get through the day without my side-cutters (linesmen's pliers) so I will choose them. But I also love cordless drills and chipping guns and screwdrivers (I call the big one Bertha) and lump hammers.
What is your favorite hard hat sticker?
I try to mark out my hardhat with things men wouldn't wear, like silver and gold stars during the holidays.
What is your most valuable certification? What was the most challenging?
Rigging was definitely the most challenging, as we had to use only arm strength to pull ourselves up a wall and onto the roof of a 2-story building. The most valuable is my lockout-tag out safety certification. That one could save lives.
What would surprise us about you?
This is my fourth career and only one of them was "traditional female work" in an office. I worked as a TV news field camera person, as a motion picture camera person, as a marketing manager for architects, and now as an electrician. Most people are also surprised to learn that I am 55, although I never hide it and think I look 55.
Calling all HuffPost superfans!
Sign up for membership to become a founding member and help shape HuffPost's next chapter