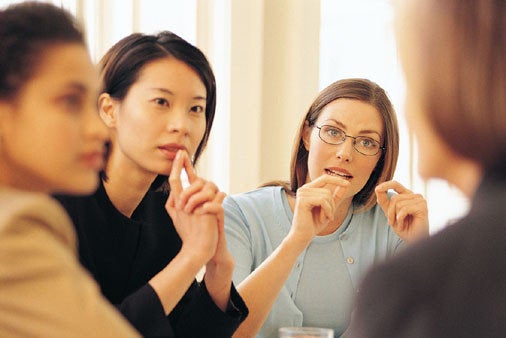 Corporations play a significant role in the structure of the economy and how we conduct business. Today, corporations are involved in every aspect of our lives, including our entertainment, transportation, food and financial decisions. However, if you read the names of the top executives for many of these companies, it becomes clear that something is missing -- women. Women are significantly under-represented in senior management for many of the most successful companies.
Although women are making inroads in lower- and middle-management positions, they have been unable to reach the heights of men with similar education and experience in their fields. Research shows that even when women are represented in lower-level management positions throughout a company, this does not translate to the C-suite level. In 2010, women made up 47 percent of the workforce, comprising 52 percent of management and professional positions. However, women only held 14 percent of executive officer positions at Fortune 500 companies and only three percent of CEO positions.
Women of color are faring even worse. According to a report released by Catalyst, a research firm focused on expanding opportunities for women in business, 37 percent of African-American women saw opportunities for advancement to senior management positions decline, in contrast to Latinas and Asian women, who believed their opportunities were slightly increasing. Some of the barriers African-American women feel they face in business include more frequent questioning of their credibility and authority, a lack of institutional support and exclusion from informal networks.
So why aren't women advancing to senior leadership positions? And what needs to happen to allow more women and women of color to rise to the top management positions in the world's most successful corporations?
I believe one solution is to start by speaking the language of business -- profits. What many companies fail to realize is that investing in women is good for the bottom line. Companies with the highest representation of women on their top management teams perform better financially than companies with the lowest representation. Based on research performed by Catalyst on more than 350 Fortune 500 companies, the businesses with the highest women's representation on their top management teams experienced a higher ROI than the companies with lower representation.
Worldwide, women are also an increasing demographic, poised to become one of the largest emerging markets for businesses. More than solely focusing on women as consumers, however, corporations should hire women in senior positions to include women's perspectives in decision-making for this growing demographic. Investing in women can only strengthen a corporation's understanding of women consumers and further expand profits.
Support by corporations to foster women's leadership is needed now more than ever. As the recession continues, workers -- especially women who might once have strived for senior positions -- are re-evaluating their corporate careers and opting to open their own businesses or pursue careers in other work environments. Corporations are witnessing a drain on talent which could be challenging to overcome if no action is taken to address the problem.
Companies need to examine the structural issues that still prevent women from advancing at work. Often women receive less specialized development than their male counterparts in the form of access to high-potential groups and internal networks. Women also tend to receive less support than men during vital transitions, such as a promotion or new role, when it is most critical.
In an effort to combat some of the issues preventing women from reaching senior leadership positions, corporations should consider implementing formal initiatives to support women and women of color in their efforts to secure leadership positions. Some of these include:
• Establishing a formal succession plan. Organizations that make formal plans to replace senior staff have more women in senior positions.
• Give women equal access to formal training and other growth opportunities.
• Provide women with mentors to help encourage them to proactively seek opportunities and expand their experience levels.
• Make human resource policies more family-friendly and supportive to women.
The bottom line is that corporations need to change to provide equal access and opportunities to all employees, regardless of race or gender. I am calling on each of you to promote change within your own work environments by challenging current practices preventing women from advancing to senior-level positions. Increasing the number of women in leadership positions in corporate America not only makes good moral sense, but good business sense as well.
Calling all HuffPost superfans!
Sign up for membership to become a founding member and help shape HuffPost's next chapter