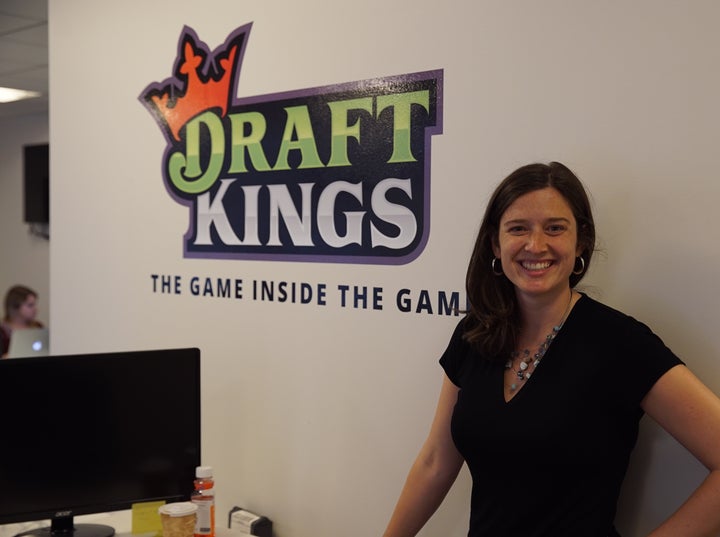 Sometimes it takes being in the right place at the right time to catapult your career. For Jackie Booth, Director of Product and Analytics at DraftKings, that "right place" was Vistaprint — where she worked for Paul Liberman, then Senior Manager of Analytics and current co-founder of DraftKings. In fact, Booth was working at Vistaprint with all three DraftKings co-founders – Matt Kalish, Jason Robins, and Liberman – when they left the company to start DraftKings.
"I knew when they left what they were going to build. They launched a few months after they left and I was one of the first registrants," Booth said. "Once they were ready to build their analytics team, Paul reached out. They knew I was open to new opportunities and pushing the boundaries on finding what was next so I think that helped later on."
Thanks to the launch of this Women in Fantasy Sports series, Jackie and I connected to share her story about being the 34th employee at DraftKings and her ride throughout the fantasy sports start-up thus far.
Tell me about your relationship with fantasy sports. How did it all begin?
My brother set up a family fantasy league because he was trying to get his then girlfriend (now wife) to let him watch football all day on Sundays. This started in 2010 so I was a senior in college. Since then, its become a family tradition and, as our family has grown and people have gotten married, it's become a "welcome to the family" fantasy football league.
I think fantasy football for my family has been a really fun social talking point. It gets us to call each other every Sunday and talk about what's happening. My mom, who has never been a sports watcher, now spends Sunday mornings reading about players and injuries and who to pick. I come from a very competitive household and we take our competitions - whatever they might be - very seriously. We get a trophy and, every year for Christmas, one of the gifts is opening the trophy and [the champion] gets to put their name on the it. I'm the reigning champion this past football season.
You were the 34th employee to join DraftKings. What was the atmosphere like at that stage? How has it changed since then?
When I first started, we were in a tiny office just up the street from where we are now. The analytics team was crammed in the same room with the recruiting team and we all had mini tables (I wouldn't call them desks). Jason Robins, our CEO, would come in and ask what we were working on and ask "what would you think about this or that". It was just an energetic vibe; everyone was so passionate about fantasy. In general, DraftKings has such unique energy unlike anywhere I've worked – both passion about fantasy and growing this new company within tech.
As an analyst back then, I had a lot of stress trying to do 20 things at once just to make sure we were covering all our bases and, as you build out your team, you have more stability. [Now that we've grown] I don't work on ten projects anymore, but I work on three really well and know the ins and outs that you couldn't do when you're really small and scrappy. As you grow, your scope narrows in a good way, and you can focus on where your expertise lies. Now we have about 350 employees who can scale and support our product and users in a much better way.
Was it scary moving to a startup, coming from an established brand like Vistaprint?
You know, my mom probably thinks so; but not for me. I've always been excited by new adventures and opportunities and trying something new. If worst case it didn't work out, that would be a bummer, but then you're off to the next adventure. I would rather take the risk and see what happens then sit on the bench and not take the opportunity.
My understanding is that the merger is pending FTC approval. We're continuing with business as usual so pending the outcome, we'll move forward accordingly. I'm looking forward to the opportunity of what a merged company could be. It would bring together shared talent, technology, and industry relationships that would help us advance the fantasy sports space and better serve players and fans.
We were able to do so much more from a depth and breadth and analytics perspective once we grew from 34 to 350 people and I think the merger would allow for further growth and innovation in the fantasy sports industry. When you bring together two companies so passionate about the industry and the products and bringing more services to our users, we can come together to try to do something better together.
What would you describe as one of your greatest moments working in the industry thus far?
One of the products I've been working on for the last year is an app called DK Live. I came in and expanded my role from analytics to taking on products. We started the app in early July and submitted for app approval from Apple right before NFL Kick Off. We had a whole marketing push planned if and when it got approved. Earlier that morning [of Week 1] we were like "Oh it's not going to get approved."
The app ended up getting approved at 1:07pm [the Sunday of Week One] and we just flipped the switch and "Ok marketing go" and we had a great first day for the app. It was definitely a rollercoaster but a fun one. In that moment, everything we've been working on for months and trying to get this product up in time for NFL Kick Off and to get approval at 1:07pm on Sunday was an exciting moment in my career and at DraftKings.
Did you always have plans on working in the fantasy sports industry?
I don't think so. I pursued a career in analytics and product and I have a passion for building and growing a company. I love the idea of making change and making experiences better for users. I love the entrepreneurial spirit. When I graduated, I wanted to get experience in tech to set myself up to offer a lot of different skills. For me, working within the fantasy sports industry was the cherry on top.
What are some of the challenges you've faced being a woman in a male-dominated industry?
I think those challenges are in-line with what you would see in the tech and sports industries as well. I grew up with two older brothers and went to school for engineering and worked in tech so, in a way, I feel like I've always been in a male-dominated environment.
I believe if you have good ideas and credibility and solid foundation in what you're doing or saying, you'll earn the respect of your colleagues. You just have to be confident in yourself and what you can bring to the table in this industry, or any industry.
How do you see fantasy sports evolving in the next 5 years? Do you have any goals for the industry?
There's been so much transformation in daily fantasy sports (DFS) and fantasy in the last five years and I'm excited to see what the next five years will bring. My first five years was building a foundation and a data-driven mentality but then last year I took on an opportunity to evolve what DraftKings is as a business.
I work on a team called New Media and we operate a business within the business to evolve DraftKings from a DFS company into a sports entertainment company. When I think about DraftKings and the fantasy sports market, based on what we're building, I expect there will be big changes in fantasy and basic sports consumption and where they intersect.
DraftKings has partnerships with some stadiums across the country and someone will get a home run and on the screen it'll show what that means in DFS DraftKings points. When we created DK Live, we provided consumers with fantasy relevant info as they're watching play-by-play and live scoring. We're bringing fantasy information right alongside everything that's happening in real time in the sports world. I'm excited to push the boundaries of who DraftKings is as a company but also what fantasy and consuming sports looks like in the next 5-10 years.
Do you have any goals for yourself in the next 5-10 years?
I would describe myself as a life planner. I like to know or think about what my life looks like one to two years out. But with DraftKings, its grown so quickly and I've gotten where I am by being open to new opportunities and being open to trying new things. I'm fortunate to be surrounded by the best of the best.
Instead of saying "In five years I'll be in this specific role" I want to be flexible and take on challenges as they come and say "Yes, let me try this new thing and see where it takes me." It's very different than saying "This is where I want to be" but it allows me to push my team and company so we can continue to grow and innovate.
Related
Popular in the Community