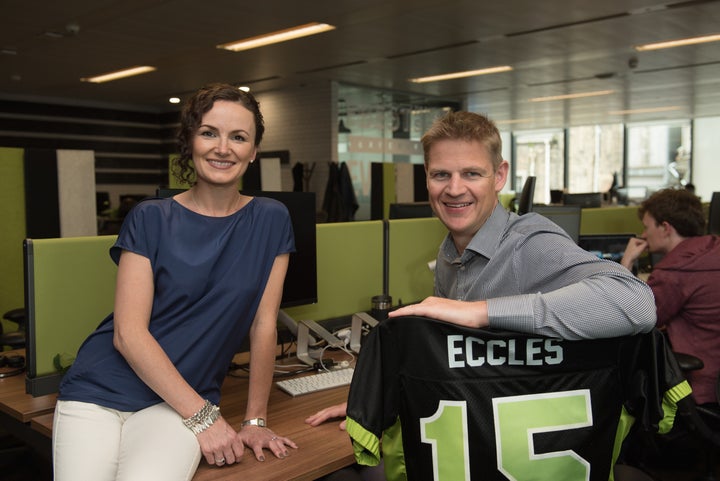 For most women throughout this series, fantasy sports or a love of football was the passion that drove them into their current career. For Lesley Eccles, her passions lied in building something that was meaningful and would have an impact. Those passions lead her and her co-founders into developing what is now known as FanDuel, the second largest daily fantasy sports (DFS) company in the industry.
"Having built FanDuel from the ground up, I suddenly love sitting down and watching football and I never thought I would," Eccles said. "I'm talking about this and this quarterback and following my scores on FanDuel. It's been an instant evolution. I think my parents are like, 'What happened to you?'"
In fact, none of the five co-founders of FanDuel (including Eccles' husband, Nigel) had a passion for football or any major professional sport when the idea first came about. The Scottish-originated startup was originally known as Hubdub, a news-prediction platform that let users bet with virtual money on the outcome of key events.
When the founders attempted to bring Hubdub to the United States, they found a niche market and a need for innovation in the fantasy sports industry instead – leading them to pivot Hubdub into FanDuel.
I had the chance to speak with Lesley Eccles about how five co-founders who had never played fantasy sports saw the opportunity to transform their technology in order to feed the needs of fantasy sports fans.
Tell me about your relationship with fantasy sports. How did it all begin? How did FanDuel begin?
I got interested in sports pretty late in life. I started out my career in a startup in Scotland in financial services and then moved to London and was a consultant for a few years – nothing to do with sports. It was only once we (Nigel and I) decided to set up a company ourselves in 2007 called Hubdub, still nothing with sports, but predictions that we started to find our way. We raised venture capital money and then, going into 2009, we realized it wasn't going to be a viable business.
Our first company had a lot of users and focused on the US market from the beginning. We felt like we were closely enough aligned with the US marketplace to understand it, we speak the same language; and would use Facebook and Craiglist to recruit people. Throughout that process, we met up with our customers in person and got to know them and got talking about sports, and one in particular was into fantasy football.
We started exploring it and realizing there wasn't a lot of innovation in the space at the time. None of us were practically into sports – Nigel played Shinty (Scottish sport) and one of our founders liked rugby. I had never been into sports but we started to learn more and more about fantasy sports in the US and were amazed at how passionate people are about it. We got involved in the Fantasy Sports Trade Association (FSTA) and we saw an opportunity in shortening the time it took to win your fantasy league, and so it grew from there.
So it wasn't necessarily your passion for fantasy sports that brought about FanDuel. Has that relationship changed? Do you participate in the games?
We play in a private league, just for the executive team and the board. I can't play in the public leagues but every year we have internal competitions and tally up competitions over the scores. I'm very competitive. I'm either all in or not doing it at all. We've done season-long competitions on Yahoo and CBS also. We pick a different platform each year.
With FanDuel's Friends Mode we were able to tally the scores over the course of the season. If you're in a season-long league and you don't play for a week you're kind of at a disadvantage. But [with Friends Mode] you can stop playing and still win because it takes your five best players and customizes it the way you want, without having the season long commitment that you do with other leagues.
Tell me about working with five co-founders, and one of them being your husband. How does it affect your relationship?
I think the important thing about when you start a business is that you have co-founders that you really trust and enjoy working with. We were very fortunate – the five of us – that we just gelled immediately from the beginning. It just worked. Five is pretty unusual for the number of founders of a company but all of us had our own expertise and brought something different to the table. We were all really into it together. Two of our cofounders are the godparents to one of our children.
Because [Nigel and I] are in it together, we understand the pressures at different time periods. During the summer, when it's really busy before football season we know what each other is going through. When we were going through the difficult times with the New York Attorney General, we could understand the pressures each of us was under. I feel like if it were one or other of us in the business, it would've been a lot tougher. We kind of put all our eggs in one basket. We had to make it work. We try to not talk about work at home, which is not easy. It's easier now than it's ever been but for many years it was pretty intense.
Did you ever think you'd have the legal issues you did?
I always knew that it would have to happen at some point. We tried to engage with various Senators or AGs prior to the second half of 2015 but there just wasn't the desire or interest to take us on. There wasn't an appetite at the time. We knew it would come, but we didn't expect it to come the way it did. This positive traction that we're seeing now is phenomenal [with the help of our Government Affairs division]. We've changed the law in 11 states now – it's very exciting. There's still a lot of good stuff to come out in the industry.
What would you describe as one of your greatest moments working in the industry thus far?
I think back over the course of FanDuel, there have been so many ups and downs, but I look back to the point where I finally allowed myself to believe that this was going to work. It was November of 2014 and we had just done our first partnership with a professional team, the Orlando Magic. We were invited as a founding team to come to Orlando to see all of the advertising and attend a game. As we stood in the stadium and saw the FanDuel logos everywhere I had to pinch myself and say "Ok this is actually working."
In my mind it was very touch-and-go of whether it was going to work. As an entrepreneur, you have to maintain optimism no matter what and stay calm no matter what and it was that point where I could finally say this was going to work. Obviously tough times came after that, but throughout that period, despite what was written in the press, I held onto the belief that things are going to work and it was a very fulfilling moment.
How do you see fantasy sports evolving in the next 5 years? Do you have any goals for the industry?
I think [with the potential merger with DraftKings] FTC willing and assuming that goes through, there's going to be a ton more innovation that's going to come through. We are just getting started.
We just launched MLB Mixup [a few months ago], which is our first foray into real innovation from the core format. Our current focus is doubling down on product innovation and I think we're going to see a lot more innovation even over the next two to three years. I also think the Friends Mode that we have, I think as more people play that that will grow. Between 30 and 40 percent of our user base plays it regularly and that's going to continue. We see the daily and season-long merging somewhat.
What are some of the challenges you've faced being a woman in a male-dominated industry?
It's like the double whammy – sports and technology. You know, it's not easy. I'm on the board and at any given meeting there are 20+ people in the room and I'm the only female. It's little things. I guess it's an unconscious bias. I'm very conscious not to be the person who goes to check whether lunch is ready or organizes everyone at dinner in the evening.
I remember one day ordering some more wine and they brought it and let my co-founder taste it, even though I ordered it. They assumed I was a production assistant or something. When I'm introduced to people in the media or a sports team, they've almost passed over me until they realize that I am the founder in the room and they'll do a double take because, again, I'm the only female in the room. I think it's important for people to realize that this unconscious bias is there and it's unnecessary. The first step is recognizing it. It probably doesn't help that I'm 5 foot 2 either.
What advice do you have for young women hoping to make it in the fantasy sport's industry?
I would say, anything's possible if you set your mind to it. My advice to anyone trying to break into an industry or wanting to set up his or her own business is that there are three things you need:
1. Passion – For me, it was passion to build something meaningful. If you have passion for fantasy sports, it gets you off to a good start.
2. Patience – It may not happen overnight.
3. Persistence – Don't ever give up. The number one killer of starting a new business is giving up. And I think the same can be said if you're someone young starting out in your career, you need to figure out the next step and don't give up until you get there.
If you are looking to build a business or start a company, you have to decide if this is something you really want to do. Because I think there are three priorities – your family, the startup, and your friends. And I think you can pick two of them – you can't casually do all three. And if you have kids, forget about it. You definitely can't do all three.
Do you have any goals for yourself in the next 5-10 years?
I never set goals for myself that far in advance. I'm looking at what I'm going to achieve in the next 12 months. I feel like I've learned so much from building FanDuel. Being an entrepreneur is tough at the best of times. When you've gone through what we've gone through, I want to take what I've learned and share it with other people whether it's young women getting started in their career path or startups in early stages that aren't quite there yet. I want to be able to help others.
I joined the boards of a couple of technology entrepreneurial organizations in the UK before I left and I want to bring that with me and have that sort of impact in the US. Early on, Nigel and I split the PR we did for the business geographically. He did all the US and I did all the UK and, having recently moved [to the US], I'm really keen to get more involved in the technology space over here as well.
Follow along with Lesley's journey at @LesleyEccles and learn more about FanDuel and their many product offerings at FanDuel.com
You can find other stories of the woman spearheading the growth of fantasy sports here.
Related
Popular in the Community