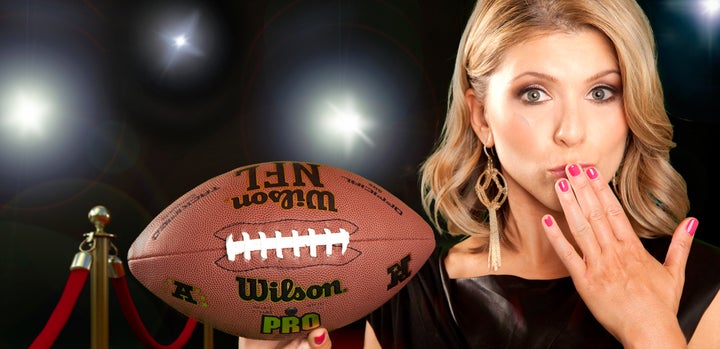 They say that your upbringing and environment has a huge impact on who you become. For Liz Loza, Fantasy Football analyst for Yahoo Fantasy and FSWA award-winner, her upbringing was the foundation for her career in fantasy sports. Raised by a single mom in Chicago, her grandfather was the one at home serving as the primary caregiver. According to Loza, this meant she learned everything a little boy would – from changing the oil in cars to learning to love sports.
"In third grade [my grandfather] was in charge of my Halloween costume," Loza explained, "All of the other girls wanted to be princesses, and I wanted to be Ryne Sandberg of the Chicago Cubs."
When her grandfather passed away her freshmen year of college (where she was attending Brown University), Loza was unable to get home in time to say goodbye. To compensate, Loza decided to watch every single NFL game.
"It started as a grieving process, as a way to remember him. And then it became a tradition," Loza said. "And soon enough, I went from a Bears fan to a football fan."
I had the honor of chatting with Liz Loza about her entrance into the fantasy football space at a time where the Internet and social media were just beginning to take shape.
What was your first experience with fantasy football specifically?
A few years [after my grandfather passed] I was dating this guy and he's in a fantasy football league and I have no idea what that is. He started asking me for advice and, that year, I helped him bring his team to a championship victory. So the next year, I wanted my own team, and I won. I ended up winning my first three years back to back. At that point, I looked at the landscape, and Stephania Bell was the only woman in the space, and not at the analyst level. There were zero women reporting and analyzing fantasy football. And so I saw the opportunity and I took advantage.
On your website you mention that you first got your claim to fame through your own personally branded site. How did the concept start?
I went head first. I started TheFantasyFootballGirl.com, launched a podcast, opened a Twitter account (back in 2009 when Twitter was just starting out) and I just dove in. I aimed to have a piece of content up [on the site] at least four days a week, in addition to my Twitter stream. At least two of those pieces of content were video blogs. I taught myself how to read off a "teleprompter" and would come up with topics based on what people were talking about and what was getting the most traffic. I taught myself how to edit on iMovie and my teleprompter was essentially a reflective piece of glass.
One of my video blogs was called As the League Turns, which would break down all the drama that happened the night before with my spin on it (taped on Mondays, went live on Tuesdays), and I had gifs that would go up as I spoke. The other blog was called Secret Weapon, which was a sleeper piece. I also had podcasts twice a week called X's and Y'x Podcast: The "His and Hers" Guide to Fantasy Football, which is still running.
Also, I would say yes to anybody's anything – podcast, writing – and those asks progressively got bigger and bigger. It just started as a snowball effect and I treated it like a full-time job because I was fortunate enough to be making enough money through acting to be able to.
Why do you think your site was able to become so successful?
The beauty about starting your own thing is, it can be whatever you want it to be. It evolved as I started. I never did any PR or put money into it. I also think a large part of my success came from the timing of it all. I joined Twitter in 2009 and used it as a networking tool, since I have an entertainment background; I understand the importance of relationships and networking. I had no problem reaching out to people [in the space] because I was confident in my work and my abilities.
People know when they're being networked and so I was only interested in building real relationships with people I found interesting. I wasn't trying to force anything that felt unnatural or because I wanted something from them. Authenticity is key, making sure the connections are rooted in something organic.
When did you leave TheFantasyFootballGirl.com?
When my son turned one, Scout hired me as a fantasy expert and [fantasy football] finally became my official, full-time job.
So you're married, you're a mom, you act, you write fantasy sports. How do you juggle it all? Where do your passions lie?
My baby was born December 13, so I was pregnant throughout the entire football season. When people ask how I manage [being a working mom] I say, well, I've never not been a working mom. My career took off when my baby was a one-year-old. I've grown accustomed to the juggling act and I just got use to it and figured it out.
Fantasy football is my full time job. I do still act when time allows and that will be anything from voice-over work (she's the voice of Pier 1 imports) or promo work on Rogue One, which I did five days before my second child was born. I was in between contractions while I was working. When I have time, I absolutely will lean into those acting opportunities, but fantasy football is my primary focus.
What advice do you have for young women hoping to make it in the sport's industry?
1. Never read the comments, because it doesn't' matter. I have a keychain on my key ring that says that. Forget both the accolades and the negatives. Just do you.
2. Never get drunk with a colleague. Have fun, but not too much fun. It's just different for you.
3. Know when to be quiet and when to be heard, which isn't the same thing as knowing when to talk. Don't let them talk over you. Know when to be heard and don't be afraid of that. At the same time, don't over talk. Know the difference and when each is necessary.
What are some of the challenges you've faced being a woman in a male-dominated industry?
Trying to figure out where you belong is a little bit tough because there are some people that want you to do the "hot tub fantasy stuff" and then, if you don't want to do that, you might be considered cold and calculating.
Just the basic double standards that exist. It was challenging [at first] becoming comfortable with not trying to fit into a type and just being who I am and hoping, if I was being authentic, it would resonate with people.
Have you noticed a difference in the industry from when you first started in 2009 to now?
I think our industry is incredibly open and there's always room for unique voices as the industry continues to evolve, like any infotainment sector. If you think what you have to say is good, and you're entertaining – and not just because your mom thinks you are – you should be able to carve out a niche for yourself. The space is booming right now. But just because you're good at fantasy doesn't mean you're going to be a good fantasy analyst. All the same, there are tons of football players that don't make good football analysts.
Do you have any goals for yourself or the industry in the next 5-10 years?
I'd like to see fantasy find its way more into the mainstream. ESPN has its Fantasy Focus Football podcast and they do what they do but I think there's room for a different sort of show and, if I'm being honest, I want an Emmy. I mean, why not me?
Learn from Liz Loza by following her on Twitter at @LizLoza_FF.
Read more stories of the women in fantasy sports here.
Note from the author: When I first published the article Top 5 Most Influential Women in Fantasy Football, I was inspired and excited to share these successful women's stories. The overwhelming support and positive feedback I received was unlike anything I could've imagined – kind notes from the women who made the story possible, young girls who were moved by the piece, and women and men alike who were eager to learn more. The feedback encouraged me to take the article one step further, with a "Women in Fantasy Sports" series. With each interview, I collected valuable life lessons and tips on how to enter the fantasy sports space from distinctly different yet equally inspiring women, each with a unique story to tell. I hope you all enjoy these stories as much as I enjoyed writing about them, and I thank the women who took the time out of their busy schedules to share these stories with me (and you).
Related
Popular in the Community