Note from the author: When I first published the article Top 5 Most Influential Women in Fantasy Football, I was inspired and excited to share these successful women's stories. The overwhelming support and positive feedback I received was unlike anything I could've imagined – kind notes from the women who made the story possible, young girls who were moved by the piece, and women and men alike who were eager to learn more. The feedback encouraged me to take the article one step further, with a "Women in Fantasy Sports" series. With each interview, I collected valuable life lessons and tips on how to enter the fantasy sports space from distinctly different yet equally inspiring women, each with a unique story to tell. I hope you all enjoy these stories as much as I enjoyed writing about them, and I thank the women who took the time out of their busy schedules to share these stories with me (and you).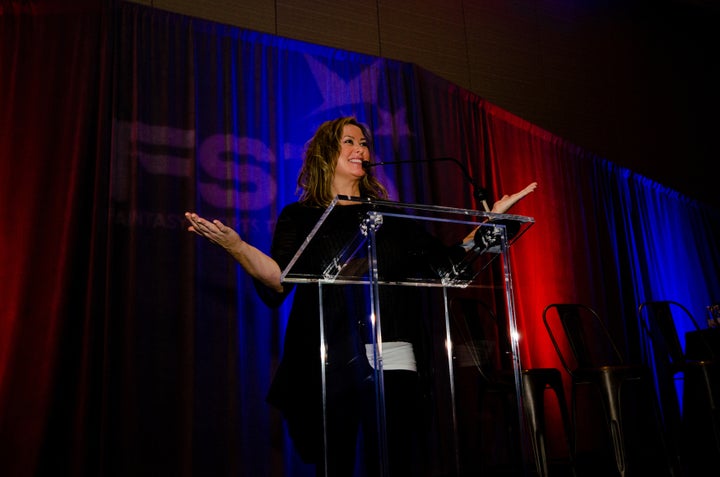 Megan Van Petten, Association Director at the Fantasy Sports Trade Association (FSTA) and Owner of Van Petten Group, was introduced to sports at a young age. She was the only girl among brothers, who involved her in all of their activities from Dungeons and Dragons to football.
Van Petten attributes growing up with brothers to helping her prepare for a male-dominated industry like fantasy sports. Although Van Petten is a proud Bears fan, she did not originally have goals of working in the sports world. Rather, her inspiration lies in the desire to serve her community.
"My passion has always been making a difference in the lives of my family, friends and community," Van Petten said. "When I first saw the job description for FSTA it was as if it was written for me. This is a network of people with passion for the work that they do. Working with our members to provide strategic and operational solutions for their businesses has been more exciting than I could have ever imagined."
I had the pleasure of speaking with Megan Van Petten (the real MVP) to further explore this passion and how her desire to serve landed her a position in the growing the fantasy sports industry.
You've been an Association Director of the FSTA since 2009. What's your favorite part about the role?
My favorite part of my role is working with our members. There are roughly 200 members in this 26 billion dollar industry. So, when someone is interested in joining, I'm the first person they talk to. I'm their first stop, the gatekeeper if you will, and we start to build a relationship from there.
I've worked for associations in the past with thousands of members and there's just no comparison to what you get on a personal level than what we have at the FSTA. Our members started their career in fantasy sports mostly because fantasy sports is their great love and it's great to get so many people together who have that in common.
Working with FSTA was your first job in the fantasy sports world, how did you end up in that role?
I started my career in publishing and association management, so when I found out about the Fantasy Sports Trade Association, I was intrigued. I was confident the expertise I achieved in publishing could transfer to FSTA. When I saw the job description and knew it was the job for me. Within 12 hours, I had emailed five of the board members saying, "I'm your girl."
It's funny, people are always romanced by the fact [that I work in the] fantasy sports industry, but I don't think that's the important part. The important part is that we had a club with 30 members just eight years ago and now we have 200. And we brought those 200 people into one of the top 10 fastest growing industries in the country.
How is the FSTA different than other associations?
The association is full of friendly competitors. The people in this industry are excited that the market space has grown. As I mentioned, this use to be a club of 30 members. And year after year we as an industry are in awe at how the industry is evolving. But regardless of how many members we reach, the nature of the competition will always dissolve itself.
There's something about the fantasy sports player profile -- 66% have a college degree, 51% make over $75,000 a year -- It isn't the type of people that you would think. My brother has been the commissioner of his league for over 25 years. The same people are still in it from when it started. They've gotten married together; they've graduated college together. These are best friends for life and they live for their draft.
As an industrial organizational psychologist, that's what I love about it. What kind of club is like that? There's real relationship building to be had in the industry. We've created this open communication where members can share advice and talk about their problems all for the sake of, and the love for, fantasy sports. Teams that play together, stay together.
How do you see fantasy sports evolving in the next five years?
I am sure the fantasy sports consumer will continue to grow; more people are playing every year (about 57.4 million fantasy players – almost a 50% increase from 2010). I also think the relationship with the stadiums will evolve. As stadiums get renovated, they're taking advantage of the opportunity to engage the fan experience with the stadium. I see a lot of potential for fantasy sports to eventually be incorporated into that fan experience.
What's different about your role today than it was eight years ago?
It's been such an honor to be a part of this industry and lead this association space. I remember the first phone call I had with every current member, when they were just intrigued about us and what we do. When we hold our annual summer and winter conferences, it feels like a family reunion. The difference is seeing hundreds of people who I've spoken to and shared stories with and watching them grow. It's rewarding to see all of them get together and interact with one another.
When you spend eight years at this, just like a draft or a league, you go through this journey together with your members and it's thrilling, just thrilling.
Tell me more about these annual conferences.
There is so much relationship building when it comes to the fantasy sports industry, and it really comes together at these conferences. There's rumors that people aren't going to trade shows or associations anymore. You hear about how "millennials don't want face-to-face interaction," but fantasy sports isn't like that, and it shows at the conferences. Attendance at the 2015 FSTA Winter Conference was up almost 25% from the 2014 FSTA Summer Conference. These conferences give people that opportunity to meet other fantasy players in person.
What's your favorite part of the conference?
The FSTA Experts League Live Draft on SiriusXM Radio. We do a baseball draft in the winter and a football draft in the summer. We've been hosting the draft for the eight years I've been a part of FSTA and it's an incredible event. We have experts come into play. It's one of Sirius XM's most repeated listenership - meaning people download it and listen to it over and over.
But the highlight for me is physically getting people in the room to participate in a draft. That was the only way to facilitate a draft a few years ago, and I think that's the best part about participating in drafts - the physical banter and comments. It's competitive and exciting and raw, especially when the best in the business are going head-to-head.
What advice do you have to young women hoping to make it in the sport's industry?
Stay in school and work hard. That's what I did – I worked really hard. I put myself through college; I studied while people were going out. With hard work comes great reward. I think they go hand in hand.
Find your purpose in life, get your education, get a great internship, and take advantage of every opportunity that comes your way.
What advice do you have on working in a primarily male-dominated industry, specifically?
Don't look into it. When I'm in a boardroom, I just see people. I don't look at color, religion, gender – that's the truth. I don't see 15 men and 1 lady; I see a board. Just keep working and maintain a good reputation. It's all the same.
People are people. A board doesn't intimidate me. Every member on it is just a person like you or me. Don't get in your own way. It's all inside your head. The industry is open, waiting for all men and women. Go, be one of them.
To learn more about FSTA, visit FSTA.org or follow them on Twitter.
You can learn more about how Van Petten helps associations grow by visiting VanPettenGroup.com
Related
Popular in the Community