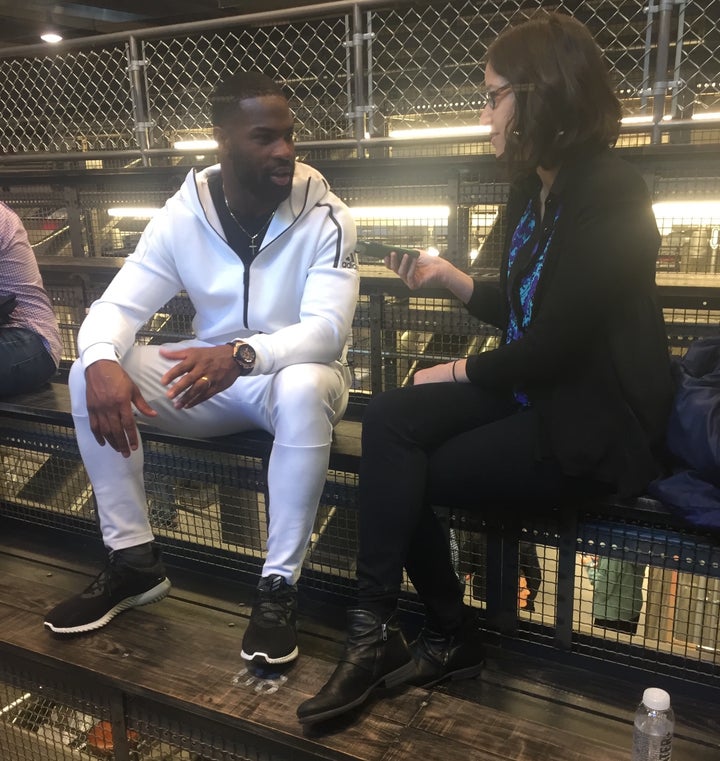 It all started with a father/son league. Seriously, Melissa Jacobs, founder of TheFootballGirl.com, first experienced fantasy football by serving as the ghost drafter for her stepfather in a father/son league while still in high school. And just like that, she was hooked.
"[As a young girl,] playing fantasy football in high school wasn't commonplace at the time," Jacobs said. "No one knew I was doing his picks and I loved it."
Out of college, Jacobs quickly climbed the ladder to become the youngest executive producer in the history of KNBR radio in San Francisco, covering the 49ers and the Raiders. It was there that ESPN hired her to move to Bristol, where she produced their national radio shows and went on to create the Talent Production department for the television side. After leaving ESPN in 2009, Jacobs started TheFootballGirl.com (TFG), named by Forbes as one of the top 100 websites for women.
In 2015, the site fell dormant while Jacobs went to work for SI.com full-time until earlier this year, when she left SI to revitalize TFG. Before the new brand goes live, I had the chance to speak with Melissa Jacobs on how her high-school ghost drafting evolved into a robust career and entrepreneurial venture within the fantasy sports space.
How did TheFootballGirl.com get started and how did it grow?
I had started the Talent Department at ESPN and had a lot of contacts in football. I always loved the NFL and, at the time, I think there were 42% women football fans and maybe 20% were playing fantasy. I thought of marketing to women in a football way and so I started the site when I left Bristol in 2009. At first, I thought I was going to do all fantasy because I was so into fantasy.
Really quickly I got lucky because espnW was starting up, and they asked me to be a contributor. I was six-months pregnant at the time and had just started the site and I didn't want to fold it so I did it on a part-time basis and morphed into their fantasy writer. I was writing fantasy columns, waiver wire articles, and I did that for a couple years and concurrently I saw that my favorite columnist at Pro Football Weekly, Pat Fitzmaurice, had been let go. I wrote him on Twitter "Sorry to see you go" and he messaged me thanking me and asking if I had anything he could do. So he's been writing for [TFG] ever since, he's housed his rankings on my site ever since. His following really helped me grow the fantasy arm of TFG, as did the onset of Twitter at the time.
When I got the job offer at SI [to become their NFL editor], I brought Pat onto SI with me. With that, TFG stayed dormant – until now.
For about a year I had really missed the creative autonomy of TheFootballGirl. SI is great and it's a high-profile brand and I felt like I had learned so much at SI that I wanted to apply to my own site. So now, I'm formulating this business plan and bigger picture things to grow TFG into a business. Through my time at SI and with espnW I've really cultivated my own voice in the last two years and my own ideas that weren't necessarily a great fit at SI but would be great for TheFootballGirl.
Is there anything else you're doing in addition to TheFootballGirl?
No, I'm 100% full-time with TFG. I'm not freelancing anywhere else and I know from experience you've got to put the time in. I feel, and maybe I'm wrong, but that we (TFG) have grown to the point that if we write something good, people will read it, without it coming from SI or the Guardian or what not. And I think there's a thirst out there for independent voices.
What would you describe as one of your greatest moments working in the industry thus far?
One, TheFootballGirl was an answer on Jeopardy. I didn't know about it, and out of nowhere I suddenly got a birage of texts. My mom watched it live, not even realizing what she was going to watch. It was the Tournament of Champions and it was really cool to have our site on there. We actually saw a pretty good traffic spike that night, and the contestant got the answer right too.
But, two, in terms of the effort I put forward, I would have to say [my greatest moment] was starting the Talent Department on ESPN. It was something that I pitched. I was young and still at a point where I was intimidated to go into executive offices and pitch these things to them. I had a proof of concept. It was in the infancy of social media and things like bringing on Chad Johnson after he signed started to go viral. They saw the effect and I created more jobs. Maybe that would've happened organically but the fact that I actually pitched it and handled the beginning stages was very cool.
What advice do you have for you women hoping to make it in the sport's industry?
There is no journalism school for fantasy or a set number of internships you need to have. Know your stuff, get free advice, get your work out there and know that you'll probably have to do some other stuff concurrently.
Be thick skinned and be persistent. Have the expectation that you'll get turned down for 30 jobs. It's super competitive, especially at the intern level. But if you're talented and can craft a story, you're going to find a role eventually.
What are some of the challenges you've faced being a woman in a male-dominated industry?
Still having to prove yourself and your knowledge. I still have to, after all this time. You still have to prove yourself from an X's and O's standpoint.
For 2017, I still get this a lot. I'll go on a radio show and they'll promote me as, "Women have opinions too! Women know football also!" Inherently as a woman I've had harassment on social media and I've already written on controversial topics. For the most part, I have a very thick skin about it but some things can still get to you.
Have you noticed a difference in the industry from when you first started in 2009 to now?
I see a lot more engagement. It's commonplace to talk about fantasy now. You meet somebody and they hear a lot of 'beginner' women getting into fantasy sports. Female participation has grown exponentially. Six years ago I'd be out in public and I'd say what I'd do and men would ask "Oh, who should I start?" and then now women are also asking those questions. They've become more entrenched in the culture.
Writer-wise, we see a lot more women fantasy writers. I think for some women there's a stigma and they want to feel like they're a journalist and fantasy doesn't always seem like that. It's not an outlier to be a woman and write about fantasy and that's really exciting. There's definitely still a lot of room for growth in terms of entry points for women, more so than men. So I think it's important for women to continue to encourage the participation and provide offerings that give fantasy content.
Do you have any goals for yourself in the next 5-10 years?
I have a lot of goals! I want to turn TheFootballGirl into a very robust website and increase the female participation and engagement. Even though we market to women, it still skews towards men. And there's going to be a lot more content on intersecting sports and politics or sports and parenting or sports and style but still presenting it in a way that's smart and interesting.
I want to normalize the female fan experience. I have plans with TheFootballGirl in growing a whole podcast network and distribution deals to provide a super unique view into the game that you wouldn't get elsewhere. I own the URL's TheBaseballGirl and TheBasketballGirl so I plan to eventually grow those too. I want to have a "TheSportGirl" empire.
Jacobs' work for both TFG and ESPN has been acknowledged by CNN, Sports Illustrated, The New York Times and The Washington Post, to name a few.
You can follow Melissa Jacob's on Twitter @TheFootballGirl and watch the brand evolve at TheFootballGirl.com.
Read more stories about women in fantasy sports here.
Related
Popular in the Community