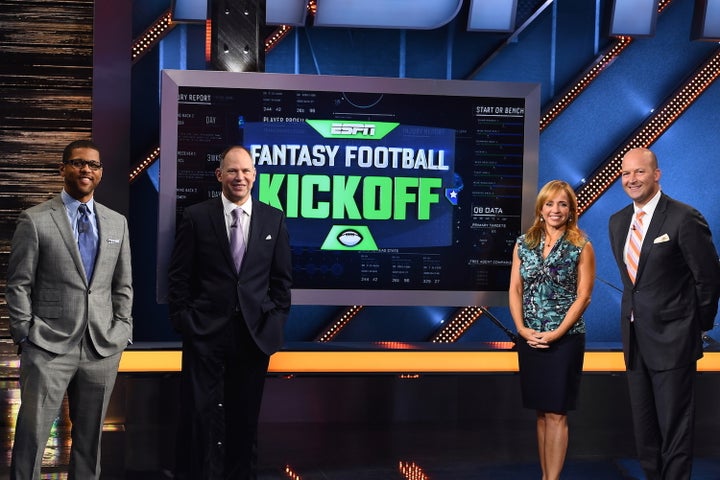 Stephania Bell, PT, OCS, CSCS, is a woman of many talents. But before 2007, being a fantasy sports commentator and injury analyst wasn't one of them. In fact, prior to 2007, Bell was living in California, working as a licensed physical therapist (PT) and board-certified orthopedic clinical specialist and teaching at the Kaiser Permanente Northern California Orthopedic Manual Physical Therapy Fellowship on the side. Her first experience with fantasy football was in the late 90s, when her colleagues invited her to join a co-ed league.
"I didn't really know what it was. I didn't get the concept," Bell explained. "The guys I worked with were always looking at box scores and getting either really happy or really upset and I was more fascinated with this than anything."
Once joining the league, Bell learned very quickly about the social aspect of fantasy football. At the time, no part of fantasy football was online – so the live draft opened Bell's eyes to what the season ahead had in store for her.
"We were all very competitive and had a bunch of creativity in our league. We had weekly payouts and smack talk, people took turns writing the power rankings for the league," Bell said. "It wasn't just sign up and you're done. And then I was hooked. That was my intro into [my fantasy football career]."
I had the opportunity to chat with Bell and learn more about how she was able to mold her skill set as a physical therapist into her current career path as a senior writer and injury analyst for ESPN.
Once you became interested in fantasy football, how did you decide you wanted to try to pursue a career in the industry?
People in my fantasy league were always asking me about injuries because I was a PT and my specialty was heavily focused on sports and athletes. So I would get a lot of questions about it and I started figuring out that this is something people need and want and there could be a place for me in providing injury analysis besides what was already available.
One of the guys in my league had started a draft board business and he had been going to the Fantasy Sports Trade Association (FSTA) meetings and suggested I attend one. At that time, they were very small with more of the mom and pop fantasy outlets and writers attending. I was one of maybe two or three women, and my friend would help me pitch my idea to people.
I got a lot of "Oh, that's interesting but nobody would ever pay you do that." And I didn't understand why. Trying to get my message across was tough and nobody really wanted to give me a spot. I don't think they bought it. I attended a few of the FSTA meetings before someone finally gave me a shot – KFFL – to contribute a section within somebody else's column.
How did KFFL help you get your name out there?
It was very tiny, but it was a spot. I don't think we had an appreciation for the Internet at the time, but some gambling websites started picking up my stuff and, at one point, the Buffalo Bills. By the time I went to the next FSTA meeting, Peter Schoenke from RotoWire approached me and asked me to come write for them. They offered to give me my own column and put me in their magazine and they wanted me to get into baseball too. Suddenly, I had a bigger platform and the opportunity to do another sport.
Were you able to make fantasy sports your full-time job at that point?
No. In the meantime I was still practicing PT and teaching in a doctoral program. I was not doing these columns for financial reward. The time I invested in doing it, it was a net-negative, but I could see it was gaining some ground. I had a feeling I could get to somewhere. That's when Fox Sports and ESPN started to have a presence at the FSTA meetings. At that time, Rotowire got a deal with Sirius XM and they brought me on the air.
Did you always have aspirations of being in the sports industry? Did you see injury analysis as a need for fans?
I had worked with football players as part of my practice. In college I worked in the training room but I didn't really have the goal of working with a team. If you're coming from an athletic training background that's certainly one of the environments in which you can work, but it wasn't necessarily a goal of mine.
I like helping people one on one. I was into the difficult cases; I love problem solving. I think the teaching and educating people on injuries, whether my patients or my students, I think that was the link to [my eventual role with ESPN], I could educate the public and sports fans. Sports fans are passionate and want to know what injuries mean to "their guys".
I could see these analyst roles developing, particularly after the OJ case. And you saw these people popping up, attorneys unrelated to the cases, being brought in as experts to provide insight into what's really going on with jury selection, etc. and I was like "Why aren't people doing that for injuries? People care about that too." And that's what really got me thinking that there's a need for it.
You've been at ESPN since 2007. What's kept you there over the last 10 years?
At first, I was given a six-month contract. We started the podcast; the online version was the first iteration of Fantasy Football Now. Then I got asked to do the NFL Draft, which was like a dream come true, and that kept me there. Then that rolled into baseball and then pretty soon it became obvious that they liked what I was doing and so did the audience. I wanted to do more – at the time I was still commuting from San Francisco to Bristol.
The thing about ESPN, what I could tell was going to match well with me was the fact that I get bored very easily. I need variety in my work. I like things that change constantly and, as hard as that can be sometimes, it meant you never knew what your days were going to be like and no one day was going to be like the next. There's no boredom in that. I felt like there was plenty of opportunity and I saw a place where I could lend my expertise to something and create that opportunity even within the company. I thought people might have a lot of resistance – I didn't come from TV or media – but I have to say people were really respected and supportive. They could tell I was serious about doing good work and were willing to help however they could. I had content expertise in my injury analysts but needed help navigating media and the mediums in which I was delivering content. I'm thankful I had a lot of helping hands along the way from within the organization.
What would you describe as one of your greatest moments working in the industry thus far?
When we won the Emmy for Fantasy Football Now in 2007 [for Outstanding New Approaches – Coverage]. We were fortunate enough to be in the building when that award was given out. It was after the first year of our show and it was my first year at ESPN. It was made in a studio with cameras and felt like a real TV show, but it was airing online, which was still extremely new at the time. Every week we questioned ourselves on if this was going to work. It was a live show and, while that sounds so commonplace now, it was just a crazy, progressive thing that we were doing at the time. To run a show that was a full two hours, it was like the little engine that could.
The format of digital media was so relatively new and this show was so groundbreaking and we were proud of it, but we also knew this was a little startup show. We had some competition from other digital shows but I don't think there was anything as lengthy as ours. I remember thinking "There's no way you come to this network, do this show, and you win an Emmy." Even when they said the winner, I thought they were saying another group that had a similar name as ours. We were scattered around the theatre and they put up a clip of our show on the screen when they said our name and I just remember feeling like this is so surreal that it started from just an idea, and we had only just gotten started.
What advice do you have for young women hoping to make it in the fantasy sport's industry?
I still think going to the FSTA meetings is productive. It's made up of a lot of wonderful people and it's the one time that everyone gathers and focuses on fantasy sports. Besides just saying, "I want to do this," it's important to understand the context of the industry and different ways to contribute. When you start talking to people [in the industry] you'll learn that there's a lot of diversity and a lot of ways to contribute with so many different platforms available.
There are also a lot of part time opportunities when you're first getting started. I remind people I was writing my column at a negative cost by pulling an all-nighter once a week, but it was that important to me to try it out. You need persistence for sure and are sure you're doing what you're passionate about. Honing in on what it is you're passionate about and what are the particular things that drive that passion are what will help lead you to where you want to go.
What are some of the challenges you've faced being a woman in a male-dominated industry?
I don't feel like I was held back or at a disadvantage. I think if anything it was an advantage because, in a room, you stood out. There are still people who don't think there's a place for women in sports in general. They don't find female commentators to have valid points because of their gender but that can exist potentially anywhere, and I don't think it's the overwhelming majority.
Whatever the criticism is, you have to develop a thick skin, particularly if you want to be in media. Stay focused on the goal and don't engage in things that aren't productive. I feel like if you have credibility and a skill set, that's going to win out every time.
If you're a woman who is interested in fantasy sports, knows the fantasy sports environment, knows the content, and has the ability to write or speak about it, that's ultimately going to dictate how well you do – not your gender. I don't worry about that very much. The door is open to women [in the industry] should they choose to pursue it.
How do you see fantasy sports evolving in the next 5 years? Do you have any goals for the industry?
At this stage in my career, the environment is so dynamic that I'm not sure I know. Things change so quickly that I almost don't want those goals to be restricted. The technology and the mediums have changed so much that it has shaped my vision for what we can do. I marvel at the things that are happening and the importance of having the ability to adapt and change and be flexible as technology evolves. It's hard sometimes to give up on the things you're use to and daunting to try to keep up with technology. Certainly in our own content we've benefitted from it.
As [ESPN] becomes global, we will need to meet the needs of the fantasy audience on a global level and I think that will get bigger. I hope we enhance the ability to make all fantasy sports attractive, beyond football. I went to a conference in Monaco recently and found a lot of popularity with fantasy soccer there. There are apps we can be involved in with so many different sports. I think that's where our goals and focus should be going forward.
Do you have any goals for yourself in the next 5-10 years?
My personal goals are continuing to expand my role in storytelling and features and the stories that educate as well as entertain. Whether that's in the world of fantasy sports, real sports, technology and sports, or sports science, it's the combination of education and entertainment that excites me. I want to provide storytelling on topics that are important at every level, especially youth sports. That gets to the heart of my passion.
In addition to Fantasy Football Now, which now airs on ESPN2 Sunday mornings from 11am to 1pm, the 2016 season was Bell's first as the daily co-host of ESPN Radio's weekday podcast Fantasy Focus Football alongside Matthew Berry and Field Yates.
Bell also regularly appears on Sports Centers and Fantasy Football Kickoff and contributes to NFL Insiders, NFL Live, Baseball Tonight, ESPN Radio and ESPN.com. You can follow some of her work here and follow her on Twitter at @Stephania_ESPN.
Learn more about the FSTA meetings in Association Director Megan Van Petten's story here.
Note from the author: When I first published the article Top 5 Most Influential Women in Fantasy Football, I was inspired and excited to share these successful women's stories. The overwhelming support and positive feedback I received was unlike anything I could've imagined – kind notes from the women who made the story possible, young girls who were moved by the piece, and women and men alike who were eager to learn more. The feedback encouraged me to take the article one step further, with a "Women in Fantasy Sports" series. With each interview, I collected valuable life lessons and tips on how to enter the fantasy sports space from distinctly different yet equally inspiring women, each with a unique story to tell. I hope you all enjoy these stories as much as I enjoyed writing about them, and I thank the women who took the time out of their busy schedules to share these stories with me (and you).
Related
Popular in the Community