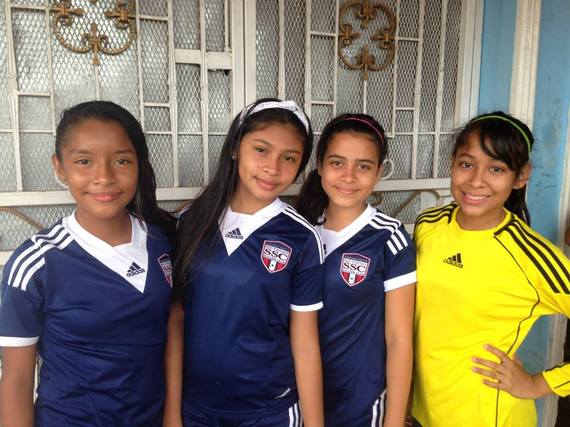 Following a FIFA Women's World Cup marred by a lawsuit over artificial turf, unequal prize money, and a corruption scandal, 2015 was on track to leave us with more questions than answers about what will come next to bridge these gaps. With females making up less than 1% of FIFA's voting members, change seemed unlikely.

Enter Moya Dodd. One of the rare women who has been part of the FIFA Executive Committee, Moya just released a powerful call to action with a compelling message not limited to those who watch, play, or support the world's game. She explains, "The world's most popular game influences society's norms like no other. If soccer is a haven of sexism, racism and corruption, it drags our world backward. If it becomes a showcase of inclusion, integrity and respect, it will create an immeasurable social and economic dividend of equity, tolerance and progress."

With a viewership of 24.3 million for the World Cup final this summer, it is clear the world is watching. A perfect storm can happen when a groundswell like the one created by the Women's World Cup is complemented by those in positions of power working from the top-down for the same outcome. It is time to translate this global mandate into measurable change.

As changemakers like Moya work at the highest levels, likewise seeds of change must be planted on fields all over the world. Make no mistake, this is not easily done. Social change is a long-term investment that requires patience, persistence, and an unwillingness to accept the status quo. It's a thousand "no's" for a handful of "yes's." Moya knows this better than anyone. She speaks of the 30% tipping point where women are no longer a "special interest group" but a valued, consistent part of the conversation. The same is true on the ground. Tokenism masquerades as progress, pointing to singular examples of teams, coaches, and events for women and girls. The hard work of getting to a tipping point takes years, yet token and short-term investments are by and large the norm.

When I read Moya's article and signed the petition for #WomenInFIFA, I had just returned from an afternoon on the field with our girls at Soccer Without Borders (SWB) Nicaragua. Here, we have been creating opportunities for girls ages 7-20 to play, advance in school, develop life-skills, and experience the powerful benefits of team. Our year-round program is the only girls-specific after-school program in a city of 120,000 people, with soccer and educational activities 6 days per week, 46 weeks per year. Moreover, it is the only program we know of with organized teams for girls under the age of 13 in the entire country. To get this far, we have invested eight years of conversations, revisions, trainings, support, successes, and failures. And there is still much more to be done.
In Nicaragua and across all of SWB programs, our staff members and volunteers are on the ground every day creating opportunities for girls from all cultural backgrounds to play, grow, and realize their inherent potential. Person by person, we transform what is typically viewed as a male space into one where girls hold equal respect and value. To bystanders, our girls' soccer programming may look like any other team: players cheering, coaches teaching, and goals being scored and saved. Each team, though, exists because we've addressed barriers to access, earned parent buy-in, advocated for equal facility space, challenged assumptions about girls' ability as athletes, and found solutions for innumerable versions of the word "no." Perhaps most importantly, we've invested in building the confidence of the girls themselves to publicly act outside of their norm. Along the way, here are some of the most important things we've learned:
Female coaches and role models are essential: When we first launched the Nicaragua program, we asked girls to name their favorite female soccer player. Of the 48 girls in attendance, none could name one and only one girl could name a female athlete in any sport. According to the Tucker Center, "perhaps more than any factor, gender norms influence the extent to which girls participate in or shun athletic activities." In other words, a girl is unlikely to become what she can't see.
Top-down and bottom-up efforts should be complementary: Over time, we have developed a strong relationship with the Nicaraguan Football Federation, so that our grassroots efforts are a complement to the overall national strategy. This not only provides a link to potential female athlete role models and opportunities at the national level, but also ensures that our programs are not viewed in competition with the federation's efforts. With women's soccer so persistently under-resourced at the federation level, community programs can help fill the gaps.
Teaching the sport is critical to retention: For girls with the most pronounced barriers, it is likely that their talent level when they first join will be low. Yet grassroots development programs targeting girls often emphasize life-skills, equity, and other non-soccer outcomes more than the sport itself. Girls are assigned less capable coaches, and may not be given access to all of the equipment they need to play safely and comfortably, most especially a sports bra. While off-field outcomes are incredibly valuable, the quality of sport instruction shouldn't be devalued as a result. In our experience, if a girl doesn't achieve basic competency, she is more likely to quit.
Our work has taught us that implementation and achievement of global goals is ultimately the work of local communities around the world. It is the collective belief that change can happen, led by individuals who won't take no for an answer. It is a decision made every day by individuals, families, communities, and countries to see the world not as it is, but as it could be. Please join us in signing the #WomenInFIFA petition and, this #GivingTuesday, consider supporting community programs who are working toward these goals on the ground every day.
Calling all HuffPost superfans!
Sign up for membership to become a founding member and help shape HuffPost's next chapter