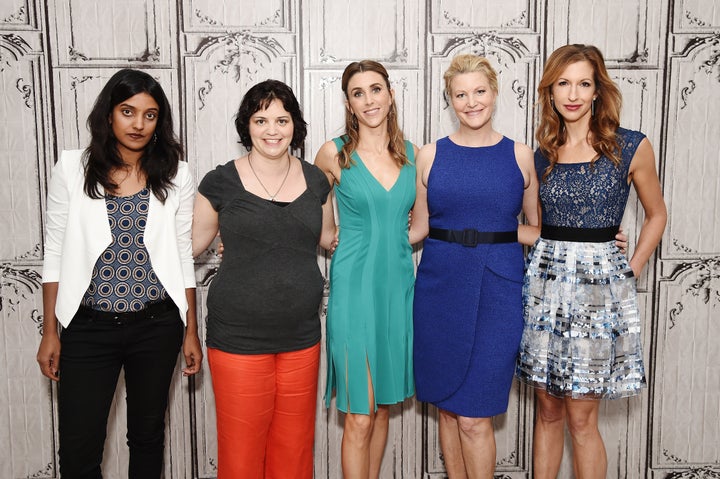 As Co-Founders of Broad Street Pictures, we have a mission to put more women in front of and behind the camera in the male-dominated independent film world with the hope of being the change we want to see.
As the Center for the Study of Women in Television and Film at San Diego State University found, overall, women's representation in key behind-the-scenes roles in independent film is stagnant. In 2015-16, women comprised only 26 percent of all directors, writers, producers, executive producers, editors, and cinematographers.  In addition, high profile film festivals in the U.S. screened more than three times as many narrative films directed by men as by women. And on the awards front (awards nominations being crucial to independent films receiving the press they need for audiences to watch them), women have accounted for only 19 percent of non-acting Oscar nominations in the past decade. 
We feel it is possible to create gender equality by simply making it a mandate to hire more women on our film sets. Our Wall Street movie, "Equity," had a female director, writer, and producer team, and featured three strong complex female roles (we passed the Bechdel Test with flying colors). And in case you were wondering, there was no pay gap between the salaries of our male and female actors.
"Equity" premiered at Sundance to critical acclaim and was a New York Times "Critic's Pick" when it was released in theaters by Sony Pictures Classics.  The film will be on DVD/digital Dec 13.
"Equity" made a profit ― our investors (mostly women, incidentally) made their money back. It was a priority for us from day one to show that women can make entertaining, critically acclaimed independent films that are also commercially successful.
Having previously worked on male-dominated sets ourselves, we were curious to hear if working on a more gender balanced set made any difference to our amazing crew.
We were pleasantly surprised to find that not only were the women we hired more comfortable voicing their opinions on set, but their experience on "Equity" empowered them to have more confidence when they returned to other sets that may or may not be as gender balanced.
Here is what some of our crew had to say:
Diane Lederman, Production Designer (Previous credits include "Wolf of Wall Street"): "Working with a predominately female group was an incredibly empowering experience, allowing a freedom of expression I had not previously experienced working in a male dominated field. Often on projects, I am the only woman in the room. I took that newfound strength gained working on "Equity" and applied it universally to my life and work. I have never since allowed myself to be intimidated by being in the minority. Now more than ever I feel we should all make an effort to give voice to those who might otherwise be silent."
Trish McMiniment, Production Coordinator (Previous credits include "Creed"): "We as women are astounding at pulling together and achieving almost anything when we rally. "
Meera Menon, Director (Award winning director - Nora Ephron Prize for filmmaking): "If anything this election has revealed to us that women as a group can't be thought of as one. What I do know is this. If women are in positions to hire, they will hire with more consciousness around diversity. "Equity" was a testament to that. We saw more women across the board because of the trickle down affect of female investors and producers."
Our screenwriter also shared her thoughts about how important it is to continue to make films told from a female perspective.
Amy Fox, Screenwriter (Previous credits include "Heights"): "Right now, more than ever, we have to value the power of storytelling, the power of voices being heard.  It was a great honor to work with our female dominated team to bring these voices to screen in a story which was ultimately bigger than any one of us and ultimately bigger than any one woman's experience."
We were also curious how this experience affected men on set (yes, of course, we had a few of those!).
David Alan Basche, Actor and Associate Producer (Previous credits include: UNITED 93): "I like to see glass ceilings shattered. My wife ― and an almost entirely female production team ― made the film "Equity" happen, and happen in a hugely successful way. As an Associate Producer, my job was to answer to my wife and to other women, and I had no problem with that. What I discovered is that if, as men, we stand together with powerful women and we support and encourage women to build communities of working women, then we are better men for it. And the art is better, too."
Eric Lin, Cinematographer ( Previous credits include I SMILE BACK): "I have been fortunate to have collaborated with talented female filmmakers whose films rely on a feminist approach—aesthetically and narratively. As filmmakers, we are in the business of creating empathy by challenging social barriers through our stories, yet behind each project, there are structures that limit whose story gets told, how it is done, and who gets to tell it. "Equity" was a special project because I had the opportunity to work with a team of women who sidestepped those structures and entrusted me with representing the nuances of a complex story about women who have to claw their way through a system that inhibits them. The story confronts the very issues on screen that I've witnessed female filmmakers face behind the scenes when trying to get their films made in the first place."
It was a privilege to get the opportunity to employ so many talented women (and yes men!) and help make change in that way – because every choice does in fact make change.  As you can see through this process both the women and men we employed felt both empowered and a sense of freedom in their creativity, and we only hope our example helps others to follow our example. And on our end, we plan to continue to bring gender equality to our sets. Next up, we are developing the "Equity" TV spinoff with TriStar and ABC and are working with a female show runner, as well as an entirely female executive producing team.
REAL LIFE. REAL NEWS. REAL VOICES.
Help us tell more of the stories that matter from voices that too often remain unheard.
BEFORE YOU GO