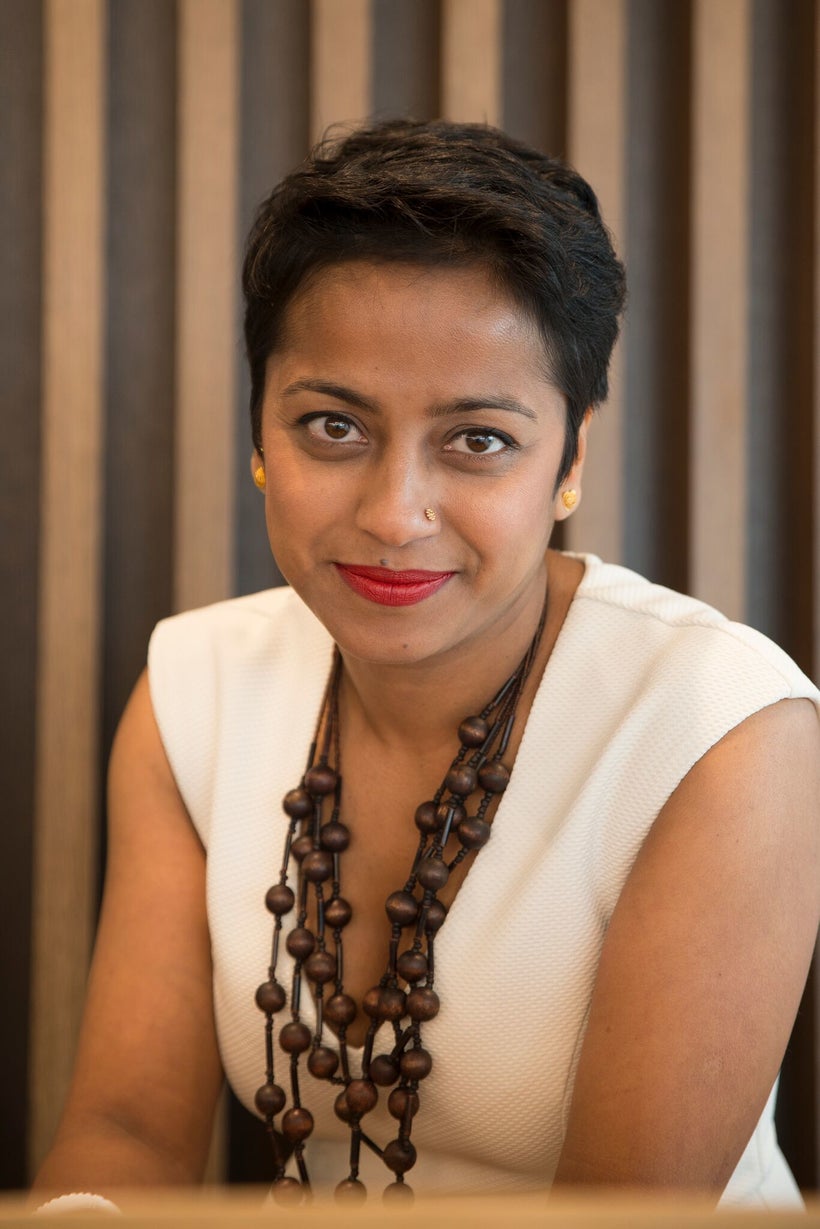 Poppy Jaman is the CEO and one of the co-founders of Mental Health First Aid (MHFA) England, an organisation that teaches people how to identify and support a person who may be experiencing mental ill health.
As MHFA England celebrates its 10th anniversary later this year, Poppy looks back at her journey. From leaving school at 16, to battling with post-natal depression at 20, to turning a small government project into a fast growing, commercially successful social enterprise, by the age of 40.
Today, Poppy is an internationally respected mental health advocate. As well as her role at MHFA England, she's the Programme Director for the City Mental Health Alliance, a network of thought leaders from the City committed to improving mental health in the workplace. She also sits on the board of Public Health England (PHE) as a non-executive director.
Recently married to her partner of seven years, she lives in East Sussex with her husband and their blended family of four children.
How has your life experience made you the leader you are today?
I've always been ambitious and driven, but I can't say as a little girl I had dreams of leading a mental health organisation. I actually wanted to be an electronics engineer. But as life would have it, my experience has led me here and I couldn't be happier.
I grew up in a traditional Bangladeshi household in Portsmouth and left school aged just 16, entering into an arranged marriage at 17. My first daughter was born when I was 20, and shortly after this I developed post-natal depression and anxiety. It was a very dark time, and I needed the support of my family, many of whom did not understand what I was going through or even what mental illness was.
After months on medication prescribed by my GP, my condition continued to deteriorate with psychotic episodes developing. I went into therapy, and haven't looked back since. It changed my life and to this day, I use talking therapy as a way to manage my mental health and wellbeing, especially when going through big life changes or upheavals. I'm not mentally unwell anymore but I also want to maintain positive mental health and help prevent myself becoming unwell again.
When I was ill I looked for information and literature that could help me explain my mental health issues to my family, but there was a complete lack of helpful literature out there. In that moment I realised that mental health literacy needed to be improved on a global scale.
How has your previous employment experience aided your tenure at MHFA England?
I started out as a community development worker in Portsmouth where I'd often find myself speaking to colleagues and clients about mental health issues. But it was really when I joined the Department of Health that I fully realised my passion for mental health.
In 2007, the Department of Health asked me – along with a few other colleagues – to investigate how we could roll out a mental health training package across England. This was such an important step at the time: the market for mental health was completely unregulated, leading to a worrying amount of incorrect and even unsafe information being given to people.
That's when we found out Mental Health First Aid training was being implemented across Scotland. I soon realised that it was an easily-translatable programme that could work well in England. Within the same year, the National Institute for Mental Health in England started offering Mental Health First Aid courses. Before long, the programme had become so popular it was decided that Mental Health First Aid should be set up as a separate social enterprise. In 2009, I was asked to lead the development of MHFA England as a Community Interest Company, which began the journey of making MHFA England what it is today.
I never let my lack of formal education hold me back from my goals. Despite leaving school with just GCSEs, I was determined to work my way up the ladder, and – while working for the Department of Health – applied for a Masters of Business Administration. The professor interviewing me was shocked that I didn't have a degree, or even A Levels. But I knew I was more than capable: after a lot of persuading, they agreed to take me on and I completed my MBA in 2009.
It was my whole journey, from young mum with GCSEs to community development worker to MBA-awarded CEO that makes both me and MHFA England what we are today. It hasn't been easy, but being where we are now at an incredibly exciting time for us has made it feel so worthwhile.
What have the highlights and challenges been during your tenure at MHFA England?
Just shy of a decade with the company, I can honestly say that my time at MHFA England has probably been the best period of my professional life. It has been incredibly challenging, but we've worked tirelessly as a team to get to where we are now.
To date, we have trained over 165,000 people in Mental Health First Aid skills from teachers to CEOs and police officers to construction workers and we want to train many more. We've played an incredible role in raising awareness of mental health but perhaps more importantly, we're leading the way in turning awareness to action. I like to think MHFA England has helped to normalise conversations about mental health in people's households, workplaces, schools and beyond across the country, and I am incredibly proud of that.
Of those ten years, I think the past 12 months have been a particular highlight. MHFA England was ranked ninth in the Fortuna 50 – the fastest growing women-led small businesses list. And I also worked closely with the President of the World Federation of Mental Health, Professor Gabriel Ivbijaro MBE to take a lead on the delivery of World Mental Health Day in England, the theme of which was 'Psychological and Mental Health First Aid for All'.
In a packed year, I also attended Downing Street to talk to then Prime Minister David Cameron and business leaders across the country about supporting mental health in the workplace. It's such an important issue to me: work-related mental illness can be devastating for many people experiencing it, never mind it costing UK employers up to £26 billion every year. So why aren't we doing more about it? It was a huge privilege to be invited, and I'm glad the Prime Minister, Theresa May, has also pledged to take mental health seriously.
But really, it's been an incredible ten years. Looking back, it's funny to remember when I took part in a future leaders programme over 15 years ago. In one of the exercises, we made posters of our vision for the future. On my poster – which I still have and look so proudly on – I wrote that my vision was to educate people across the world about mental health. It's incredible to think that's exactly what I and members of the Mental Health First Aid community across the world are doing. We have a long way to go, but knowing we've come so far fills me with a tremendous sense of accomplishment.
One challenge has been creating balance in my life. Any SME business leader will say how difficult it can be to switch off, and this becomes even harder when your job is your passion. I am energised by my family and children. They inspire me to keep striving. Ensuring I have quality time with my children is really important to me – they ground me and give me perspective.
At work, I become very involved and excited by new business developments and I set a fast pace, with high expectations, which can sometimes be tough on those around me. Luckily, at MHFA England, we have a dedicated and agile executive team who are willing to go the extra mile to achieve the business ambitions. During times of high intensity it is our social purpose, our team, and our community which mean we go above and beyond. Working for a business where people are passionate and inspired by our goals, where it isn't 'just a job', has been critical to its success.
What advice can you offer to women who want a career in your industry?
Go for it. There's many inspiring women in the not-for-profit sector and some incredible female leaders from Jenny Edwards CBE, CEO at the Mental Health Foundation to Ruth Sunderland, CEO of Samaritans and Sue Killen, CEO of St John Ambulance.
Working in the third sector is incredibly rewarding. If you are passionate about social issues then your sense of fulfillment and purpose will become a powerful driver for your career momentum.
There are some fantastic female role models and I would suggest finding a good mentor in the sector you want to work in. They can help you to hone your skills, shape your career path and introduce you to other key players. Building great relationships is critical to success. You might also want to look at some career coaching, which can help you identify and test your passion.
What is the most important lesson you've learned in your career to date?
I've learnt to find a balance between the need to be outward looking in a fast-growing and ambitious business whilst managing internal systems, processes and resource. I learnt the hard way that having vision, purpose and lots of energy attracts a lot of business and it's tempting to spend all your time in this area. But you must take a step back to understand what the internal needs of the company are in order to deliver effective growth.
We have a highly skilled, all female, executive board and work with a high degree of trust in each other. Now, I ensure we regularly pause and think about how our ambition matches our capacity.
How do you maintain a work/life balance?
Throughout my career, I've worked hard to balance my role as a mother with my career ambitions. As a single mum to two daughters, I put them first and made sure that every job I took allowed me to work from home when necessary. I want to make sure I can be the best role model I can be for my kids. I want to show them that it's possible to be a mum and have a wonderful career.
As you can probably tell with this role and with kids, I need to make time to de-stress – I'm determined to look after my mental wellbeing. Mental health is inextricably linked to physical health and I attend a hot yoga class once a week. Another way I keep a balance is to occasionally have a secret date – with myself. I know, it probably sounds odd but it's absolutely magic! I don't tell anyone where I'm going and for that hour or two I am just doing something that makes me happy.
At work, I make sure to chat with every member of my team regularly. MHFA England is such a diverse community of people; I love sounding ideas off with team members and listening to their reactions and thoughts. For me, that's the only way to grow. And it's a good way to look after each other's wellbeing too!
What do you think is the biggest issue for women in the workplace?
Even though it's 2017, there's still so much standing in the way of women in the workplace – especially in regards to their mental health.
Women become less visible at the top and, often, they've had to work harder to push through the glass ceiling. It's tough at the top, to balance a family life and perform in your role, and therefore women can be nervous about sharing what might, sadly, be perceived to be a weakness. The same is true for men but for senior women who have worked really hard for recognition and respect they can feel, in my experience, more reluctant to talk about their mental health issues.
One solution is to ensure every employer has a Diversity Staff Inclusion agenda and this becomes a priority for the board. High performing companies report a high degree of staff engagement and diversity. More diversity at the top – more women, more people from minority ethnic backgrounds, and more people with disabilities - means people will feel less pressure to hide their perceived weakness. At the same time, as Sheryl Sandberg says, we all need to 'lean in'!
The gender pay gap and unequal pay can cause resentment and stress among colleagues. Returning to work following the birth of your child can also be a monumental change and potential trigger of mental ill health. We need to make sure people are properly supported when they return to work, including options for flexible working.
Looking after mental health is a shared responsibility between workers and the employer and we need line managers trained in spotting the signs of a mental health issue who know how to respond supportively. Business in the Community found 76% of line managers believe that staff wellbeing is their responsibility but only 22% have had relevant formal training. There is a real knowledge gap that needs addressing but even without training both parties should approach mental health needs with kindness and compassion.
It's great that we are talking more about mental health but there is still much more to do in order to improve the support available to people experiencing mental health issues. Our workplaces need to undergo a transformation. People are working increasing hours, with less resources, and under more pressure. Millions of employees feel unsupported and better access to support is critical – both to improve outcomes for those living with a mental health issue, and to help prevent health issues arising. Support in the workplace plays a vital role for employees and the economy. Mental health issues (stress, depression or anxiety) account for almost 70 million days off sick per year, the most of any health condition.
We all have mental health, just as we do physical health, and we're only going to make headway when employers value mental health equally. That's why MHFA England is calling on the government to amend current legislation that requires employers to train staff in physical first aid, to include mental health first aid.
How has mentorship made a difference in your professional and personal life?
I engage in coaching periodically to clarify my professional perspectives – it's a great way to reflect on the things you want to progress. My current coach is an ex-CEO who has been very open about her mental health issues. I heard her speak at an event I attended, and afterwards we were chatting and she mentioned that she coaches people.
Working with my mentor has helped me to gain clarity at times of confusion or mission creep. I've had a few mentors over the years and they've always been people that inspire me and have an area of expertise I can draw on to help boost my own skills and address a business need.
The mentor relationship is one built on trust. It means I can discuss sensitive subjects, discuss my shortfalls and test out ideas within a safe environment and feel confident I will get honest and constructive feedback. Sometimes the people we work with can find it difficult to point out the things we're not so great at, therefore it's so useful to have an independent mentor to test your ideas with. A great mentor will help you to unpack your feelings, give honest feedback and, sometimes, can offer advice that is life-changing!
Which other female leaders do you admire and why?
I have many female role models, most of whom I have met on my life journey. They inspire me for different reasons; some for creativity, others for business acumen, parenting, ability to love, resilience etc. I spend time with my role models as they are my friends! But aside from my friends, Michelle Obama is a great role model for me. She's passionate, powerful, and authentic and has an incredible presence.
There are great female role models in the business world but they are still much less visible than male leaders! My day-to-day work is spent in the business world and the glass ceiling still exists – all leaders need to be feminists to help address the gender imbalance in our boardrooms.
What do you want to accomplish in the next year?
With our January off to a flying start, we hope 2017 will be our most successful year yet. We've kick started the year with the Prime Minister announcing that there'll be Mental Health First Aiders in every secondary school in England, training for NHS staff, a review into mental health in the workplace, and an amazing new initiative from the construction industry to support employee wellbeing (Mates in Mind). We're saying the sky's the limit this year! And, in our tenth anniversary year, we're working hard to make things happen.
This is the year that WHSmith will train as many Mental Health First Aiders as physical ones. The year even more construction workers, who are at particularly high risk of mental health issues, will get access to mental health support, thanks to employers like Crossrail and Skanska. And it's the year that we get a step closer to mental health being treated on a par with physical health.
We'll also continue the campaign to train thousands more people in Mental Health First Aid – always working towards our goal of training one in ten people in England to become Mental Health First Aiders.
Finally, we want to help drive the global movement to shine a light on mental health issues in low and middle income countries and share what we've learnt. The World Health Organisation found that every 40 seconds a person dies by suicide somewhere in the world. In the UK, we've recently heard reports from England's mental health trusts of an increase in unexpected deaths include death by suicide, neglect and misadventure.
For the first time, mental health is being recognized as a priority by world leaders and is part of the UN's Sustainable Development Goals. This year, we have a real chance to seize the agenda and make change happen to help prevent more avoidable deaths. We have a moral and social responsibility to share our knowledge, learn from others, and engage in global discussions to improve mental health.
The British Prime Minister, Theresa May, recently announced the Government's campaign to improve mental health treatment and support in the UK. How will Mental Health First Aid England work with the Government to achieve these important goals?
The Prime Minister's commitment that secondary schools across England will have at least one member of staff trained as a Mental Health First Aider is just incredible news.
It's estimated that 3 children in every classroom will have a clinically diagnosable mental health issue – this initiative will make a difference to those children. It'll mean teachers can spot common signs and triggers of mental health issues, and give them the confidence and skills to support them and get them help. It's just one part of what children need, along with counselling and CAMHS services, but it is progress.
There are already 25,000 people in England trained in Youth Mental Health First Aid and we very much welcome the commitment by government to increase the number of people skilled to support a young person who might be experiencing a mental health issue.
We'll be supporting the Government in rolling out this Youth MHFA to schools using our nationwide network of instructors.
What are you hoping the Government's commitment to improving mental health support will achieve?
Mental ill health in young people is a growing health concern, with half of all lifetime cases of mental health issues starting by the age of 14. This move from the Prime Minister means that we'll be treating children's mental health as seriously as we do their physical health.
Currently, only around a quarter of people who need treatment for mental ill health receive it: with access to a Mental Health First Aider we can provide early intervention in guiding a young person to the support they need.
The Government's review into mental health in the workplace is very welcome, too. Work-related mental health issues cost businesses and the economy billions of pounds every year. Research shows that a majority of line managers want to do more to support employee wellbeing but don't feel they know how. While there are a number of measures the Government could, and should, take, we hope that they recognize the value of a Mental Health First Aider in every workplace just as they do a physical first aider. In our tenth anniversary year, we're aiming to make that happen.
Calling all HuffPost superfans!
Sign up for membership to become a founding member and help shape HuffPost's next chapter
This post was published on the now-closed HuffPost Contributor platform. Contributors control their own work and posted freely to our site. If you need to flag this entry as abusive,
send us an email
.