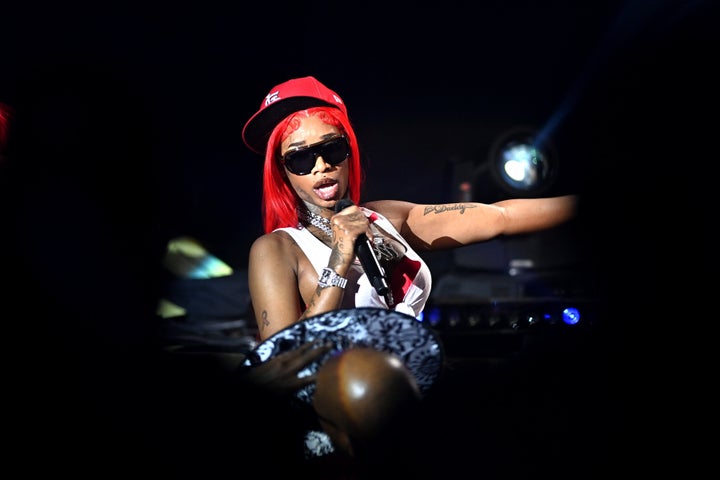 We're living in 2023 while pussy rap is in 3202.
The hip-hop subgenre that's taken over the airwaves ― and that has, in so many respects, saved and revitalized rap ― can't be overlooked.
From Trina to Sexyy Red, the evolution of the subgenre, and the various lanes rappers are able to take within it, has been one of the most interesting and controversial things about it.
Shallow ears may interpret pussy rap as purely raunchy and sex-fueled, but on the latest episode of "I Know That's Right," Sesali Bowen suggests that those labels miss the nuance needed to understand just how empowering the music is.
"When I think about empowerment in female rap, where it lives is the fact that they are using their lyrics and their visuals and their personas, they are literally creating a world that does not exist yet, and it's one where Black women's pleasure and success and joy and interests and desires and wants are at the center of the universe," she told me.
Bowen, who hosts "Purse First" (the only podcast dedicated to femme and queer rappers), also emphasized how Ice Spice and Sexyy Red's rapid rise to fame is unique to this moment. And as exciting as their trajectories may be to watch, she noted that it brings up some concerns for her as a rap fan when it comes to longevity.
"The truth is we're in a TikTok generation, and folks just don't have the same attention spans. And also with things happening so fast, we start to lack context," she said. "Are we actually valuing the rap girls? Or are we only appreciating them when they become pop stars, because of the aesthetic and the cultural presentation that they're giving us, but we're not seeing the investment in them as creators in the space of hip-hop?"
If you want more interviews, pop culture rundowns and conversations too layered for a social media thread to tackle, subscribe to "I Know That's Right." With new episodes dropping each week, this show is sure to keep you entertained, informed and shouting "I know that's right" every now and then.
Support HuffPost
The Stakes Have Never Been Higher
Popular in the Community