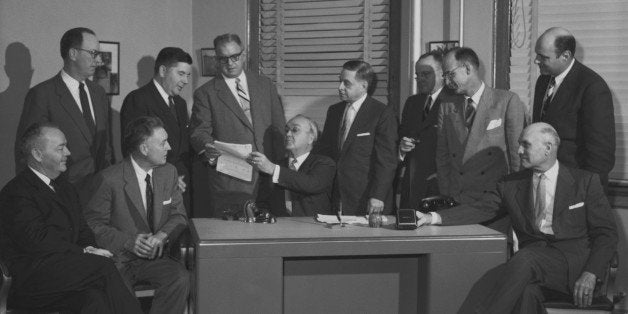 The Catalyst survey investigated female representation within the largest companies in the U.S. such as Wal-Mart, McGraw-Hill and Sysco. They found that just 16.9 percent of corporate board seats were held by women in 2013, making it the eighth consecutive year with little to no progress in narrowing that gender gap. Reaching parity has also been slow going beyond just corporate boards. In 2008, only 6.2 percent of Fortune 500's top earners were women. Five years later, in 2013, the number jumped only slightly to 8.1 percent.
Ilene H. Lang, President and CEO of Catalyst, explained in a press release that the lack of women at the top of Fortune 500 companies is not due to a supply problem: "There are plenty of qualified women ready for board and top executive positions, as some companies have proven. It's important [to hire women into these positions] and it's not hard."
At the end of 2013, many leadership teams and corporate boards are still all-male staffed. Out of the top Fortune 500 companies, 135 still have no female executive officers. These all-male companies include big-name brands such as Apple, Delta Air Lines, Exxon Mobile and Google. As Lang noted in the same press release, successful business performance is linked to diverse leadership, making these numbers more than a bit perplexing.
The Catalyst survey also found that 10 percent of Fortune 500 companies employed zero women on their boards and that two-thirds of companies had no women of color as board members. "For those [companies] that have not improved [their representation of women], you have to wonder how long they can be successful if they are only hiring from half of the talent available," said Thomas Falk, Chairman and CEO of Kimberly-Clark in the same press release. "This issue is not about equity or fairness, it's about winning."
Calling all HuffPost superfans!
Sign up for membership to become a founding member and help shape HuffPost's next chapter
BEFORE YOU GO
PHOTO GALLERY
11 Quotes From Sheryl Sandberg's "Lean In"