 President Obama thrilled women's groups with an inaugural speech that not only highlighted Seneca Falls, site of the first women's rights conference in 1848, but also mentioned the long-sought goal of pay equity. But equity of another sort -- cabinet choices -- is still on the front burner for advocates, and will heat up more in the next couple of weeks now that Hillary has left the building and John Kerry's confirmation is in the bag.
In the past month, the president has weathered a good deal of criticism for a lack of women in high-level appointments. The administration has defended its mostly white-guy picks, and told the girls to wait -- more female appointments are coming. Sounds like they could use one of those "binders full of women" that Mitt Romney bragged about. Here are a few entries to get them started.
Cabinet slots that are already open:
Interior: with oversight over oil and gas drilling as well as conservation of the nation's 700 million acres of public lands, the post has mostly gone to male boots-'n-cowboy-hat governors or senators from the west (New Mexico Senator Tom Udall has recently been floated but says he's not interested). So how about former Washington Governor Christine Gregoire, who just went out of office? She made progress in moving her state off coal-fired electricity, and supports a progressive clean energy and climate change agenda. No doubt would look good in high-heeled boots.
Labor: this spot has probably been filled from the female side more than any other, starting with Frances Perkins in 1933, the first-ever woman appointed to a presidential cabinet. There's no reason to break the string now, with candidates like Dr. Heidi Hartmann, MacArthur "genius" labor economist who heads the Institute for Women's Policy Research in Washington. And as Secretary-Treasurer (and former Vice Chair) of the National Council of Women's Organizations, the nation's largest coalition of women's groups, she already has the support of key women leaders, economists, and social scientists.
EPA: a couple of great women could fill this one. Former congresswoman Betty Sutton of Ohio, who lost her seat thanks to redistricting, is recognized as a "key architect" in the American Clean Energy and Security Act that passed the House in June 2009. There's also Congresswoman Grace Napolitano, a member of the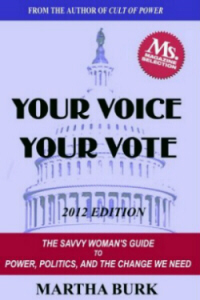 House Committee on Natural Resources since the 106th Congress. As Chair of the Water and Power Subcommittee for the 110th, she's been a proponent of conservation, water recycling, desalination, and sound groundwater management and storage.
In addition to these openings, Commerce is currently led by Acting Secretary Rebecca Blank, who clearly is qualified and knows the job. Why not make it official? Lastly, the buzz is that Transportation is likely to come up for grabs. Possibilities there are Anne Ferro, one of the two female Administrators at the department now. She's Administrator of the Federal Motor Carrier Safety Administration, which regulates the safety of trucks and buses. The other is Cynthia Quarterman, at the Pipeline and Hazardous Materials Safety Administration. Not household names, but they know their stuff.
These women may not fill a whole binder, but it's clear they could fill a presidential cabinet. How about it, Barry?
Popular in the Community