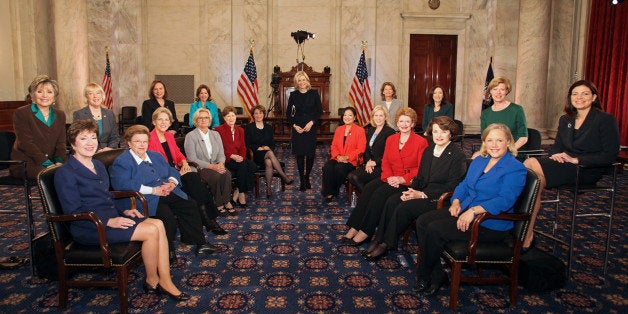 As we celebrated Black History Month and the 50th anniversary of Selma's Bloody Sunday -- as we saw President Obama and President Bush hand-to-hand on the Edmund Pettus Bridge -- Americans everywhere were reminded that race always matters in our nation's political discussions. We were also reminded that a diversity of views at political decision-making tables yields better understanding of difference, more appreciation of what this difference means to the making of public policy, and better inter-personal relationships and respect for cultural difference.

Likewise, in this month, Women's History Month, it's important to remember that Susan B. Anthony and Sojourner Truth, that other great suffragists −- whether white or African-American −- didn't advocate for suffrage for progressive women only, but for suffrage for every woman. They knew that every voice and every experience count in our political rooms. Their accomplishment reminds us that gender, like race, also always matters, regardless of political philosophy.
Yes, even when the women at the decision-making tables aren't advocates for women's equal rights or opportunity, or for more civil political behavior, today's limiting rationales for the benefits of women's political participation.
Lest you doubt this truth, consider the recent rebellion by Republican women U.S. House Members over an abortion bill that would have harmed untold thousands of rape victims. They know women's lives matter. And, because they do, they spoke up and demanded policy beneficial to women. Had they not been there, the bill would have sailed forward.
I am also reminded of this truth as I contemplate Secretary Clinton's imminent presidential run; as my Twitter and Facebook feeds have been (happily) flooded with pictures and quotations from famous women politicians who dared, including a woman in whose footsteps Clinton will follow. That would be Shirley Chisholm, the woman whose image I've seen most frequently. Chisholm, the first black woman Member of the U.S. House, who famously said, "I've always met more discrimination being a woman than being black."
As we seek sustenance in the face of Secretary Clinton's e-mail travails, I think of other women -− black, white and otherwise -− who, like Clinton, trod in Chisholm's footsteps and helped bring us to this Women's History Month, when few question women's right to run.
It was 1976, and it required months and months of sustained public and media pressure to convince Illinois's governor to appoint a women's advocate, a staffer with no line authority, [just] to review and comment on policies that might affect women negatively. (Thirty-nine years later, Illinois has still never elected a woman governor.)
It was 1983, and Harold Washington, the first African-American mayor of Chicago, then the second largest city in the nation, held a discussion in his office regarding whether he could credibly appoint a woman to run his planning department. The notion was downright revolutionary!
It was 1992, and a group of seasoned women political operatives held a meeting in Chicago to discuss whether it was (even!) plausible for a woman to run against two-term incumbent, U.S. Senator Alan Dixon, who, in the face of the Anita Hill and Clarence Thomas confirmation dispute, voted to confirm (now) Justice Thomas.
Slow-forward to 2014 when political pundits were still wondering about women's fitness for high executive office, and whether two women could run at the same time for the presidency. Can anyone plausibly say the race doesn't matter! I don't think so. Clearly, just sitting at the table and behind the desk matter enormously.
Want proof? A recent New York Times piece discusses important political deals made by women U.S. senators of significantly differing political philosophies. They can do it again.
Just imagine what it would be like to overcome the barriers that have kept women -- regardless of political leaning or racial background -- from positions of political power, considering how we behave, now that an African American man is the most powerful person in the world.
We think differently about power, and who has the right to it.
We act differently among those who are different from us.
We align politically differently: an African-American woman Member of Congress (Mia Love) supports a white Member accused of racist behavior (Steve Scalise), and the incident is just politics as usual.
So, as we celebrate black history and women's history, let's recommit to reaching political parity for women of every color and kind. Let's keep on running the race for every woman who would lead.
Popular in the Community